Australian Tourist Visa Requirement—Get a Clear Picture With DoNotPay
Iconic is the word that comes to mind when you think about Australia's catalog of extra-quirky marsupials and juicy slang (or puns)! Unless you're smacked in the face by a moody kangaroo, your stay on the island continent is set to be one gratifying escapade!
Before you plan your trip to this magical land, it's prudent to check the latest Australian tourist visa requirement. Australian authorities refuse tourist visas all the time—they can even ban you from applying if you're rejected more than once!
DoNotPay's Tourist Visa Guide feature minimizes the chance of rejection by backing you up throughout the documentation and logistic exercise during the application process. Scrap the nervousness—sign up for our services to apply confidently!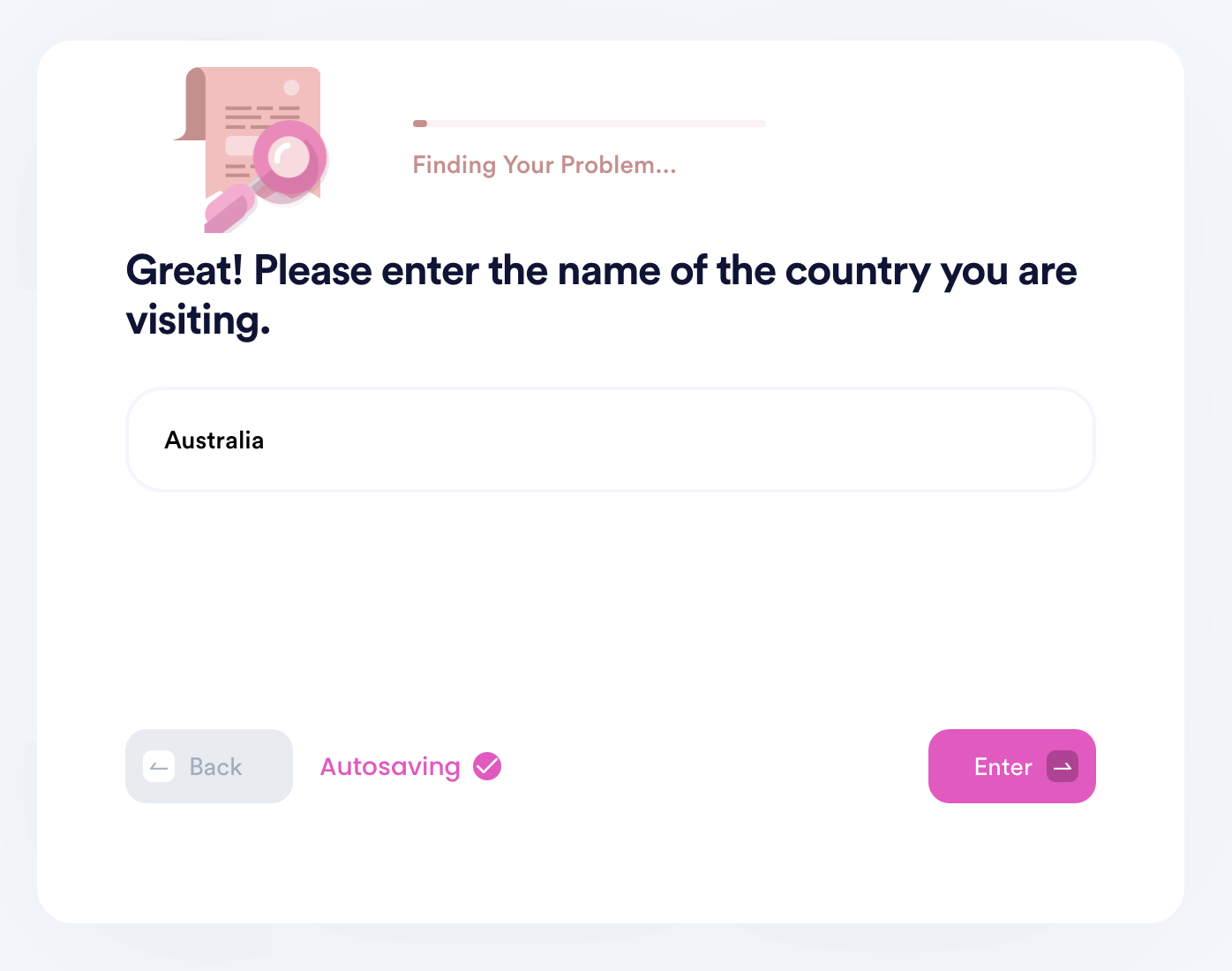 Do I Need a Tourist Visa To Visit Australia?
Yes, you do. All U.S. citizens with valid passports can apply for six different types of tourist visas, depending on their needs. This table will help you understand the available options:
Tourist Visa Type
Subclass Number (Visa Code)
Details
Visitor visa or Electronic Travel Authority (ETA) visa
601

It's a multiple-entry visa, but each visit must be under 90 days
ETA visa holders are banned from working in Australia

Work and holiday visa
462

This visa lets you work in Australia to support your trip financially, as long as you are 18–30 years old
You can work for multiple establishments, but your employment duration with any employer cannot exceed six months

Medical tourist visa
602
Apply for a medical tourist visa if your travel intent is to:

Get a medical consultation or treatment
Donate an organ
Be someone's caregiver
Undergo surrogate motherhood

Transit visa
771
You should get a transit visa if you are to wait in Australia for less than three days before traveling elsewhere
Family or partner visa
100

300

309

801

820

This type of visa has several sub-categories depending on whether you are visiting an Australian permanent resident as a child, parent, spouse, partner, or a dependent or remaining relative
Special program visa
416
Apply for a special program visa only when you are traveling to Australia to participate in an approved program for humanitarian or cultural purpose
How Long Does an Australian Tourist Visa Last?
The above visas are issued with a validity of three, six, or 12 months, depending on your need. Keep in mind that Australian tourist visas can cost over $1,000 if you seek year-long validity!
Australian Tourist Visa Application Requirements Explained
Before starting the tourist visa application process, you should:
Check if you are an eligible tourist
Gather the paperwork necessary for the application
AU Tourist Visa—Eligibility Requirements
If you are looking to apply for an Australian tourist visa, you must meet the following requirements:
Have a U.S. passport that doesn't expire in the next six months
Provide transparent criminal history records—currently, you cannot apply for a tourist visa if you served time in jail for more than a year
Agree to visit Australia only if you are free from tuberculosis and COVID-19 at the time of travel
Documents Required for Australian Tourist Visa
Australian authorities are strict about paperwork compliance. If you are applying for a tourist visa, be prepared to submit all or some of the following:
A copy of your passport
Two passport-size photos
Proof of travel:

Return tickets
Hotel reservation confirmation
Travel itinerary

Bank or credit card statements
A minor travel consent form (if applicable)
Travel or medical insurance
Cover letter stating travel intent—be careful while preparing this as a falsified letter is one of the biggest causes for rejection
The above list may vary depending on the duration of your travel and the type of tourist visa you seek.
How To Apply for an Australian Tourist Visa
Follow these steps to apply for an Australian tourist visa:
Visit the designated website operated by the Australian Department of Home Affairs (ADHA)
Locate the link for the ETA or visa you want
Fill in the application form
Upload the documents, as asked
Pay the fee to get your auto-generated reference number
You can use the reference number to check the status of your application. An ETA is usually approved within 12 hours. The other tourist visa applications are individually assessed by the authorities, which impacts the processing time.
Are Tourist Visa Requirements Wearing You Out? Embrace DoNotPay's Assorted Support
From checking your eligibility to preparing application documentation, getting a tourist visa is pure drudgery. If you're scared of taking the wrong turn during the application process, consider using DoNotPay's Tourist Visa Guide tool.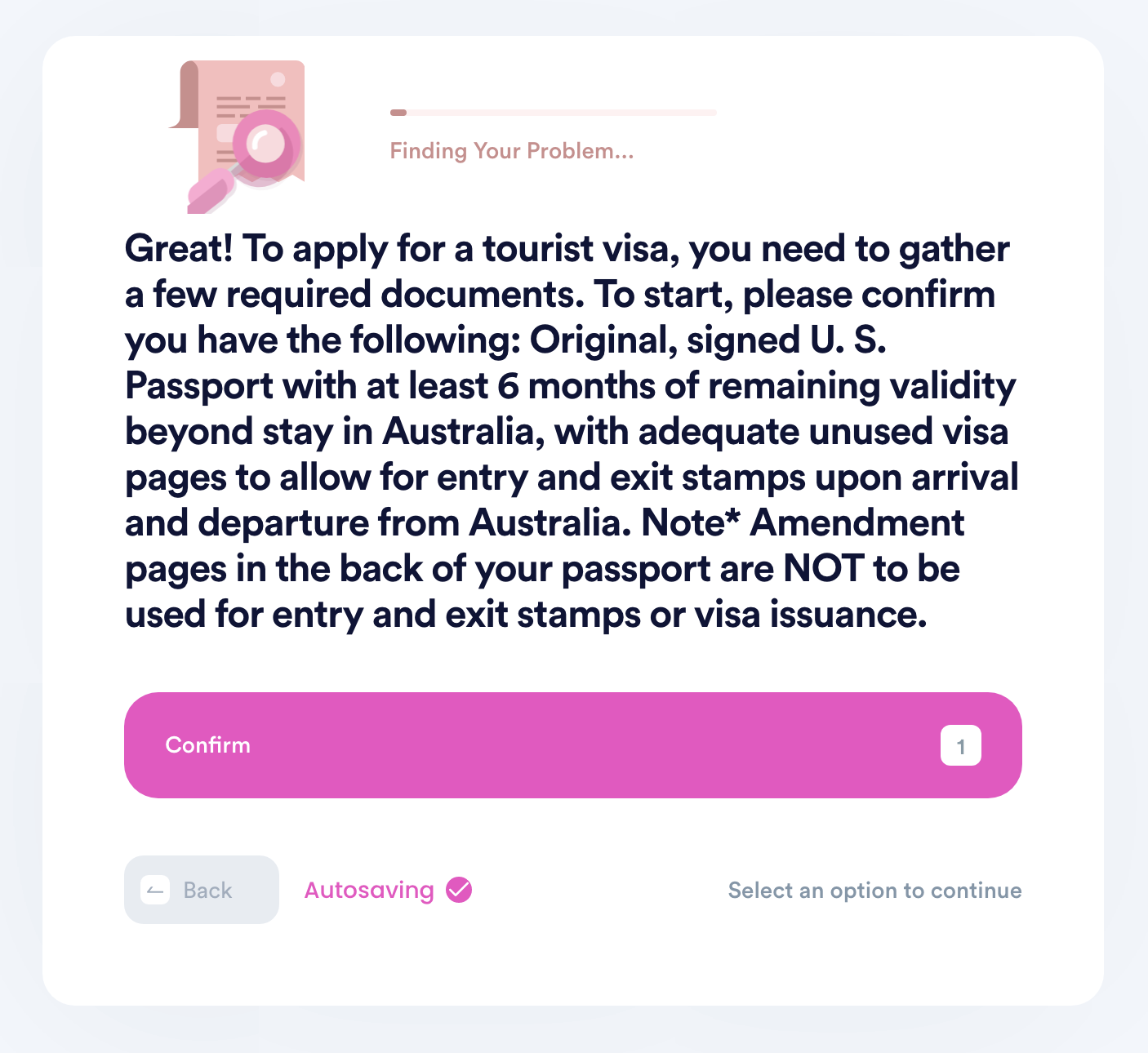 Our app is AI-based, and it accesses the latest laws to tell you if you're eligible for a visa-free journey to any country. Once we are sure that you need a tourist visa for your next trip, we will give you the following:
A thorough list of the paperwork that you should submit with your application
A detailed downloadable manual that will guide you during the application process
The relevant application form offered in PDF version (if you are applying through an embassy)
The accurate link to the government portal that aids online applications—to protect you from fake websites that scam you in the name of visa application processing
For countries that only accept physical applications through an embassy, we can help you mail the application from the comfort of your home!

To use our multilevel services, all you need to do is:
Click on Tourist Visa Guide
Confirm that you have a valid U.S. passport
Specify your destination country
DoNotPay will instantly flash a message if you don't need a tourist visa for the country you punched in.
If you want to renew your U.S. passport with current photos, make sure to use our Create Passport Photos product to print your desired shots!
Aching To Escape to Oceania? DoNotPay Is Your Savior
Pick your favorite spot by the ocean, and we will tell you how to get there! You can browse our Oceania-specific tourist visa guides here:
Have Your Documents Created and Notarized in Less Than Five Minutes!
Why spend hundreds or even thousands of dollars on lawyers when the ideal solution is only a few clicks away?
DoNotPay saves the day by enabling you to generate numerous legal documents. Creating proper child travel consent forms, divorce settlement agreements, and powers of attorney has never been easier!
Our perks don't stop here—you can also have your documents notarized electronically from any location. Once you obtain a notary stamp and signature, your paperwork can be faxed online without outdated machines.
Explore Everything DoNotPay Has To Offer
Day-to-day tasks you must deal with don't have to be a burden or rocket science. Signing up for DoNotPay is your ticket to performing them the easy way! We offer a wide selection of products that don't cost an arm and a leg but do excellent work when it comes to solving your administrative issues!
Our services will help you: