Get the Australia Tourist Visa and Visit the Land Down Under Care-Free
Australia has a lot more to offer than vegemite and kangaroos! It's the home of the best surfing destinations, beaches, exotic wildlife and landscapes, breathtaking cities, and more.
Everything about the country sounds exciting, but getting an Australia tourist visa surely doesn't. Traveling during the COVID-19 pandemic is becoming increasingly difficult, and the list of the necessary paperwork for a casual holiday is getting out of hand.
DoNotPay is here to help you get the latest info about travel requirements for visiting Australia and assist you in getting the tourist visa painlessly. All you need to do is sign up for our service!
Do You Need a U.S. Tourist Visa for Australia?
People in transit who stay in Australia for less than 72 hours don't need a visa.
Short-term visitors from the U.S. and a few other countries must obtain an Electronic Travel Authority (ETA). The ETA (formally known as the tourist subclass 601 visa) is digitally linked to your passport, and it provides you with the ability to stay in Australia for vacation or business purposes for up to three months. Note that children of any age must have an ETA, too.
If you are not eligible to get an ETA, you'll have to get approval to visit the country from the Australian Embassy. For example, people that were convicted of a crime 12 months prior to traveling to Australia are less likely to get a visa or ETA.
The ETA is active and valid for 12 months in total, and you must start your three-month visit within 12 months of application. You can have multiple trips to Australia during this time. An ETA costs 20 AUD.
What if You Need To Stay in Australia for More Than Three Months?
If you expect to stay longer than three months at a time, you have the following options:
Apply for a tourist visa extension, but the pricing and requirements might change in the meantime (while you're in the country)
Apply for a tourist stream (subclass 600) straight away to be granted a stay of three, six, or 12 months at a time (up to 12 months in total). The cost of this visa is 145 AUD if you are outside of Australia and 370 AUD if you are already in the country
ETA and Tourist Visa Australia Requirements
To get your Australian visa or ETA, you are required to:
Present a valid U.S. passport
Pay the required visa or ETA charges
Submit a request for the visa or ETA at least 24 hours before your departure
Have a travel exemption because Australia's borders are currently closed due to the ongoing pandemic. The applications for exemptions can be submitted online, and they usually take seven days to be processed. You must apply at least two weeks before your departure
Have a negative PCR test for traveling to or transiting through the country. The PCR tests are valid for 72 hours
Remain in designated quarantine facilities for two weeks upon arrival
At the time of writing this article, vaccination against COVID-19 is required if you wish to enter Australia, but there's no need for:
Transportation booking before applying for your ETA or visa
Confirmation of visa or ETA. The airlines and cruise companies do the paperwork checks automatically at passport check-in
Australia Tourist Visa Application Process Explained
While the online ETA visa processing is the quickest way to obtain this document—the whole procedure takes between several hours up to 24 hours—this option is currently unavailable due to numerous COVID-19 travel restrictions in Australia.
If you wish to apply for an Australian tourist visa or ETA, you must do so in person. Here's what you need to do:
Fill out the application
Check if you need to submit any other documents
Visit the Australian Embassy
Turn in the application and other necessary paperwork
Wait until your visa is processed
Note that the processing time for the extended types of tourist visas in Australia takes between five and eight months on average due to COVID-19.
DoNotPay Is Here To Help You With Your Tourist Visa for Australia Application
Is the info about the application processes you read so far too overwhelming and confusing? Let DoNotPay assist you with your visa! Here's what our app is capable of:
Checking whether or not you need a tourist visa for the destination country
Listing the paperwork necessary for visa application
Finding out if you can email the application to the Embassy
Providing you with a blank visa application form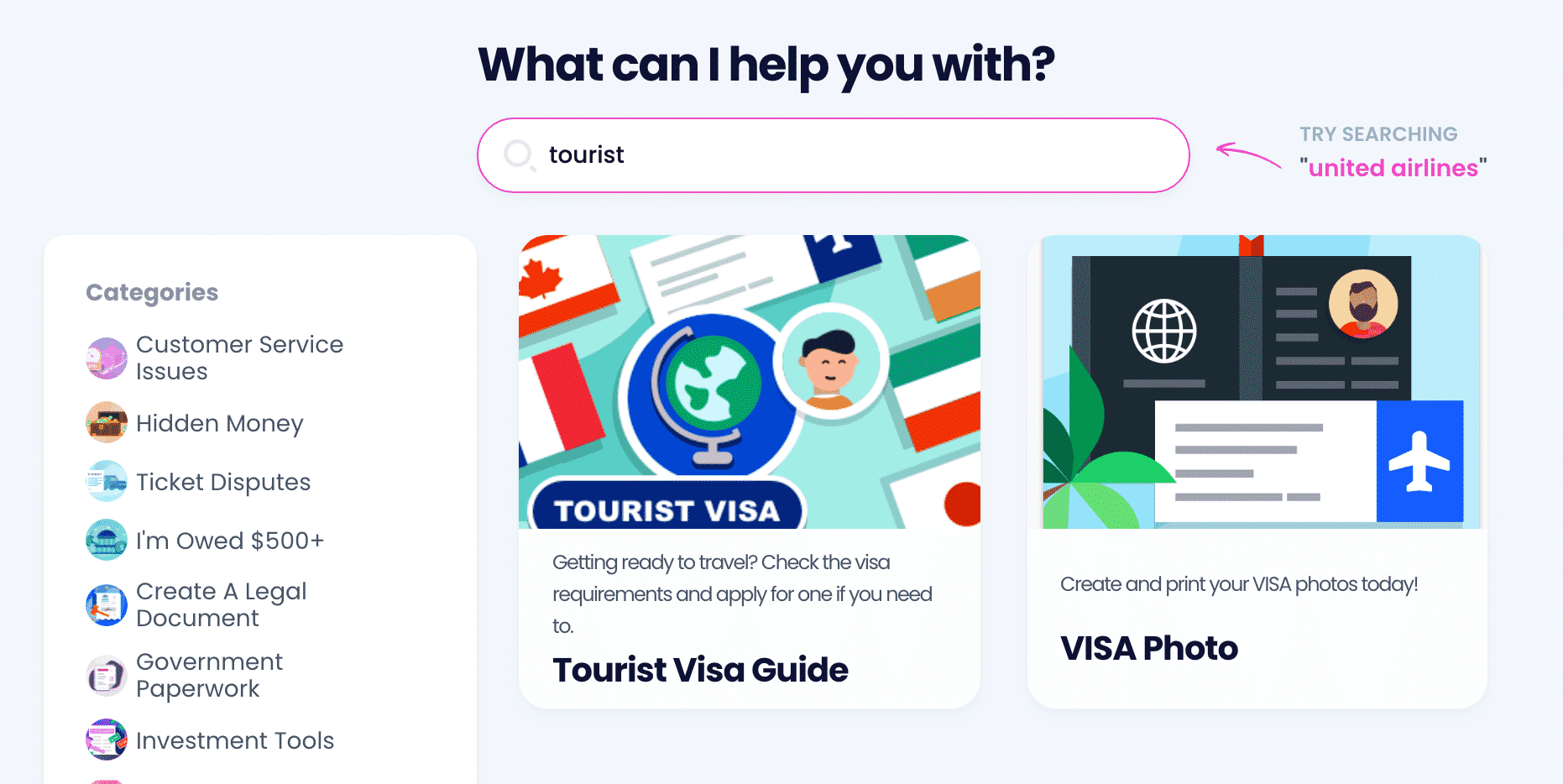 We can help you as soon as you take the following three steps:
Sign up for DoNotPay and click on the Tourist Visa Guide product
Verify that you're a U.S. passport holder
Let us know about your travel destination country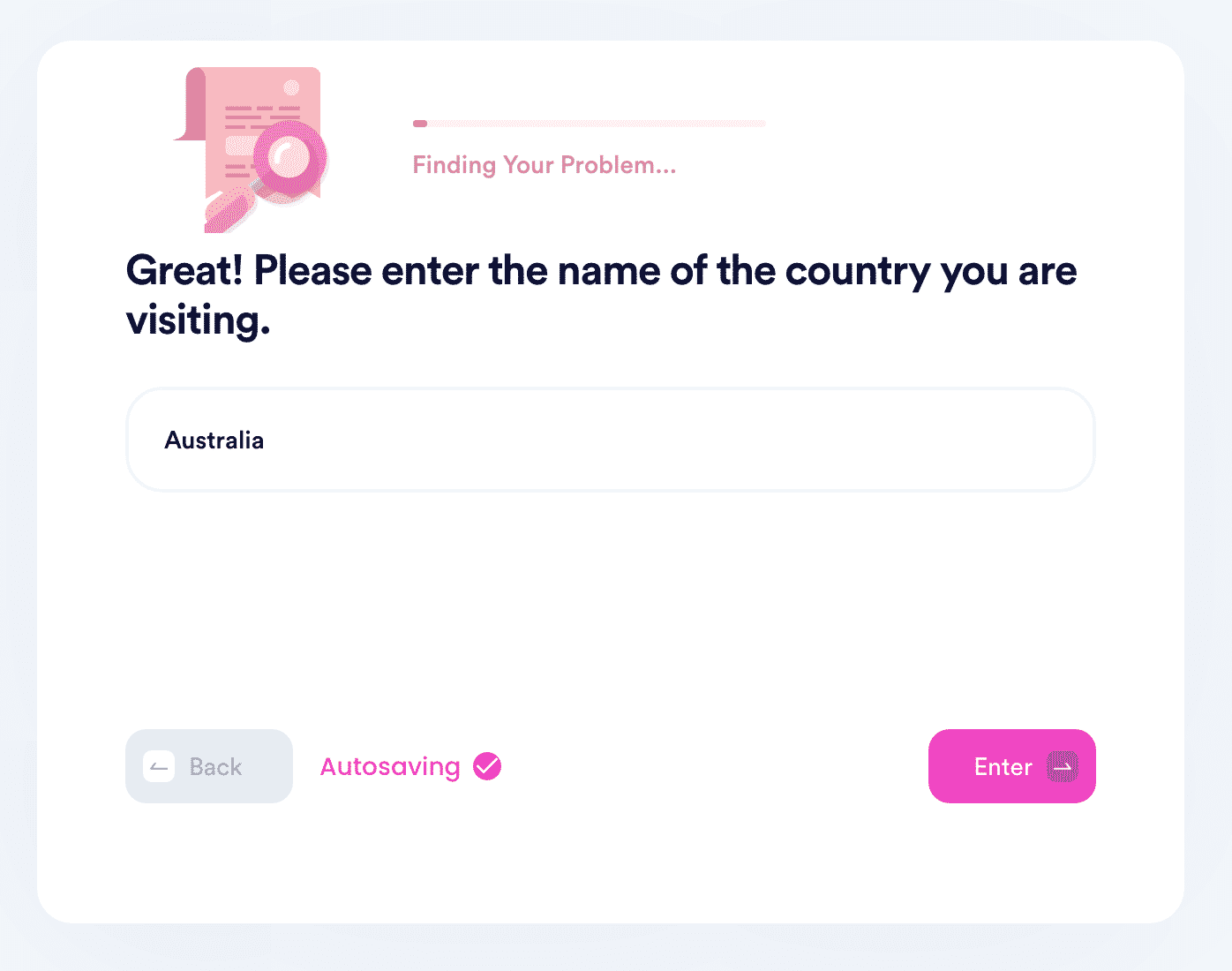 DoNotPay Has Tourist Visa Application Guides for Other Countries in Oceania
We can help you find out whether you need a visa for many other countries across the globe! While in Australia, why not visit some of its neighboring countries? Follow the links in the table below for detailed information on tourist visas in Oceania:
DoNotPay Is Committed to Solving All Kinds of Problems for You
Are you lost in the sea of administrative tasks? By subscribing to DoNotPay, you gain access to many products and features that can assist you in:
Check Out What Our Robot Lawyer Can Do for You
Not too skilled at drafting contracts and agreements? Keep calm and let DoNotPay, your virtual assistant, do it for you! Our app can generate various legal documents, including divorce settlement agreements, child travel consent forms, and powers of attorney. All it takes is to click a few times or answer several quick questions—we do all the rest!
Besides providing personalized documents, DoNotPay takes over other tiresome legal tasks. These include having your documents notarized, filing lawsuits in small claims court, requesting crime victims' compensation, or submitting HR complaints.