The Austin, Texas, Divorce Process—Everything You Need To Know
If you have decided to separate from your spouse and are looking for a way to get an out-of-court settlement, you have come to the right place. Follow our step-by-step guide and learn everything you need to know about the Austin, Texas, divorce process.
Sign up for our app to draft a divorce settlement agreement online without any hassle!
What Are the Divorce Requirements in Austin, TX?
You have to meet the following requirements to file for divorce in Austin, Texas:
Live in Texas for at least six months before filing for divorce
Be a resident of Austin for at least three months before filing for divorce
In case you or your spouse have been away to do public service, such as serving in the military, the time away will not be counted, and you will still be able to file for divorce.
How To Get a Divorce in Austin, TX
You have two options when filing for divorce in Austin, Texas:
Contested divorce—You or your spouse disagree on various divorce-related matters
Uncontested divorce—This is a friendly divorce where both parties agree on divorce matters and sign the divorce papers
If you file for an uncontested divorce, you might not even need a lawyer! Whenever possible, it is advised to get a divorce without court intervention to save money and prevent unnecessary delays.
Can You File for a No-Fault Divorce in Austin?
Even though Texas is an at-fault state, you can file for a no-fault divorce in Austin. Unless you plan to accuse your spouse of ruining the marriage, it is always better to file for a no-fault option because these divorces are much less stressful and take less time and money.
Here is a table outlining key grounds for divorce in no-fault and fault-based divorces:
Grounds for a No-Fault Divorce
Reasons for a Fault-Based Divorce

Irreconcilable difference—You and your spouse have mutually decided to end the marriage because you don't get along anymore
Compatibility—Both spouses feel they are not a good match and cannot stay married any longer

Living separately—If you and your spouse have been living in separate homes without cohabitation for a minimum of three years
Adultery—A spouse has been caught cheating or being intimate with a third party
Abuse—One spouse is emotionally, physically, or verbally abusive to the other spouse
Abandonment—A spouse has left the other spouse with the intention to abandon them
Mental illness—A husband or wife has been admitted to a mental hospital for at least three years
Imprisonment—One spouse has been in prison for over a year
Steps To Take When Filing for an Uncontested Divorce in Austin, TX
To file for divorce without a lawyer, you need to take the following steps:
Fill out the divorce form and file it with the District Clerk in Austin
Pay the filing fees, which can range from $250 to $300
Serve your spouse with the divorce papers
Take inventory of all individual and joint income and assets to divide everything fairly
Finalize the settlement agreement—The final hearing does not take place until the 60-day period has passed. You can use this period to finalize the settlement agreement or hire a mediator to resolve any issues
Attend the divorce hearing and answer the judge's questions
Once the judge is satisfied with the responses from both spouses, they will sign the final divorce decree. You will need to file it with the clerk's office for official records. Make sure to ask the clerk for two copies of the divorce decree—one for you and one for your spouse.
What Is the Average Cost of Divorce in Austin, TX?
The average cost of divorce in Austin, TX, is $15,600, which can include the following fees:
Mediation fees
Attorney fees
Court filing fees
Child custody professional fees
Expert witness compensation
Texas is one of the most expensive states when it comes to divorce, so consider getting a divorce without going to court to reduce expenses as much as possible. Subscribe to DoNotPay and get a divorce settlement agreement instantly and for a minimal price!
Draw Up a Divorce Settlement Agreement With the Help of DoNotPay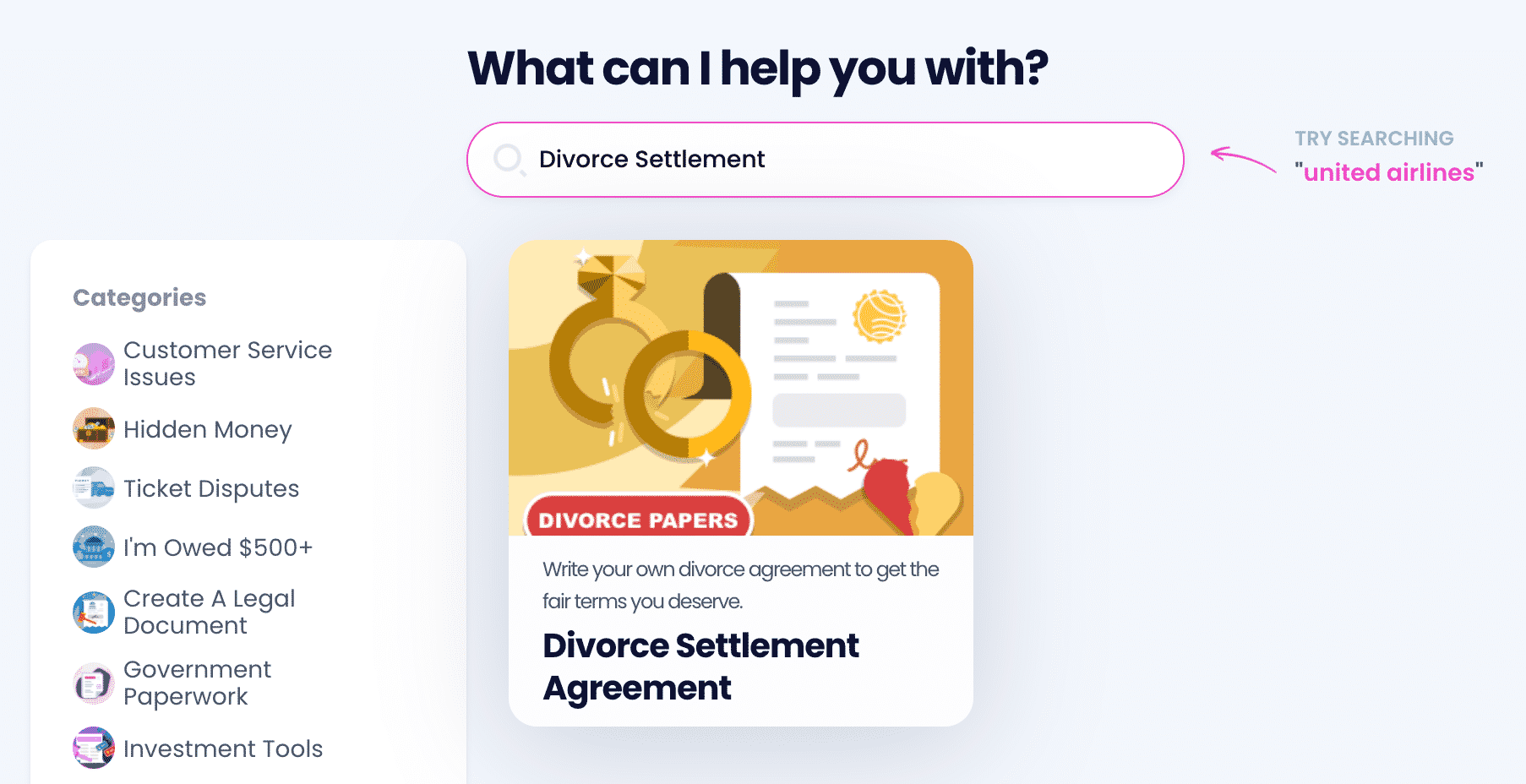 There are numerous requirements that you need to meet if you're making an out-of-court divorce settlement agreement. Online contract templates might not be of much help because they're outdated or don't allow you to customize the document. Lawyers can be super expensive and charge you hundreds of dollars in one sitting.
If you're looking for an option that is both useful and affordable, sign up for DoNotPay and:
Choose the Divorce Settlement Agreement tool
Provide information about your spouse and children (if any)
Enter the details about your income and assets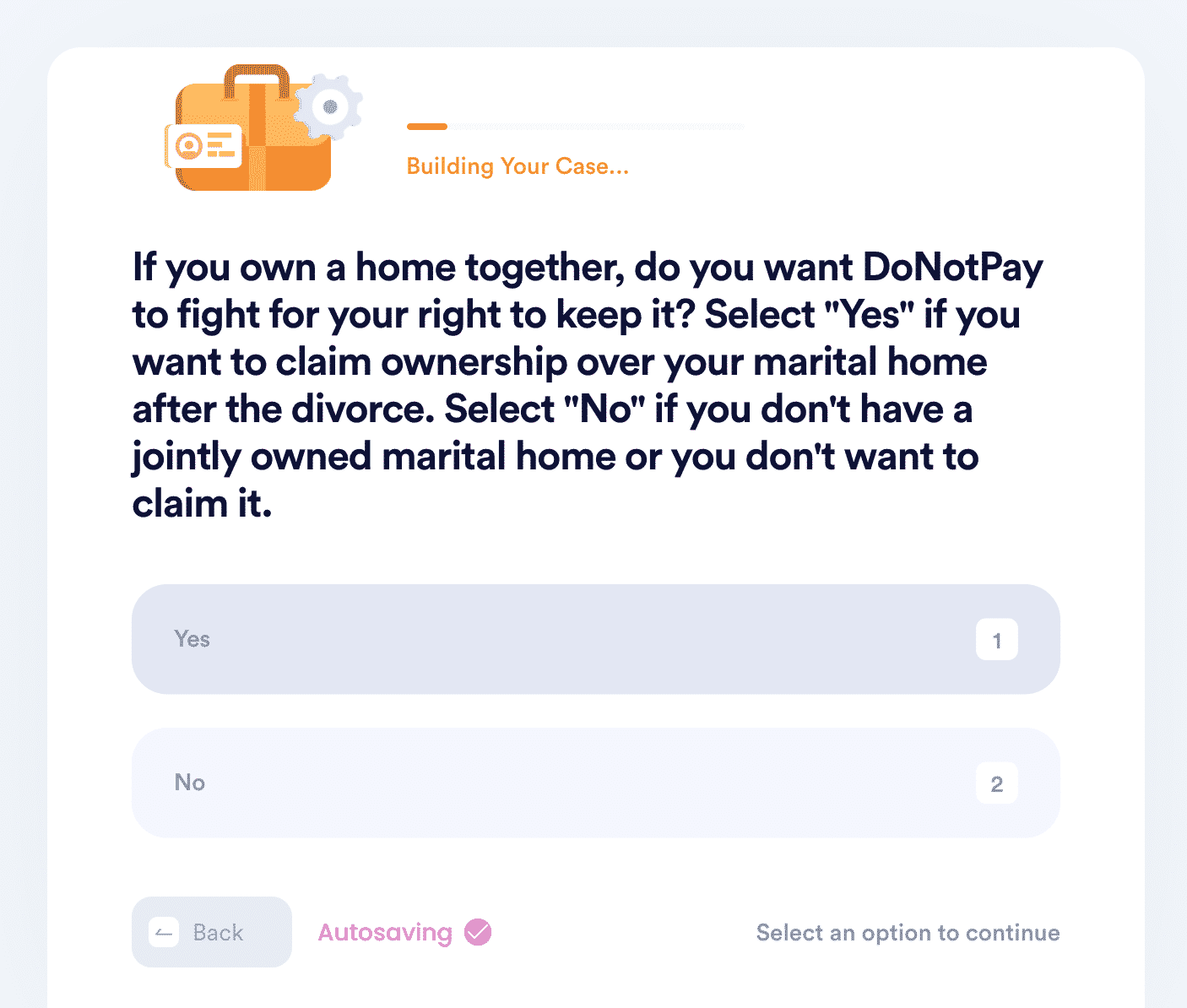 Once we've completed the process, we will send the document your way. After you and your spouse have signed the document, you will need to get it notarized by a notary public. If you don't know where to find one, we can help you schedule an online appointment in no time!
Creating a divorce settlement agreement isn't all that we can do! We offer many helpful guides on Texas divorce-related questions, such as:
DoNotPay Makes All Issues Go Away in Several Clicks
Using DoNotPay comes with plenty of advantages, the main one being that you can resolve just about anything in a matter of clicks. It doesn't get any easier than that!
Do you need to fax a document, draw up an agreement, submit a FOIA request, get a contract notarized, file a warranty or insurance claim, get a burner number, schedule a DMV appointment, or appeal a parking ticket as soon as possible? Sign up now and clear out your schedule because we'll handle it all!
Are you looking for your missing money? Do you need help with your utility bills or property taxes? We're here to help!
Get Rid of Paperwork With Your AI-Driven Assistant
Even though paperwork belongs in the past, we have to keep dealing with it almost daily. To avoid this annoyance, you can just use DoNotPay!
If you need to compose a demand letter to a rude neighbor, submit a claim for a late or missing package, request compensation from an airline, or sue any company in small claims court, we have your back!
All you need to do is sign up, tell us what you need, and resolve any issue in a matter of minutes!