Attorney-in-Fact vs. Power of Attorney—What You Need To Know
Before handing over your legal rights to someone, it is important to understand the attorney-in-fact vs. power of attorney distinction.
Subscribe to DoNotPay and create the most comprehensive power of attorney document for your specific needs. We can teach you everything you need to know about writing power of attorney letters and having your power of attorney notarized.
What Is the Definition of a Power of Attorney?
A power of attorney is a legal document that gives one or more persons (known as the attorney-in-fact or agent) legal power to act on behalf of the principal in case they become physically or mentally incapacitated. The powers can be:
Temporary or permanent
General or limited to a specific event
Immediately effective or dependent on a specific event
An Attorney-in-Fact vs. a Power of Attorney
For someone who doesn't know legal terms, differentiating between an attorney-in-fact and a power of attorney can be quite difficult. Here is the overview of the two:
| | | |
| --- | --- | --- |
| | Power of Attorney | Attorney-in-fact |
| Type | Document | Person |
| Definition | It is the legal document between the person drafting the contract (the principal) and the person they're transferring their powers to (the agent) | An attorney-in-fact is the person who is handed the power by the principal to act on their behalf while making important decisions |
What Power Does an Attorney-in-Fact Have?
The agent should be trustworthy and loyal to the principal refrain from conflict of interest.
Although their powers differ from case to case, an attorney-in-fact can have the authority to make legal decisions related to:
Handling day-to-day financial affairs, such as signing checks
Closing the sale of a home or a building
Purchasing real estate or motor vehicles
Opening and closing bank accounts
Most people opt for a single POA to regulate all kinds of health, medical, and money-related decisions. If you are finding it difficult to choose one person, you can appoint multiple people for separate decision-making processes.
What Are the Different Types of Power of Attorney?
There are several types of power of attorney that can be given to an attorney-in-fact. Every document serves a unique purpose and delegates specific rights, as mentioned below:
General power of attorney—The general POA gives broad rights to the agent, including the right to make necessary legal, financial, or real estate decisions
Durable power of attorney—A durable power of attorney—or a DPOA—is effective immediately after signing the agreement. It gives the agent the authority to act on the principal's behalf even if the principal gets mentally or physically incapacitated and ends automatically if the principal dies
Limited power of attorney—This is the opposite of the general power of attorney and gives limited rights to the agent to act on the principal's behalf. It is provided for specific purposes and usually expires once that purpose has been accomplished
Springing power of attorney—A springing or conditional power of attorney is applicable if a certain event or incident occurs, such as specific medical issues
Medical power of attorney—This document allows the agent to make healthcare decisions on the principal's behalf in case they are unable to do so themselves and can include decisions about surgery, treatment, organ donation, and choice of healthcare facilities
Financial power of attorney—With a financial POA, the agent has the power to make financial decisions for the principal, for example, regarding taxes or payments
How To Create a Power of Attorney Document
There is no one solution for creating a power of attorney document. If you need to get one made, you have multiple options to do it:
Compose it yourself—Check your state's legal requirements and create a power of attorney letter yourself
Search for online templates—Select the type of power of attorney you want and look up online templates. Select the one you want, download it, and amend it accordingly
Consult an attorney—Although this seems like a legit option, hiring a lawyer can be heavy on your pocket
Sign up for DoNotPay—Get a power of attorney in a few clicks and get it notarized within the same app!
DoNotPay Can Create a Power of Attorney in Minutes!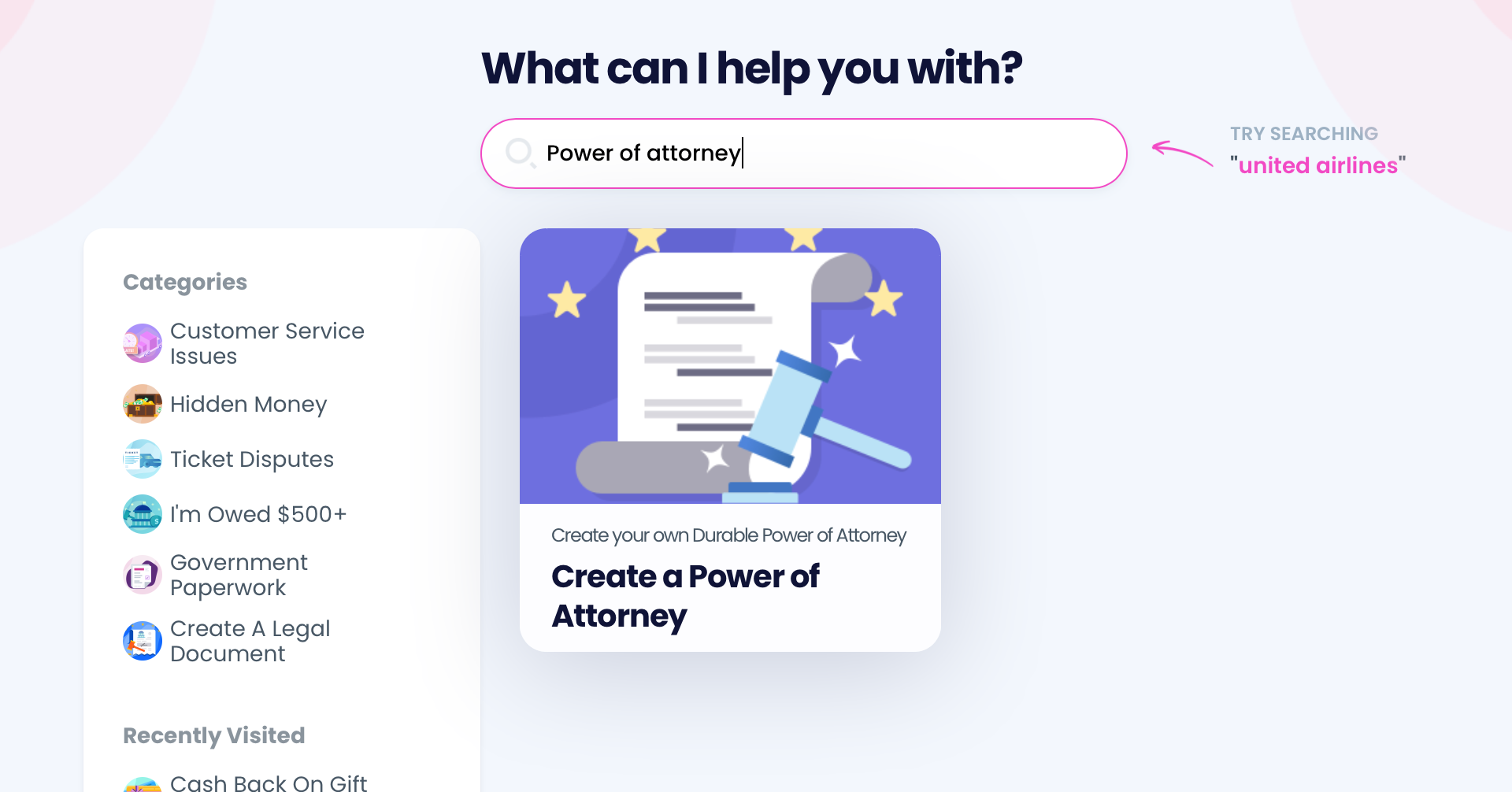 Do you need to create a power of attorney but don't know where to start? Skip the expensive fees and time-consuming processes and let DoNotPay do it for you!
Here is how you can get started:
Access DoNotPay from your web browser
Search for the Power of Attorney service
Answer our chatbot's questions to help us choose the powers you need to include in your document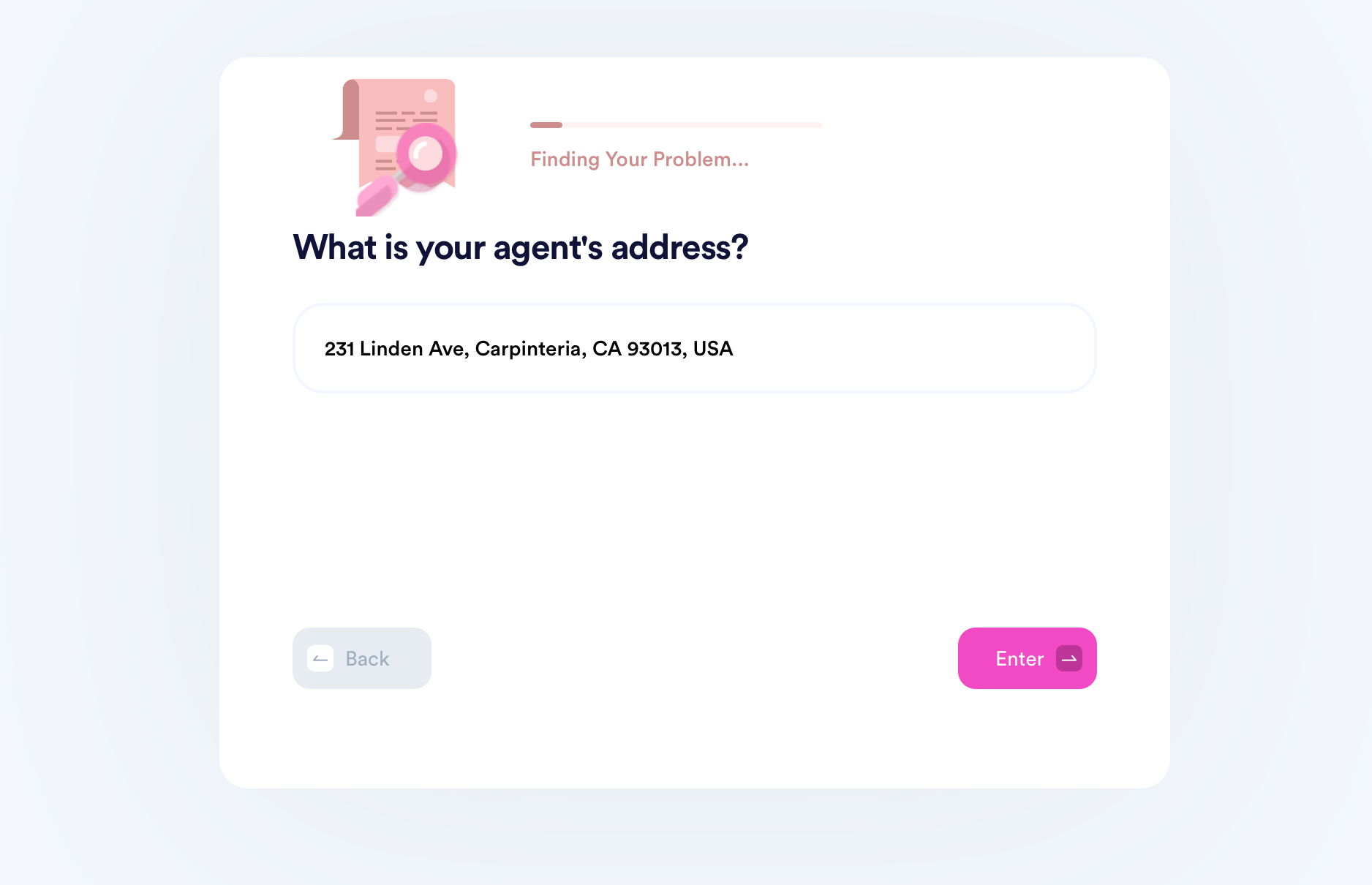 DoNotPay will create your personalized power of attorney document instantly. We will send it to you with two important notices that you and your agent need to read and understand before signing the document.
Need To Notarize Your Document? DoNotPay Can Help!
Most states require the power of attorney documents to be notarized. Once you create your document using our app, our Notarize Any Document feature can connect you with an online notary so you can get your document notarized from the comfort of your home.
Do you have general or state-specific power of attorney questions? DoNotPay's learning center has various articles on POA-related topics, such as:
| | |
| --- | --- |
| General Articles | State-Specific Articles |
| | |
Manage Your Tasks Easily With Our Help
DoNotPay is the perfect solution whenever you need to resolve legal or bureaucratic matters. Here's a fraction of what our AI-driven app can help you out with:
No Matter What You Need, DoNotPay Is by Your Side
Do you have a bunch of subscriptions that you waste money on but don't even use? We can help you cancel them effortlessly! After that, our app can initiate a refund request and make sure you get your money back.
Facing financial difficulties? DoNotPay can help you lower your bills, get free raffle tickets, get gift card cash back, find your missing assets, and so much more!
For a low monthly fee, you'll get access to our impressive range of products, so sign up now!