Everything You Need to Know About AT&T Lawsuits

In 2012, Matt Spaccarelli won an $850 small claims lawsuit against AT&T for throttling his "unlimited" data subscription after only 2.00GB of use.
Winning a small claims lawsuit against AT&T is possible if you understand the process and have sufficient evidence to support your claim. This article will walk you through how to settle a dispute with AT&T and the standard procedure for suing the company in small claims court.
How to Settle a Dispute with AT&T?
AT&T requires you to go through the steps below before filing a small claims lawsuit.
Step
Details
Customer Care Representative

You are required to submit your name and contact details, copies of your bill statement, and proof of the discrepancy in charges before you

chat with a representative

:

800 331 0500 for mobile phone

800 901 9878 for prepaid services

800 288 2020 for internet phone/landline/U-Verse and DirecTV

855 288 2727 for digital home security issues

611 if you use an AT&T phone

Visit AT&T's website for more.

Dispute Notice Form

AT&T permits you to file a

dispute notice form

by yourself or a

qualified service firm

.

If this doesn't work, you'll have to wait for 60 days before requesting arbitration or suing in small claims court.

Demand Arbitration

At the arbitration stage, you and AT&T's representative will be called before an independent arbitrator, accredited by the American Arbitration Association.

Note that:

You must bring all your disputes against AT&T

If you use a legal representative, AT&T promises to reimburse all arbitration expenses below $75,000

The arbitration body, AAA, approves arbitration through voice call, video call, and in-person conferences
How to Sue AT&T In Small Claims Court?
Follow these steps to file a small claims suit against AT&T.
1. Go through your contract with AT&T. You can go through the AT&T customer contract to see the extent to which the company covers your disputes. One stipulation of the contract is that you must notify the company of your dispute no later than 100 days after it happened. Ensure you mail your complaint to the correct AT&T address.
2. Formally communicate to AT&T your intention to sue. Depending on the state you live in, you can either do this by phone or by formal letter, also called demand notice. The latter typically includes:
Your name and contact information

Your dispute claim

The monetary value of your claim

Your preferred means of settlement

A notice to sue if no action is taken
You need to give AT&T a 7-14 day period to respond to your notice before filing a lawsuit.
3. Fill out small claims court forms. Some small claims courts have forms on their website that you can fill from the comfort of your home, while others would require you to meet the court clerk to receive forms. Some courts may demand 2 or 3 copies, so make sure you bring extra.
4. Serve AT&T a copy of your filed papers. You'll have to ensure that you follow the court's process for serving claims. Ensure you mail your forms to the company's approved mailing address.
5. Prove your case in court. Bring your court forms and evidence with you to court. Be prepared to defend your claim.
How to Sue AT&T with DoNotPay?
Suing AT&T by yourself can be complicated and overwhelming. Let DoNotPay handle the legal work for you! You can use to send a demand for arbitration, prepare and mail a demand notice, and file a small claims suit. All you need to do is:
Go to

DoNotPay

and select the Sue Now product

Enter the type and value of compensation you seek

Select whether you want a demand letter or court filing forms

Describe the reason for the lawsuit and submit any applicable evidence
That's it! DoNotPay will generate a demand letter or court filing forms for you. The robot lawyer will also mail a copy of your demand letter to AT&T on your behalf!
What Else Can DoNotPay Do For You?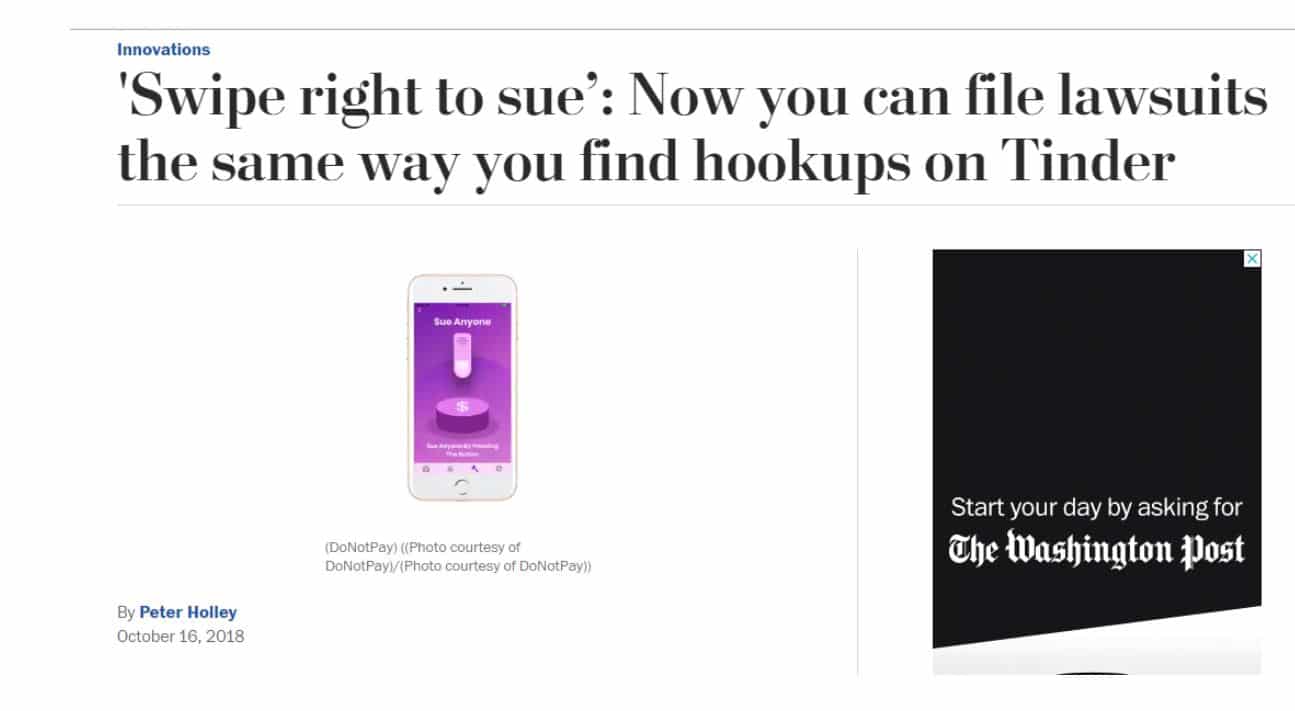 DoNotPay doesn't stop at helping you sue AT&T! The robot lawyer has been helping thousands of its users sue anyone – from nuisance neighbors to big corporations such as: