Get Your Money's Worth—File an AT&T Insurance Claim
AT&T is the largest telecommunication company in the world.
If you have a pricey phone, tablet, or another gadget, AT&T insurance or a warranty can come in handy. Your AT&T insurance can cover the costs in case someone steals your device or you lose it, break it, or damage it in another way.
In this practical guide, we will show you how to file AT&T and other insurance claims.
What Does AT&T Insurance Cover?
AT&T offers several protection plans that should help you in case you lose or break your device. Check the following table to see what plans they offer and their features:
Insurance Plan
Features

Mobile Insurance

Coverage for one device

Device replacement the next day

Two claims in 12 consecutive months

$49 screen repair deductible

$8.99 per month

Protect Advantage for 1

Coverage for one device

Device replacement the same day

Three claims in 12 consecutive months

$29 screen repair deductible

Unlimited battery replacement

Device improvements

$15 per month

Protect Advantage for 4

Coverage for four devices

Device replacement the same day

Eight claims in 12 consecutive months

$29 screen repair deductible

Device extensions

Unlimited battery replacement

$40 per month
The Difference Between AT&T Warranty and Insurance
Before you go any further, you should learn the difference between insurance and a warranty.
Warranties usually cover problems when devices don't work as originally described. While warranties come with devices free of charge, you have to pay to have the insurance protection.
The insurance covers the loss, theft, damage, and malfunctions of a device not covered by a warranty.
Why Use DoNotPay To File
AT&T Insurance Claims
Insurance companies use all sorts of tricks to stay clear of actually doing their job—paying the clients what they owe them. They use various reasons to deny your claim, such as not having enough evidence, claiming that you could have avoided the accident, not filing the claim properly, and many more.
Besides that, the process of filing an insurance claim can be so tiresome that it deters people from doing it in the first place.
To put an end to that, DoNotPay created a convenient tool for filing insurance claims in under five minutes! Our service works with any insurance company and deals with all major insurance types, including:
We can even help you file unemployment insurance claims.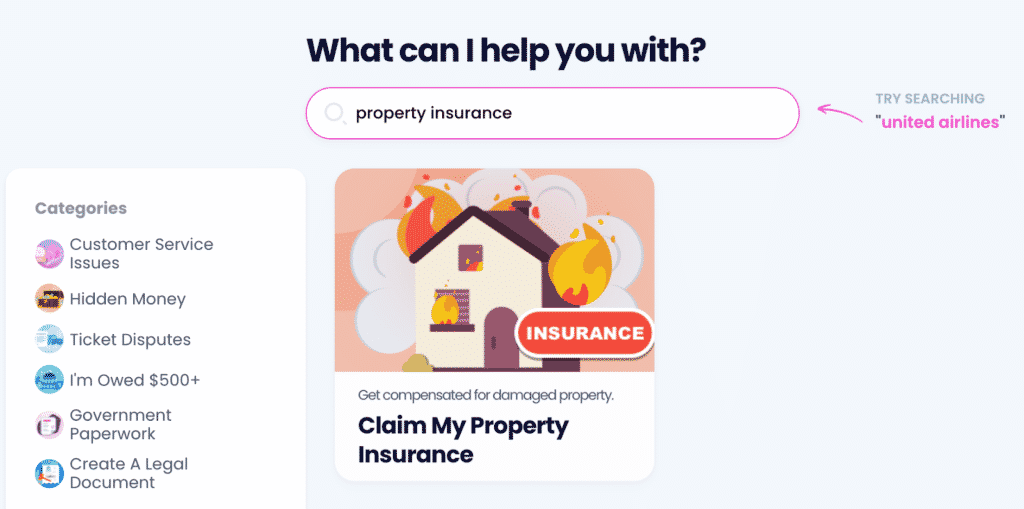 How To File an Insurance Claim With AT&T
Using DoNotPay
Whether you've been in a car accident or had a hailstorm ruin your house's roof, your car or home insurance should cover the damages.
You should access DoNotPay from a and follow these steps to file an insurance claim:
Search for the type of insurance and insurance provider

Provide the necessary personal information and number of your policy

Enter the reason for your claim and describe the details of the accident

Submit the claim
Once you hit the Submit button, we will forward your claim to the insurer. The company will notify you about the next steps.
What Do I Need To Do Before Filing
Insurance Claims for AT&T
You should keep in mind that there is a time limit for filing an AT&T insurance claim. You have to file a claim within 60 days of the day of the incident.
Before getting started, you should gather the following information:
Brand and model of the device

Wireless passcode

Date of loss or damage
Once you collect all the information, you may proceed to file an insurance claim.
How To
File the AT&T Insurance Claim
on Your Own
Asurion is the company in charge of processing AT&T insurance claims. There are two methods for filing insurance claims:
By phone

Online
Filing AT&T Insurance Claims Over the Phone
If you prefer dealing with tasks over the phone, you can do it by calling 888-562-8662 during working hours:
Mon–Fri from 8 a.m. to 10 p.m.

Weekends from 9 a.m. to 9 p.m.
Filing AT&T Insurance Claims Online
Follow these steps to file an AT&T insurance claim online:
Go to

Asurion

Click on the

Claims

button

Select the

AT&T

tab

Hit

Get Started

Enter information about the device

Specify what plan you are using

Describe what happened to the device

Pay the deductible
Depending on what happened, the company can repair or replace your device.
If a Company Rejects Your Insurance Claim, DoNotPay Will Help You Appeal It
Another DoNotPay's fantastic feature is appealing rejected insurance claims, regardless of the company. More often than not, companies will deny their clients' claims. Don't let that stop you from getting what they owe you!
Access DoNotPay from any and appeal any rejected claim with our handy Appeal Denied Insurance Claim feature.
We will help you improve your chances of success by composing the best insurance appeal letter.
Keep Your Money Safe With DoNotPay
Don't let greedy companies threaten your consumer rights by holding back refunds, refusing to cancel your subscriptions, or charging you after your free trial ends.
DoNotPay helps you try out different services without providing your credit card info or phone number—you will never again have to deal with unexpected post free trial charges!
Our app also helps you avoid paying unnecessary parking tickets, delay challenging bills, or waive your college application fees.
If any company refuses to issue you a refund or an airline won't compensate for canceled flights, we can help you sue them in small claims court.
DoNotPay Is a Time-Saving App
How many customer service reps do you have to deal with only to file an insurance claim or book your DMV appointment?
DoNotPay helps you sort out these tasks and much more in only a few clicks.
Get your revenge on robocallers, report text scammers, find validated clinical trials, claim your warranties, get in touch with your loved ones in prison, and protect your creative content—all in less than five minutes.
No more hours-long phone calls, emails, or in-person visits.
We cover everything from freeing your inbox from spam to providing excellent prep tests for government exams! Save time with your all-in-one app!