ATG Credit LLC Pay for Delete: How to Remove Unfavorable Information Your Credit Report
People who search "ATG Credit LLC pay for delete" are likely to find plenty of people on the Internet talking about their experiences trying to get certain information from ATG credit removed from their credit report. This is because ATG Credit is a debt collection agency, and it is not a great thing to have to linger around on one's credit report. Getting negative information from this debt collector removed from your credit report could result in a score that increases by as much as 30 points. Thus, it might be worthwhile to get in touch with DoNotPay and see what they can do to help you .
What Is ATG Credit LLC? 
This Chicago-based company is simply a debt collection agency that works exclusively in attempting to collect on debts that borrowers have yet to pay back. They may appear on your credit report under a number of descriptors such as:
Collections
Debt collector
Credit issuer
They have a lot of different potential titles that they may go under simply because of the nature of the work that they do. All that you need to look out for is the name ATG Credit on your report and you will know that you have information there that you would rather have removed. This is the moment when you need to decide on your next steps and start to put them into action.
How to Dispute a Credit Report
It turns out that a lot of credit reports have inaccurate information on them that may paint a certain picture of who you are as a borrower that is wildly inaccurate and harmful to your score in general. Therefore, it is important for all consumers to understand that they have the right to dispute their credit report if they believe that they have found information on it that is inaccurate. To do so, they will need to:
Identify all of the errors that they believe they have spotted on the report.
Write a letter to the credit bureaus with a complete itemized list of all of the supposed errors.
Potentially contact the credit issuer to inform them that you believe that you have spotted an error on your report.
Wait up to 45 days to hear back both from the credit bureaus and the credit insurers as well.
Check your credit score often to see if the errors have been corrected.
It is a lengthy process that frustrates many people who are experiencing these types of issues for the first time. The longer one has to wait, the longer they are impacted by inaccurate negative information on their credit report. This is why many people are simply turning to DoNotPay to expedite the process and clean up this mess.
Cleaning Up Your Credit Report With DoNotPay
How to clean up your credit report using DoNotPay:
If you want to clean up your credit report but don't know where to start, DoNotPay has you covered in 3 easy steps:
Search Clean Credit Report on DoNotPay.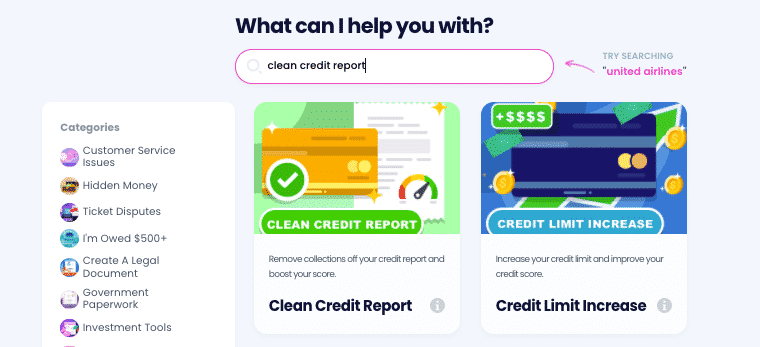 Prepare a recent copy of your credit report that you can use as reference.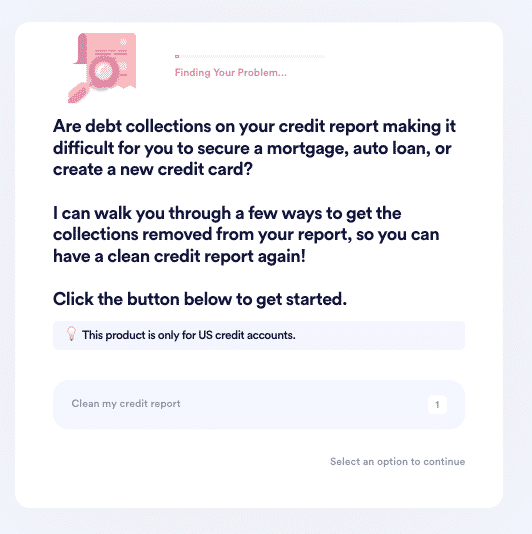 Let us guide you through the 4 potential options:If you've already paid off your debt, we'll help you file a Goodwill Removal Request to get it removed.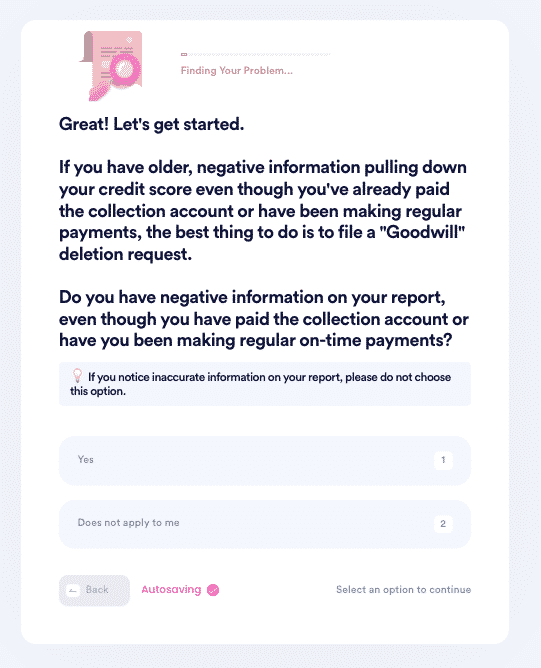 If you notice any errors in your report (we have a list of common errors you can use!), we'll help you file a credit dispute to the creditor or major credit bureaus.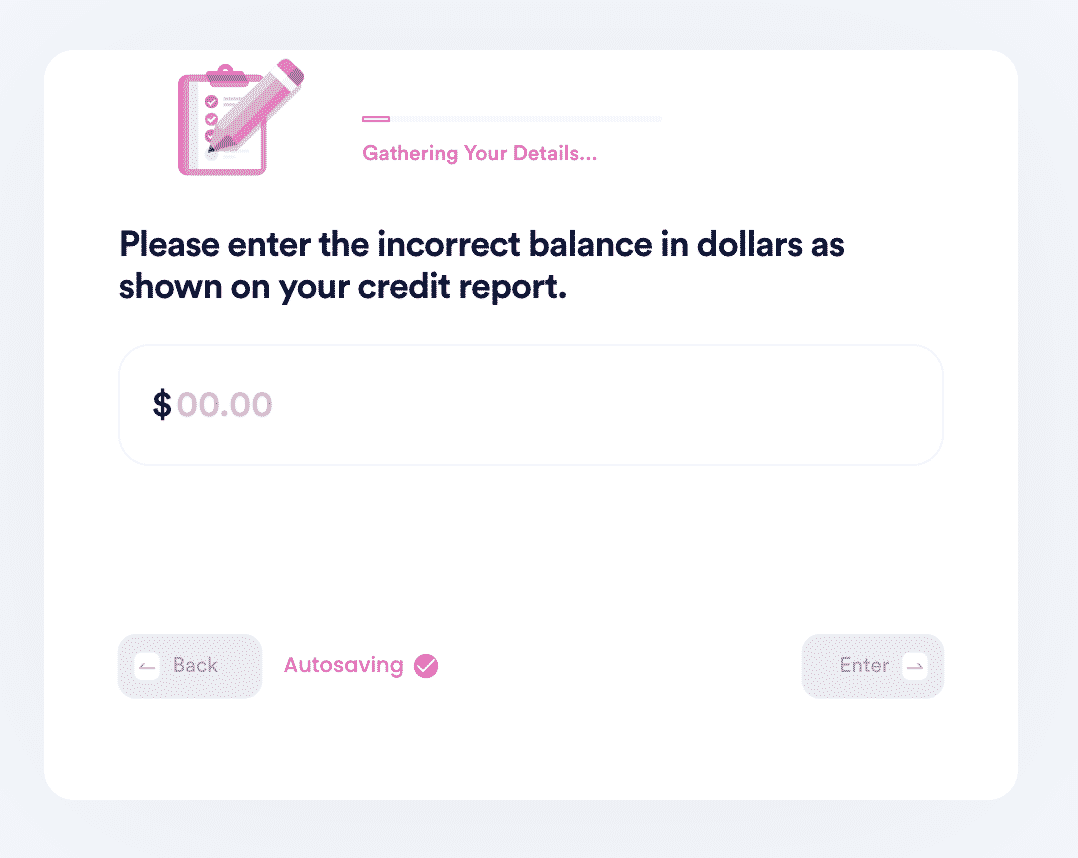 If there are no errors, we'll check if you're still eligible to file a debt validation request. If they can't validate your debt, they're required to remove it from your report, and they can't collect it!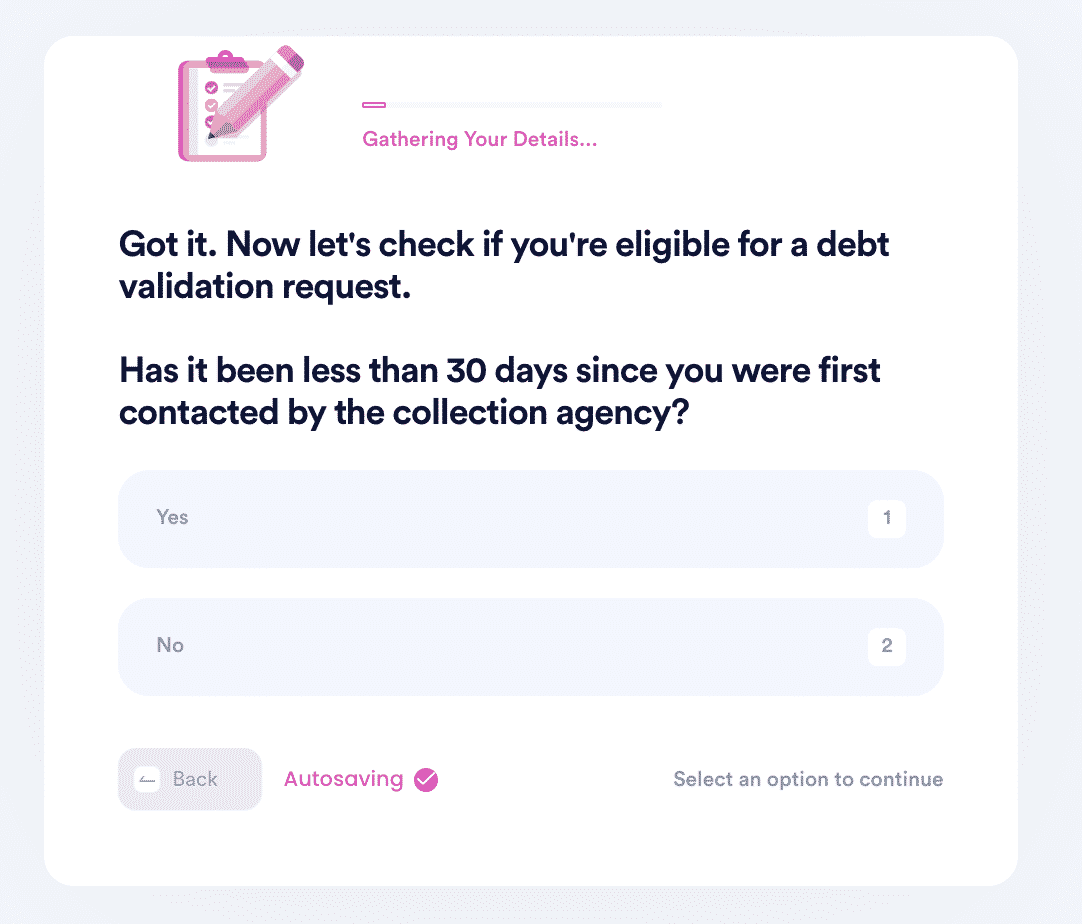 Lastly, if none of the above options work, we'll help you file a pay-to-delete negotiation letter. You can customize the amount you are willing to pay in exchange for getting the item removed.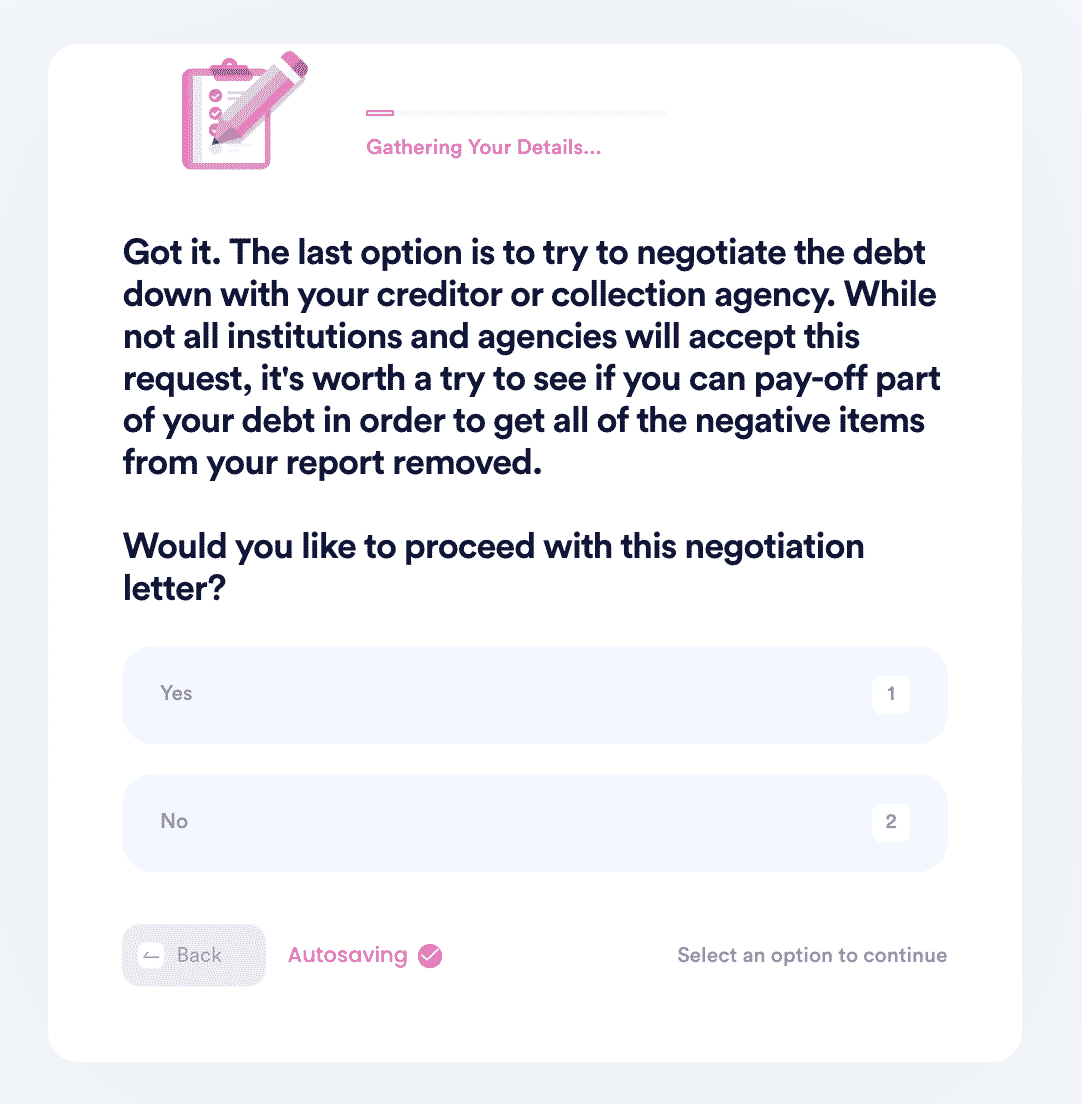 And that's it! DoNotPay will be hard at work on your behalf to begin cleaning up any discrepancies on your credit report including sending those goodwill letters to remove late payments and begin raising your credit score!
A Clean Credit Report Means a Brighter Financial Future 
Cleaning up your credit report is not something that you should shove to the back burner to get to when you have time. Instead, you need to realize that this is a pressing matter that needs to be addressed as soon as possible to make it easier to gain traction going forward in your financial life. If you have a cleaned up credit report, you might enjoy some of the following:
Easier access to money for future borrowing
An easier ability to be hired for a job (some employers check credit scores)
More favorable terms on future borrowing
Your credit report should be based on reality at the very least, and that means keeping tabs on it and making sure it does actually show the reality of the situation that you are in with your money. As long as your report does that, then it is actually worth something.
What Else Can DoNotPay Do to Help?
You may be impressed by all that DoNotPay can do for a person who is battling an inaccurate credit report, and it is reasonable to be pleased with what they offer in that realm, but don't stop there. DoNotPay has additional services in these areas as well:
They offer many programs that users benefit from immensely. It is their hope that users will find their products serve a utilitarian purpose and help them get to the kind of results that they require without all of the bureaucratic red tapes. If DoNotPay can do this, then they are accomplishing their mission. Sign up now and get from your report.