An At-Will Employment Agreement in a Nutshell
Most employers impose an at-will employment agreement on their newly-hired workers. This contract is beneficial for the employers, but not so much for the employees.
If you want to learn all about at-will agreements, you are in the right place. DoNotPay dissects this contract and explains what you should be aware of. We can also create various legal documents for you in the blink of an eye!
What Is an
At-Will Contract
?
An at-will contract implies that the employer can fire an employee without a valid cause at any time during their employment. According to the law, employees in most U.S. states are by default subjected to the at-will policy unless there is specific documentation that states otherwise. The only exception is Montana, where the worker who goes through a mandatory probation period can't get fired without a just cause.
Why Are At-Will Employment Agreements Beneficial for the Employers?
The at-will employment doesn't sound very inviting to the employees, but it is highly advantageous for employers. Most employers even point out in their employee manuals that they practice the at-will employment policy.
Check out the table below to discover how at-will contracts benefit employers:
| | |
| --- | --- |
| Benefits for the Employer | Details |
| Flexibility | The at-will policy gives the employers freedom to reorganize their workforce according to the market demands without worrying about the legal repercussions of firing employees |
| Cost-effectiveness | Employers can terminate problematic employees without the lengthy period of write-ups and warnings. Such freedom helps streamline the process and reduce costs |
Do Employees Need To Sign an At-Will Employment Agreement?
Employees can be hesitant to sign an at-will contract, and rightfully so. The only problem is that:
An employer can fire them for refusing to sign it

The default rule is that every employee is subject to the at-will policy, even if he or she refuses to sign the contract
The truth is that most employers don't fire workers without a good reason. They will likely try to resolve the issue first.
There are times when the terms of an at-will agreement can be negotiated. Top talents and skilled employees have leverage for being in high demand and don't want to risk getting fired on a whim. They usually ask to sign an individual employment agreement which clearly stipulates:
Obligations of each party

Terms of employment

Manner of addressing the termination

Provisions of the agreement, such as salary, wages, and benefits
Are There Any Exceptions to the At-Will Employment?
When it comes to at-will employment policy, state law is more inclined to support the employer than the employee. Workers who believe they have been fired unjustly can take their case to court. To avoid considerable legal expenses and lengthy disputes, both parties should have a firm grasp of state laws regarding the terms of an at-will contract.
There are three general exceptions to an at-will employment policy where an employee can make a claim against the employer. Not all states allow the same exceptions, so you should check particular state laws for specifics.
Public policy exceptions

—An employee cannot get fired for acting in accordance with state or federal law. An example of that is an employee notifying the government agency of the employer's illegal activities

Implied contract exceptions

—An employee can claim that they were not an at-will employee if there was no written contract or a statement in the employee handbook that said otherwise. That can be hard to prove without concrete evidence

Implied in-law exceptions

—An employer can be sued for firing an employee as an act of bad faith. The employee has to prove that the employer's reasons have nothing to do with their work ethic
Learn About Other Contracts With DoNotPay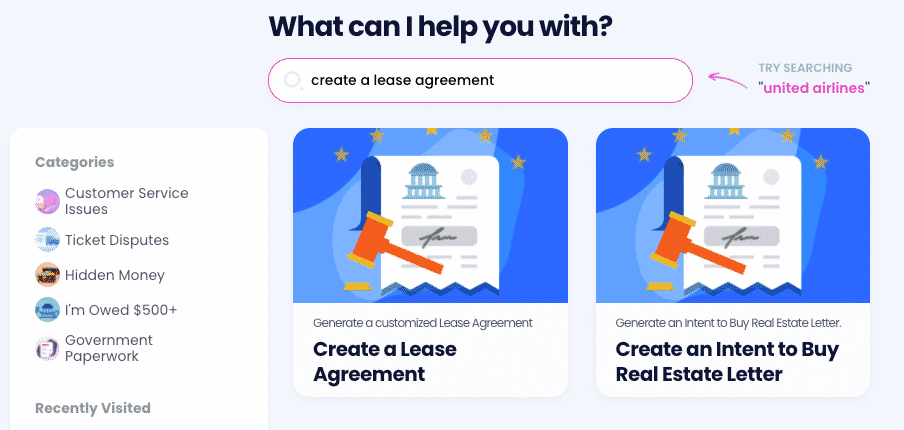 Contracts are tricky, and creating one independently can be overwhelming. If you need some guidance on how to do it, ! Our knowledge base is an invaluable source of information. Check out our comprehensive articles and learn about:
Create Contracts With DoNotPay
Everyone has to create a legal document at some point, be it for personal or professional reasons. You don't always have to write a contract yourself or download an unreliable contract template. Our Standardized Legal Documents tool uses the info you provide to create a customized contract. You can finish the whole process in a few clicks if you:
in a web browser

Type in the name of the document you need

Answer a few questions from our chatbot
Your personalized contract will be ready in a matter of minutes.
In case you need to notarize the contract, we will schedule an appointment with the online notary for you. Considering how sensitive legal documents are, we can even provide faxing services to ensure they reach the recipient safely!
Take a look at some of the legal documents we can assist you with:
Independent contractor agreement

Estoppel certificate

Quitclaim deed

General business agreement

General affidavit

Promissory note

Intent to purchase real estate

Residential

lease agreement
DoNotPay Keeps Your Privacy Intact
DoNotPay can help you surf the web safely and securely. No need to provide your personal information to every company whose service you'd like to take for a test drive. Our Virtual Credit Card and Burner Phone products shield your data from prying eyes and dishonest merchants.
Feel like subscribing for a free trial? Make it truly free and avoid automatic membership renewals with our card. It can also help identify spammers and potential scammers who send bothersome robocalls and robo texts your way. As soon as they act on the virtual card number, DoNotPay will unmask them and demand compensation!
DoNotPay Can Help You Bring Any Business to Justice
Should a company refuse to grant you a refund or compensation, our app will help you take them to small claims court!
We'll help you cancel the service in question to avoid any future charges, and we'll call their customer service so you can get info on your denied request. We'll draft the relevant court documents for your jurisdiction and give you instructions on filing them.
More Nifty Features That'll Make Your Day
You may not have breach of privacy issues or reasons to bring someone to court, but you surely have ample motivation to save or earn a few dollars here and there—especially if we catch you unawares!
DoNotPay can show you how to reclaim funds that you didn't know were under your name or make a denied warranty appeal to any company. We streamlined the processes of requesting refunds, college fee waivers, airline flight compensation, parking infraction dismissals, as well as applying to clinical trials that pay!