Take DoNotPay's
ASVAB Word Knowledge Practice Test
and Ace the Real One
The Department of Defense created the Armed Services Vocational Aptitude Battery (ASVAB) test to assess the strength and potential of military applicants. Whether you will be a military journalist or join the marine or air force depends on your ASVAB test score.
The test consists of several subtests, one of them being the word knowledge exam. 
If you want to get a high score, you should complete as many ASVAB practice tests as you can to be fully prepared. DoNotPay is here to help you access a plethora of ASVAB word knowledge practice tests all in one place!
What Is the
ASVAB Word Knowledge Test
?
The Word Knowledge (WK) test is part of the Armed Services Vocational Aptitude Battery (ASVAB) exam. The questions on the Word Knowledge test require you to:
Understand the meaning of the presented words

Give synonyms or antonyms

Spell the words correctly

Provide the right definition of the words
You can do either the computer-based (CAT-ASVAB) or paper-and-pencil ASVAB test. 
If you take the CAT-ASVAB test, the number of questions on the WK subtest and the time for doing the test depend on whether you get try-out questions. You will get 23 minutes to answer 15 questions. You might get additional 15 try-out questions and 47 minutes to finish the test. The try-out questions don't count in your score.
The paper-based WK subtest contains 35 questions, and you have 11 minutes to answer them.
The ASVAB test comes in two versions:
The ASVAB enlistment test

ASVAB Career Exploration Program (CEP)
The first one is used for recruiting purposes, while the second one can help high school students determine which career path to choose. Both tests contain the Word Knowledge exam along with nine other subtests.
What Are the Other ASVAB Subtests?
Besides the Word Knowledge test, ASVAB includes the following:
| | |
| --- | --- |
| Subtest | Description |
| Paragraph Comprehension (PC) | Tests your ability to understand the information in written passages |
| General Science (GS) | Assesses your knowledge of biology and physics, including zoology, botany, anatomy, oceanography, chemistry, and geology  |
| | Determines your ability to think logically and use addition, subtraction, proportions, interest, or percentage  |
| | Tests your knowledge about electricity, currents, systems, and electrical devices |
| Auto Information (AI) | Contains questions about automobile technology |
| Shop Information (SI) | Assesses your knowledge of shop terminology, tools, and practices |
| Mechanical Comprehension (MC) | Tests your understanding of mechanical motion, devices, or compound machines |
| Assembling Objects (AO) | Evaluates your grasp of what an object may look like when you put different parts of it together |
| | Tests how much you know about high school math principles |
Why Should You Prepare for Your ASVAB Test?
The ASVAB test is demanding, and if you want to get a high score, you need to prepare thoroughly. There is no pass or fail with the ASVAB test, but you might not be able to get the job you want if you have a low score. 
How To Get Ready for the ASVAB Word Knowledge Test
You can't find any official handbook for the ASVAB WK test, but you should go over your high school or college English course materials. What can give you a sense of what to expect on the WK test is the ASVAB practice test. 
Try to do as many practice tests as you can to see what your weak points are. By doing the ASVAB practice tests, you can feel more confident and comfortable when taking the actual one. If you are looking for ASVAB practice tests, DoNotPay is the perfect place to find them!
DoNotPay Has the Best ASVAB Word Knowledge Practice Tests
DoNotPay has an extensive database of ASVAB practice tests for you! With our AI-powered app, you can get ready for any ASVAB subtest, including the WK. 
To access the Word Knowledge practice tests via DoNotPay, follow these instructions:
Set up your DoNotPay account in any

web browser

Search for the ASVAB practice test

Select the test you want to take

Indicate how many questions you would like to get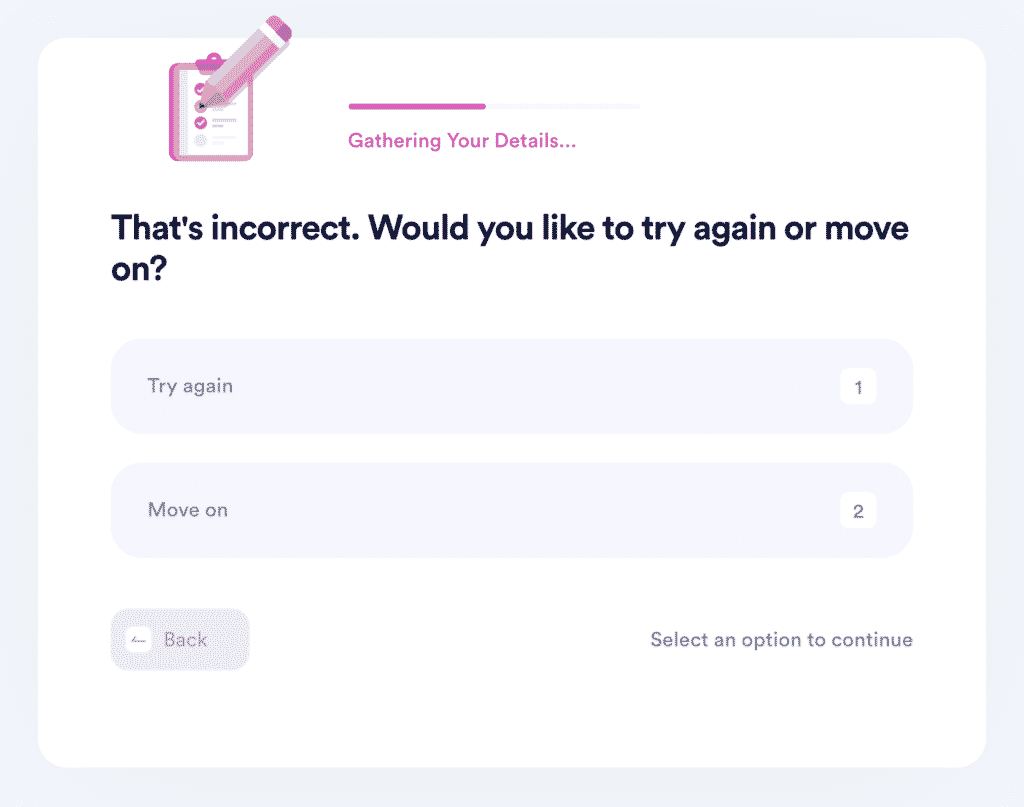 DoNotPay doesn't limit the number of times you can take the practice tests. Our ASVAB WK practice tests might contain 10, 20, or 30 questions—the choice is yours! Another perk of DoNotPay is that you can correct your mistakes right away or once you complete the entire test.
What Other Practice Tests Can You Find on DoNotPay?
DoNotPay's database contains other government tests, too. 
We can help you practice for your commercial or noncommercial driver's license test. With our DMV practice tests, you can pass your driving exam with flying colors. We also offer you more information about making a DMV driving test appointment and passing the written driving test. Use DoNotPay to learn how to make a driving test checklist easily!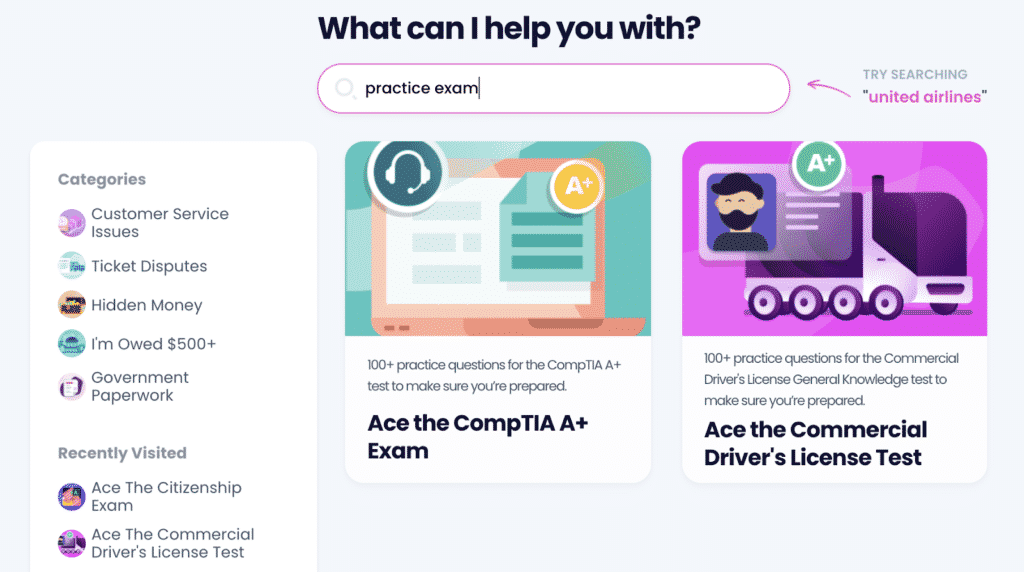 Open our app in any web browser and get access to government practice tests, such as the:
Do You Know What Else You Are Eligible For?
DoNotPay is a handy virtual assistant that can reveal a world of possibilities that you may not have even been aware of. We've perfected our algorithms to identify opportunities for you to save up and take charge of your rights. 
Here's a fraction of what we can do for you:
What Else Is New With DoNotPay?
DoNotPay boasts several new features that can help make your everyday life so much easier. 
Have you been wondering how to file an insurance claim but weren't sure where or who to turn to? We'll gladly do it for you. 
Are you tired of outdated faxing practices and manual documentation? Our app can provide you with an online fax solution and draft all your legal paperwork in no time at all.
Do you need a safe place to prepare for your upcoming government test? DoNotPay will give you all the prep tests you need.
We can help out with locating an imprisoned loved one and keeping correspondence with them via our virtual mailbox.
See what else DoNotPay has in store by accessing our web app in any browser.