Here's How an Assignable Purchase Agreement Can Help You
Whether you have dealt with legal documents in the past or not, you may be unfamiliar with an assignable purchase agreement.
Assignable contracts are a little specific, so if you don't have experience in writing or signing them, you may have an urge to spend your savings on an expensive lawyer.
DoNotPay is here to show you that you don't have to lose your money on a professional you can't afford or waste your valuable time on contract templates you cannot understand.
This article will answer all your questions regarding assignable purchase agreements and show you how to write contracts on your own.
What Does an Assignable Purchase Agreement Entail?
An assignable purchase agreement is a purchase agreement with the clause that the rights and obligations stated in the contract can be transferred to another party. This transfer is called the assignment of contract. 
The party that wants to sell their right to purchase a property or underlying assets is called the assignor or the transferring party, while the other party is the assignee. 
The assignee will benefit from acquiring assets or property of the original purchase agreement before its expiration date, but they also must undertake all the duties of the assignor.
Is Your Agreement Assignable?
If you're interested in assigning your contract to another party, you must first check whether your contract is assignable.
Regardless of what kind of a purchase agreement you originally signed, you will find a clause or a statement in it that states whether you can transfer your rights and obligations to someone else. The clause should be located toward the end of the agreement. If your agreement includes an assignment provision, you can begin the assignment of the contract process. 
If you can't find this clause, read your entire purchase agreement carefully. You have to stumble upon a sentence that states either that the contract 'may not be assigned' or that it may.
If you're the buyer of the real estate purchase agreement, you can assign the contract to another party if there is a phrase "and/or assigns" next to your name on the first page of the contract.
Who Uses Assignable Purchase Agreements?
An assignment of contract is typical in:
Real estate sale and purchase

—If there is a phrase 'and/or assigns" next to the buyer name, the real estate purchase agreement is assignable. Assigning the right to purchase property is particularly common when using

for sale by owner contracts

Futures market

—Futures market involves the sale and purchase of a commodity or underlying assets. The parties in the futures contract are obliged to either buy or sell the commodity until the expiration date. When they can't do that, they often choose to assign the contract to another party. The assignee takes over that responsibility but also benefits from the sale or purchase of underlying assets
How To Assign Your Contract Properly
Here are the essential steps you have to take when assigning your contract to another party:
Review your original purchase agreement

—Check whether there is an anti-assignment clause in your contract

Notify the other party of the original purchase agreement of your plans

—Make sure to inform the non-transferring party of the purchase contract you will be transferring your rights and responsibilities to another party even if the agreement is assignable. If consent from the non-transferring party is mandatory, and you perform the assignment of the contract without it, you will be breaching the original agreement 

Enter into the assignment of contract

—Negotiate the terms with the assignee and draft the assignment of contract to complete the transfer  
How To Write Legal Documents With the Help of DoNotPay
Writing legal documents may seem like a tough task if you don't possess the professional expertise of a lawyer, but that doesn't have to be the case.
With the DoNotPay Legal Documents feature, you can generate tailor-made contracts in under a few short minutes. You only need to take these three steps:
using any web browser

Tell us the name of the document you need DoNotPay to generate

Provide a few key pieces of information to personalize your document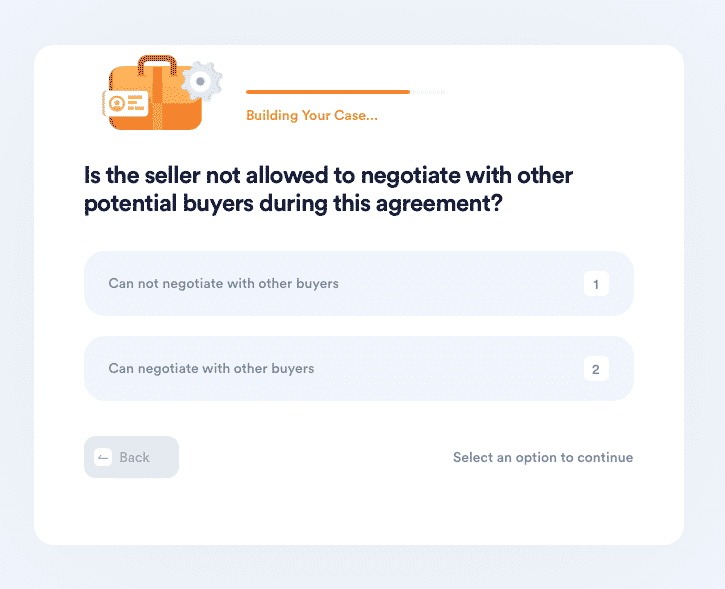 You Can Use DoNotPay To Both Write and Learn About Legal Documents!
DoNotPay's knowledge base includes a comprehensive list of contracts and issues people have when dealing with them. DoNotPay also provides a rich database of legal documents you can create from scratch and tailor to your needs.
When you , you can generate and learn about these types of contracts:
Create a(n):
Learn About a(n)

Estoppel certificate

Quitclaim deed

General business contract

Intent to purchase real estate

Child care authorization form

Promissory note

General affidavit
DoNotPay—A Pocket-Sized Assistant
If you need protection from stalkers and harassers, we know what to do. Whether you want to deal with a rude or noisy neighbor or fight workplace discrimination, DoNotPay has got your back. Even spammers don't stand a chance against our AI-powered app—both the texters and the robocallers.
If your situation takes a turn for the worse, you may need to take the issue to court. In this case, the world's first robot lawyer swoops in to help! You can count on DoNotPay to assist you every step of the way, regardless of whether you need to take a person or a company to small claims court.
Our App Helps You Through Numerous Red-Tape Issues
Dealing with paperwork doesn't have to be tedious. With DoNotPay's help, cutting through red tape is fast and easy. With a few clicks in our app, you'll be able to: