All About the Asset Purchase Agreement
Any cooperation involving the purchase of tangible or intangible assets needs a specific legal document to get the essential terms regulated. It's easier said than done, as writing a contract can be a complicated and time-consuming procedure. 
If you want to avoid dealing with lawyers whose services cost an arm and a leg, you can learn the essentials of an asset purchase contract in our useful guide. 
What Is an Asset Purchase Agreement?
An asset purchase agreement is a contract signed by a company or business selling its assets and an individual or company that wants to take them over. It covers the transfer of ownership from one party to another and regulates the terms of sale and transactions both entities agree upon. 
The term "assets" usually refers to valuable items a company possesses and uses for its business development, including:
Premises

Goodwill

Know-how

Various contracts

Stocks and shares

Real estate

Plants and machinery

Furnishings and inventory
This contract doesn't apply to the assets that don't exist yet or to any exchange. The parties usually sign it right before the end of the purchase procedure, treating it as a conclusion and final record. 
What Are the Benefits of Signing an Asset Purchase Agreement?
Like any other legal document that supports cooperation between two parties, an asset purchase contract brings many benefits. Here's why you should consider creating a solid agreement if you are selling or buying your business assets:
The contract offers the overall protection of both entities' rights

—Both parties and their interests are equally important. By establishing the rules that work in everyone's favor, all participants will feel safe while trading and won't be afraid of fraud

The agreement prevents the parties from getting confused

—Clear regulations promise cooperation without misunderstandings and arguments. The less ambiguity there is, the easier it is to avoid unnecessary tension and problems in interpreting written terms

Such a document reminds both sides what their responsibilities are

—If you are unsure what you should do or how to act in certain situations, the contract will have all the answers you need. It will help you keep track of your duties and obligations
What Are the Essential Parts of an Asset Purchase Agreement?
Your asset purchase agreement should be specific. If you choose generic contract templates, you may create a so-called gray area. Ambiguities in the contract can help the other party take advantage of potential loopholes or vague terms that can be interpreted differently.
If you want to make sure your agreement contains all the relevant information, follow the structure from the table below while creating it:
Section
Details

Introductory section

Personal information of both parties—names and addresses

Start and end date of the contract—it mustn't be the same day

Recitals—a summary of the deal and expectations of each party

Definitions

Explanation of all essential terms used in the agreement

Assets information

Assets type

Assets description—in as many details as possible

Business records

Liabilities to the seller

Liabilities transferred to the buyer

Price

Amount

Payment method

Installments

Transaction details

Debt negotiations

Closing

Closing conditions

Closing documentation

Potential changes and repairs

Price adjustments

Taxation handling

Other related clauses

Representation

Warranty information

Additional covenants

Indemnity clause

Applicable state laws

Choice of venue

Modifications and amendments of the contract
Can an Asset Purchase Agreement Be Modified?
Some asset purchase agreements contain a specific term that enables the parties to change some part of the contract, but this isn't typical. 
Once both entities sign and notarize the document, there should be no modifications. The court is the only body that can introduce changes. This happens if there's a dispute between parties or the contract contains vague or incomplete terms that cause confusion.
How Can DoNotPay Assist You With Creating Legal Documents?
If you don't have experience composing contracts or legal documents, DoNotPay can do it in your stead! Our user-friendly app allows you to pick one of our standardized document templates and create a detailed and personalized contract.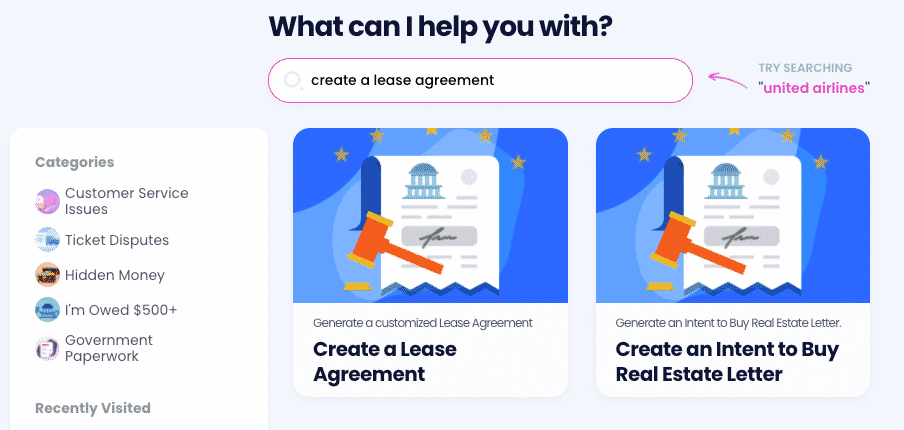 Here are the steps you should follow:
Log in to DoNotPay in your preferred

web browser

Pinpoint the desired document template

Enter more agreement details
You can repeat this procedure as many times as you need—we don't set limits to our service! Once you create all the documents you need, make sure to sign them and take them to a notary to make them valid.
If you find our article about the asset purchase agreement useful, you may also want to use our knowledge base to learn more about:
As the first robot lawyer in the world, DoNotPay provides a great selection of the best customizable legal documents, including:
Quitclaim Deed

Promissory Note

Intent To Purchase Real Estate

Estoppel Certificate

General Affidavit

General Business Contract

Child Care Authorization Form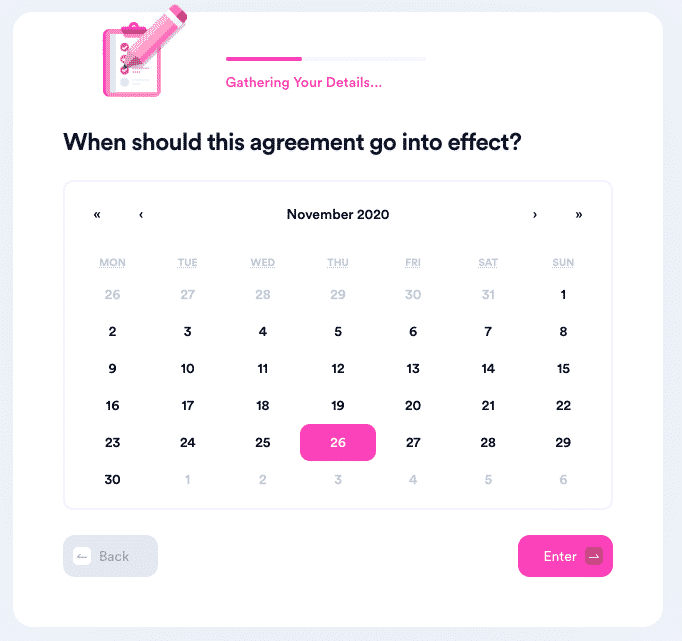 Our Robot Lawyer Gets Rid of All Admin Tasks
What makes DoNotPay so unique is that it helps you get back what is rightfully yours in many different ways. You can appeal parking tickets, find unclaimed money, demand a refund for canceled or delayed flights, get help with bills you cannot pay, or get your college application fees waived with the help of our platform.
If you're sick and tired of annoying robocalls, spam emails, copyright violations, text message spam, or stalkers and harassers, DoNotPay can assist you in getting rid of them once and for all.
DoNotPay Can Help You Save Money
Have you ever subscribed to a service's free trial you forgot about after a few days? Many Americans have, which is why DoNotPay has a free trial feature that will help you avoid getting charged once the trial is over.
If you want us to scan all your active memberships and help you not pay for the ones you don't use, connect your email address or credit card to DoNotPay. Our cancel feature will ensure that you don't waste your money on subscriptions you don't even remember exist.
If a merchant charges you once the free trial is over, though, you can use our robot lawyer to request a refund and skip the phone queue when doing so.
In case a company refuses to grant you a refund, you can also use our app to sue them in small claims court.