How to Sign Up For Asana Free Trial Without a Credit Card

Asana is a prominent collaborative work management solution that helps teams and businesses improve productivity, collaboration, and coordination. Do you need to manage your project teams and work with ease and simplicity? Then consider using DoNotPay to get more information about the  for your team and project management.
Is There a Free Trial for Asana?
Yes, Asana offers an  for 30 days. A trial is the most significant way to see all Asana Premium and Asana Business have to offer, whether you're entirely new to Asana or have been using the free version. Asana has three versions, the basic that has the free version, the premium, and the business versions.
Basic Version (Free Trial)
The basic version is individuals and teams getting started with project management and has the following features:
Unlimited tasks and projects.
Unlimited messages and activity log.
Limited file storage of 100Mbs per file.
A collaborative team of 15 members.
Premium Version
The premium version is for teams that need to create project plans confidently. It has the following features:
Timeline with unlimited dashboards.
Reporting across complete projects.
Advanced search with customized fields.
Entails an admin console, private teams, and projects.
It has a start date and time.
Business Version
For teams and companies that need to coordinate work across several projects with the following features, including the premium version's characteristics:
It has portfolios, workloads, and goals.
Custom rules builder and approvals.
Advanced integrations with Salesforce, Adobe Creative Cloud, Tableau, and Power BI.
Lock custom fields.
What Is the Procedure to Get Asana's Free Trial Version?
You can get an Asana free trial through the following procedure:
Access Asana's website
Create your profile
Choose the 30-day free trial basic plan.
You can link your credit card details.
Enable the required permissions and begin your free trial.
Does Asana Free Trial Automatically Renew Into a Paid Subscription?
Yes, the Asana free trial automatically renews into a paid subscription after the 30-day trial period. Asana would automatically renew your membership after the trial if you added your credit card details. You can cancel at any moment during the 30-day trial period without your account getting charged.
Avoid Automatic Renewal With DoNotPay Virtual Credit Card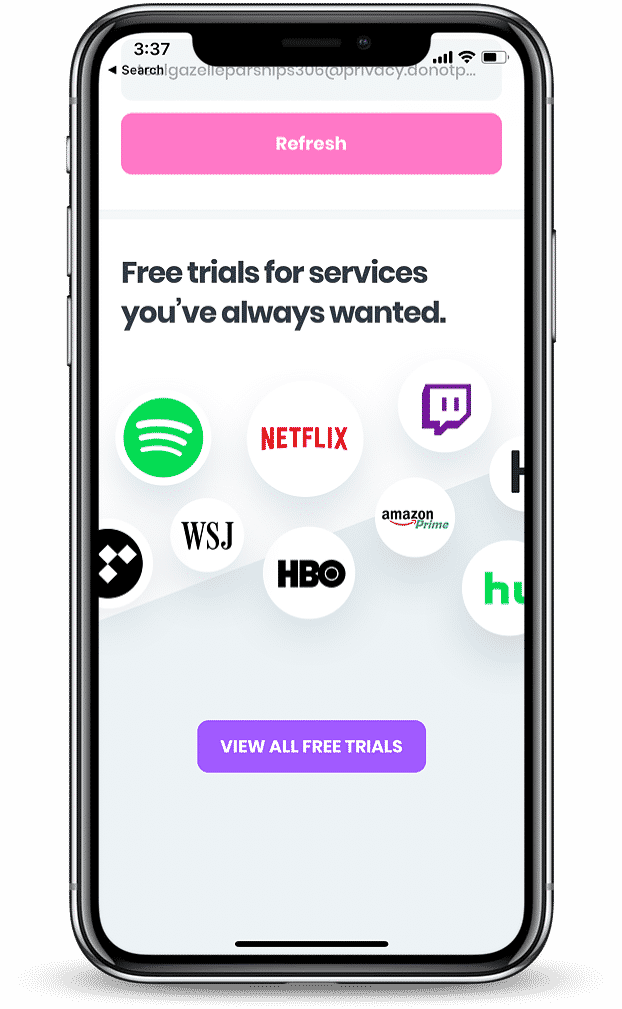 You have seen various companies such as HBO and Amazon offering free trials. These free trials ensure that these companies gain subscribers. They are a form of indirect advertisements that eventually pay off through subscriptions. While these firms guarantee that they will not charge your card during the free trial period, they begin to charge your credit card once the trial period ends.
These companies take advantage that most people fail to cancel their trials on time, allowing them to charge your credit card many times before you find that you're a paying customer.
For example, Asana provides a 30-day free trial that you can probably forget about due to the long period. However, you don't need to worry because  will provide you with virtual credit cards that you can use for free trials.
What Are Virtual Credit Cards?
Virtual credit cards are temporary credit card numbers produced randomly by different organizations. They enable customers to sign-up for free trial services and perform secure internet transactions. They're linked to your actual credit card, but they're loaded with false information. Therefore, any application that can access the virtual card cannot charge any fees on your credit card because they don't have your information. DoNotPay will give you a free virtual credit card if you apply for the card.
How Do I Cancel Asana's Subscription Using DoNotPay?
Within 48 hours, DoNotPay will cancel your Asana subscription and e-mail you, confirming the termination. By visiting DoNotPay on your web browser and following these three steps, you may cancel this service with DoNotPay:
Go to your Asana account and log in.
Click on Find Hidden Friend.
Type in Asana to inform us that this is the service you're canceling.
You don't need to put any further effort into ending your subscription. DoNotPay will send you a notification when the service subscription is complete.
After The Free Trial, How Much Does Asana Cost?
The table below shows the existing subscription plans offered by Asana:
Plan
Subscription Cost
Basic
$0.00 free trial
Premium
$10.99/Monthly per user billed annually

$13.49/Monthly per user

Business
$24.99/Monthly per user billed annually

$30.49/Monthly per user
What Will Asana's Charges Look Like in My Statement?
ASANA.COM 455-535-3788 CA
SAN FRANCISCO, CA ASANA COM
ASANA.COM*$10.99
SubscriptionFromHinge.co
HINGE.COM*ICTYUGHN 875-492-558 CA
HINGE.COM*$19.99
Eso.com authorization
ESO.COM*CGTELLIN (800)-893-676871 CA
EPOCH.COM*$15.00
What Are the Most Popular Alternatives to Asana?
Asana's most popular alternatives include:
Application
Subscription cost
Features
Hive
Hive Solo: Free Subscription

Hive Teams: $12/Monthly per user, billed annually; $16/Monthly per user

Hive Enterprise: Works on $4.00 per quote

Entails project management and time management
Contains undo functionality for changes
It has automation and integrations

Basecamp
Basecamp personnel: Free plan

Basecamp Business: $99/Month flat rate

Entails to-do lists
Has message boards
It has a schedule toolbar
Contains documents and file storage
It entails a real-time group chat
It has check-in questions and client access
It has direct messages (pings) and Hill Charts

Monday
Individual: $0 free forever

Basic: $24/Month

Standard: $30/Month

Pro: $48/Month

It has documents and Integrations
It contains a dashboard
It has Gantt and Kanban
Entails customer stories and reviews
What Else Can DoNotPay Do?

DoNotPay can assist you to do the following:
DoNotPay can offer these and more services to alleviate your pressing concerns. All you have to do is sign up.