How To Draw Up an Iron-Clad Artist Management Agreement
Artist management agreements are complex legal documents as every musician, manager, or their relationship is unique. Typically, the manager prepares the agreement, but it can also be a joint effort and a negotiation from the get-go.
Whether you're the musician or the manager, this rundown on the artist management agreement will provide you with tips, answers, and guidelines.
Defining the Artist Management Agreement
The artist management agreement outlines the artist-manager relationship, expectations, and responsibilities. While most musician contracts last a few years, you can also opt for a short-term agreement. Check out an overview of these two types in the table below:
Short-Term Contract
Long-Term Contract

Serves as a trial period
Includes the basic sections of the agreement (e.g., term, breach, and commission)
Can be extended to a long-term contract

Calls for more detailed terms
Requires both parties to agree on every aspect as it usually lasts for a few years
What Should a Solid Artist Management Agreement Include?
While you may not be or have Scooter Braun in your team, your artist management agreement should be a professional and comprehensive document. It should protect and bring success to both parties.
Here are the essential terms of this agreement:
Names and contact info of both parties
Date
Appointment—stating that the artist chooses their manager
Duration of the contract—typically three to five years
Exclusivity—agreeing to a minimum commitment in case the manager represents more artists
Manager's services—detailed responsibilities of the manager
Authority—Decisions the manager is entitled to make regarding the artist's career and in the artist's name; sometimes, a power of attorney is included
Artist's duties and restrictions
Commissions—compensation paid to the manager, either net or gross receipts, usually 15–20%
Expenses—the details on who covers what costs and in what way (e.g., reimbursement)
Dispute resolution
Relationship between the parties—a statement that the manager is an independent contractor and not a partner
Signatures
What To Pay Attention to in the Artist Management Agreement
Both parties should be satisfied with all the terms, but there's one part that can be sneaky if you are the artist—the sunset clause. This clause refers to the post-term commission period. It states that the manager will continue to earn their percentage even after the agreement terminates.
From the manager's perspective, this clause provides protection and security as they invest in the artist. The artist's career may skyrocket much later, and the manager would want their fair share of the success.
During the sunset term, commissionable activities are limited, and the commission rate decreases over time. Some contracts may have a sunset clause that goes on indefinitely. Even with a low percentage, you may not want to pay your ex-manager forever. This is why it's crucial to think ahead and save yourself the trouble.
Should I Use a Contract Template for My Artist Management Agreement?
A one-size-fits-all contract template may not be the best idea. Drawing up the document to fit your specific situation is the safest option. If you don't want to hire a music industry attorney to write your document from scratch, you can hire a lawyer to check your agreement once you draft it.
In case you still opt for a template to give you a headstart, you should watch out for some red flags, including:
Grammatical mistakes
Watermarks
Out-of-date clauses
Amateurish websites
Hidden charges
Draw Up Numerous Documents With the Help of DoNotPay
Our AI-powered app has a Standardized Legal Documents product that creates contracts and agreements on your behalf. With our help, you can forget about lawyers and templates. All it takes is to sign up for DoNotPay and click several times.
Here's how it works:
Enter the name of a document you need in the search field
Answer several questions to customize your contract
Download it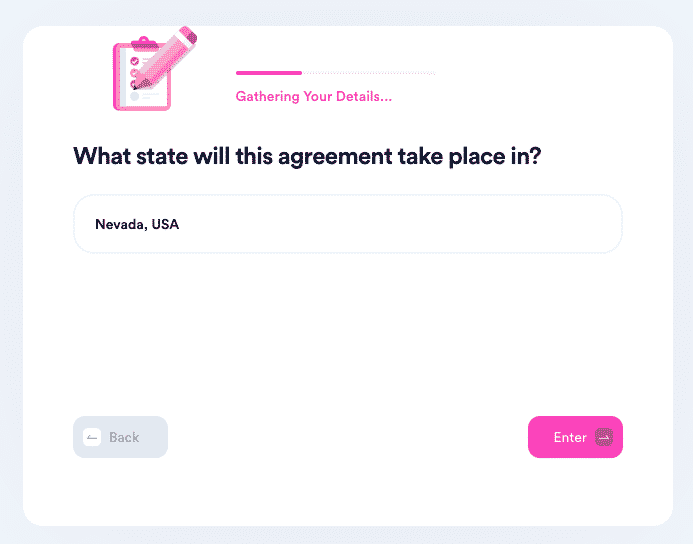 You can rely on the world's first robot lawyer when it comes to creating the following documents:
Business
Real Estate
Other

General Business Contract
Independent Contractor Agreement

Intent To Purchase Real Estate
Residential Lease Agreement
Quitclaim Deed
Estoppel Certificate

General Affidavit
Promissory Note
Child Care Authorization Form
Once you get your document, you may need to get it notarized. Creating a DoNotPay account comes in handy as we can help you book an appointment with an online notary.
If you need to fax your contract, our app can do it for you in a flash.
DoNotPay Helps You With Various Agreements
You may need guidance on other contracts throughout your career. Our learning center holds the answers to questions about numerous legal documents, including the following:
DoNotPay Can Help You Solve Pesky Issues Stress-Free
Dealing with everyday issues can become overwhelming, especially if they include bureaucracy. DoNotPay can help you handle numerous problems in a few minutes. With us, you can schedule your DMV appointments, get documents notarized remotely, and create various legal documents—including child travel consent statements and demand letters for neighbor complaints—in a snap.
Do you need help paying your bills, disputing parking tickets, or getting cash back for your gift cards? Once you register for DoNotPay, you'll be able to manage all of these and many more issues in no time.
What Else Can You Use Our App For?
Besides helping you handle tedious administrative hurdles, DoNotPay can do much more for you! You can use DoNotPay to:
With us, you can send online faxes or mail letters from the comfort of your home. Do you have friends or family members who are serving time? We can help you connect with inmates in a flash by enabling you to locate them and send them letters.