How To Use an Artist Licensing Agreement to Your Advantage
Giving a client permission to use your artwork calls for an artist licensing agreement! Without it, you can fail to protect your rights on your creations as well as miss the opportunity to profit off your art. 
What if this is your first time dealing with a legal document of this kind, and you don't know how to write a licensing agreement? DoNotPay has you covered!
Learn what an artist licensing agreement is, what terms it must include, and how to write your contract hassle-free!
What Is an Artist Licensing Agreement?
An artist licensing agreement is a contract between an artist and a client that details the terms of the use of the artist's creations. Under the agreement, the client gains permission to use the artwork in exchange for compensating the artist.
The main component that you need to understand about a licensing agreement is that you're not selling the rights to your work—only the permission for the work to be used for promotional purposes.
Other names for an artist licensing agreement may be:
Artwork licensing agreement

Copyright license agreement for artwork

Permission to use artwork contract
Don't Overlook the Importance of Using an Artist Licensing Agreement
While drawing up an artist licensing agreement may sound like an added effort, it's an absolute must for several reasons:
Maintaining the ownership

—Under a licensing agreement, you are selling the permission to use your artwork to a client. Getting them to agree to your terms and conditions and sign the agreement ensures that you keep ownership of your creations

Having control over the use of your art

—In your artist licensing agreement, you should outline how you will allow your artwork to be used. With the agreement in place, you don't have to worry that clients will misuse your art

Getting compensated for your work

—Perhaps the most important reason to have an artist licensing agreement is to make sure you get paid for your time and effort
How Do You Get Paid for Your Work?
A significant component of artist licensing agreements you need to understand is the compensation you'll get for permitting a client to use your art.
Artists are usually paid in royalties, which is a set percentage of the profits the client gains from using your work. You should also make a payment schedule to determine at which intervals you'll receive the royalties.
A client may also give you an advance payment. An advance is a specific amount you receive when you sign the agreement. Note that the advance—if you agree to take it—is usually counted against future royalties.
How To Draw Up an Artist Licensing Agreement
Writing your artist licensing agreement saves you a lot of time and money in the long run—and it's not complicated at all.
Instead of relying on licensing agreement samples that don't include all the information you need, you can draw up your own contract and use it each time you're entering into a new deal.
Here's what sections you want your artist licensing agreement to have:
Licensor and licensee information

—You should identify both parties

Compensation

—Agree with your client how much you'll get paid in royalties, how often you'll receive the payments, and whether you will take an advance payment when signing the agreement

Deliverables

—Specify how often and in what quantities you'll deliver your art to the client. You should be specific when describing the artwork the client will use

Agreement duration

—Determine how long the contract will last for

Artwork's use

—Agree with the client on the ways they'll use your artwork. This clause is extremely important for maintaining control over how your work will be used. While it's better to be specific to avoid your artwork being misused, the broader definitions usually result in higher pay

Exclusivity clause

—This clause determines whether you are allowed to sell the permission to use your art to other clients while under the agreement

Early termination

—Write the conditions under which you will be allowed to cancel the agreement before its expiration date. For example, if a client breaches the agreed-upon terms, you may be allowed to exit the deal
Quit Using Templates—Let DoNotPay Generate Customized Legal Documents for You!
While you may think that using a contract template to create an agreement is a nifty solution, that is far from the truth. Templates are an inexpensive alternative to hiring a lawyer, but they're far from the optimal choice. They usually contain outdated or incomplete information, and they are not specific to your state's laws and regulations.
All this doesn't mean that you can't write contracts on your own! By creating a DoNotPay account, you can use our robot lawyer to draft legal documents in three short steps.
Here's how it works:
Enter the name of the legal document you need

Give our chatbots specific information you want your document to contain

Download the document when the app generates it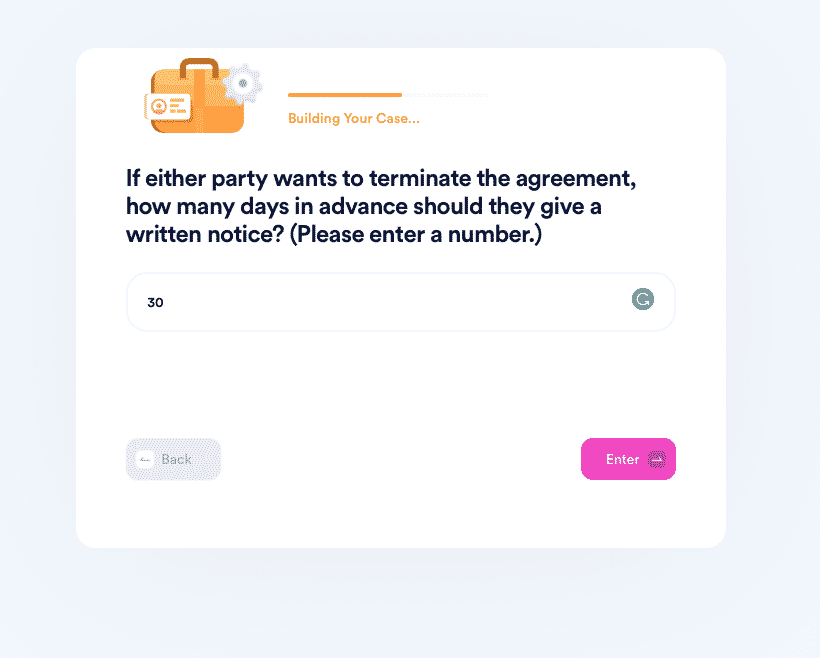 Want To Know What Legal Documents You Can Create With DoNotPay?
With your DoNotPay account, you get to draft different kinds of legal documents.
Check out the table below to see what contracts DoNotPay generates most often:
Legal Document Type
Legal Document Name

Business

General business contract

Real estate

Intent to purchase real estate

Quitclaim deed

Other

Promissory note

General affidavit

Child care authorization form
DoNotPay—A Pocket-Sized Assistant
If you need protection from stalkers and harassers, we know what to do. Whether you want to deal with a rude or noisy neighbor or fight workplace discrimination, DoNotPay has got your back. Even spammers don't stand a chance against our AI-powered app—both the texters and the robocallers.
If your situation takes a turn for the worse, you may need to take the issue to court. In this case, the world's first robot lawyer swoops in to help! You can count on DoNotPay to assist you every step of the way, regardless of whether you need to take a person or a company to small claims court.
Our App Helps You Through Numerous Red-Tape Issues
Dealing with paperwork doesn't have to be tedious. With DoNotPay's help, cutting through red tape is fast and easy. With a few clicks in our app, you'll be able to: