How To Streamline Your Art Scholarship Search and Application Process
There is no shortage of scholarships for art students. This is true for every population group, whether it's high school seniors, college freshmen, women, graduates, adults, veterans, or international students. Still, you can get stuck in the scholarship search and application process.
This is because you have to search different websites, confirm your eligibility, and learn about the application process for each program. Sometimes, it can take days to find a scholarship that you are qualified for.
This guide will show you where to find art scholarships so that you can focus on your path to a successful art career.
What Types of Scholarships Are Out There?
A scholarship is a type of financial aid given to students to finance their education expenses. The best part is that you don't have to repay the money, unlike student loans.
Most scholarships fall under these two categories:
| Scholarship Category | What It Means |
| --- | --- |
| Merit-based | Awarded according to the student's achievements |
| Need-based | Awarded to students who demonstrate they can't afford their schooling expenses |
Each scholarship program has its own rules. Some offer a one-time check, and others are renewed every semester or school year. A student may receive the check, or it can be sent to the school directly. Each program also details what the money should be used for. Some can be used for any schooling expenses, while others are meant for specific uses, such as tuition, books, etc.
The main sources of scholarships and grants are:
Federal programs—This is where most college and graduate school scholarships come from, and the main criterion is financial need—students have to complete the Free Application for Federal Student Aid (FAFSA) form for assessment of their financial situation
States programs—The state education agencies usually have at least one program for their residents
Institutional scholarships—These are normally awarded to qualified students in specific schools on the basis of grades and tests scores but also based on financial need
Private and employer programs—Such scholarships are awarded by religious groups, companies, organizations, charities, foundations, etc.
Types of Art Scholarships You Need To Know About
Scholarships for art students cover different art disciplines. While some scholarships may cover several artistic areas, some are tailored for one area only.
Based on the area, art scholarships can be categorized as for:
General art
Performing arts
Dance
Design
Photography
Fine art
Fashion design
Drawing
You can apply for general art scholarships despite your art major. With the rest, you need to be pursuing or intending to study a particular artistic area.
How To Find the Best Art Scholarships
Most art scholarships are offered by art schools, colleges, and universities. One of the requirements to secure such scholarships is being a current or prospective student at the respective institution.
You can enquire at your school about the opportunities available under your program. Do this by visiting the art department, financial aid department, guidance counselor, or the school's website.
You can also check opportunities available in your state, ask previous scholarship recipients, or do an online search. When searching online, try to be specific—for instance, look for scholarships for women in art or full-ride art scholarships.
Better yet, you can use DoNotPay to automate your scholarship search process. All you need to do is sign up and provide some basic information about your educational interests. Within five minutes, the app will curate a list of all the art scholarships that you can apply for right away.
How To Get Art Scholarships
Each scholarship program will dictate how you apply and what the selection criteria are. Most applications may require some the following:
Minimum GPA
Tests scores
FAFSA report
Art portfolio
To increase your odds of getting a scholarship, apply for those you are most qualified for. In the case of art portfolio scholarships, ensure that you showcase your best work.
There are also numerous art competition scholarships that are always looking out for qualifying applicants. Demonstrate your artistic abilities in such contests, and you'll get a chance to win. If you are gifted with words, you may try essay scholarships and show your skills.
How Can You Find Art Scholarships in Less Than Five Minutes? Use DoNotPay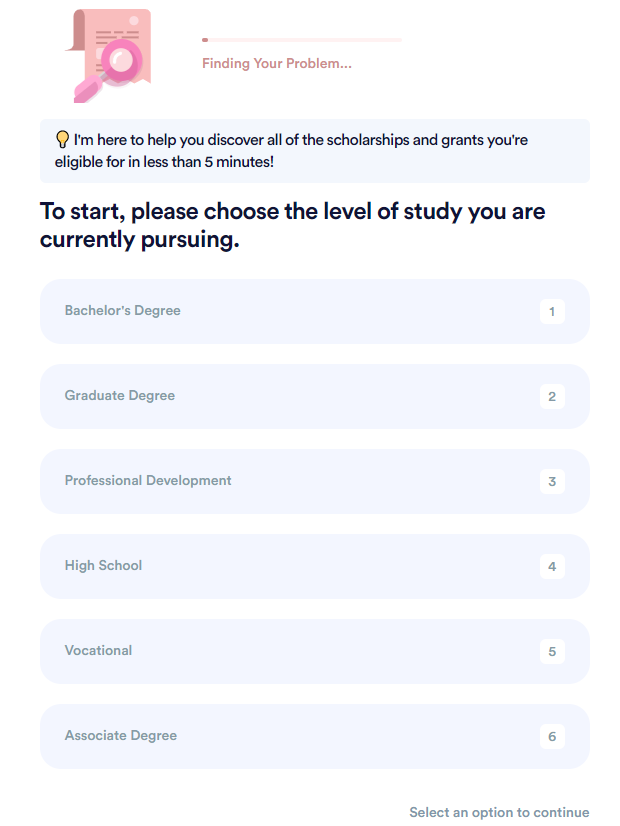 Searching and applying for scholarships doesn't have to be time-consuming and overwhelming. Why search one web page after another when you can get a list of all the best scholarships for you in five minutes?
Save your valuable resources and use DoNotPay by following these steps:
Open the app and search for the term Scholarships
Find the Apply for Scholarships tool
Answer a few questions to get your list
For no-essay scholarships, you have the option of letting the app send applications for you instantly. Are you also learning a foreign language or attending a beauty or culinary school? DoNotPay can help you find the right scholarships no matter what your academic focus is!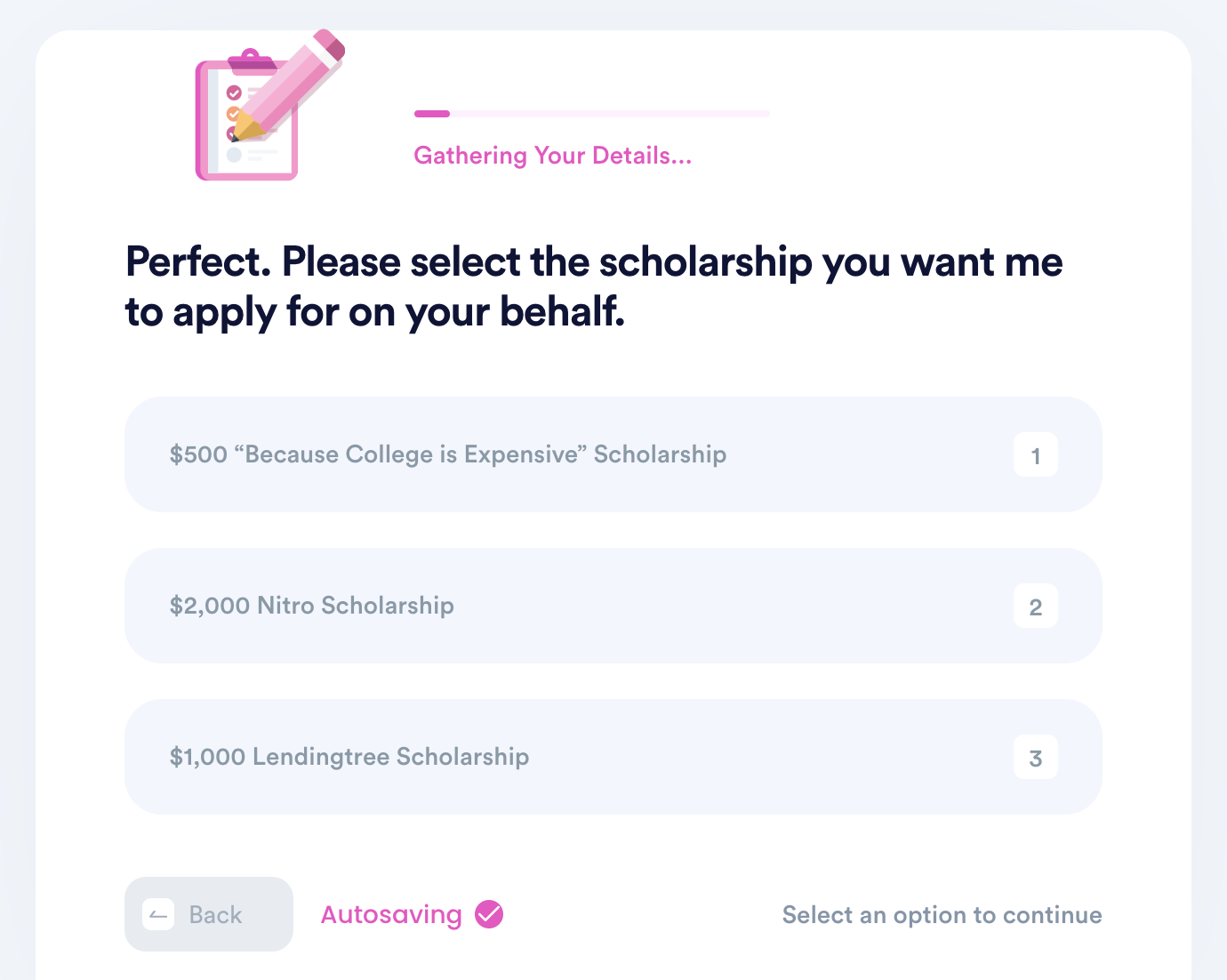 Explore DoNotPay's Product Range
Are you looking for additional assistance from our app? We're happy to inform you that DoNotPay provides you with a number of useful tools that you can use to complete mundane tasks in the blink of an eye! Sign up for our app and let us help you get:
DoNotPay Resolves Your Financial Issues in a Few Taps
You don't have to struggle to figure out how to resolve financial problems yourself when you have our app at your disposal. In only a few clicks, you'll be able to discover any unclaimed money under your name, submit insurance and warranty claims, or request compensation for delayed flights.
But that is not all! Lowering your utility bills, appealing parking tickets, or canceling memberships and subscriptions is also something you can do in no time and with minimum effort if you use DoNotPay! Work smarter, not harder!