The Nitty-Gritty of
Arlington County Property Tax Assessments
When you're buying real estate, you should be prepared for paying property taxes every year, long after you've paid off your mortgage. There are several ways to lower your property tax bill, one of which includes lowering the value of your property. To do that, first, you need to understand how your property's value is established.
In this article, you can learn all about Arlington County property tax assessments, exemptions you're eligible for, and the best way to file a property tax appeal.
What Is a Property Tax Assessment?
Tax assessors in every state and county organize property tax assessments to determine the value of every commercial and residential real estate in their jurisdiction. They can perform evaluations annually or every several years. The value of a property depends on several factors, including:
Location

Year of construction

Neighboring properties

Size of the property and surrounding land

General condition

Permanent constructions on the property
How Do Arlington Property Tax Assessors Evaluate a Property?
Tax assessors in Arlington County, Virginia, perform property evaluations every year. To determine the value of a property, they use three approaches:
Sales comparison approach

—Comparing your property to similar properties—both sale price and other factors—sold during the same appraisal period

Cost approach

—Estimating the expenses needed to replace the property with similar features. In case the property is not new, the assessor has to estimate how much value the property's lost and deduct it from replacement costs

Income approach

—Determining the profit you would gain from the property if you were to rent it. The assessor should consider taxes, insurance, maintenance costs, and the profits people usually gain from the rental. This approach is usually used for commercial real estate
What Does the Arlington Property Tax Assessment Process Look Like?
Here is how officials in Arlington County carry out property tax assessments:
Assessors visit properties across the county

They perform sales analysis for the neighborhood to bring assessed values in line with market values

The Department of Real Estate Assessments

reviews the values

The department posts the assessment values on the website and mails them to owners
If you catch a mistake or you're unsatisfied with your assessment, you can:
Contact appraisal personnel to inform them about irregularities

File for an administrative review of assessment

File a property tax appeal with the

Board of Equalization
Negotiating with your local assessor and appealing assessments can be challenging. To avoid all the hassle, sign up for DoNotPay, and deal with these issues stress-free.
Tips and Tricks for Lowering Your Tax Bill During the
Arlington Property Tax Assessment
Even though Arlington County has a 0.90% property tax rate—which is below the national average—many property owners may still need help paying property taxes. We compiled a list of strategies for lowering property tax bills you can apply before and during your property tax assessment:
Check the market value of the properties in your area

—Because of the sales comparison approach, the value of your property should be somewhat similar to the values of other properties in the neighborhood. Knowing other properties' values will help you notice any discrepancies more quickly

Refrain from renovations and new constructions on the property

—The better your property looks, the higher the value. That is why you should try to avoid repairs before the scheduled assessment

Be present during the evaluation

—Your local tax assessor might make a seemingly trivial mistake during the assessment. You should walk around the property with the assessor to prevent or minimize the mistakes

Allow interior inspection of the house

—You are not obligated to allow the assessor inside your house, but it is in your best interest to do so. Why? If the assessor doesn't know what the inside of the property looks like, they might rely on the records from previous years when your house and its features looked different
What Property Tax Exemptions Does Arlington County Offer?
Knowing your qualifications for property tax exemptions can expedite the process of lowering your tax bill. In the following table, you can find Arlington County property tax exemptions and their eligibility criteria:
Save Money on Property Taxes With DoNotPay's Assistance
Dealing with property taxes is hard, whether your state has low property taxes or high. Fortunately, DoNotPay knows how to minimize your troubles! We created the Property Tax product that offers an easy solution for resolving all your property tax issues.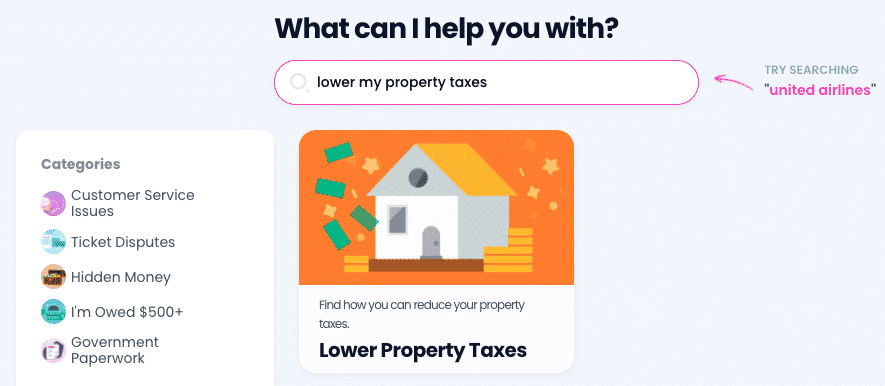 Follow these steps to get the world's first robot lawyer's help:
Choose the

Property Tax

feature

Provide information regarding your property
We will instantly create a personalized guide in which you can find property tax exemptions you're eligible for, application processes for them, and instructions on appealing previous assessments.
DoNotPay Helps You Fight for Your Consumer Rights
Did you know that companies often reject first-time warranty claims?
You're probably familiar with how complicated the process of appealing parking tickets is. Trying to get a refund for an unsatisfactory purchase or a delayed flight has likely made you mad at least once.
Not anymore! DoNotPay makes all these issues go away in less than five minutes, and that is not all we can do for you!
You don't have to deal with customer service reps of any company on your own anymore—we do it all for you!
DoNotPay bypasses any bureaucratic obstacle for you—scheduling DMV appointments, delaying bill payments, getting in touch with your incarcerated loved ones, filing lawsuits in small claims courts, and claiming insurance policies.
Keep Your Data Safe With DoNotPay
Do you love free trials but are reluctant to disclose your credit card details, phone number, or email address?
Our app lets you try out different subscriptions in a risk-free way!
Use DoNotPay's Burner Phone feature to sign up for services without providing your phone number! We'll make sure robocall scammers and text spammers cannot harass you!
With our virtual credit card, you can sign up for any free trial and not worry about canceling it! Since the card is not linked to your bank account, no one will be able to charge you once the trial expires. An additional perk is that the card comes with a free email address, which means no spam emails from the company.