Arkansas Slander Laws
In the event that someone makes false and damaging comments about you, you may have grounds to sue for defamation. There are two types of defamation: Libel occurs when defamation is done through a physical medium, like a newspaper or email. statement that is written or put on the internet and slander occurs when defamatory statements are spoken or acted out.
Defamation cases must be proven by showing that the libel or slander was published in some manner and that the subject's reputation, future employment prospects, or even physical or mental health were harmed as a consequence.
Several people have taken the step of sending a "cease and desist" letter in response to defamation, in which they warn the person making the false allegations to halt before any further legal action is taken. Learn more about defamation and how to interpret the laws of the state of Arkansas by reading the sections below.
Overview of Defamation
Slander and libel are the two components of defamation, as previously mentioned:
Libel is further characterized by the fact that it leaves a permanent record, such as an email, radio or television broadcast, newspaper article, or website posting among other things.
False statements or gestures (slander) are not recorded in any way, and they may be as simple as a spoken word or a motion of the hand.
To prove a defamation claim or determine if you may send a cease and desist letter, it is necessary to first identify the kind of defamation that has taken place.
What isn't defamation?
Defamation is complex and proving a case is much more difficult than it seems at first glance. There are numerous limitations on defamation that may prevent your lawsuit from being successful:
Expressions of the right to free expression
The First Amendment to the United States Constitution protects all people against defamatory comments that cause damage to their reputation. While the First Amendment preserves the right to free expression, it also creates an uncertain legal landscape that makes defamation challenging.
While defamation is not criminal in all of its forms, it is a well-established moral safeguard that prevents lies, also known as defamation, from being spread.
If someone else's exercise of free speech has caused you financial or personal damage, you may be able to file a defamation lawsuit against them.
Clause concerning false light
When a remark is made that seems to be a declaration of fact but is really untrue, this is referred to as a false light claim.
The false light clause shields an individual from these types of comments when they cause emotional or mental damage to the person who is being defamed, rather than financial harm to the person who is being defamed.
Disparagement
This is a means of protecting the financial and commercial interests of the person who has been defamed. Its rights apply to the patents and products of people as well as corporations.
As a general rule, the disparagement clause is employed to defend corporate interests, as opposed to the personal interests that are covered by the defamation clause.
Expressions of Opinion
Opinion statements are not defamatory by definition. A blatant opinion is not defamatory.
Defamation lawsuits may be brought against someone if their expression of opinion is misrepresented as a fact and is subsequently published in a way that causes them damage.
Arkansas Laws for Online Defamation
When it comes to defamation in the state of Arkansas, slander is defined as a damaging and false statement of truth that is revealed to a third party without the permission of the person or company that is being disparaged. Libel is defined as defamation in writing or visual form, while slander is defined as defamation in an aural or spoken form.
In Arkansas, a plaintiff must establish the following elements in order for a written or spoken remark to be considered defamatory:
The plaintiff's reputation was harmed as a result of the statement under consideration; the fact that the plaintiff was included in the material under consideration; and the fact that the defendant was responsible for publishing or uttering the statement under consideration.
What kinds of damages were inflicted by the remark; and how the statement produced the harm.
According to Arkansas slander and libel laws, an individual's viewpoint is not defamatory, as is the case across the United States.
Arkansas defamation law protects the integrity of the context.
Most remarks are assessed in light of the context and circumstances in which they are made.
Other Arkansas regulations
In addition, while considering slander and libel cases, Arkansas courts do not take the "majority feeling" into consideration. It is only necessary that "a significant and respectable minority" of the plaintiff's community deem it defamatory, according to state law precedent, and not more.
Arkansas does not have defamation per se
Arkansas is one of just a few states that does not accept defamation standards as a legal concept.
Therefore, all Arkansas slander and libel plaintiffs must show that the words in the issue caused them damage before they may win their case.
Arkansas defamation law does not allow for the intentional infliction of damage.
In Arkansas, You Can File a Lawsuit for Slander
According to Arkansas law, the following components of a defamation claim must be proven:
| | |
| --- | --- |
| A lie or a misrepresentation | A clearly false remark was made regarding the plaintiff, and this was taken advantage of. |
| A publication with no privileges | A publication that was not allowed to be made on or via a third-party platform. |
| It's a mistake | The defendant's failure to act with reasonable care amounted to carelessness. |
| Damages | The release resulted in financial losses and other severe consequences. |
Pros and Cons of Writing a Cease and Desist Letter
To begin, drafting a stop and desist letter is a time-consuming and meticulous procedure. If not completed and executed correctly, your letter may be used to your disadvantage when you go to

court

.
It is possible that your letter may be disregarded if you are unable to properly establish the losses you have incurred, describe all matching and supporting facts from a legal perspective, and put together a legally sound letter.
Apart from that, many attorneys who are capable of writing stop and desist letters would want you to pay an excessive sum of money before they will even consider preparing a response to your questions!
Draft a Cease and Desist Letter in Minutes!
DoNotPay is a safe and convenient solution! The cease and desist letter drafts will detail the information about the case, demand retraction, warn against future statements, and will order that the accused abides by Arkansas state statutes.
All you need to do is:
1. Choose the Defamation Demand Letters product on .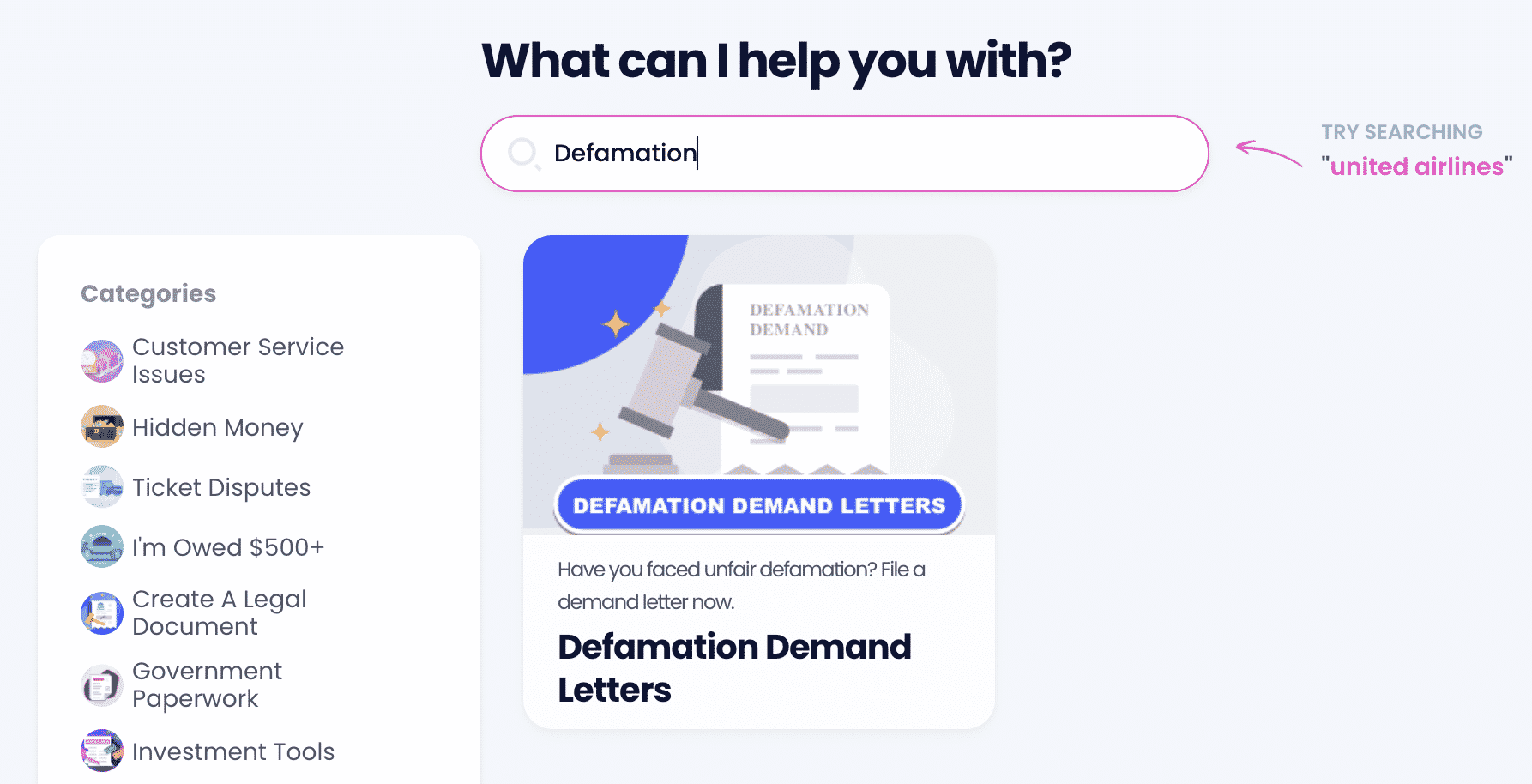 2. Tell us about your situation:
Were the statements slander or libel?
What were the statements?
Why are they false or misleading?
What consequences have you suffered as a result of these statements?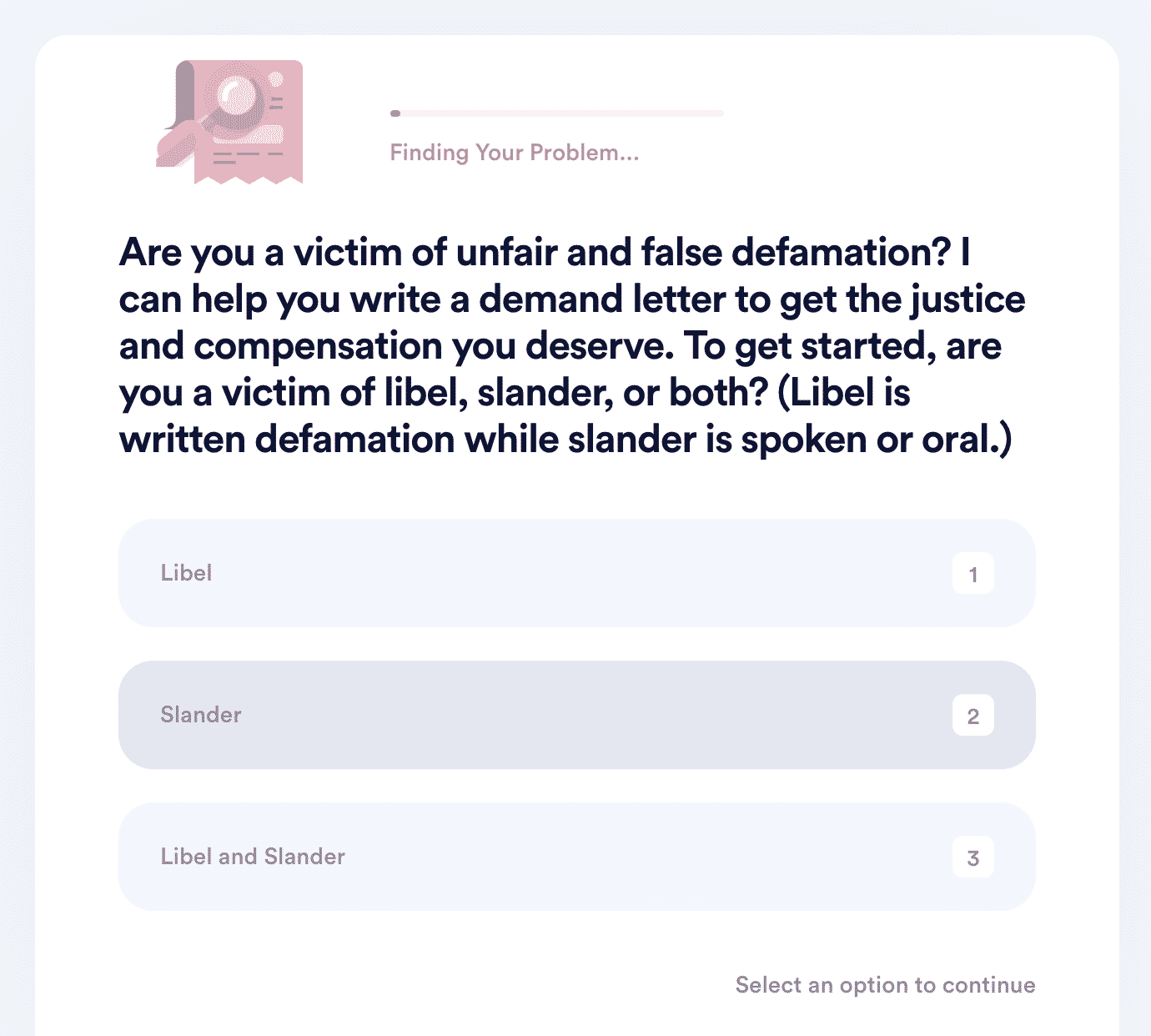 3. Based on your location, DoNotPay will immediately generate a formal demand letter on your behalf, with the most relevant state legislation regarding defamation.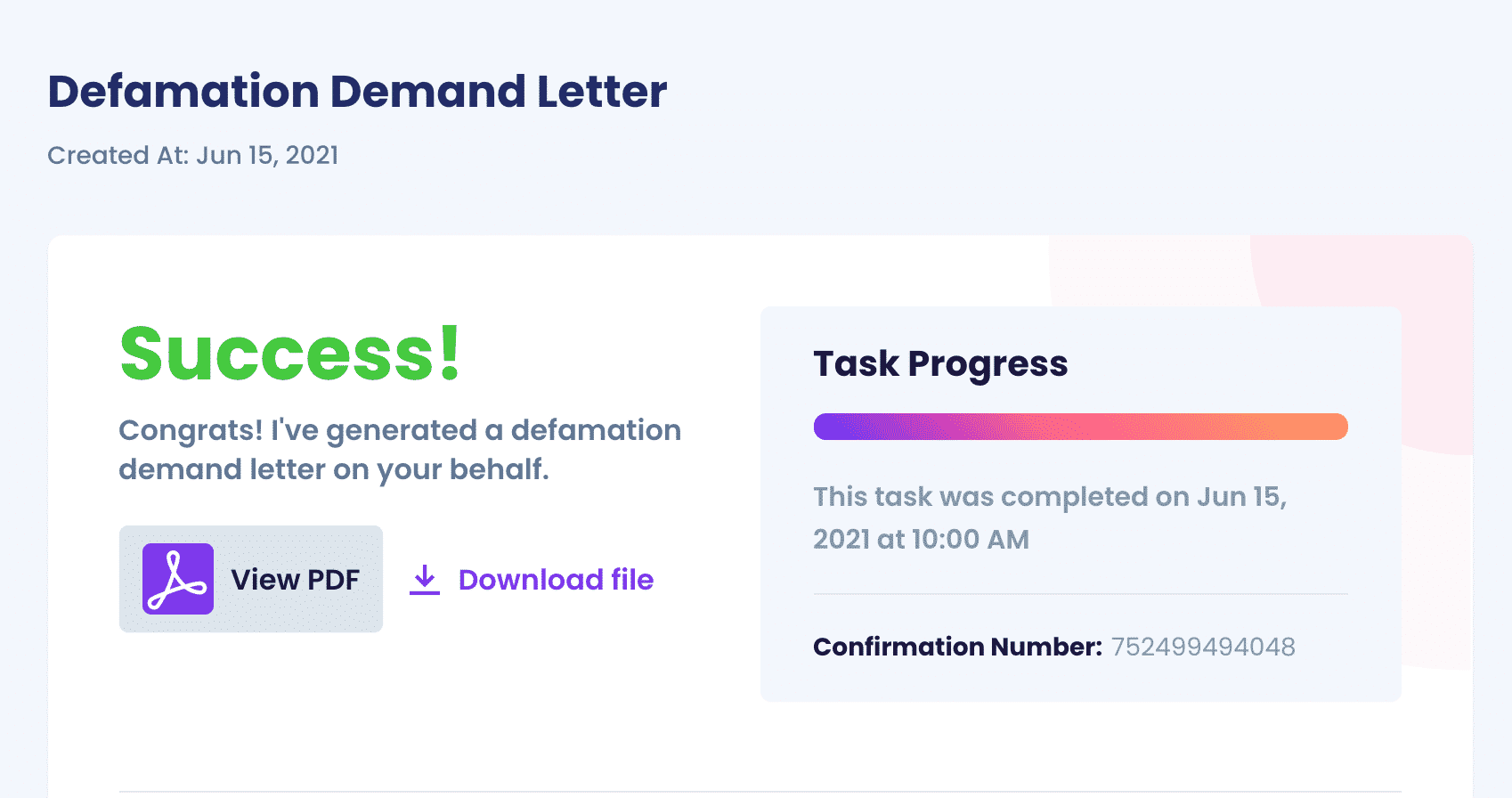 That's it! You can expect a precisely drafted cease and desist letter to your cause with the inclusion of Arkansas-specific legislation, in an instant!
What Else Can DoNotPay Do?
DoNotPay does not just stop at cease and desist letters. The robot lawyer can help manage subscriptions and appeal parking tickets in just a few clicks! Here's what else DoNotPay can do:
Divorce settlement agreements