Arkansas Scholarship Lottery Untangled
The Arkansas Scholarship Lottery isn't an ordinary program—it lets people play games of luck and raise money for student financial support at the same time! This scheme has helped various college and graduate school students get around $1 billion in scholarships and grants and reduce their schooling costs significantly.
The propositions may be hard to understand due to the organization's chaotically structured website, but we have a solution! In this article, we recap the rules of this program and explain how it works. Find out what scholarships are supported from these earnings and get tips for finding available Arkansas scholarships based on your eligibility criteria with zero hassle!
The Rules of the Arkansas State Scholarship Lottery Program
Here's how the entire procedure of raising money for the chosen scholarship goes:
The organization sells lottery tickets to people who want to participate in available games—Players can purchase the tickets in authorized retailer objects or from vending machines available at multiple locations in the state
Players:

Pick their numbers—All available games are based on choosing "lucky numbers" and marking them on the lottery playslip. You can request a random pick or select the numbers manually
Pay for their tickets—The prices vary depending on the game a person is playing and some additional perks they can gain by paying extra fees
Check the Arkansas Scholarship Lottery winning numbers—They can check the results over the phone, at the nearest retail location, or on the official website of the program
Claim their prizes if they won anything—The process requires a completed claim form, a copy of the person's ID, and the signed winning ticket. All this should be mailed to Arkansas Scholarship Lottery Claim Center, P.O. Box 3838, Little Rock, AR 72203
The foundation forwards the money from the sold tickets to the Arkansas Department of Higher Education, providing funds for several available awards.
What Games Can Be Played Within the Arkansas Scholarship Lottery?
Players can buy tickets for the following games:
Powerball—marking five numbers between one and 69 and one number between one and 26. There's an option of choosing two to 20 Multi Draws
Mega Millions—choosing five numbers between one and 70 and one number between one and 25; two to 20 consecutive Multi Draws available
Cash 3—selecting one three-digit number between 000 and 999; 14 to 28 Multi Draws available
Cash 4—picking one four-digit number between 0000 and 9999; up to 28 Multi Draws available
Lucky for Life—marking five numbers from one to 48 and picking one out of 18 "Lucky Ball" numbers; two to 20 Multi Draws available
Natural State Jackpot—choosing five numbers between one and 39 with two to 20 available Multi Draws
Instant games—a wide spectrum of scratch-off cards
Fast Play games—this group includes:

Bingo
Crazy 8s
Lucky Loot
Find the 9s
Quick Cards
Stars & Stripes
AR Progressive Jackpot
Scholarships Supported by the Arkansas Scholarship Lottery Program Earnings
The Arkansas Scholarship Lottery Program supports three challenge scholarships offered by the Arkansas Department of Higher Education:
Arkansas Academic Challenge Scholarship
Arkansas Workforce Challenge Scholarship
Arkansas Concurrent Challenge Scholarship
Here's a short overview of each award:
Scholarship
For Students Who
Award Amount
Academic Challenge Scholarship

Are:

Arkansas residents
U.S. citizen or permanent resident

Complete the Free Application for Federal Student Aid (FAFSA)
Enroll in the accepted programs leading to:

Associate degree
Qualified certificate
Baccalaureate degree
Nursing school diploma

Don't have any state loan debts
Aren't in prison at the moment of application or while receiving the scholarship
Are drug-free
Enroll full-time each term

Up to $4,000 for a two-year college
Up to $14,000 for a four-year college

Workforce Challenge Scholarship

Are:

Arkansas residents
High school graduates

Plan to enroll in one of the accepted ADHE programs
Can apply 30 days before the enrollment
Didn't receive an Academic Challenge Scholarship

Concurrent Challenge Scholarship
Are you looking for more Arkansas scholarships for moms, women, trans students, foster youth, international students, Asian students, or military veterans? Skip the hassle and find out what state or federal awards you can apply for without scholarship essays or reference letters by !
Explore All Arkansas Scholarships in a Jiffy With DoNotPay
There are more available scholarships than you think, but it's not easy to find the ones that align with your eligibility criteria without wasting a lot of time. To extract the ones you can apply for, you must:
Examine each search result, which is usually impossible
Comb through numerous websites and use multiple search tools
Check the eligibility criteria or necessary qualifications for all scholarships that catch your attention
That's not even the worst part—you still have to go through the entire application process for each of the desired awards. Fortunately, DoNotPay has a real deal for you—a feature that filters the entire scholarship database and lists only the awards that align with your qualifications!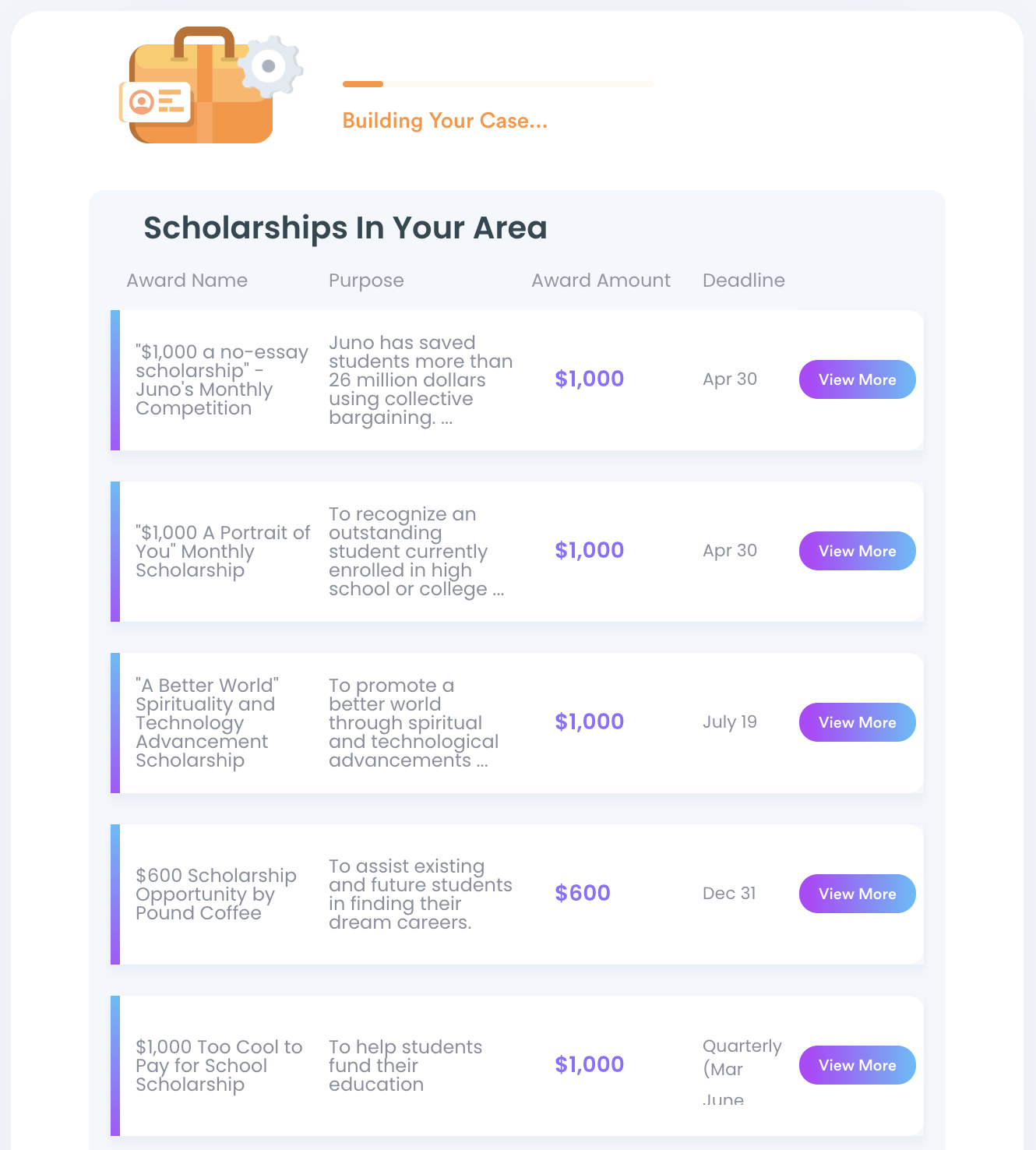 Here's how to use this perk:
Pick Apply for Scholarships
Go through a quick questionnaire with our chatbot to provide more eligibility details
Another great advantage is that you can apply for the non-essay scholarships that catch your attention within seconds through our app. All it takes is a few clicks!
There Is No Shortage of Tasks DoNotPay Helps You With
If you find finishing administrative tasks tedious, you can rely on our app to assist you through the entire process and make it a smooth-sailing experience. Check out the table below to find out what DoNotPay can help you do:
| Deal With Companies By | Get Rid of Pesky Spammers By | Get Help With Your Studies By |
| --- | --- | --- |
| | | |
Buried in Paperwork? Not for Long!
Is creating legal documents giving you a migraine? Not everyone is acquainted with the law and legal jargon, which is necessary when writing documents, such as:
Luckily, DoNotPay can draft your legal documents in minutes! Why waste hours doing it yourself or hire a lawyer when you can have our app do it in no time?
Creating anonymous HR complaints and demand letters for your inconsiderate neighbors is also something our app does best!