Need Help With Arkansas Divorce Laws? Alimony Made Clear in the Land of Opportunity!
When you file for divorce, you need to understand that your life will change irreversibly.
A divorce doesn't just affect your family situation—it can also have a lasting impact on your finances. Alimony is one element that you should factor into your long-term planning.
Alimony orders are subject to regulations and guidelines in most states, and Arkansas is no exception.
DoNotPay answers all your questions on Arkansas divorce laws—alimony does not need to be something you must worry about!
What Is the Divorce Process in Arkansas?
If you have been living in Arkansas for the last 60 days or more, you can file divorce papers in this state.
Arkansas is an at-fault state, meaning that the only way you can get a divorce is to prove your spouse is guilty of:
Abandonment
Abuse or cruelty
Adultery
Impotence
Addiction to alcohol or drugs
A felony resulting in at least one year's imprisonment
The only way to file for a no-fault divorce is if you and your spouse live separately for 18 months.
The danger with this system is that many more cases end up in court. You can only avoid court proceedings if you and your spouse can agree on an out-of-court settlement before you file your papers, pay your filing fee, and serve the papers on your spouse.
If your case comes to trial, a judge will weigh up all the facts and impose a settlement on you.
What Is a Settlement?
A settlement in a contested divorce is a ruling made by the judge on how your marriage should be dissolved.
It will cover everything you declared in your initial filing, including:
If you want to avoid a judge's decision on these points, you and your spouse will have to sign an agreement that ticks all the boxes.
While the fine points of your settlement agreement are a matter of negotiation between the two of you, what you agree must stay within the legal guidelines in Arkansas.
How Is Alimony Calculated in Arkansas?
Arkansas divorce law realizes that splitting a family into two households can put a financial strain on one spouse.
An Arkansas judge is empowered to award any of the following types of alimony:
Alimony Type
Explanation
Temporary
Temporary alimony is usually awarded during longer divorce trials to enable the lower-earning spouse to cover their expenses. It will normally end when the divorce is finalized
Rehabilitative
If a spouse needs to retrain, re-educate, or relocate to secure future work, a judge can order the costs involved to be paid by the other spouse. This is also a temporary form of alimony and will end once the training, schooling, or moving has been completed
Permanent
Permanent alimony is only awarded when a spouse is unlikely to find work due to:

Disability
The fact they've been out of the job market for too long
Old age

Permanent alimony doesn't need to be permanent, and a judge can order it to end after a specific number of years. This type of alimony is usually not awarded in short-term marriages
To calculate the alimony amount to be awarded, the judge will take account of the following factors:
Each spouse's current earnings
Any assets or savings held by each spouse
The standard of living the couple enjoyed while they were married
The duration of marriage
Arkansas law does not insist on any specific alimony amounts but offers guidelines for specific circumstances. Arkansas judges are allowed to use their discretion to set the exact amounts awarded.
How Can You Avoid an Imposed Alimony Ruling?
The judge in your case will not have to award alimony if you and your spouse reach a settlement agreement before you file your uncontested divorce papers.
An uncontested or friendly divorce also means that you will be able to:
As long as all the points in your financial and family declarations are dealt with in your settlement agreement, the judge will normally grant your divorce in a single court hearing.
Where Can You Get a Settlement Agreement Drawn Up?
Your options for drawing up your settlement agreement are:
Lawyer
DoNotPay
Lawyer
Lawyers are the default choice for many divorcing couples, but they are also the most expensive option.
Arkansas lawyers charge an average of $180 per hour and will usually ask for an upfront retainer. Having your settlement agreement negotiated and drawn up by attorneys can easily cost you over $4,000 per spouse.
A slightly lower-cost alternative is to negotiate with your spouse using a mediator to facilitate the discussions. While mediators can't offer legal advice, they can help you focus on achieving an acceptable outcome at a fraction of the cost of a lawyer.
Online Divorce Service
Various websites offer settlement agreement templates for you to download and fill out yourself.
While these can save you money, you should be cautious—many of the templates available are too generic to cover your exact circumstances. The worst-case scenario is that the judge rejects your settlement agreement as inadequate, at which point you may have to go to trial.
DoNotPay
DoNotPay solves the issue of lawyers' fees and inadequate legal documents—we can generate a tailor-made settlement agreement for you in a flash, with no lawyers involved!
DoNotPay Solves Your Arkansas Alimony Dilemma!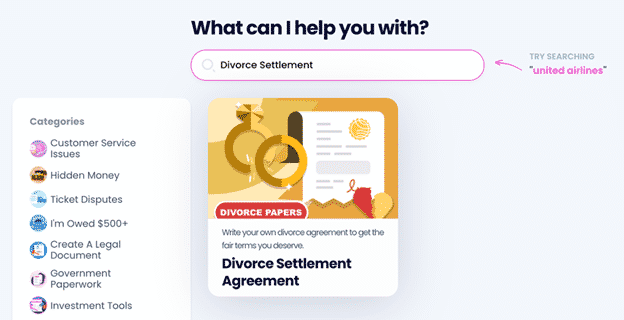 DoNotPay believes you should be able to make your own settlement agreement decisions!
This is why we developed our Divorce Settlement Agreement product—it creates a fully customized and comprehensive agreement for you:
Here's what you need to do to set your agreement up:
Become a DoNotPay subscriber using your web browser
Look for our Divorce Settlement Agreement feature
Answer a few questions to capture the terms of your settlement
Your agreement will be ready to print in a few seconds.
All you and your spouse need to do is sign it and have it notarized.
Don't worry if you're not sure how to find a notary in your area—DoNotPay has that covered with our online notarization service.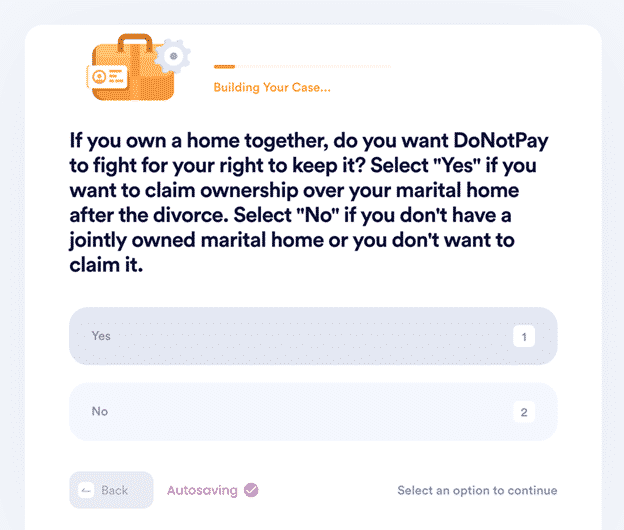 Use DoNotPay To Complete a Variety of Tasks at Any Time
Why waste time and money completing mundane tasks on your own when you can let DoNotPay assist you? Take a look at the table below to find out what our AI-powered app can do for you:
| DoNotPay Can | Services |
| --- | --- |
| Protect your safety and privacy | |
| Draft legal documents | |
| Help you get your money back | |
DoNotPay Has More in Store for You!
Since communication is key, you'll appreciate our feature that helps you get in touch with customer service reps quickly! We'll also show you how to send faxes online and have your documents notarized by an online notary with ease!
Going on vacation? Use DoNotPay to take a valid passport photo at home or get a tourist visa!