Land of Opportunity? It Is With the Right Arkansas Divorce Form From DoNotPay!
If you are looking for a no-fault, uncontested divorce in Arkansas, the process is ultimately doable but may take some time and effort.
If the mandatory waiting period is no problem, though, you want filing your divorce papers to be as easy as possible.
DoNotPay is here to make your divorce run smoothly—we'll provide advice on which Arkansas divorce form packet you should choose to achieve your goal quickly, cheaply, and with as little hassle as possible.
What Types of Divorce Are Available in Arkansas?
Arkansas recognizes both at-fault and no-fault divorces, and the stipulations for each are as follows:
Divorce Type
Requirements
At-fault
You can file for divorce based on:

Impotence
Adultery
Mental illness
Conviction for a felony
Cruelty
Domestic abuse or intolerable behavior
Addiction
Refusal to give financial support

No-fault
You are allowed to file for divorce if you have been living separately—meaning in different households—from your spouse for at least 18 months
Arkansas law requires that you or your spouse must have lived in the state for at least 60 days before filing for divorce.
An at-fault divorce is available immediately, but you should bear in mind that you will need to prove your allegations in court. This process may involve multiple court appearances and could become considerably more expensive than the no-fault option.
What Is the Process of Filing for Divorce in Arkansas?
Once you have decided which type of divorce you are aiming for, you need to follow these steps to initiate the process:
Filing your divorce papers
Agreeing on a settlement
Filing Your Divorce Papers
You need to file the correct paperwork with the clerk of your county court.
You will have to pay the filing fee of around $165 when you file. Once you have filed the papers, you will receive:
Two copies of all the documents
A summons issued by the court
The summons, together with one set of divorce papers, must be served on your spouse.
Serving the Papers
Your next step is to deliver the divorce papers and the summons to your spouse.
If you and your spouse have agreed on the divorce process and are looking for a friendly divorce, your spouse can waive the necessity to have the papers served.
If you need to have the papers delivered, you can use the local sheriff or a professional process server—this service usually costs around $50.
Agreeing on a Settlement
After filing the papers and serving them on your spouse, the court will schedule a hearing. You will have to wait for a mandatory period of at least 30 days after the court has received all the paperwork.
At the hearing, you will be expected to produce a witness to testify that you and your spouse satisfy the residency requirements. You must also prove that you have been living separately for 18 months if you have filed for a no-fault divorce.
A notarized affidavit is also acceptable if your witness cannot attend the hearing.
The 30-day waiting period gives you and your spouse time to agree on a settlement and draw the requisite legal document up. If you can reach an agreement before the hearing, your divorce will be considered uncontested, and the judge will sign your divorce decree without the need for further court appearances.
If no agreement is in place by your hearing date, the judge will schedule further hearings to try your case.
What Arkansas Divorce Forms Do You Need?
You can get a packet of Arkansas divorce forms at your county court, consisting of:
| Form | Explanation |
| --- | --- |
| Fact and instruction sheet | This form explains the divorce process and how to fill out the forms provided |
| Complaint for divorce | The complaint for divorce form contains information about the plaintiff and the defendant and formally asks the court to grant a divorce |
| Entry of appearance, waiver of service of summons | This form confirms that your spouse has waived the necessity to have the divorce papers served |
| Affidavit of service | This is an affidavit confirming that the plaintiff has served the divorce papers via registered mail |
| Decree of divorce | The judge will sign the final decree once they ensure that you and your spouse have fulfilled all the requirements and that your settlement agreement is fair |
What Is a Settlement Agreement, and Where Can I Get One?
Your divorce settlement agreement regulates what should happen to your marital responsibilities once the court grants your divorce.
It is a binding contract between you and your spouse that deals with:
Your settlement agreement is the make-or-break document that helps the judge decide whether to grant you uncontested divorce or insist on hearings to impose a settlement. If you can achieve an out-of-court settlement with your spouse, your divorce will be much more straightforward—you might not even need a lawyer.
You can prepare your divorce settlement agreement using the following resources:
Settlement Agreement Resource
Explanation
Lawyer
The default approach is to use lawyers to negotiate and draw up a settlement agreement. If you and your spouse agree on the major points of the settlement, though, this may be an unnecessary expense.

A cheaper alternative may also be mediation, whereby you and your spouse negotiate the settlement under the facilitation of a trained mediator

Online divorce service
Various websites offer templates for you to fill out yourself, but caution is advised—many of these are too generic to cover your exact needs, and some may even be invalid in Arkansas
DoNotPay can solve both problems—we can create a settlement agreement tailored to your exact needs with no expensive lawyers needed!
DoNotPay Solves Your Settlement Agreement Woes in Arkansas!

Drafting your divorce settlement agreement in Arkansas couldn't be easier with DoNotPay!
Your settlement agreement needs to be comprehensive, legally watertight, and compliant with Arkansas legislation—that is precisely what you get with DoNotPay's Divorce Settlement Agreement feature.
We will create a customized agreement that ticks all the boxes and clears the path towards your uncontested Arkansas divorce in a few clicks!
Here's how to set your agreement up:
Sign up with DoNotPay in your web browser
Go to our Divorce Settlement Agreement product
Provide the details you and your spouse have agreed on
Once all your clauses are filled out, your settlement agreement is ready to go.
You and your spouse can sign it in the presence of a notary, and your divorce can proceed.
Even if you are struggling to find a notary in your area, there's no need to panic—use DoNotPay's online notarization service, and the job is done!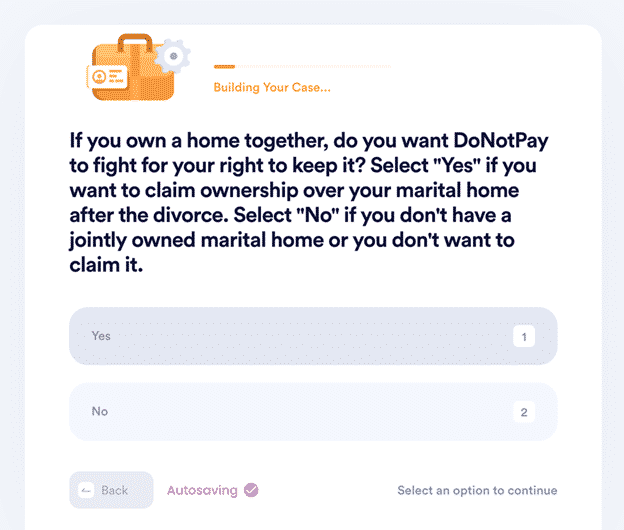 What Other Issues Can Our App Solve?
DoNotPay can support you through various burdensome procedures and turn them into a breeze! Here's a table showing a tiny part of our extensive offer:
| DoNotPay Can | Services |
| --- | --- |
| Create various documents | |
| Protect your safety and privacy | |
| Get your money back | |
DoNotPay Is Your Ticket to Simpler Life
Don't bother going through complicated tasks alone—we are here to take care of them! Seek our help if you want to get in touch with customer service instantly, fax anyone online, or get your documents notarized. Besides providing these amazing services, DoNotPay can make preparations for your travel adventures by assisting you in getting passport photos at home and obtaining tourist visas.