How To Apply for Arkansas Crime Victims Compensation in a Jiffy!
Are you a victim of assault, domestic violence, or any other violent crime that took place in Arkansas? Coping with physical and mental trauma after a violent crime takes a lot of time and energy. Having to handle numerous hospital, counseling, and other crime-related expenses makes the healing much slower. If these costs pose a financial burden on you and your family, you should apply for Arkansas crime victims compensation.
Many people find the application process for crime victims compensation in Arkansas perplexing, which is why DoNotPay has a more practical solution. and allow us to take care of your Arkansas victims compensation application in a matter of minutes!
Learn All About the Crime Victims Compensation Fund in Arkansas
The Arkansas Department of Public Safety (DPS) administers the Crime Victims Reparations Program (CVRP) dedicated to helping violent crime victims bear their crime-related expenses. An eligible claimant can be:
A victim injured in a violent crime that occurred in Arkansas

An Arkansas resident injured in a terrorist attack outside the U.S.

A parent, spouse, or another immediate family member of a:

Homicide victim

Child victim

Sexual assault victim

An individual who discovers the body of a homicide victim

Anyone who lived in the same household as the victim at the time of the crime
The CVRP gets funding for violent crime victims from the Victims of Crime Act (VOCA) grant and mandatory court cost assessments. The highest compensable amount per claim is $10,000. If the victim becomes permanently and totally disabled due to crime-related injuries, the total benefit cap is $25,000.
One of the main characteristics of all crime victims compensation programs—including the CVRP—is that they are payers of last resort. Make sure you use all other resources—such as life and health insurance, worker's compensation, Medicaid, and similar—before applying for the Crime Victims Reparations Program.
The Arkansas DPS also administers the Sexual Assault Reimbursement Program. This program is created to help sexual assault victims cover the costs of ambulance services and medical or legal examinations necessary to collect evidence.
DoNotPay Helps You Apply for Arkansas Crime Victims Compensation in a Snap
The traditional CVRP application process is tiresome since it requires you to:
Get the application form by visiting the Arkansas Crime Victims Reparations office or downloading the PDF version

Complete the form correctly

Mail the form to the Arkansas Crime Victims Reparations office
The entire procedure can take a lot of time, especially if you make a mistake while completing the form. DoNotPay strives to help victims manage crime-related financial difficulties as effortlessly as possible. We can assist you in filing your application hassle-free, whether you're a victim of armed robbery, terrorism—including the 9/11 attack—or any other violent crime.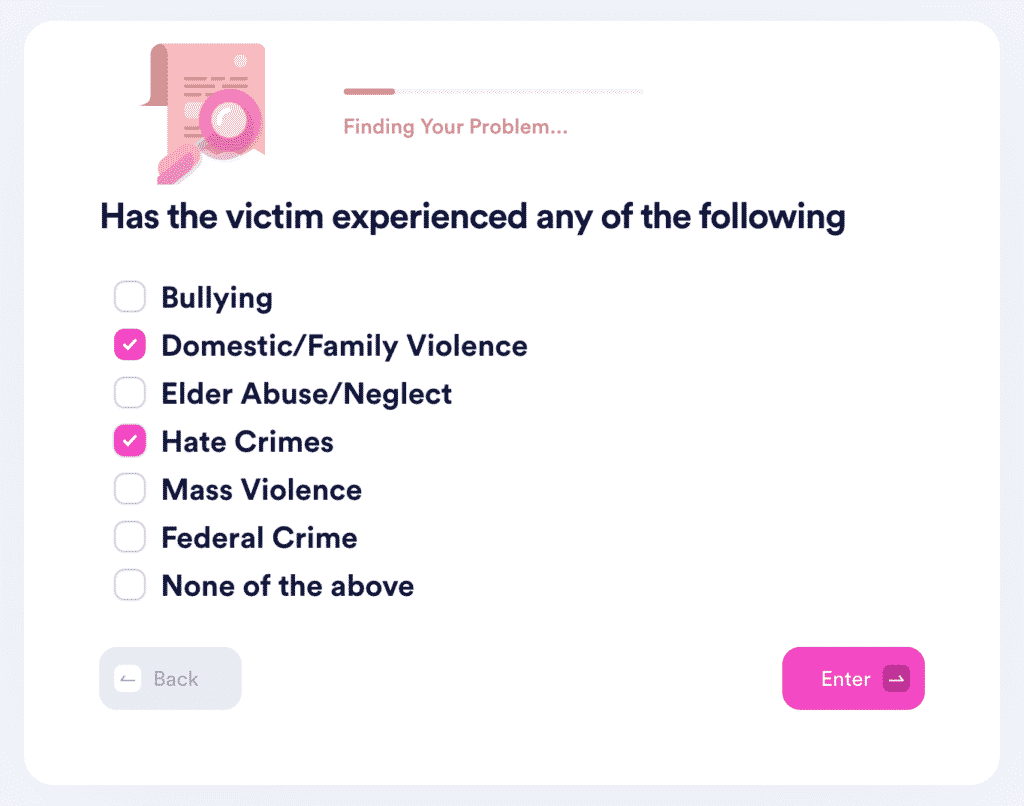 Once you , you'll be able to apply for the Crime Victims Reparations Program in a few clicks. These are the steps you should follow:
Fire up our

Compensation for Crime Victims

feature

Let us know if you're the victim or a dependent of the victim

Answer our questions and verify your signature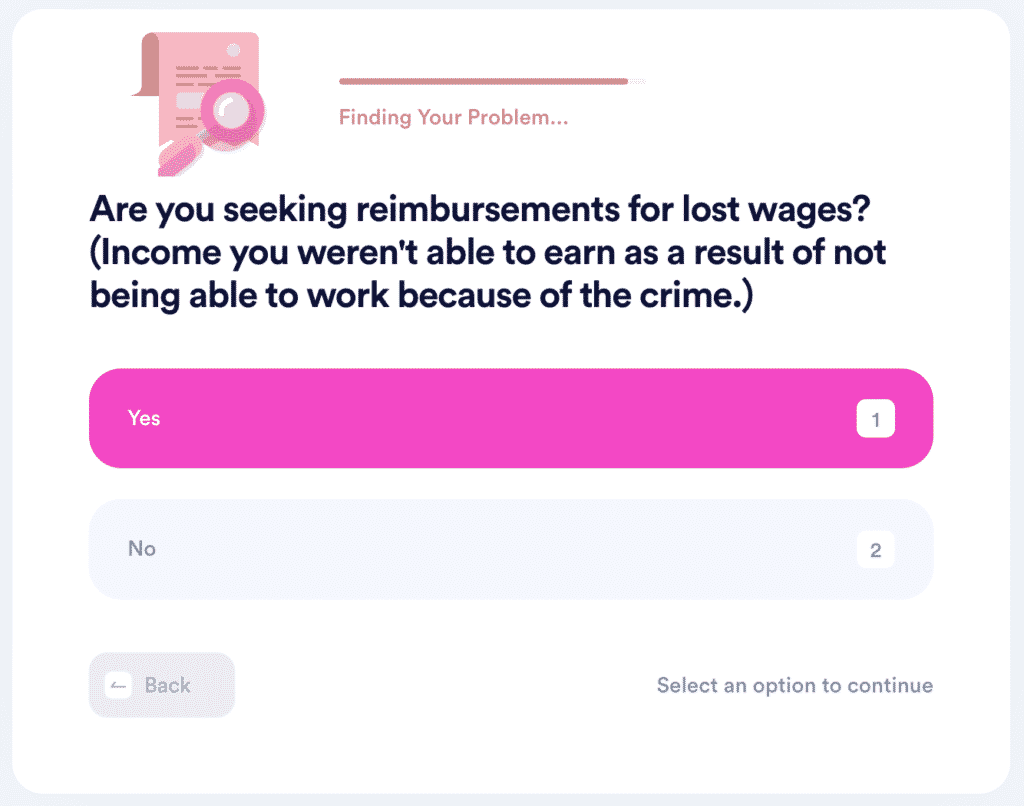 When you complete these steps, DoNotPay will fill out the application form based on your answers and send it to the appropriate office. Arkansas isn't the only state you can use our product in. We can also help you apply for crime victims compensation programs in other states, including:
What Requirements Should You Fulfill To Qualify for Arkansas Victims Compensation?
Being one of the above-mentioned claimants isn't enough to qualify for the program—you also need to fulfill some other requirements. To be eligible to apply for the Crime Victims Reparations Program, you must:
Have filed a police report within 72 hours of the crime

Cooperate with law enforcement authorities during the investigation and the prosecution

Apply for the CVRP no later than one year from the date of the crime
You won't get compensation for your crime-related costs if you:
Have ever been convicted of a felony

Were injured while incarcerated

Engaged in conduct that caused your injuries

Were involved in an illegal activity at the time of the crime

Suffered injuries in a

car accident

, unless the accident was:

Caused by driving under the influence

An intentional criminal act
Which Costs Are Covered by the Crime Victims Compensation Program in Arkansas?
Check out the following table to find out which costs the CVRP in Arkansas covers:
| | |
| --- | --- |
| Compensable Costs | Benefit Cap |
| Medical expenses | 65% of the total bill |
| Mental health counseling | $3,500 |
| Funeral expenses | $7,500 |
| Lost wages or support | One week of salaries |
| Crime scene cleanup | $3,000 |
| Travel costs for court proceedings | $300 |
| Lodging costs for court proceedings and medical treatments | $300 |
| Replacement of locks and windows for domestic violence or sexual assault victims if the crime happened in their home | $500 |
Has Your Arkansas Victims Compensation Application Been Rejected? You Can File an Appeal!
Once you file your application, the Crime Victims Reparations Board will review it and decide on the outcome. If they reject your claim, you can file an appeal within 45 days of being notified. If the Board rejects your application again, you can appeal their decision in Circuit Court no later than 30 days from being informed.
Clear Your Schedule With the Help of DoNotPay
DoNotPay is renowned for making our users' lives infinitely easier. Not only can we root out unwanted subscriptions for you—you don't need to do it manually one by one any longer—but we can unsubscribe you from unwanted email and snail mail lists.
Fire up our app and let it navigate the phone tree instead of you or use it to make a DMV appointment at your earliest convenience. Forget about googling clinical trials near you—DoNotPay can sort them out according to your needs and their individual eligibility criteria.
We can fill out the paperwork that you need to file at your local small claims court to initiate a dispute. You can work around the U.S. penal system and have DoNotPay locate an imprisoned loved one instead of you trying to reach individual prisons attempting to do it yourself.
You don't need to go to great lengths to get in touch with a counselor to sign your college fee waiver either—DoNotPay does it for you and then forwards the necessary documents on your behalf.
DoNotPay Never Ceases To Amaze
Where there's one useful feature, there are nifty features galore!
Use our Virtual Credit Card to sign up for free trials and stop robocalls and spam text messages from reaching your phone. If you feel a free trial unrightfully turned into an expensive paid membership, we can help you request a refund or chargeback for the inconvenience.
We can further assist you in exercising your consumer rights by making a warranty claim in your place and verifying your online accounts with temporary phone numbers.
We can also break down the Freedom of Information Act for you and introduce you to online fax options and property tax reductions.