A Complete Guide to Arizona Scholarships
Living in Arizona or attending one of the schools within the Copper State makes you eligible for a number of Arizona scholarships. This state is home to some prestigious universities, such as Arizona State University (ASU), Northern Arizona University (NAU), and the University of Arizona (UA).
If these schools are on your wishlist but you are hesitant about enrolling due to the high tuition—don't be. Whether you are a high school senior, college, or grad student, you can apply for merit- and need-based financial aid in the form of scholarships.
Arizona College Scholarships—The Basics
Arizona residents can use scholarships to pay for:
Tuition
Fees
Books
Accommodation
Other educational expenses
To be eligible for Arizona scholarships, you must meet a variety of other requirements in addition to residing in Arizona. Some of these may be:
A certain GPA score
A community service record
Full-time enrollment
Association with a specific group of students
Financial need
Extracurricular activities
How To Find Scholarships for Arizona Residents
Some of the best ways of finding an Arizona scholarship are:
Speaking to your high school college advisor
Contacting the financial aid office of the school you plan to attend
Entering Scholarships in Arizona into your favorite search engine
Contacting local organizations and foundations
Arizona Foundation Scholarships
One of the best sources of scholarships for Arizona students is the Arizona College Scholarship Foundation (ACSF), which is supported by donations from various sources. If you are a senior student of an Arizona high school who demonstrates financial need and plans to pursue an undergraduate degree within the state, try contacting the ACSF.
Does searching for scholarships seem too tedious of a task? If you want to save your time, there is a solution. Sign up for DoNotPay and let our app match you with all scholarships and grants you qualify for in minutes!
What Are Some of the Best Scholarships in Arizona?
Scholarships in Arizona can be divided into five categories:
State scholarships
Community Foundation Scholarships
Scholarships awarded by professional organizations
School-specific scholarships
Major-specific scholarships
The best and most generous ones are listed in the table below:
| Scholarship | Award Amount | Who Is Eligible? |
| --- | --- | --- |
| Freethought Arizona Scholarship | $1000 | Humanist, secular, and atheist/non-theist Arizona students who are active in their communities and demonstrate leadership |
| SAEMS Environmental Scholarship | $2250 | International and U.S. undergraduate and graduate students planning to attend the University of Arizona. They must have a GPA of 2.5 or higher and pursue a career in the field of environmental protection |
| George F. Wellik Scholarship | $5000 | High school seniors from Wickenburg, Arizona, who demonstrate financial need and have a GPA of at least 2.5 |
| PMI Phoenix Chapter Scholarship | $1,000 | Undergraduate and graduate students pursuing a degree in project management. They must be legal residents of Arizona and enroll full-time in an accredited academic institution |
| Mattie Cowan Scholarship | $1,500 | Students who are interested in a professional career in agriculture |
| PFLAG Phoenix Chapter Scholarship | $1000 | The U.S. and international high school seniors who identify as or support gay, lesbian, bisexual, or transgender people. They must reside in Arizona and show a commitment to serving the LGBTQ+ community |
| Arizona CPA Foundation High School Scholarship | Up to $1,000 | High school students with an interest in accounting. They must attend an Arizona college or university high-school graduation and pursue a degree in accounting |
College Scholarships in Arizona—Alternative Options
Since this state has a highly diverse population, additional scholarship opportunities are made available to specific student groups and minorities, such as:
Specific Group
Scholarships:
Hispanics

Chicanos Por La Causa Scholarship
AAA Arizona Si Se Puede Scholarship

Native Americans
Northern Arizona Native American Foundation scholarships
African Americans

Black Women's Task Force Scholarship
Jacques Avent Scholarship

Women

Arizona Women Lawyers Association Mary Anne Richey Scholarship
Arizona Press Women Annual Journalism Scholarship

Students whose parents are deceased or permanently disabled
Kids' Chance of Arizona scholarships
Children of public safety officers
The 100 Club of Arizona scholarships
Homeschooled students
Arizona Families for Home Education
Foster children

McLaren Scholarship
Arizona Friends Of Foster Children Foundation Scholarship
How To Apply for Arizona Scholarships
The application process for most Arizona scholarships is similar. In most cases, you will be required to submit the following:
GPA scores
Test scores
An official transcript of your grades
One to three letters of recommendation
Make sure you apply within the assigned deadline.
The Best Scholarships Are a Click Away With DoNotPay!
DoNotPay helps you find grants and scholarships you qualify for based on the information you provide in our online form. This is the fastest and easiest solution to find the best scholarship for your needs.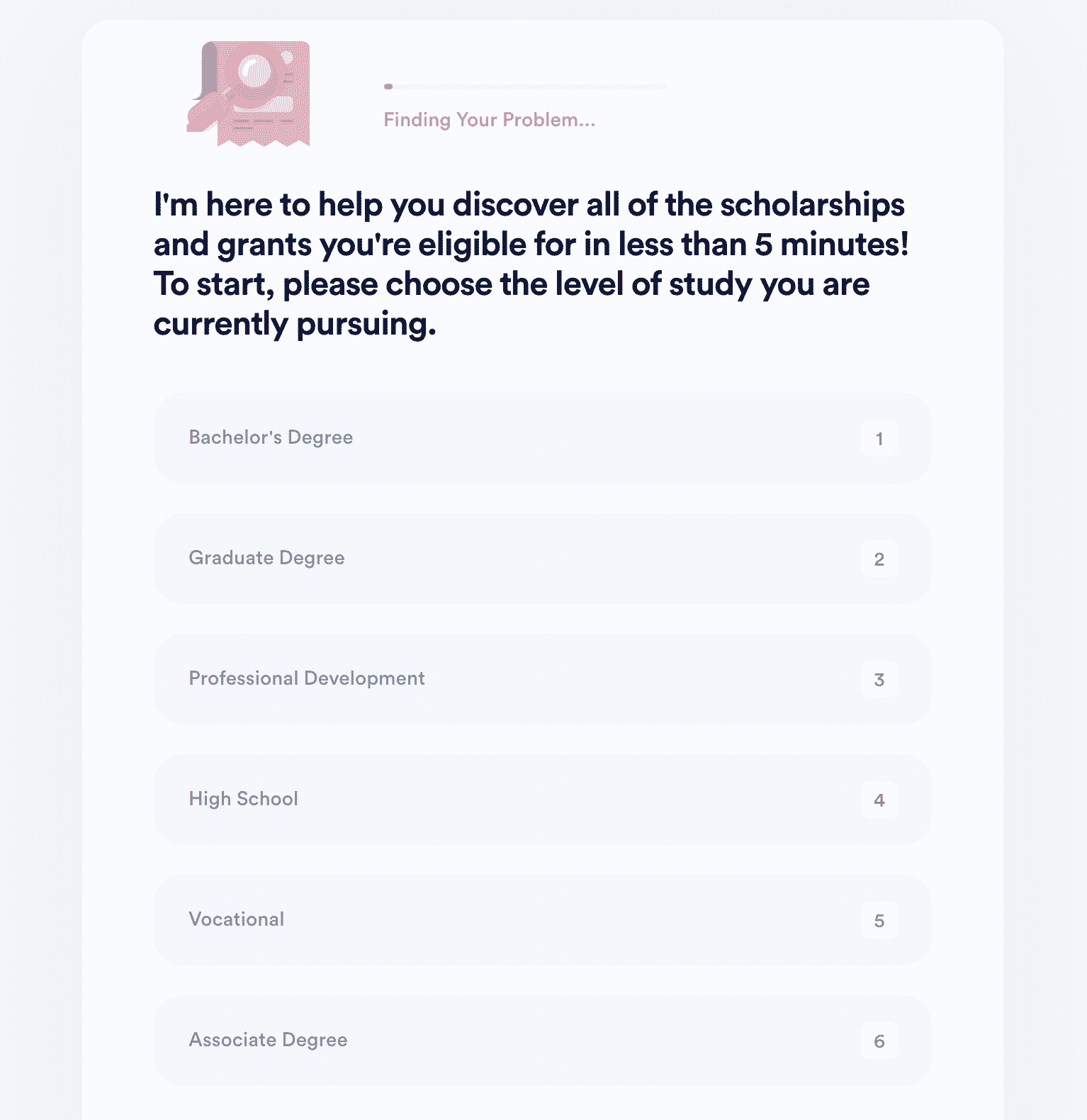 To initiate the search through our app, you need to:
Locate the Apply for Scholarships feature
Answer some questions from our chatbot regarding your residency, level of study, career goals, etc.
State any special qualifications (for example, veteran status)
Keep in mind that you can also apply for no-essay scholarships with our app.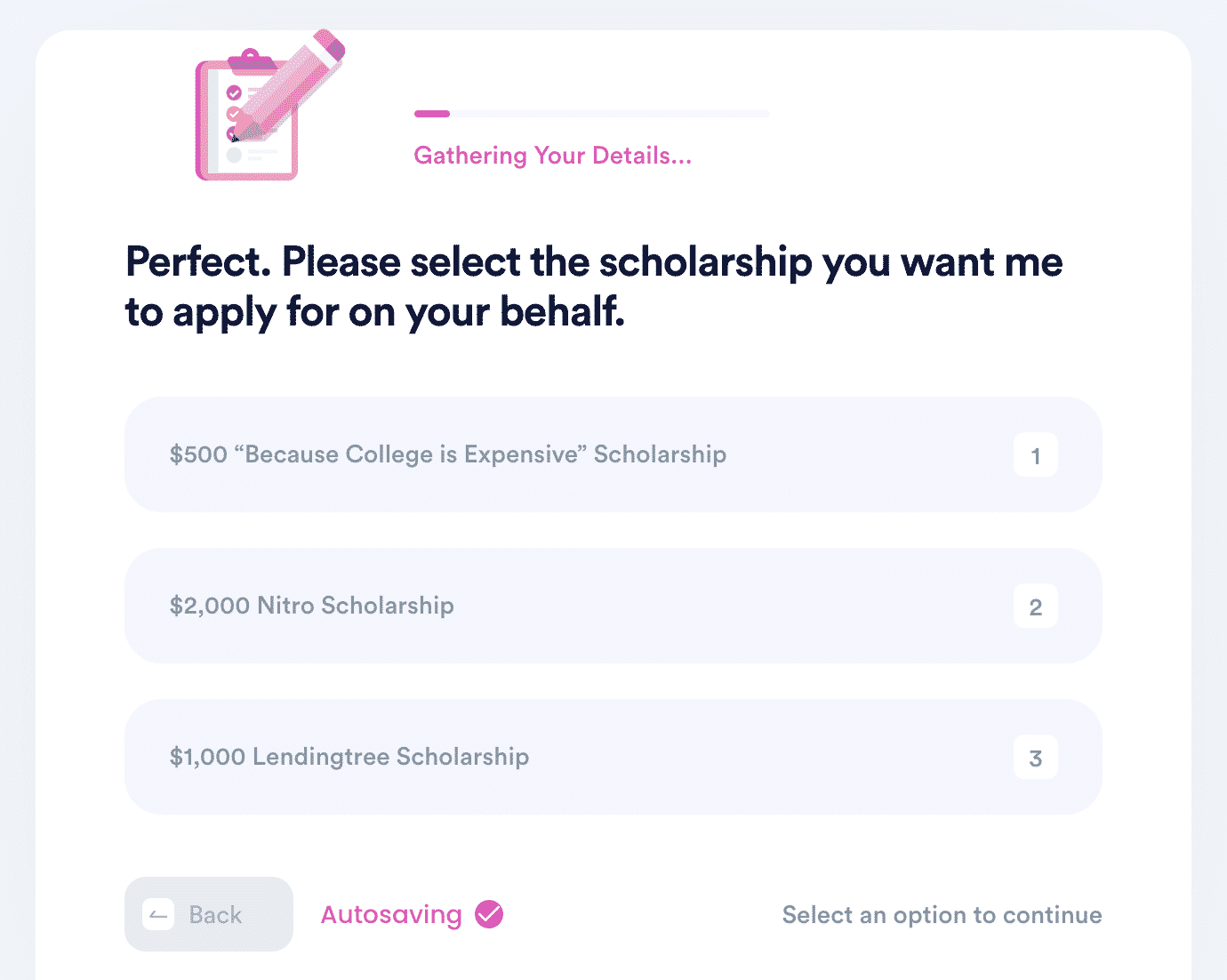 Use DoNotPay To Deal With a Plethora of Bureaucratic Tasks!
Tired of dealing with bureaucracy? We understand the struggle, and that is why our app makes handling administrative tasks a breeze!
Regardless of whether you need to compose a legal document, such as a power of attorney or a child travel consent form, appeal property taxes or your parking tickets, file a financial aid appeal and a FOIA request, or get a document notarized, DoNotPay has got you covered!
In case you also need to submit anonymous HR complaints, our app will provide you with the easiest way to do so!
Go on a Stress-Free Shopping Spree With DoNotPay
Do you like to shop until you drop? With DoNotPay, you won't have to worry about dropping! We'll make sure you can:
If you need more money to continue your shopping spree, let our app help you find any unclaimed funds under your name and enter numerous giveaways and sweepstakes!