How to Complete an Arizona Health Care Directive Form
Do you want to make sure you receive the medical treatments you want even if you can no longer speak for yourself? You need to make a proper legal document called a health care directive in accordance with your state laws.
DoNotPay can help you understand whether it is necessary to use the Arizona health care directive form to create this document or you can opt for an alternative way.
Sign up to get a tailor-made advance health care directive!
What Is an Arizona Health Care Directive?
A health care directive is a legal document that contains information on how you want to be treated if you are unable to speak due to an injury or illness. In Arizona, this document consists of two sections:
Health care power of attorney
Living will
Take a look at the table below to understand what each of these sections entails:
Advance Directive Part
What You Should Know
Health care power of attorney
Living will

Enables you to state your wishes about medical care if you:

Develop a terminal condition
Are permanently unconscious

Guides your agent's decisions regarding your medical treatment
Mental Health Care Power of Attorney in Arizona
In Arizona, it is possible to create a durable mental health care power of attorney. This is a separate document that lets you appoint an agent who will make mental health care decisions for you if you are unable to do so.
Only an Arizona licensed psychologist or psychiatrist can decide whether you can make health care decisions independently. If you don't have a mental health care power of attorney, your general medical power of attorney will be used instead.
Do You Need To Use an Arizona Health Care Directive Form To Make This Document?
You don't need to use the official Arizona health care directive form—it is possible to make this document from scratch. This is not advised if you lack the required legal knowledge. Your other options include:
Hiring a lawyer—You will get a well-written document, but you will need to spend a small fortune
Using DoNotPay—You will get a rock-solid document containing all the info Arizona law requires. This option will also save you money
Use DoNotPay To Make a Health Care Directive in Arizona
If you are looking for a simple way of getting a well-written advance directive, you should use DoNotPay. Our app will make sure to respect all the rules and requirements set by Arizona law. You only need to:
Navigate to our Advance Health Care Directive product
Choose your agent and the powers you want to transfer to them
Enter the names of the people who will witness you sign the document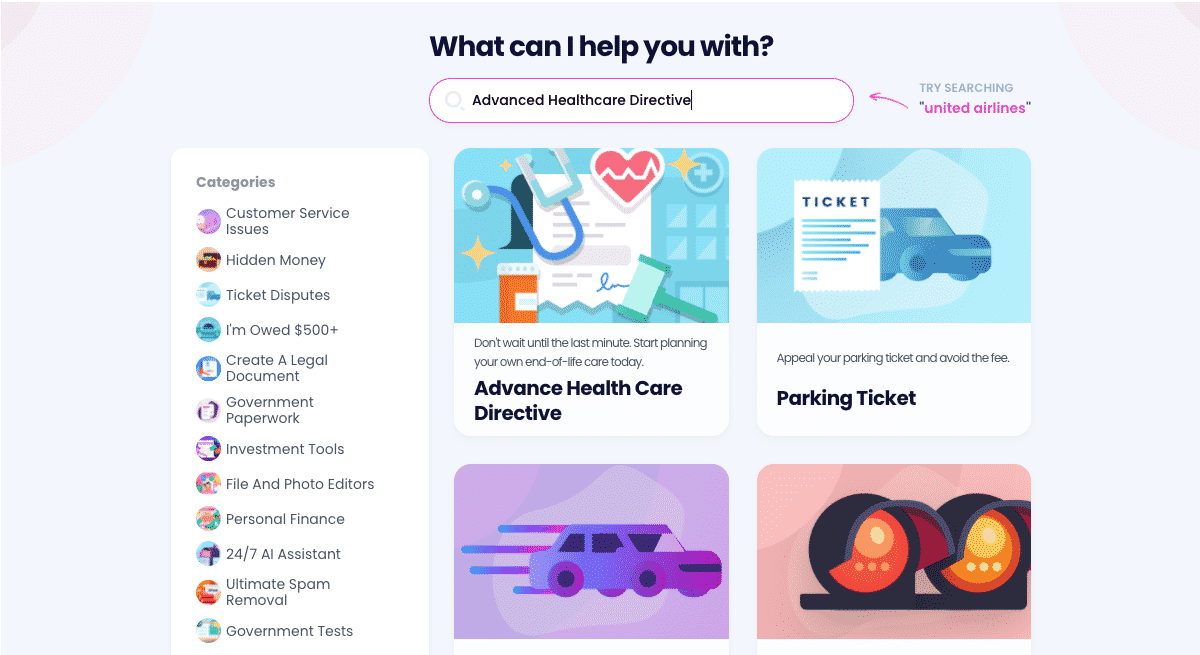 DoNotPay can also provide you with more information about a living will form, including how to make one under your state laws and what costs you can expect.
How Do You Ensure Your Arizona Advance Directive Is Enforceable?
To make your health care legally binding in Arizona, you need to sign it either in front of a notary public or at least one witness. Your witness cannot be:
Related to you by blood, marriage, or adoption
Entitled to any part of your estate
Appointed as your health care agent
Involved with the provision of your medical care
Both the witness and the notary public need to sign the document and affirm that:
They were present when you dated and signed the document
You appeared to be of sound mind and free from duress at the time you signed the document
Our Platform Makes Your Life Simpler
DoNotPay offers a vast spectrum of life-changing services, including the ones listed below:
| Services | With Our App, You Can: |
| --- | --- |
| Eliminating spam and harassment | |
| Saving and getting more money | |
| Providing other useful services | |
DoNotPay Helps You Get the Necessary Paperwork in a Heartbeat
Do you need to compose a power of attorney, revocable living trust, or a health care directive but don't know how? No worries—DoNotPay can do it for you! If you need comprehensive and valid legal documents tailored to your wishes and needs, there's no better way to get them than subscribing to our app!
We can also draft personalized FOIA requests, divorce agreements, homeschool notices of intent, and various complaints.