The Most Convenient Way of Getting an Arizona Fishing License  
Arizona is home to great fishing spots like Alamo Lake, Bartlett Lake, Roosevelt Lake and the Big Lake, among many great fishing grounds for avid fishers. This state is an awesome choice if you're planning on your first fishing trip.
Before you hit the waters, there are a few things that you need to know about getting your Arizona fishing license. The process of securing the license is straightforward, but it can be hectic, frustrating and lengthy if you do not know all the steps to follow or don't have someone to guide you. This doesn't have to be your case. You can use DoNotPay to get your Arizona fishing license in just three easy steps.
Utilizing DoNotPay has been proven to be a convenient, easy and fast way to purchase fishing licenses in Arizona. So, without further ado, let's take you through all you need to know about fishing licenses in this state.
Are You Eligible for a Fishing License in Arizona?
To be eligible to fish in the state of Arizona public waters with a fishing license, you must fulfil either of these requirements:
Be at least 10 years old. If you are younger than 10 you can fish without a license.
Be a permanent resident of Arizona. You need to have lived in Arizona for at least six months immediately preceding the date of application of your fishing license and not claim to be a resident of any other state or jurisdiction to be considered a resident of Arizona.
Be a member of the United States Army forces and be on active duty (either permanent or temporary) and stationed in Arizona. Also, those who listed Arizona as their home of record when applying for a license even though they are stationed in another state or country are allowed to purchase a resident license, which usually is less costly than non-resident licenses.
What Different Types of Fishing Licenses Are Available in Arizona?  
Arizona offers five different types of fishing licenses. These include:
General Fishing License - Required for all anglers, both resident and non-resident.
Combo Hunt & Fish License - Suitable when you want to fish and hunt at the same time.
Short-Term Combo Hunt & Fish License - Suitable if you want to fish and hunt at the same time for a few days.
Youth Combo Hunt & Fish License
Community Fishing
The state also offers lifetime licenses to Arizona residents only. The price depends on the type and age of the applicant.
How Much Will It Cost to Get a Fishing License in Arizona?
Below is the pricing for fishing licenses in Arizona.
| | | |
| --- | --- | --- |
| Type of License | For Residents | For Non-Residents |
| General Fishing License | $37.00 | $55.00 |
| Combo Hunt & Fish License | $57.00 | $160.00 |
| Youth Combo Hunt & Fish License | $5.00 | $5.00 |
| Short-Term Combo Hunt & Fish License | $15.00 a day | $20.00 a day |
| Community Fishing License | $24.00 | $24.00 |
It is also worth saying that all these licenses, except for the short-term combo hunt & fish license, are valid for 365 days upon the date of purchase. You might want to plan ahead and make your purchase just before fishing season starts so as not to waste your license.
How to Single-Handedly Secure Your Own Fishing License in Arizona?
We can't blame you if you're into DIY's. Sometimes it gives us a sense of accomplishment being able to do things on our own. Here's how you can get your own license to fish in Arizona:
First, you need to head over to the Arizona Game and Fish Department website.
Once there, click on "Fishing" at the top menu bar, which is located next to "Home."
Choose "Buy License".
Next, choose the type of license that you want to get, whether it is a general fishing license or combo hunting and fish licenses, for example.
Click on "Buy license online." This will take you to another page where you will have to fill out a few forms before purchasing your fishing license in Arizona.
Alternatively, you can buy a fishing license in person from license dealers like the outdoor sporting goods store or tackle shop.
How to Get a Fishing License Quickly With the Help of DoNotPay
If you cannot purchase a fishing license in Arizona on your own, you can use Donotpay as an alternative to getting one on your hands.
To do this head over to our website and follow the steps below
1. Search "fishing license" on DoNotPay and select the state you would like a fishing license for.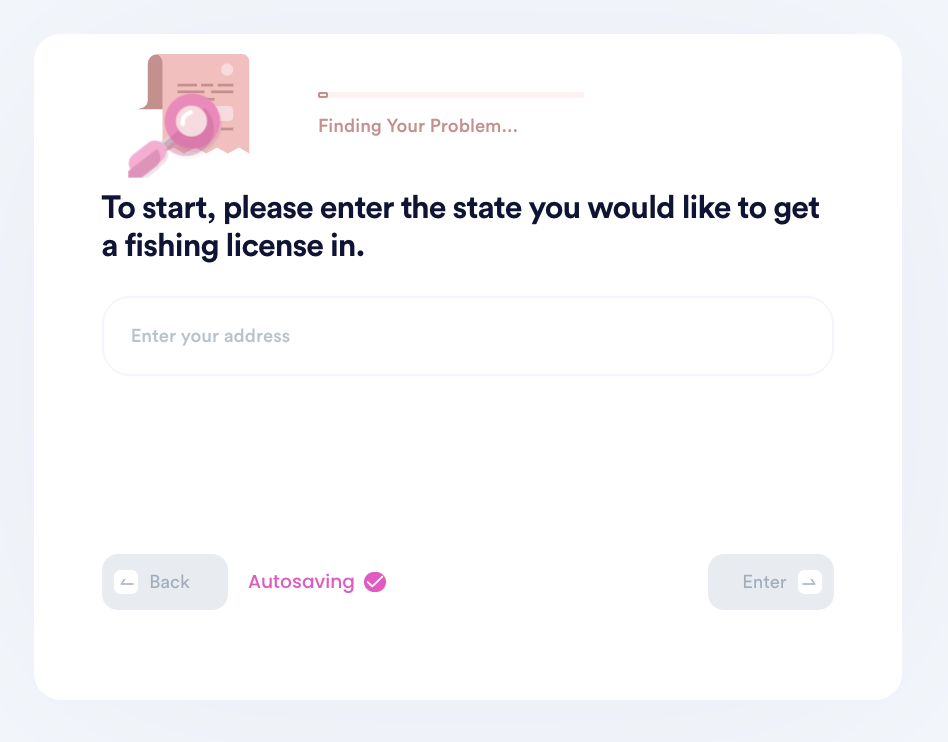 2. Indicate whether you are a resident or non-resident, and choose the type of license you want. For example, saltwater vs. freshwater license, three-day only pass, and more.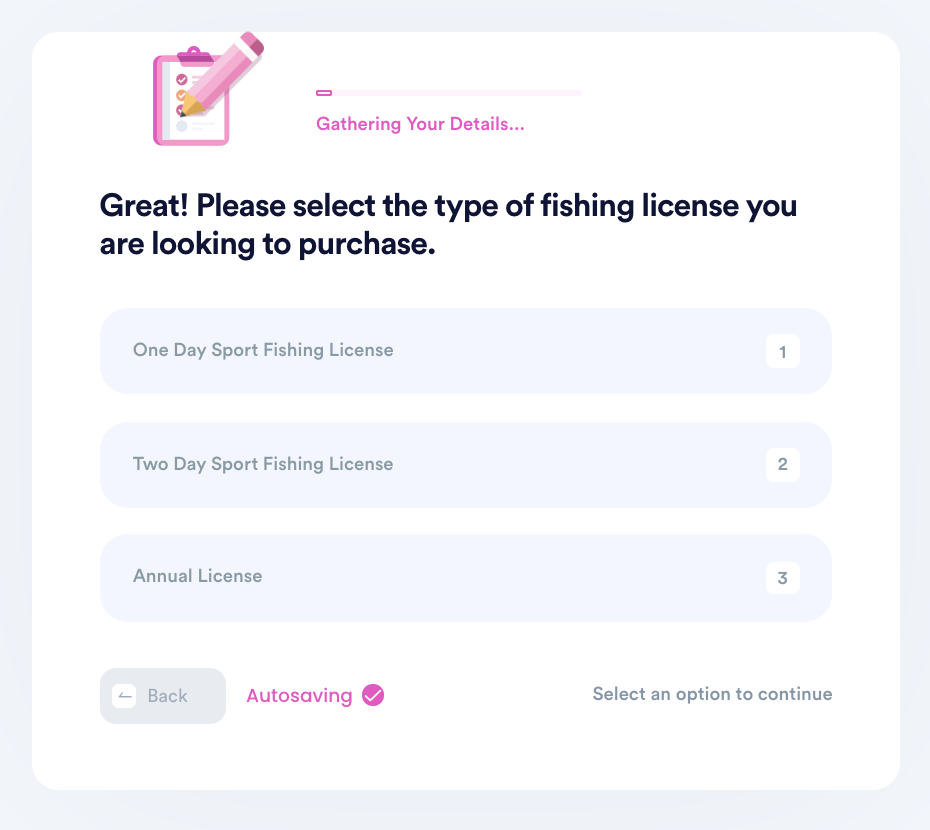 3. Provide your contact information, a copy of your government-issued ID, and pay the fee required by the state.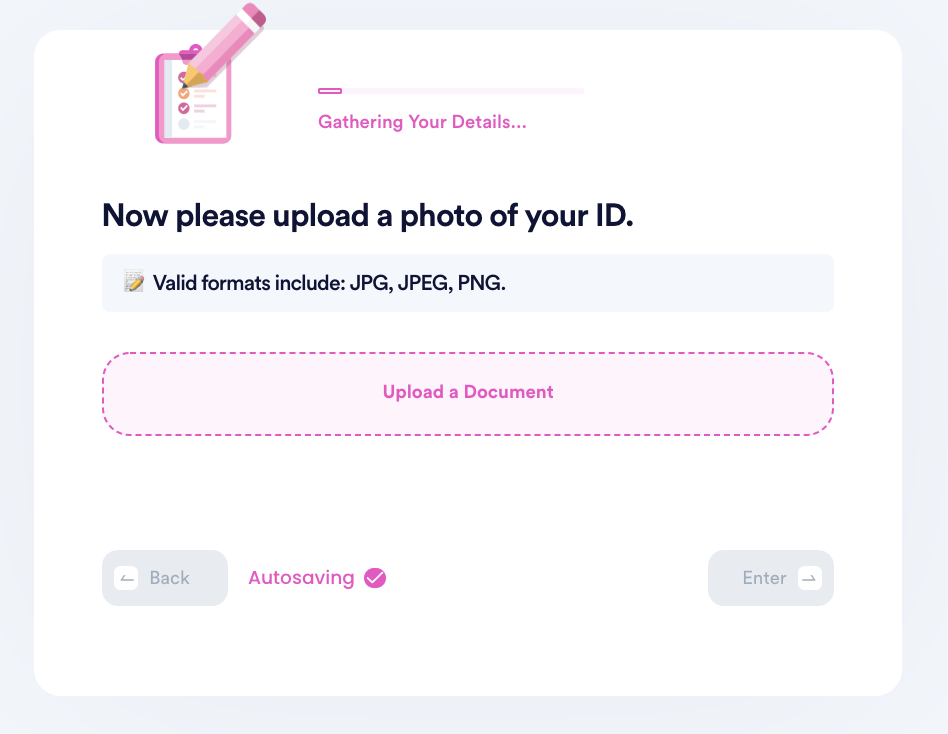 Why Use DoNotPay to Buy an Arizona Fishing License?  
You can definitely get a fishing license on your own but if you ever have your hands full, there's a less troublesome way of doing so. Just know that a smart and dedicated robot lawyer is at your disposal. Why choose DoNotPay to do it for you? Here are some of the reasons why:
DoNotPay is reliable. It has been used by more than 300,000 people worldwide to successfully resolve their disputes without going through a long and complicated legal process.
It is fast. It takes just a few minutes to get your fishing license in your hands.
It is 100% safe and secure. DoNotPay never stores your data or requests it from other sites, so you don't have to worry about being at risk while using our service.
Get Your Fishing License 
Acquiring a fishing license in Arizona is simple. However, it can consume your time and resources, especially if you don't know how to purchase a fishing license online. To avoid all the stress and hassles, use DoNotPay to buy your fishing license in Arizona.
DoNotPay is the most convenient way to secure that license at the comfort of your home with just a click of a button. Contact us today, and let's get you a fishing license in no time.
What Else Can DoNotPay Help You With?
Getting an Arizona fishing license is not the only thing that you can do with the DoNotPay app. You'll be surprised at how packed it is when it comes to available services. Here are other things that you can entrust to this robot lawyer:
Download the app today and discover a life made easy by DoNotPay.