What Is the Arizona DMV Power of Attorney, and How To Get One
A power of attorney (POA) is an important legal document, not so easy to obtain. To create a valid POA document, you have to abide by your state's rules and requirements. You should also keep in mind that different rules apply, depending on the POA type.
If you need a POA for a motor vehicle in the Copper State, this article is a great starting point! We have all the information you need regarding the Arizona DMV power of attorney.
AZ DMV Power of Attorney—From A to Z
A vehicle POA allows a person—the principal—to give a trusted person—the agent—the rights to make decisions and handle business transactions regarding any motor vehicle that the principal owns.
The Arizona Department of Transportation (ADOT) enables the use of a DMV power of attorney for various types of vehicles, including:
Cars
Trucks
Vessels
Motorcycles
A DMV power of attorney grants the agent legal authority to:
Be the Motor Vehicle Division (MVD) representative for the principal
Fill out, sign, and file all registration, motor fuel, and special fuel documents
Disclose, receive, and discuss information regarding the principal's vehicle
Perform financial transactions for a vehicle in the principal's name
What Should the AZ MVD Power of Attorney Contain?
The following table shows what information an MVD power of attorney letter has to include to be considered valid in Arizona:
Information
Details
Principal's information

Owner's full name or the company name
Full physical address—street address, city, state, and ZIP code
Contact number

Agent's information

Agent's full legal name
Phone number
Mailing address, city, state, and ZIP code

Vehicle information

Year
Make
Body style
Vehicle Identification Number (VIN)

Certification

Signature of the owner
Signature of a notary
Date of certification
Besides the basic information, every MVD power of attorney in Arizona has to contain a list of the rights and responsibilities transferred between the principal and the agent and the year during which the POA is effective.
How To Get an MVD Power of Attorney in Arizona
Here's how you can obtain a vehicle power of attorney in Arizona:
Write it on your own
Find an online template
Hire an attorney
Writing a DMV POA Document on Your Own
No law says you can't write a POA for motor vehicles by yourself. All you need to do is check your state's laws and follow the rules and requirements. You should keep in mind that an MVD power of attorney—like any other legal document—might be difficult to write if you don't have a legal background.
Finding an Online Template
With a simple Google search, you can find a myriad of online templates for any document, including the Arizona DMV power of attorney. Some websites even specialize in this type of service. Once you find the most suitable template, you have to download and fill it out.
What's good about online POA templates is that they are often free, and if not, the price isn't usually high. What's not that great is that they are general and won't always suit your needs.
Hiring an Attorney
The most secure way to get a power of attorney for vehicles is to hire a lawyer to draft it for you. This way, you don't have to worry about making a mistake or failing to include important information because of a low-grade template.
Bear in mind that legal services aren't cheap—you'll have to set aside a larger amount of money if you choose this option.
DoNotPay Can Get Your Arizona MVD Power of Attorney Notarized in a Flash
The State of Arizona and the Department of Motor Vehicles require all vehicle POA documents to be notarized. Getting documents notarized can seem like a tedious task, but it doesn't have to be. With DoNotPay's notary service, you can get your POA notarized from the comfort of your home, and here's how:
Find the Notarize Any Document feature
Upload your DMV power of attorney and insert your email address
DoNotPay will send you an email that contains a link that you should follow to set up an online meeting with a notary.
Need a Durable Power of Attorney in Arizona? DoNotPay Can Help!
You don't have to waste time and money to create a durable power of attorney in Arizona—get your POA document within minutes by using DoNotPay.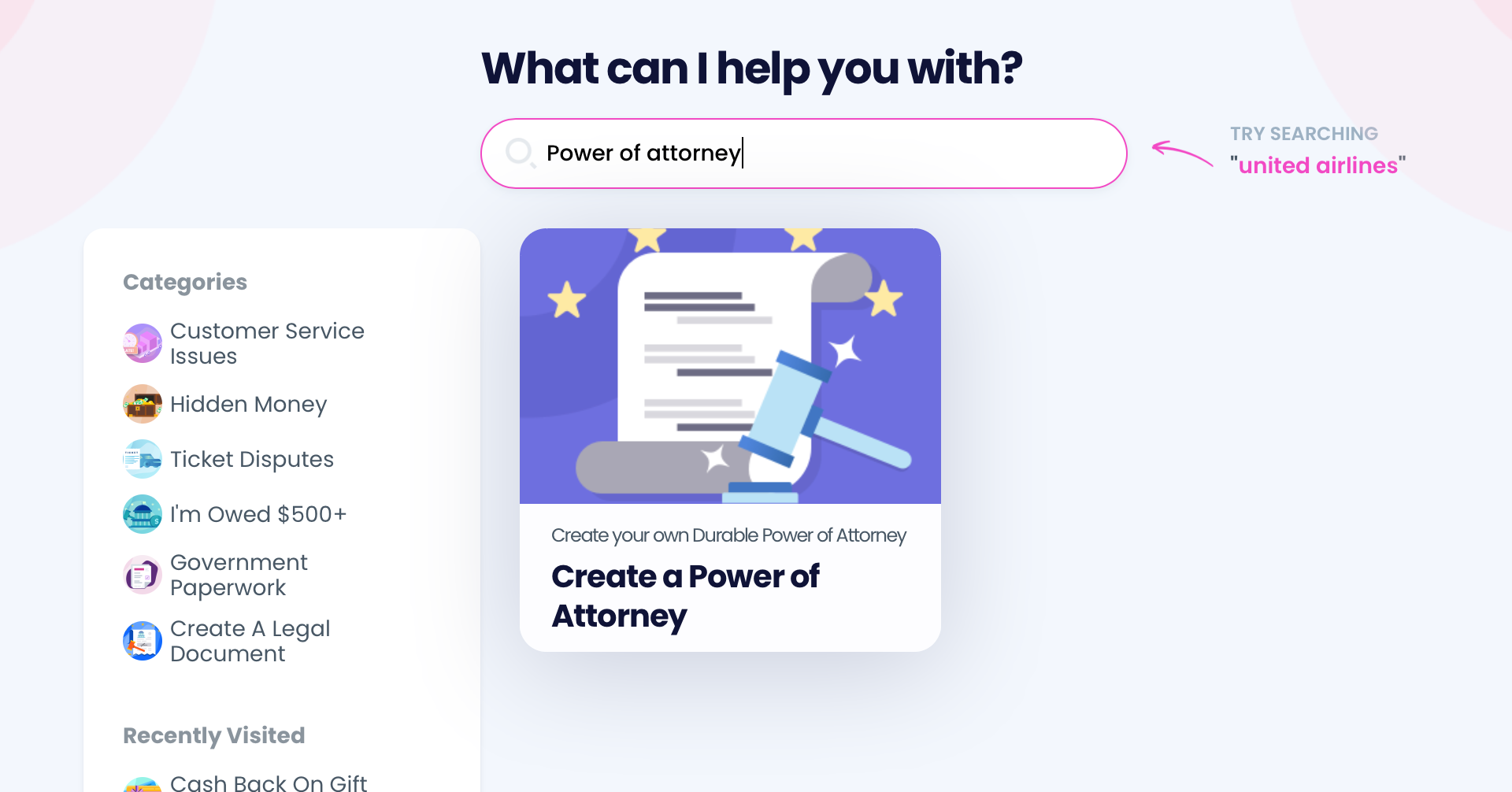 We can create a power of attorney that complies with the state requirements and suits your personal and business preferences.
All you need to do is follow these three simple steps:
Select the Power of Attorney tool
Provide the required information by answering our chatbot's questions
We will send you the finished product with two notices—one for the principal and the other for the agent.
Our comprehensive learning center has all the information about powers of attorney. You can:
Learn all about POA types:
Find out:
Good Things Come in Small Packages
Siri and Google Assistant are great in their own right, but their skills leave a lot to be desired when it comes to the practicalities of our daily lives. DoNotPay is an app, a true pocket-sized assistant that has the power and the know-how to help you deal with navigating bureaucracy and fighting for your rights efficiently.
Our platform, accessible from your phone or computer, is brimming with products that will help you:
From Government Tests Preparation to Copyright Protection
Whether you are getting ready for your driving test or wish to protect your creative work, DoNotPay has something in store for you.
We can help you handle some serious tasks—like suing someone in small claims court or reporting workplace discrimination—or deal with more mundane activities, such as getting that leftover money from your used gift cards.
The best part is that your DoNotPay subscription gives you access to all our services, be it online fax or virtual credit cards.