Where Can You Find Arizona Divorce Forms in PDF? DoNotPay Answers!
Before you file for divorce, you need to obtain and fill out various divorce documents. If you're looking for Arizona divorce forms in PDF, you're in the right place! In this article, you'll find information about where you can acquire the necessary divorce forms and learn the quickest and most affordable way to create a divorce settlement agreement.
Subscribe to DoNotPay to draw up your divorce settlement agreement in a heartbeat and get a DIY, cheap, and quick divorce in Arizona!
Divorce Process in Arizona—The Basics
To file for divorce in the Grand Canyon State, you or your spouse need to have been a resident of Arizona for at least 90 days prior to filing the papers.
Arizona is a no-fault state, which means that the court doesn't care whose fault the breakdown of marriage was. You can get divorced in Arizona on the grounds of irreconcilable differences.
A no-fault divorce can be uncontested if you and your spouse can agree on everything. If you can't reach a compromise, your divorce will turn into a contested one, meaning you'll end up in court and pay an arm and a leg for lawyer fees.
Do you want to speed up the process and avoid costly lawyers and court hearings? You and your partner should try your best to get an uncontested divorce by reaching an agreement on all aspects, including:
If you two agree on some points of the divorce but not all, you should consider mediation. It is a process that can help you reach a mutually acceptable solution while maintaining a good relationship with your soon-to-be ex-spouse.
Which Papers Do You Need for an Uncontested Divorce in Arizona?
The Arizona Judicial Branch offers all the necessary forms and instructions for a divorce.
Check out our table to see which Arizona divorce papers in PDF you can find on the Arizona Judicial Branch website:
Divorce With Children
Divorce Without Children

Petition for Dissolution of a Non-Covenant Marriage (Divorce) with Minor Children
Summons
Request for Protected Address (in case of domestic abuse)
Family Court/Sensitive Data Cover Sheet With Children (Confidential Record)
Preliminary Injunction
Notice of Your Rights About Health Insurance Coverage
Order and Notice to Attend Parent Education
Affidavit Regarding Minor Children
Notice Regarding Creditors
Parenting Plan
Current Employer (or Other Payor) Information Form

Family Court/Sensitive Data Cover Sheet
Request for Protected Address
Petition for Dissolution of a Non-Covenant Marriage Without Minor Children
Summons
Notice of Your Rights About Health Insurance Coverage When a Petition for Dissolution is Filed
Since each county has different rules and requirements, you should check with your local county clerk which forms you need to file for divorce. For example, in Maricopa County, the following forms are needed:
The Petition for Dissolution of Marriage
Summons
A notice about rights regarding health insurance coverage
A joint preliminary injunction, which should lay out some basic rules
Notice about your responsibilities regarding creditors
Information about parenting plans and responsibilities (if you have underage children)
Need info about other Arizona counties? DoNotPay has a myriad of useful guides, including those about Pinal County and Yavapai County.
How To File for an Uncontested, Friendly Divorce in AZ
To have a friendly, uncontested divorce in Arizona, you should follow these steps:
Hire a mediator (if you and your spouse can't agree on all aspects by yourselves)
Determine which documents you need, fill them out, and file them with your local family court
Create a divorce settlement agreement
Where Can You Get a Divorce Settlement Agreement in Arizona?
A divorce settlement agreement seems easy to come by because you'll find numerous templates online. Keep in mind that some courts won't accept the templates as they can contain numerous errors.
You can ask a lawyer or a mediator to draw up your divorce settlement agreement, but this method will cost you a lot.
The most reliable option for obtaining a divorce settlement agreement is using DoNotPay. With us, you will get a watertight agreement without paying an arm and a leg.
Create a Perfect Divorce Settlement Agreement With DoNotPay
You won't have to spend numerous hours searching for a divorce settlement agreement that suits your needs because DoNotPay will create one for you in under five minutes. All you need to do is sign up for our platform and follow the instructions below:
Type Divorce Settlement Agreement into our search box
Answer a few questions
Tell us whether you want us to set up a meeting with an online notary in AZ so you can get your document notarized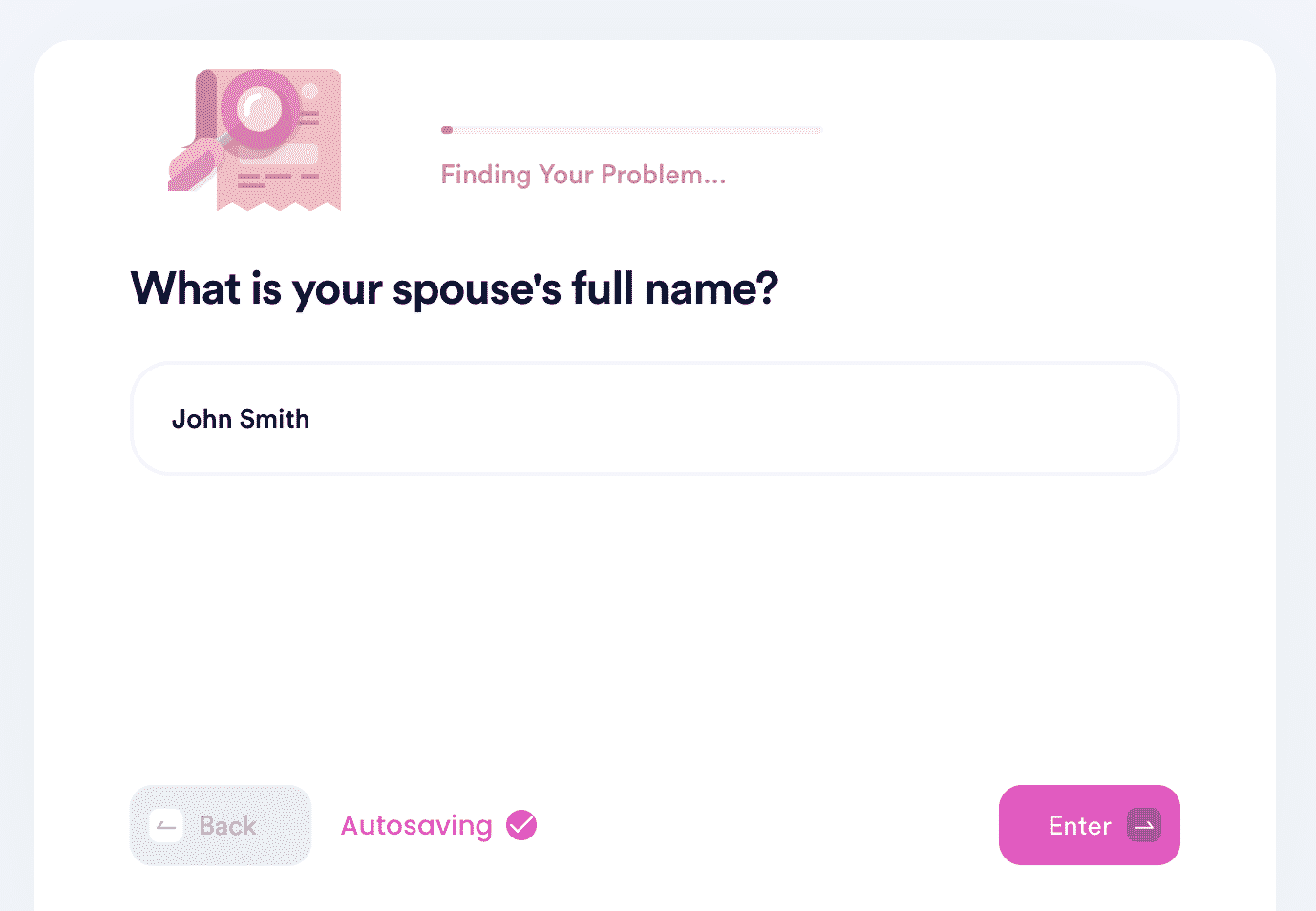 After you complete these instructions, DoNotPay will create your divorce settlement agreement, which will include all the required information. Once you and your spouse sign it and get it notarized, it will become legally binding.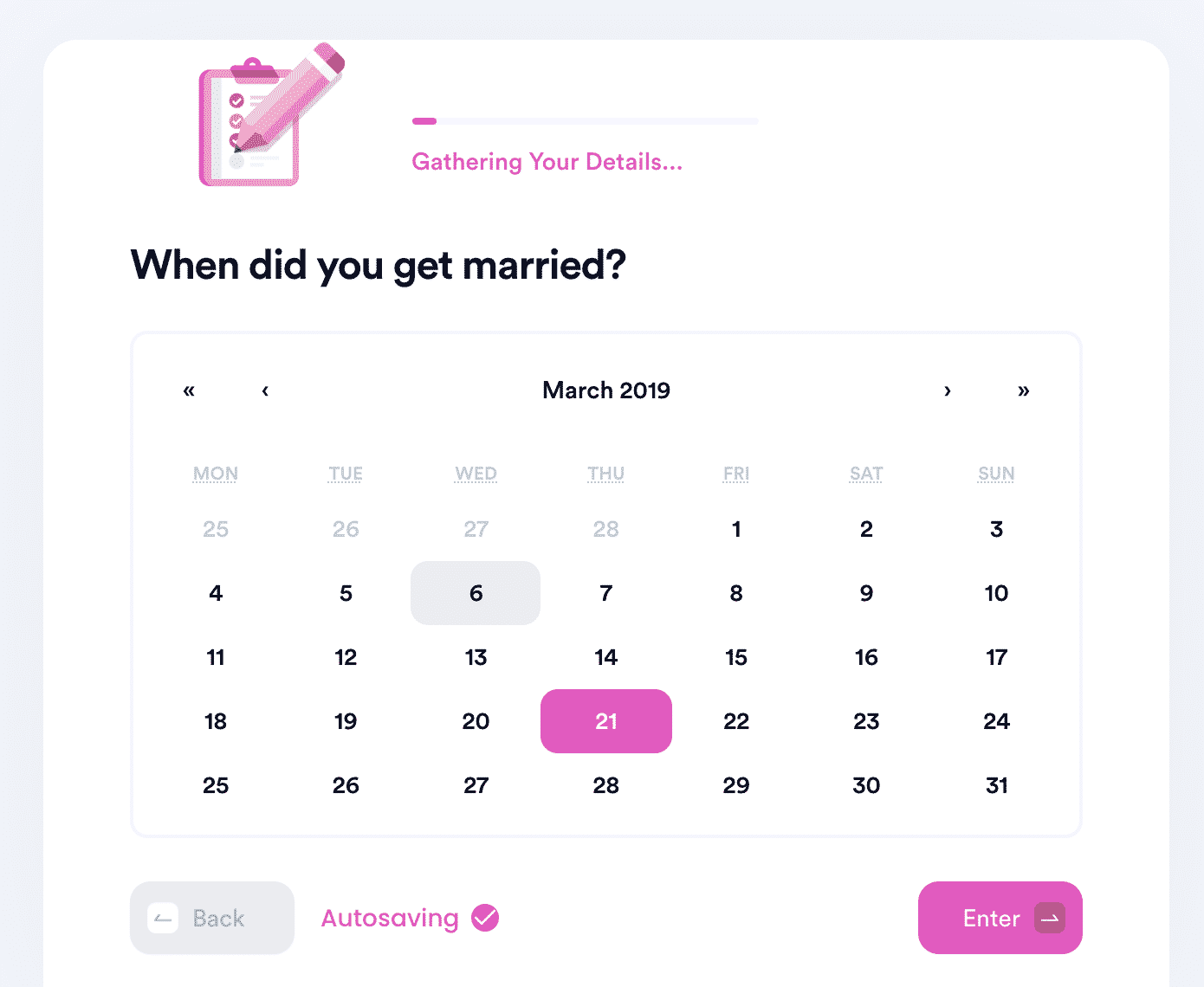 If you have more questions regarding divorce, DoNotPay is happy to provide answers. You'll find all the information you need, including:
DoNotPay's Vast Collection of Features Keeps Expanding
Determined to simplify bureaucratic procedures and help you with various daunting items on your to-do list, we created DoNotPay—the world's first robot lawyer! With us, you can:
Streamline Different Tasks by Using DoNotPay's Practical Features
Are you looking for an efficient way to gain back your unclaimed money or get a refund from a company? Do it with DoNotPay without lifting a finger! Our app provides excellent money-saving features that will increase your budget and make all unnecessary expenses disappear.
We can assist you in terminating unwanted subscriptions, recovering your unused gift card funds, reducing your bills, and requesting late delivery refunds. You don't even need to hire lawyers to write a financial aid appeal letter, an HR complaint, or a child travel consent form in your stead—our app can do all this!