The Problem With Argentina Tourist Visas and How DoNotPay Can Help You
Argentina steals your heart with its captivating scenery and cultural warmth. From foodies to music aficionados and wildlife enthusiasts to adventurers—alluring Argentina has something in store for everyone!
Argentina is undeniably a soul-soothing tourist spot, but your excitement can take a major hit when you discover the annoying paperwork that comes with Argentina tourist visas.
DoNotPay knows that frequent travel bans and visa delays have become an uncomfortable truth in the post-pandemic world. Our Tourist Visa Guide feature is dedicated to making visa applications a thousand times easier for you—sign up today for a stress-free experience!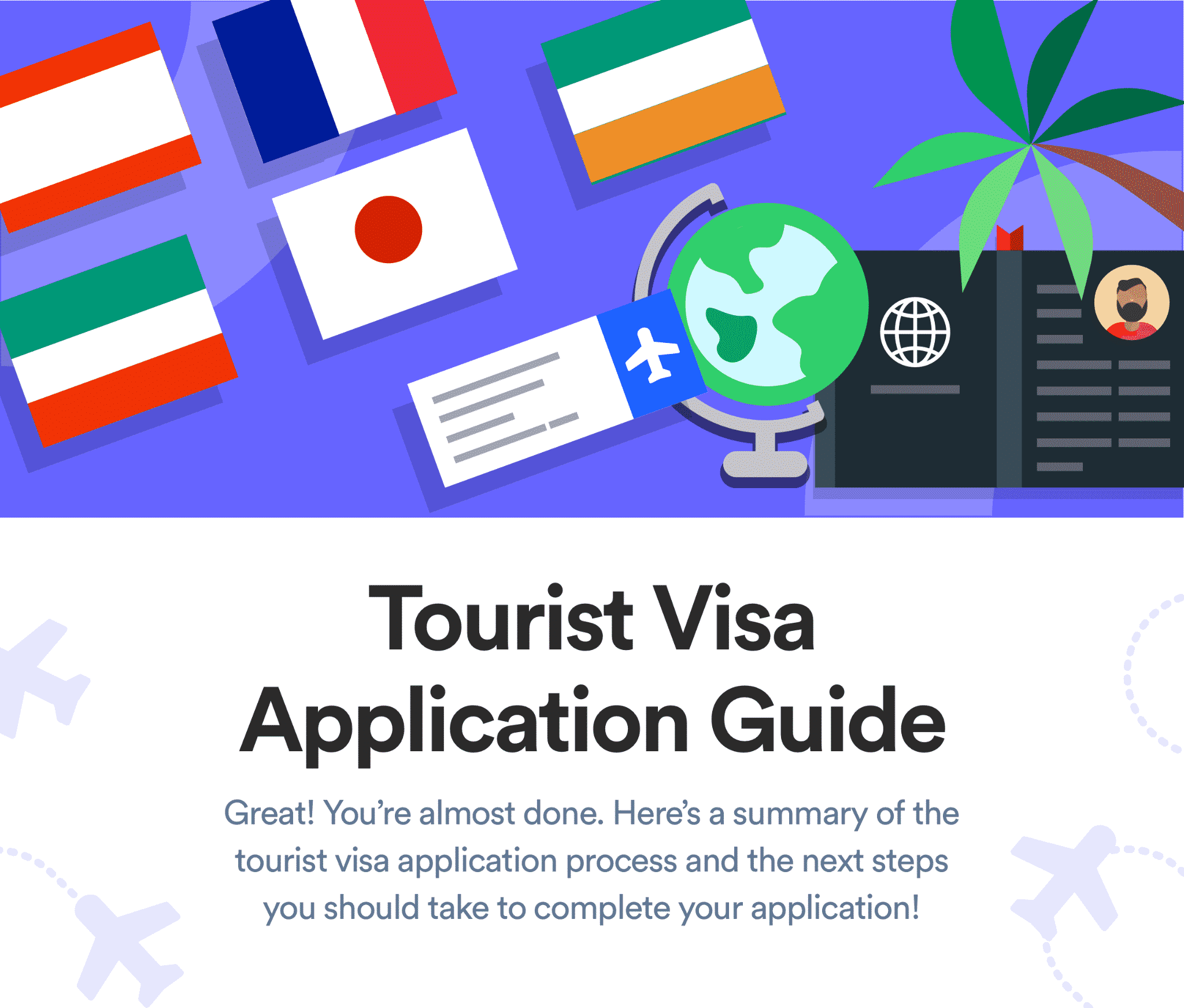 Argentina Tourist Visa Requirements for U.S. Citizens
Argentina has exempted many countries from getting a tourist visa if their duration of travel is 30–90 days.
Currently, U.S. citizens with a valid passport don't require a tourist visa if their visit to Argentina is:
Strictly for tourism purposes
For less than 90 days
If you are visiting Argentina for any other reason—say work, education, or diplomatic duties—you will need a visa or an Electronic Travel Authorization for the trip.
Tourist Visa Exemption for Argentina—What Else Do I Need To Know?
If your travel falls under the visa-exempt category, you still need to ensure that you can travel to Argentina based on the rules and restrictions unique to your time of travel.
Argentina's Consulate General cautions against investing your resources in irrevocable travel plans before confirming the current travel guidelines issued by the country. With more and more variants of COVID-19 cropping up, the U.S. government may also place partial or complete travel bans on Argentina for health concerns.
In addition to travel restrictions, you must also be eligible to enter Argentina as per the country's entry and exit requirements for U.S. citizens, which may change over time.
Tourist Visa to Argentina—Vaccination Advice
The U.S. Center for Disease Control and Prevention (CDC) and World Health Organization (WHO) recommend you to be updated on the following vaccinations before traveling to Argentina:
COVID-19—only the ones approved by CDC
Hepatitis A and B
Typhoid
Yellow Fever
Rabies
You can contact your health consultant to learn more about these vaccines before your trip to Argentina.
Tourist Visa Requirements for Argentina—Documents Needed
If you need to apply for a tourist visa for Argentina, these are some of the essential documents that you must arrange for the process:
Document
Details
Passport

Should be valid for at least six months from the date of entry
Must have at least two blank pages

Photo

Provide two full-front-view photos with white background
Dimensions—square photo that's one and a half inches in size

Proof of immigration status in the U.S.
This includes documents like Alien Registration Card and Advance Parole Document that must be submitted in original and copy, if applicable
Proof of funds
Submit bank statements for the past three months
References
This may vary as per individual circumstances. You may need to provide documentation of:

Round trip reservation
Hotel reservation
Family and friends' recommendations in Argentina

Receipt of fee
Pay the relevant visa fee either via debit card or money order to the Consulate General of Argentina in New York
Application form
Fill the form accurately, preferably in electronic format
Argentina Tourist Visa Application Form—Download and Processing
You can find the physical tourist visa application for 2021 here. Once you download and fill in the form, you need to attach the necessary documents and submit them to the Consulate applicable to your area.
If your details are in order, a consular officer will schedule an interview with you. You may be asked to produce further documents and proofs during the interview.
If you are worried about the visa processing time, this is what you need to know:
Argentina visa processing can take anywhere between ten and 45 days
The country's expedited service processes your visa within three to five business days, but this service is not always available
You can collect the visa either in person or get it mailed to you through a prepaid and self-addressed return envelope
Argentina Tourist Visa Reciprocity Fee
For over a decade, Argentina and the U.S. had a reciprocity fee agreement to control mass emigration of residents from either country.
As per the latest update, the reciprocity fee remains suspended for U.S. citizens.
DoNotPay Can Help You Manage Crude Tourist Visa Applications With Ease
From placing an application to prepping for an unpredictable interview—a bulk of Argentina's tourist visa processing happens offline. You are practically left to your own devices as you make sense of everything. To make matters worse, the complicated documentation increases your chances of goofing up and getting delayed.
Before you freak out and ditch your travel plans, consider turning to DoNotPay for solid assistance throughout your visa application process.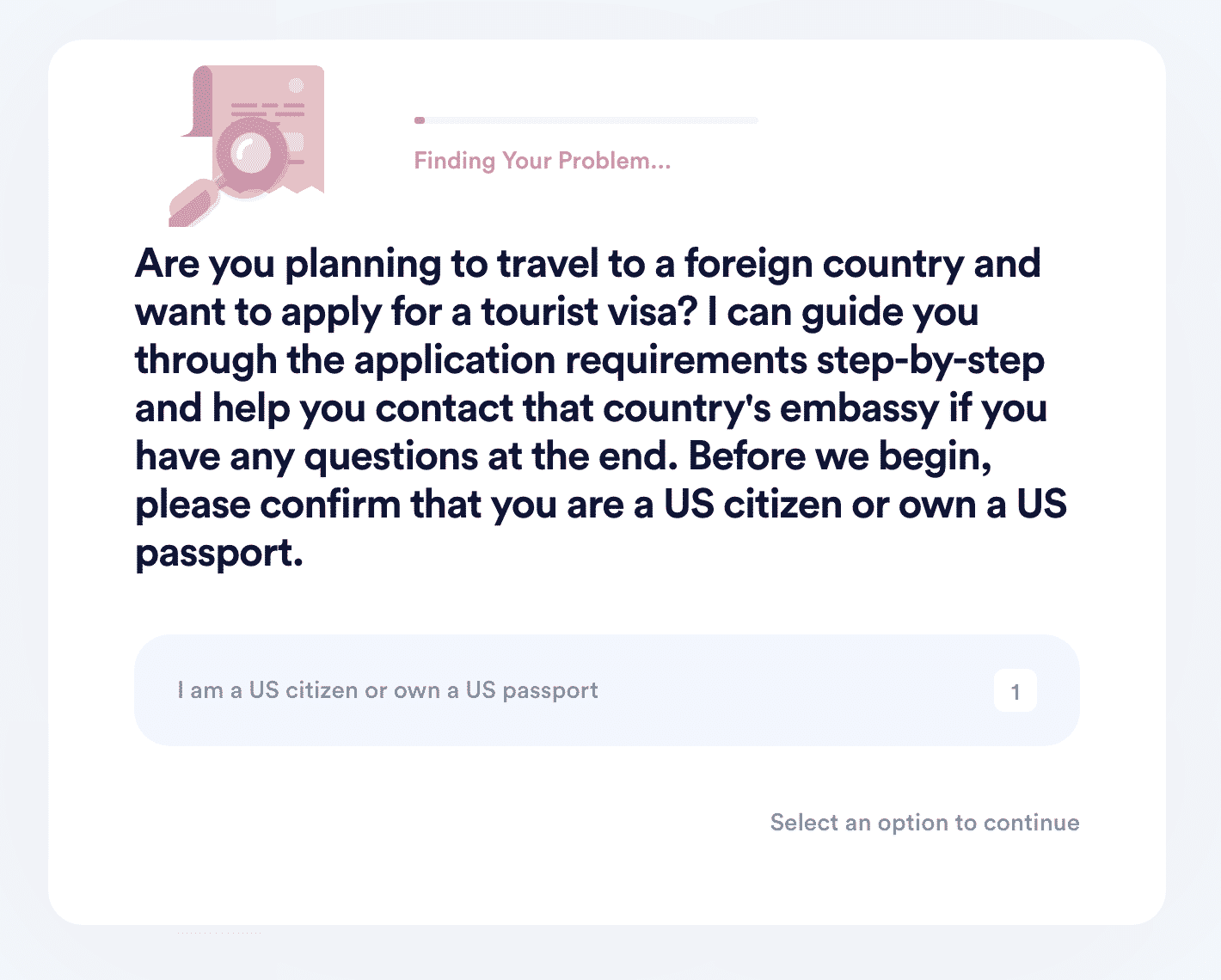 DoNotPay's Tourist Visa Guide feature is an A-to-Z solution for all your visa application woes. Our app's AI will not only determine if you need a tourist visa but also guide you through the application process if you must apply for one.
Follow these steps to check if you need a tourist visa:
Sign in to your DoNotPay account and choose Tourist Visa Guide
Confirm that you have a valid U.S. passport
Set your destination country
You will get an instant assessment on whether you need a tourist visa for that country without breaking a sweat!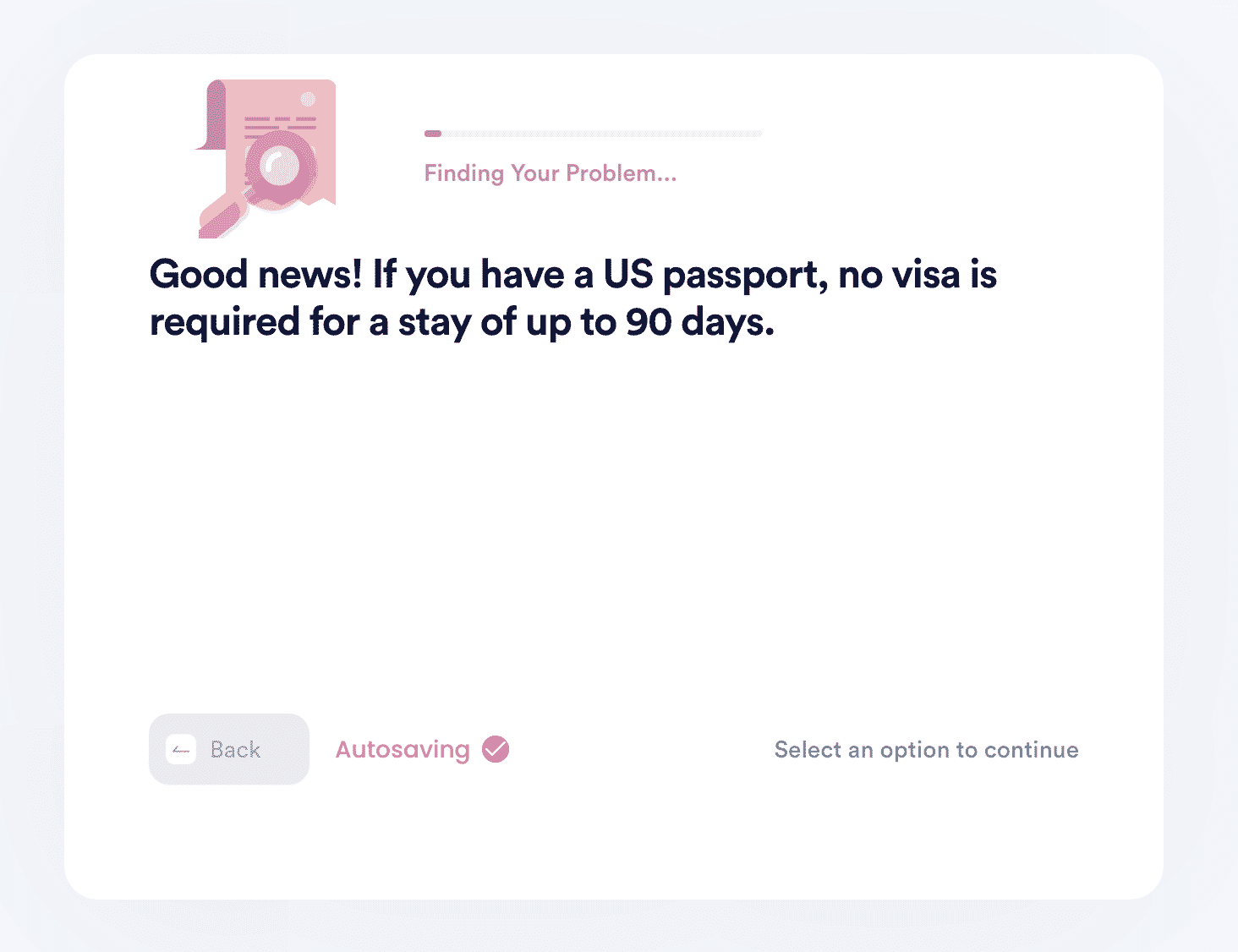 The information about visa-exempt countries changes all the time, so make sure to use DoNotPay to check your visa eligibility before every trip.
Can DoNotPay Help Me if I Need a Tourist Visa?
We can! Your tourist visa application won't be an uncertain, lonely process with DoNotPay by your side.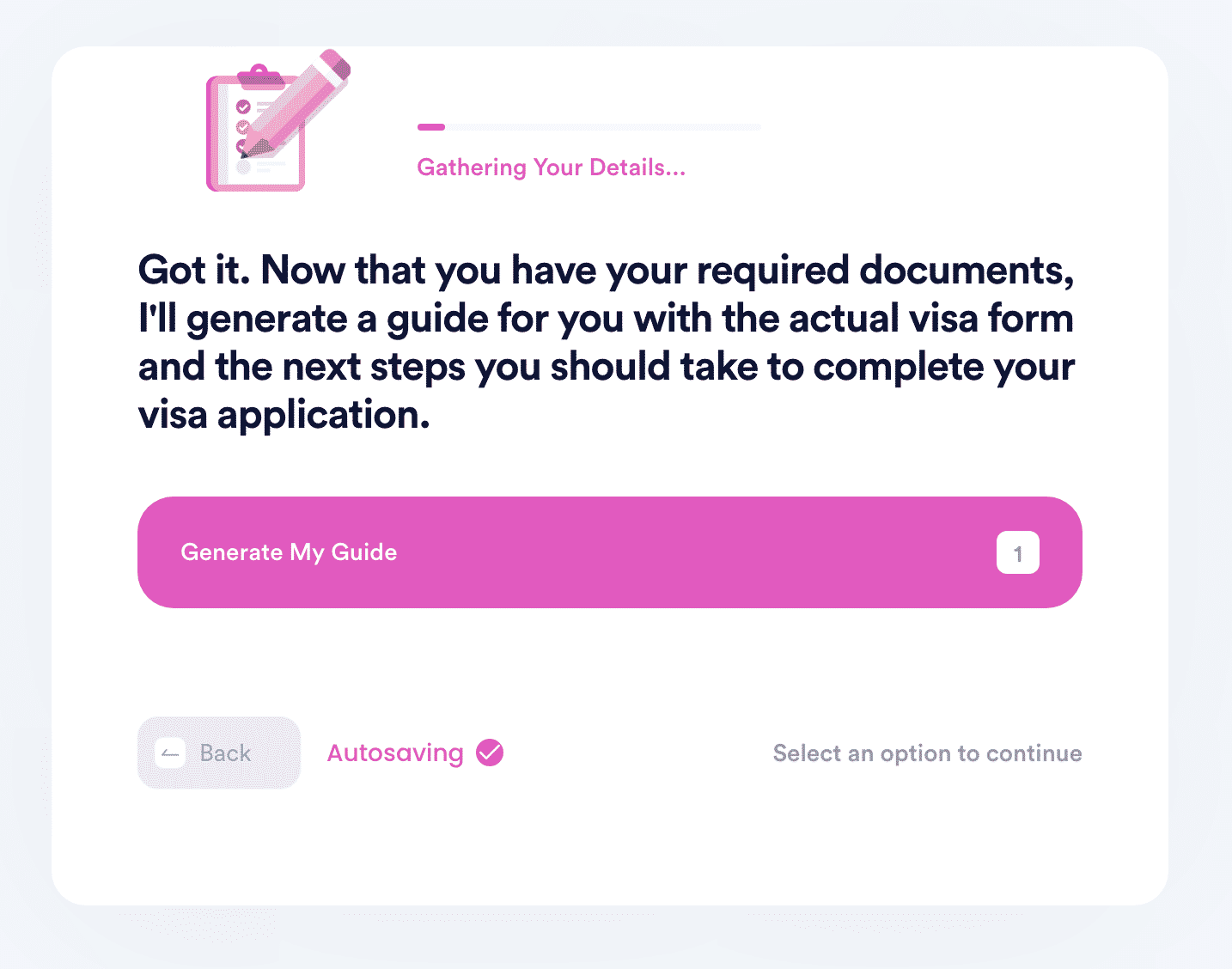 Answer our chatbot's questions to:
Get a list of the documents necessary for the application
Generate an exhaustive guide to the country-specific application process
Find a downloadable PDF version of the application form
Steer toward the authentic government portal or embassy to submit your application
We remove the headache factor out of your travel plans so that nothing comes in the way of your wanderlust!
Embrace Latin-American Bliss With DoNotPay's Tourist Visa Handbooks
Many countries in Latin America are the ideal place to unwind away from the hustle and bustle of your everyday life.
If you wish to explore beyond Argentina, check out our visa guides for these countries:
Have Your Documents Created and Notarized in Less Than Five Minutes!
Why spend hundreds or even thousands of dollars on lawyers when the ideal solution is only a few clicks away?
DoNotPay saves the day by enabling you to generate numerous legal documents. Creating proper child travel consent forms, divorce settlement agreements, and powers of attorney has never been easier!
Our perks don't stop here—you can also have your documents notarized electronically from any location. Once you obtain a notary stamp and signature, your paperwork can be faxed online without outdated machines.
Explore Everything DoNotPay Has To Offer
Day-to-day tasks you must deal with don't have to be a burden or rocket science. Signing up for DoNotPay is your ticket to performing them the easy way! We offer a wide selection of products that don't cost an arm and a leg but do excellent work when it comes to solving your administrative issues!
Our services will help you: