The Golden State's Jury Duty Laws—Are Employers Required To Pay for Jury Duty in California?
Jury duty is a vital component of the judicial system because it helps keep it fair and just. If you are summoned for jury duty, it's important to know the laws of your state that govern jury duty leave.
If you get a jury duty summons in California, you can count on this guide to provide answers to the following jury duty questions:
Are employers required to pay for jury duty in California?
What are the details of remuneration, if any?
Do courts offer any compensation for jury duty?
We will also show you how our AI-powered app can help you smooth out your preparation for jury service.
How Do You Qualify for Jury Duty in California?
Jurors are selected at random from lists of driver's license owners and registered voters within any specific county. To be eligible to serve as a juror, you must:
Be an American citizen
Be at least 18 years old
Have a good enough command of English to comprehend court proceedings and discuss the case
Live in the county that sent you the summons
Haven't served as a juror for at least a year
Not currently serve on a grand or trial jury
Not be a conservatee
In California, there are specific criteria in the Code of Civil Procedure that allow citizens with a criminal record to serve on a jury. You are not permitted to turn down a jury summons without sufficient proof of undue hardship. You are also not permitted to turn down a summons because you have already been summoned several times.
Do Employers Pay for Jury Duty in California?
The law does not mandate employers to pay employees during their time away on jury duty, but they are encouraged to do so. Many California businesses already have jury leave policies that stipulate verified employees' rights and benefits if summoned for jury duty selection or service. California law also protects employees from employer punishment.
How Much Do You Get Paid for Jury Duty in California Courts?
Jurors' monetary benefits from California's state and federal courts are different—the following table summarizes them:
| Federal Courts | State Courts |
| --- | --- |
| | State courts compensate jurors at $15 per day from the second day of service |
| Federal courts compensate jurors' transportation costs at 56 cents per mile for a round-trip journey every day throughout the duration of their jury service | State jurors receive one-way compensation at 34 cents per mile |
DoNotPay Can Help You Prepare for Your Time Away on Jury Duty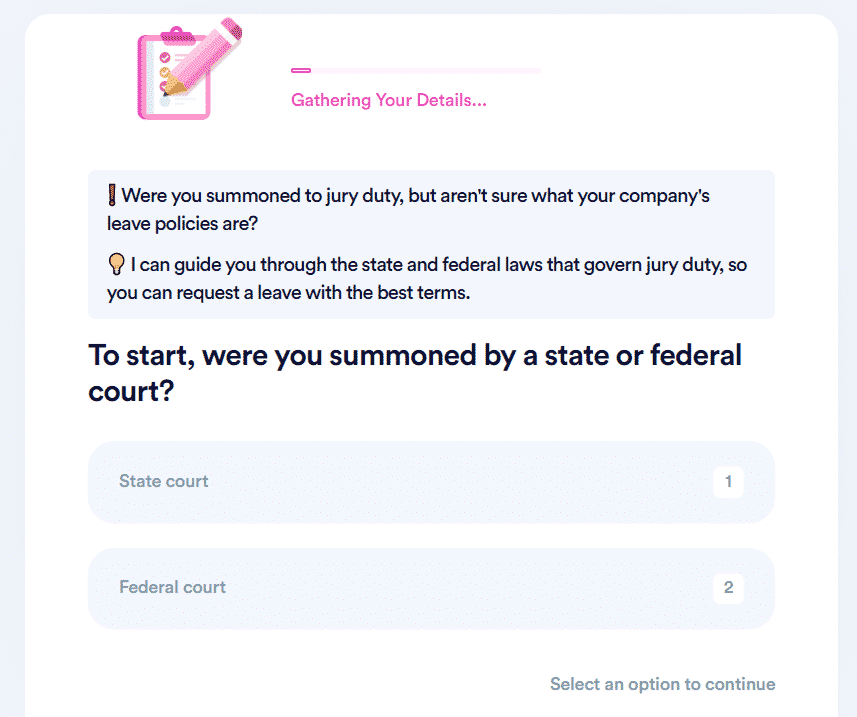 You have to put your affairs in order at your workplace and check in as required with your employer before leaving for jury service. DoNotPay can help you generate a jury duty leave request that your employer can also use to verify your summons. Take these steps to get your letter:
Sign in to your DoNotPay account and locate the Request Jury Duty Leave tool
Select whether you were summoned by a state or federal court and identify the state
Provide your jury service dates and upload your jury summons
Choose whether we can submit the letter for you and provide your electronic signature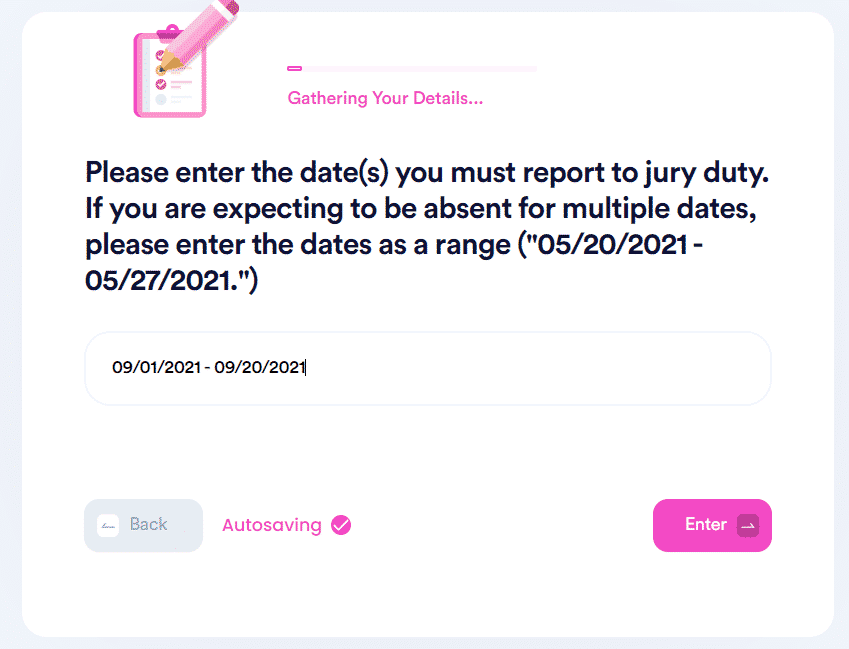 You can choose to download the request letter if you prefer to submit it yourself or have us email it to your employer.
If you want to know more details about jury duty in California, including the information on the appropriate dress code and the frequency of service, explore our learning center at any time and get the scoop on jury duty in:
Our App Offers Assistance in More Ways Than One
As a multifaceted app, DoNotPay creates solutions to numerous problems. Check out the table below and get to know a fragment of what our app can do:
| Keep Your Privacy Intact | Deal With Legal Problems | Solve Money Issues |
| --- | --- | --- |
| | | |
Use DoNotPay To Streamline Different Tasks
Tick the items off your to-do list faster by signing up for DoNotPay. In record time, you'll be able to request a refund, cancel a subscription, and get a free trial.
If talking on the phone is your worst nightmare, don't worry—you can use our app to schedule a meeting with an online notary, reach customer service with ease, and make a DMV appointment.
Feel free to also rely on our app when you want to prep for government tests, file FOIA requests, or connect with loved ones in prison.