Are Churches Exempt From Property Taxes? Mystery Solved
Homeowners and other property holders are obliged to pay annual property taxes to the local government. These amounts can be challenging to cope with, even if you live in a state with low property taxes. The same applies to numerous organizations, but some of them—usually non-profit ones—manage to qualify for tax relief.
Are churches exempt from property taxes, given that they are non-profit organizations? This article has the answers to this and many more tax-related questions. We can help you find out if you qualify for any property tax exemption, which may lower your taxes and help you pay your taxes more easily!
Are Churches Exempt From Paying Property Taxes?
Churches enjoy the status of public charities in all U.S. states. Even though they can have a considerable income, they qualify for almost all tax exemptions, including property tax relief. 
What Is the Unrelated Business Income Tax?
The only situation when churches aren't exempt from property taxes is when they participate in certain business ventures unrelated to their religious purpose. In such cases, they must pay the unrelated business income tax (UBIT). 
Any church which gains more than $1,000 by participating in unrelated businesses must complete and submit an Exempt Organization Business Income Tax Return, also known as Form 990-T. 
The list of unrelated business activities doesn't include:
Advertising

Volunteer labor

Convenience of members

Donated merchandise sale

Low-cost giveaways

Donor list rental or exchange
What Qualifies as a Church?
To become exempt from property taxes, a religious organization must qualify as a church. 
Besides the places of worship of the most common religions—Christians, Muslims, Judaists, etc.—church-related integrated auxiliaries and associations are also considered churches. They are exempt from paying state, local, or federal taxes, including the property ones.
Different organizations that consider themselves churches must align with specific criteria provided by the Internal Revenue Service (IRS) to be eligible for property tax exemptions. Here's the list of requirements:
The organization must have its religious history and specific legal existence

There must be a verified form of worship

The organization members should form their ecclesiastical government body

The candidate organization has already established its places of worship

There are Sunday schools for providing religious instructions to children

The entity is independent, which means it shouldn't be connected to any other similar organization

There are ordained ministers who need to finish appropriate studies

The organization offers related literature and establishes regular religious services and congregations
Once the IRS decides that a particular organization meets all the requirements, the community qualifies for a total tax exemption. It doesn't need to submit any requests or applications for tax relief, as the exemption applies automatically. 
How Can You Lower Your Tax Bills Using DoNotPay?
Churches may be exempt from paying taxes, but all other property owners are not. The local authorities never inform the citizens about available property tax benefits, so most people aren't aware of them. The application is also quite demanding because of the lack of valid information and detailed instructions.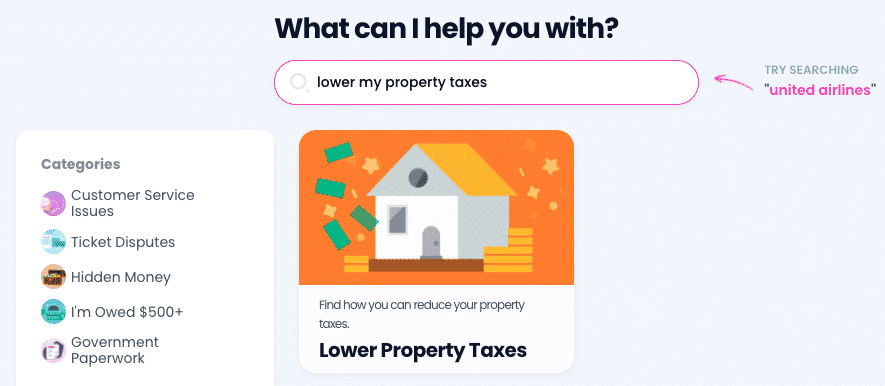 DoNotPay has a perfect solution that can help you lower your tax bills more easily and keep some money in your pockets. If you answer a few simple questions about your property, our app will make a list of all property tax exemptions you qualify for and generate a special guide containing everything you need to know about the application process.
Here are the steps you should follow to use our service:
Sign in to DoNotPay in your preferred

web browser

Navigate to the

Property Tax

section

Answer the chatbot's questions about your property, including its age, location, square footage, etc.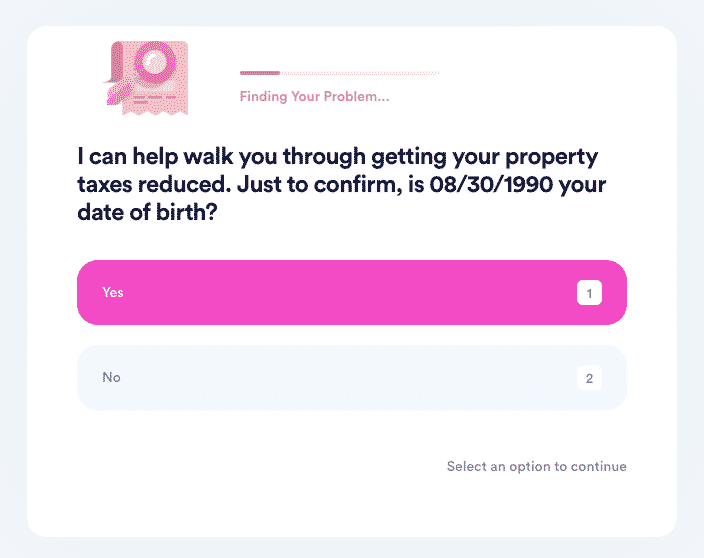 As soon as we process your info, our system will generate a personalized document with tips on:
Finding the right forms to complete

Collecting the appropriate supporting documentation

Figuring out to which institution you should address your application to
Is Your Home Value Assessment Unfair? Appeal It With DoNotPay
Another way to prove that your property taxes are higher than they should be is to appeal the assessor's evaluation of your taxable property. You can do it if you notice that:
The assessor included a property that doesn't belong to you in their

assessment

Your taxable property value is higher than the value of similar properties in your neighborhood

Your property was assessed twice by mistake
Forget about spending an eternity searching for detailed instructions on how to file an appeal. DoNotPay's guide contains great advice for anyone who wants to:
Gather the necessary evidence proving the assessment is inaccurate

Complete all the necessary request forms

Find out how to submit the appeal letter once it's written
Besides this handy manual, DoNotPay offers a massive knowledge base with many articles about claiming property tax exemptions for homeowners, veterans, seniors, and disabled people. Check out the exemption rules in various states and counties from the table below:
Discovering DoNotPay Will Make Your Day
If you feel overwhelmed by tons of paperwork flooding every area of your life, you can finally breathe out and let go of that stress. DoNotPay is the world's first robot lawyer that handles your bureaucratic chores for you. 
Some of the benefits that come with our service include:
Why Get a Lawyer When You Have DoNotPay?
Our agenda has one major goal—provide easy legal access to anyone who needs it. Every new feature we come up with relies on AI technology that simplifies bureaucratic procedures and saves you time and money. 
If you're wondering how to navigate tasks like contacting imprisoned friends and family members or reducing your property taxes, DoNotPay has the answers. Our service cuts through the red tape even if you need to deal with stalking and harassment, claim forgotten assets the proper way, or secure compensation for crime victims.