How To File A Lawsuit Against Aramark

Aramark provides customer service to millions of people across the world through food, facilities, and uniforms.
Can you sue Aramark? The short answer is yes! One example is Aramark's $21 million settlement of lawsuits filed by managers who didn't receive their bonuses as Aramark failed to inform them about payment calculation changes. This example shows that suing Aramark – and winning – is possible!
If you have an unresolved customer complaint or you've been unfairly treated as an employee, you can sue Aramark in small claims court. This article will discuss the legal grounds to sue Aramark, the steps to filing a small claims lawsuit, and the hassle-free way of suing with .
Common Reasons to Sue Aramark
The table below outlines legal grounds for suing Aramark in small claims court.
Legal Ground
Explanation
Breach of Contract
If you believe that Aramark has breached your contract, you may sue Aramark.
Employee Claims
If you've experienced the following as an employee, you may sue.

Discrimination: unfair treatment based on your protected characteristics such as race, gender, sexual orientation, etc.
Wage & Hour: if you are forced to work overtime and not paid according to your contract.
Wrongful Termination: if you were dismissed for illegal reasons such as retaliation.

Suffered Harm as a Result of Aramark's Product, Service, or Employees
You may be entitled to sue Aramark for personal injury claims, including economic damages, pain and suffering, and more.
What Steps to Take Before Suing Aramark?
Call customer service and let them know about your problem. Here is Aramark's customer service number: 1-877-224-0411.
If you are an employee, you should first speak to your manager or the people in charge who can solve your problem.
If you want to take Aramark to small claims court, you need to consider these two following factors:
The Monetary Compensation You Expect: Every state has an upper limit of monetary compensation for small claims courts, which is generally between 5,000$ and 10,000$.
The Type of Award: There are two types of awards you can expect from a lawsuit: monetary and non-monetary. Typically, small claims courts only rule on monetary claims.
The Process of Suing Aramark in Small Claims Court
Produce A Demand Letter
Make sure you include:
Personal details such as name, address, phone number, and account number
Details of your claim
A proposed solution to your issue
An intention to sue should Aramark fail to resolve your claim
Fill Out Small Claims Court Forms
When you file a claim, each state requires different types and amounts of forms to be filled out and submitted. On the website of your state's court, you can download the forms. Until you fill out all the required forms in the right amount, the state court will not recognize your claim.
File A Case With Small Claims Court
The filing process requires you to submit the forms by mail or in person. Most states require you to pay a small fee before you sue Aramark in small claims court. If you want to learn more about the fee specific to your location, check your state's website. While you file your forms, the clerk will hand you a stamped copy of your documents and a scheduled date for court.
Serve Aramark
You must provide a copy of your filed documents to Aramark. Your court's website will include instructions on how to properly send your forms to Aramark. If you do not follow your court's proper way of serving a defendant, your case can be refused.
Appear On Your Court Date
Show up for your court date with copies of your filed documents and any applicable evidence. Be prepared to defend your case before the judge!
How to Sue Aramark With DoNotPay?
Filing a lawsuit without a lawyer can be complicated and overwhelming. Let DoNotPay handle the work for you! Just follow these simple steps:
Go to on your web browser and select Sue Now
Estimate your damage in monetary amount
Choose court forms, a demand letter, or a script
Describe your grievances and provide any applicable evidence to support your case
That's it! DoNotPay will draft a demand letter for you, fill out your court forms, and serve Aramark on your behalf. The robot lawyer will also provide you with a script custom-made for your case to help you win!
DoNotPay–The AI Lawyer You Can Rely On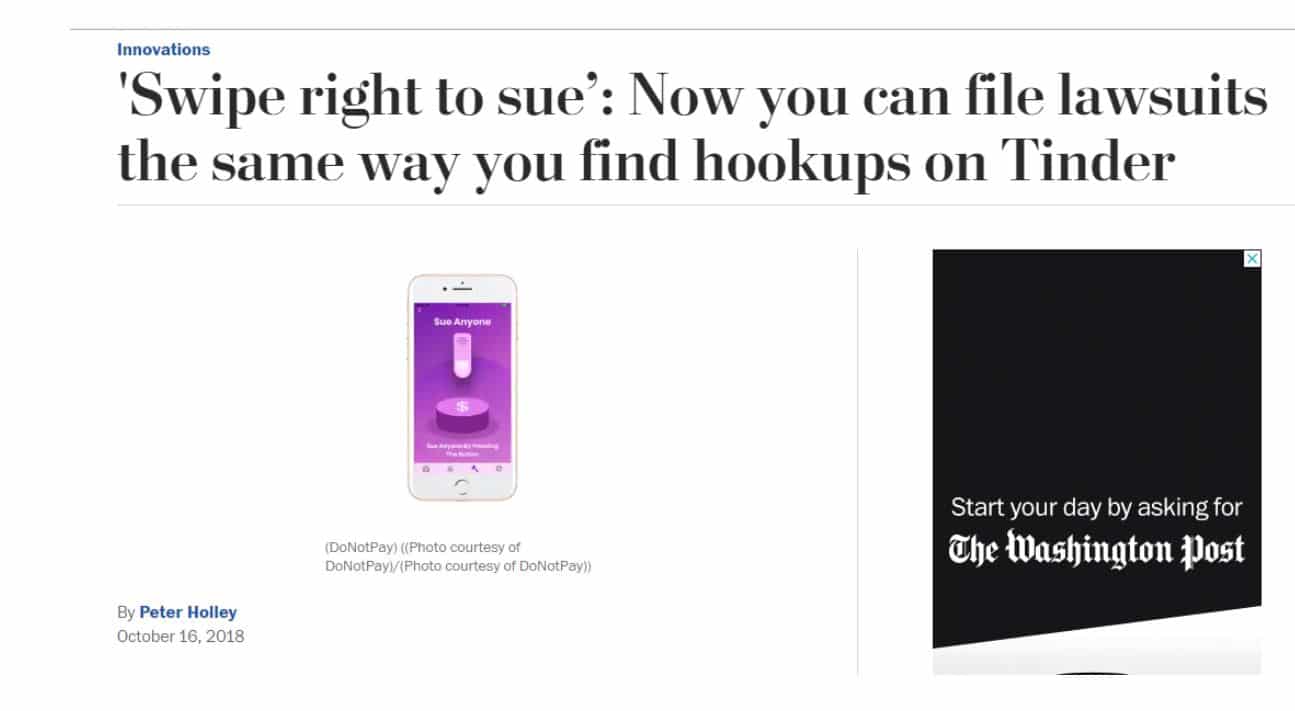 DoNotPay doesn't stop at helping you file a lawsuit against Aramark. Check out some of the other corporations the robot lawyer has been helping its users sue: