Where Can You Find the Application for Divorce Certificates in Stamford, CT?
Divorce certificates are useful documents that can help you define new chapters in your life. Changing your name, getting remarried, and updating certain official records can all be aided by the possession and use of a divorce certificate. However, if you can't find the , there's a reason.
Only some states issue divorce certificates, but Connecticut is not one of them. You can request your divorce decree through the correct CT Superior Court, but the office of Vital Records for Connecticut does not issue divorce certificates. Therefore, there would not be an application for them.
DoNotPay can help you acquire any available public records.
Divorce Certificate vs. Divorce Decree in Connecticut
Now that you know there is no  let's talk about divorce decrees.
A divorce decree is the legal document that officially dissolves a marriage. It is issued and signed by a judge and is in the purview of the courts. A divorce certificate, in the states that issue it, is created by the Vital Records department along with marriage and birth certificates.
You can get a divorce decree copy in Connecticut, but not a divorce certificate. Divorce decrees are handled by the CT Superior Court system. If you want a divorce decree copy, you'll need to go through them.
Divorce Decrees:

Issued by the court
Signed by a Judge
Officially severs a marriage
A landmark document for your records

Divorce Certificates:

Issued by the State/County Department of Vital Records
Not issued in the state of Connecticut
Documents the end of your marriage
Useful for personal identity, background, and legal matters
Can  You Get an Application for Divorce Certificates in Stamford, CT?
No. Connecticut does not issue divorce certificates, therefore you cannot find or send in an application to get one. This is a common misconception because divorce certificates are one of the few things that differs from state to state.
The states that do not currently provide divorce certificates as a matter of vital records include:
Connecticut
Delaware
District of Columbia
Georgia
And Illinois
If you have divorced in one of these states, you will not be able to collect or apply for divorce certificates for your personal records.
Complete a CT Divorce Decree Application Online with DoNotPay
DoNotPay cannot help you find thebecause one does not exist.
But we can help you get a copy of your CT divorce decree for your records. DoNotPay specializes in cutting the red tape and sending official letters of request to get the ball rolling on necessary tasks. Simply tell us the information needed to request documents from the CT Superior Court and indicate the court which oversees the region where the divorce took place. 
DoNotPay can handle drafting and sending a request letter along with the necessary funds to have a copy of your divorce decree sent directly to your home or office. Just follow seven easy steps.
1. Go to the Certificates of Divorce product on DoNotPay.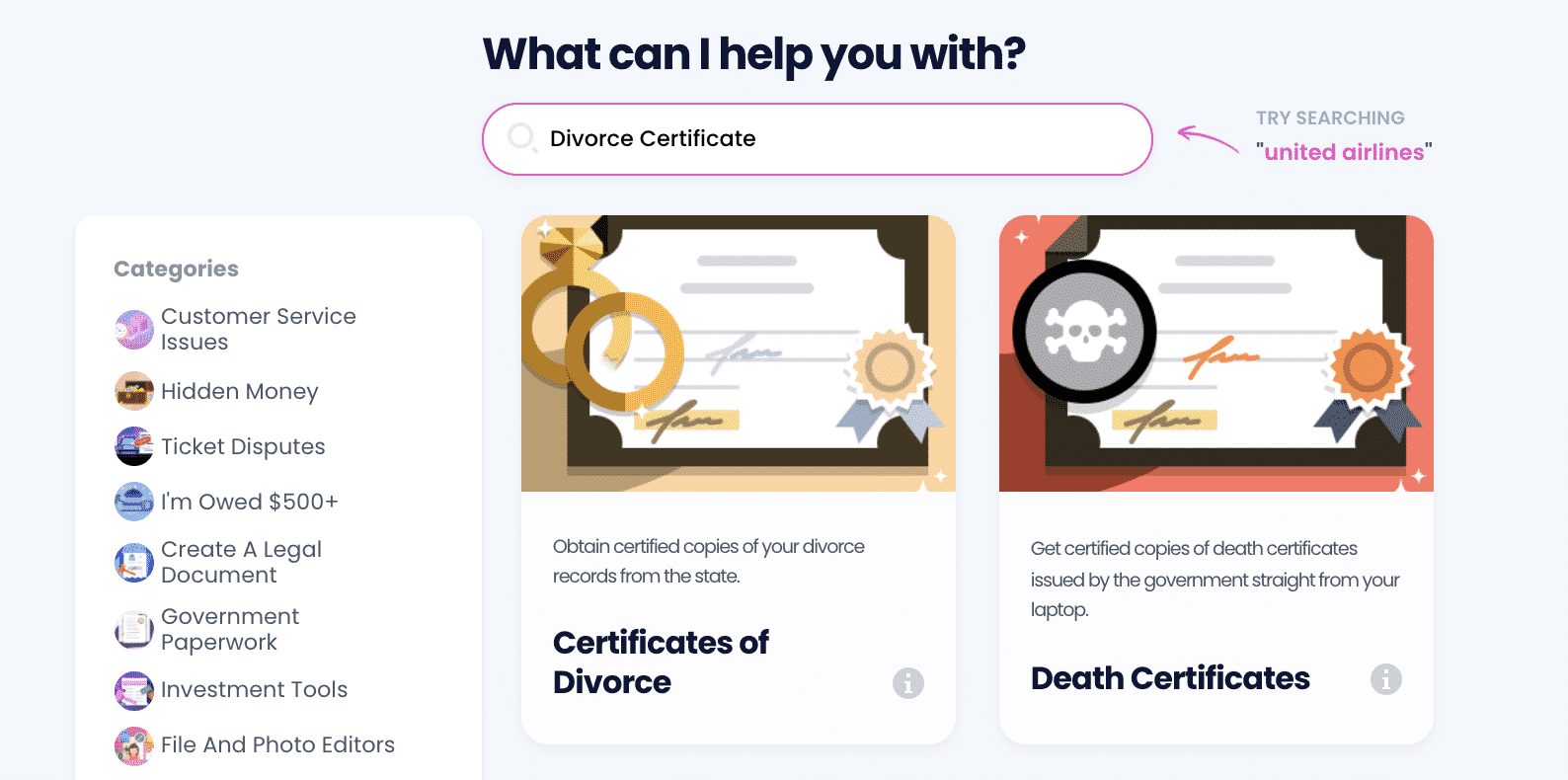 2. Select whether the certificate belongs to you or a relative/loved one. If it belongs to someone else, enter the details of both people on the certificate and select/upload evidence that proves your relationship with them. If the certificate is yours, enter the details of your spouse.*Please note: some states only allow people named on the certificate to apply.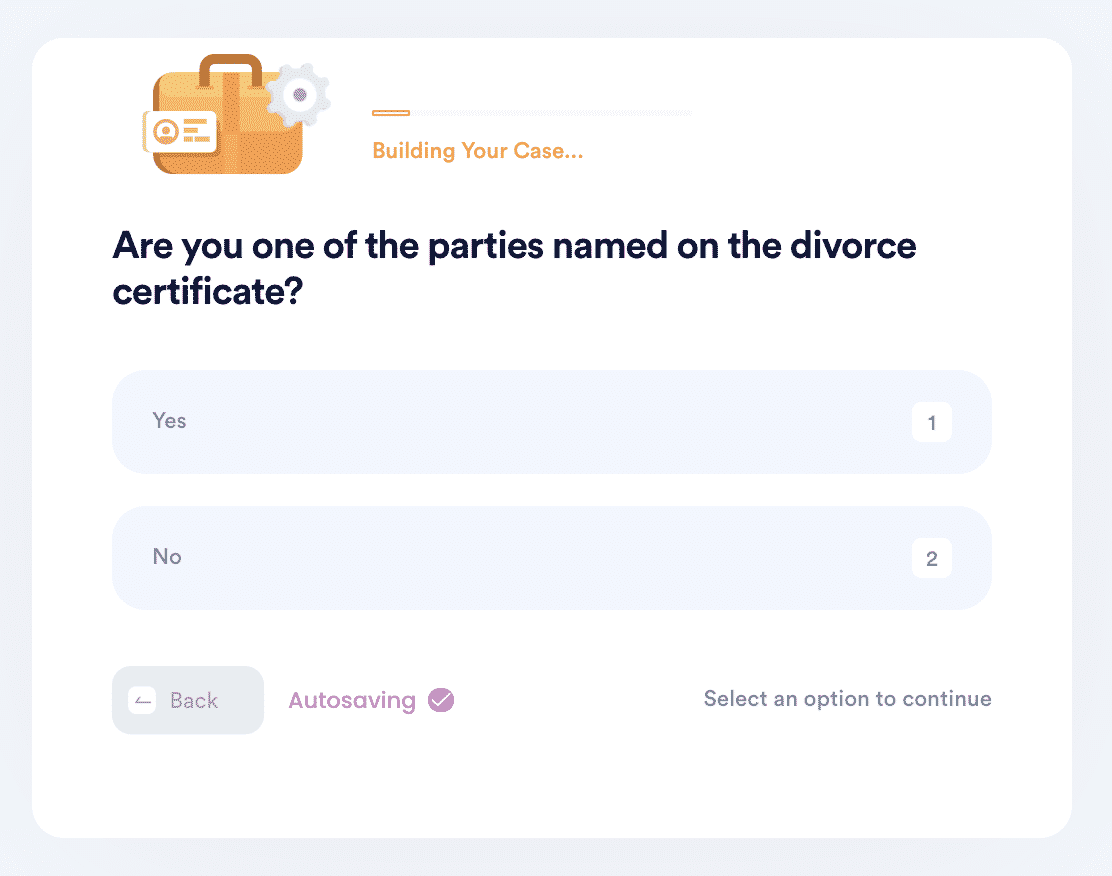 3. Enter the city, state, and county where the divorce certificate and original divorce certificate were issued as well as the dates they were issued.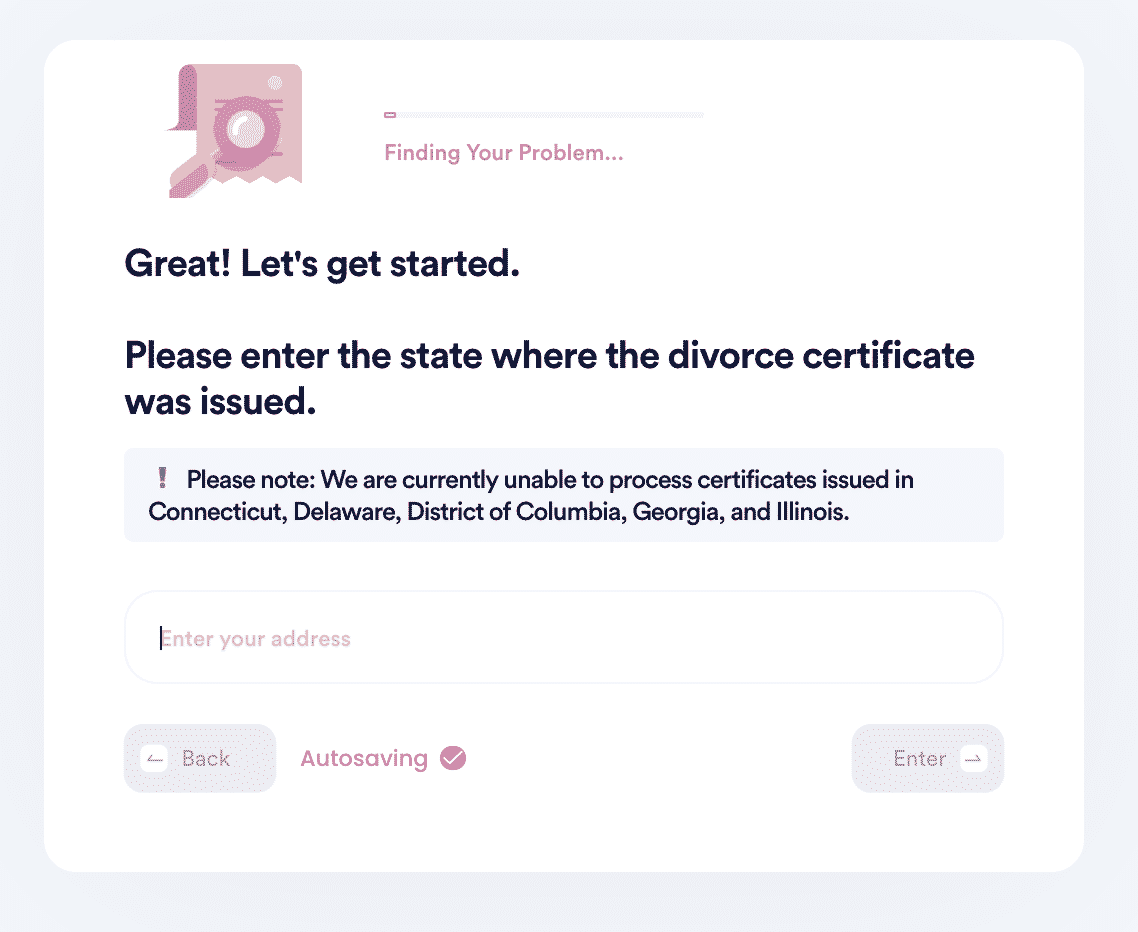 4. Indicate what you will be using this certificate for, and choose whether you need an authorized or certified copy.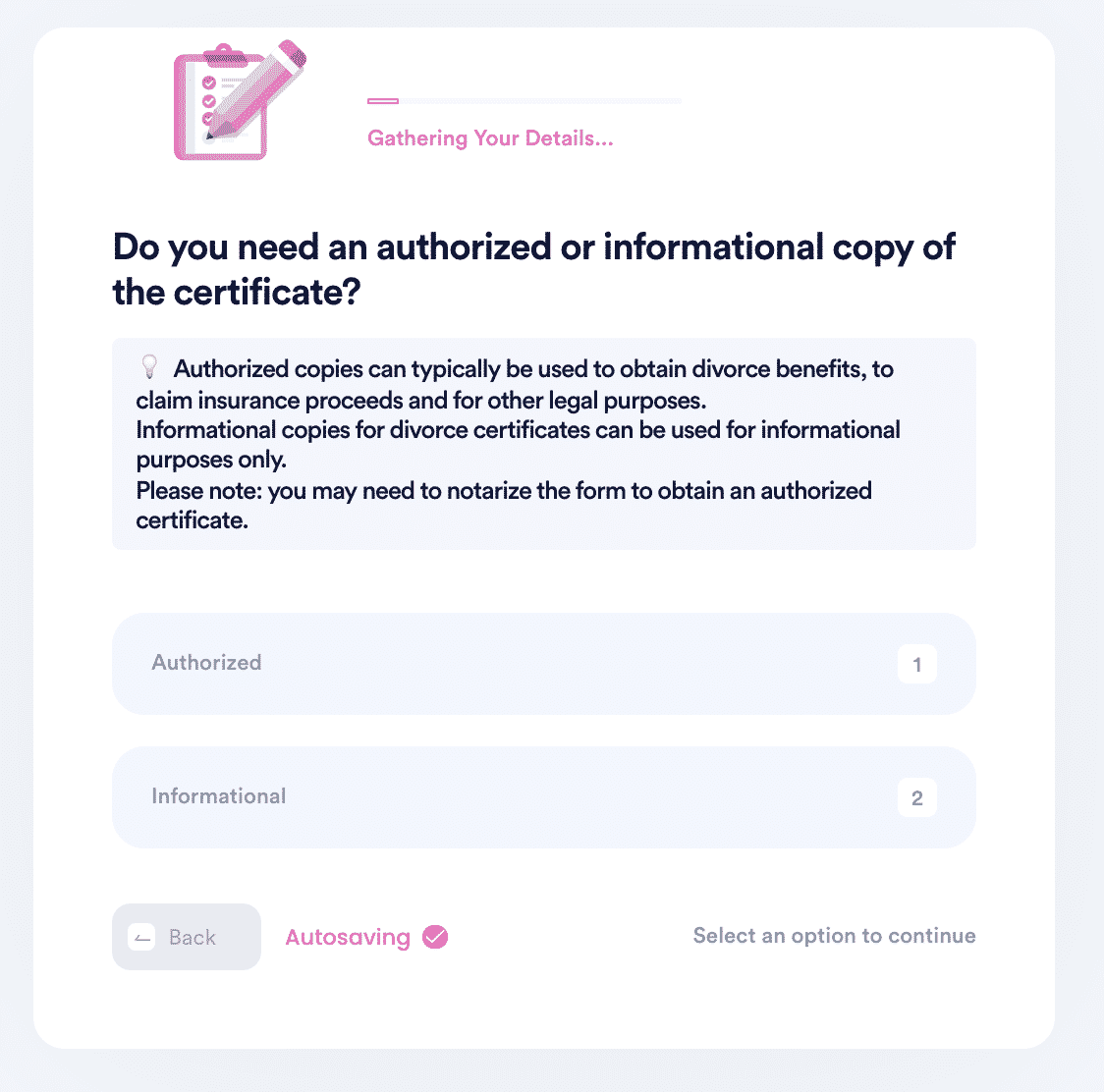 5. Enter your contact information and shipping address. Upload copies of your government-issued identification, such as a driver's license.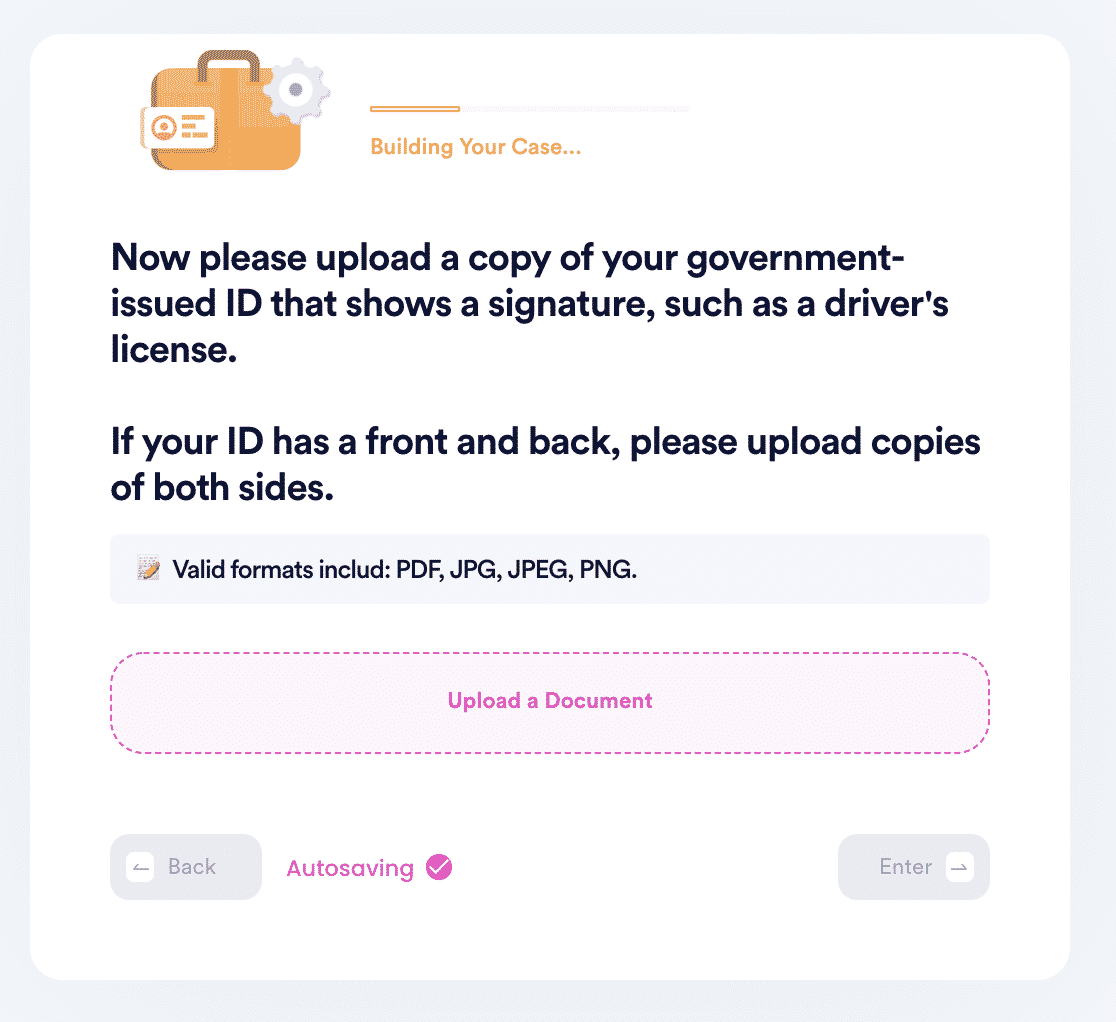 6. Choose whether you would like to electronically sign this form or not. Once we generate the form, verify that all of the information is correct.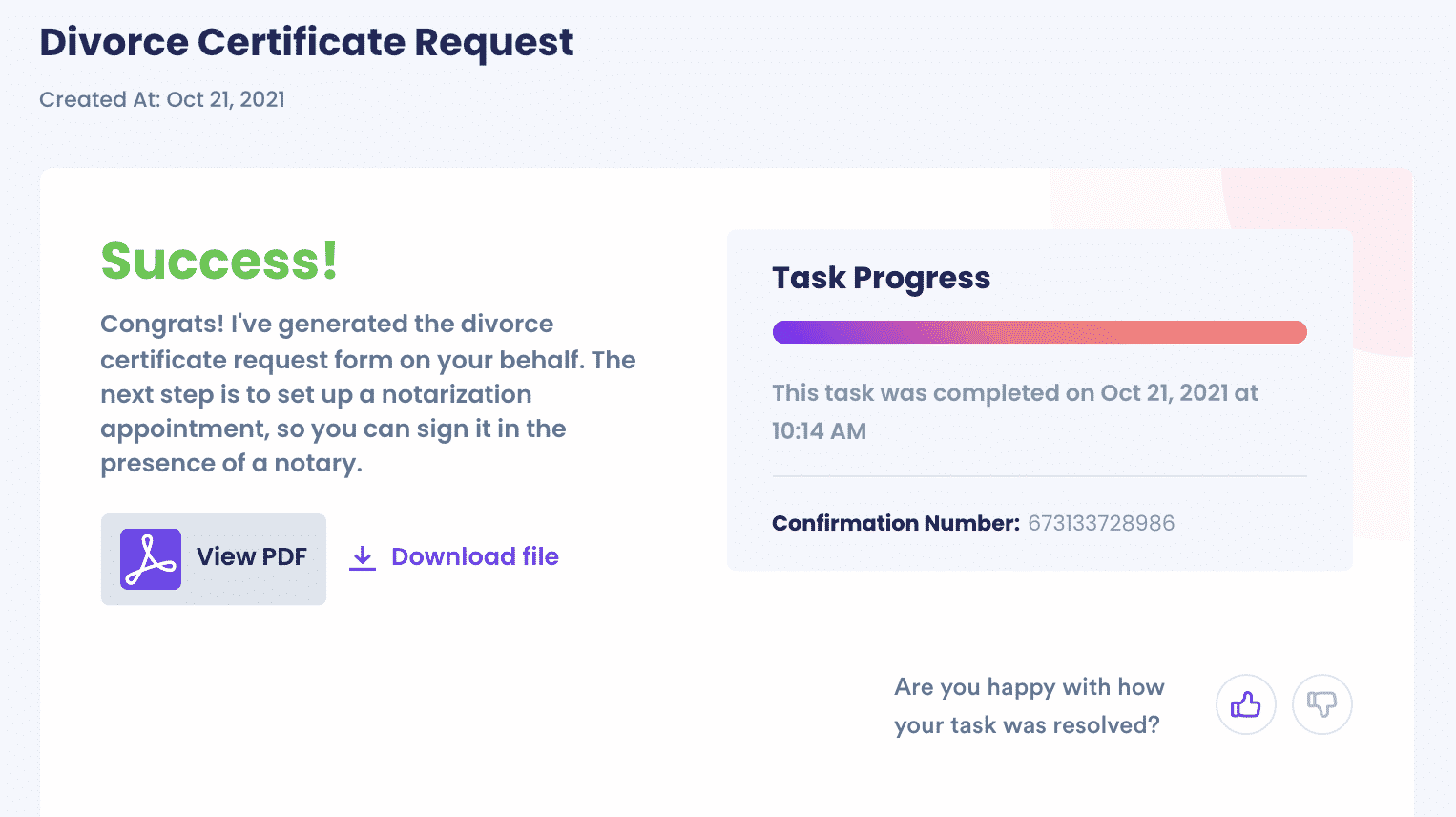 7. If you need the document to be notarized, schedule a notarization appointment using our Notary product. Otherwise, proceed to our Mail Checks product and let DoNotPay mail in your request form with a check on your behalf.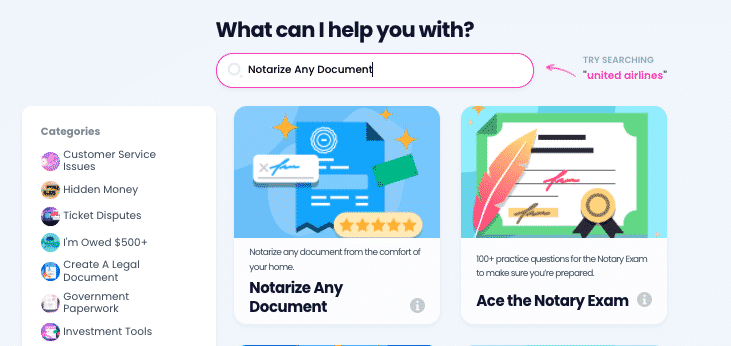 And remember, DoNotPay can handle paperwork in any state. But that's only the beginning of our services.
The DoNotPay Divorce Certificate Info Center
Learn more about these key documents, and how to get them, below.
What Else Can DoNotPay Do?
DoNotPay can help you complete your personal legal records, medical records, wipe your records from the internet, and much more. We can find lost money, file your rebates, and contest parking tickets, among so many more things.
This is just the tip of the iceberg. Save yourself unnecessary hassle, save money, and save time by exploring which of our dozens of online tools can help cross a few more items off your to-do list. You can even use our tools to plan fun trips and affordable solutions in the future.