Understand App Startup Costs and Increase Your Customer Reach
Reaching an almost limitless potential market is no longer a pipe-dream, thanks to the emergence of mobile apps.
Regardless of your line of business, you can create an app that is a shop window to whatever products or services you aim to provide.
Launching an app-based business is risky—your shop front needs to be developed to offer a window of opportunity. Getting your app right before you launch your business is crucial, and this may mean high app startup costs.
DoNotPay is here to help—we can give you a rundown of the expenses you could incur, the best ways to budget for them, and the options you have for securing a small business loan or getting startup finance.
What Are the Startup Costs for App Development?
App development is one of the highest startup costs for any small business.
Unless you are an expert coder, you will need technical wizards—who seldom come cheap.
The costs you will incur in your app development may include the following:
| Upfront App Costs | Explanation |
| --- | --- |
| Hiring a developer | A developer should give you a clear breakdown of how much you will need to spend on each phase of the process. |
| Marketing | Paid advertising through social media channels is the most effective way to generate wide reach quickly. Good planning can help you understand how much you need to budget for marketing expenses and get the most favorable bang-for-buck ratio |
| Testing | Finding out whether both your app and your marketing work requires rigorous testing. You will potentially have to pay testers to run the process, track the results, and fine-tune your activities accordingly |
| Legal processes | As soon as you have an app, you own intellectual property (I.P.), so it is a sensible move to protect your company and its intellectual capital through registration |
| Domain, hosting, and store fees | You will need a domain, a host, and listings in all the major app platform stores—these will need to be secured before you go live |
Depending on the complexity of your app and your business model, the average startup costs for an app could set you back between a few hundred dollars and a six-figure sum.
How To Plan the Startup Costs for an App
Most app startups make the mistake of underestimating their initial costs, leading them to run out of money before their app can begin delivering meaningful revenue.
The "cashflow trap" is the reason that up to 80 percent of mobile startups fail—primarily due to:
Mistakes in development requiring rework
Poor marketing planning and implementation
Over-optimistic revenue expectations
Hurried timelines due to cashflow pressure
The better you plan your app startup, the more likely you are to succeed. The best tips for your planning process are:
Be honest about revenue
Stick to "less is more"
Collaborate on timeline planning
What Is the Next Step After You Have Planned Your App Development?
Once you are sure everything is in place, you may need to look for finance to fund the development of your app.
Unless you have the budgeted amount available, you will have to look for startup financing or a small business loan.
Small business loans work by looking at your business plan and offering you a sum of money based on your expected ability to pay it back with interest.
The more robust your business plan and the better your credit qualifications, the more likely a financial institution will give you what you need under acceptable terms.
The best small business loans will offer you the money you need at low interest rates and with a realistic timeframe to pay the loan back.
Where Can You Get Your Loan for Your App Startup Cost?
You can approach the following institutions for various small business loans:
This is where DoNotPay comes in—our Business Loan Request Letter product can make securing your app startup financing easier!
DoNotPay Makes Getting Funding for Your App Startup Easier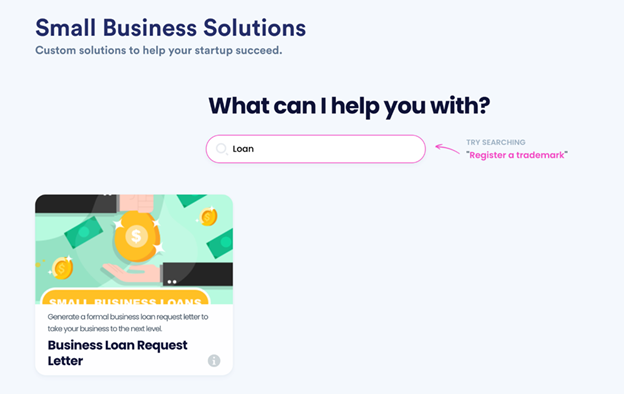 At DoNotPay, we realize that you need to concentrate on developing your business as quickly and effectively as possible.
Our job is to remove hurdles—one of the most crucial is securing a loan to develop your app.
We can help you get through the process by generating a formal request letter to your finance partner of choice—we will make sure that the tone is right and that everything you need is included, giving you the best chance of securing the finance you need.
To set up your request letter, follow these steps:
Go to our Business Loan Request Letter product
Gather the documents you need, including your credit scores and recent financials, and upload your documents
Tell us about your business and the loan you need
The rest is up to us—we will generate your custom request letter for you to print out and submit to your chosen financial institution.
If you want us to, we can even find suitable financiers for you. Our Find Online Business Loan Lender feature will find the top three potential lenders for you based on the amount you are looking to borrow.
In the meantime, you can get on with developing the next WhatsApp or Waze.

Get Your Business Off the Ground With the Help of DoNotPay
Preparation is the key to success. Our app can help you prepare for and safeguard against various issues that may come your way. Use DoNotPay to keep your business safe from copycats—trademark your company and keep its logo, name, and slogan safe.
We can also make sure the following application processes go smoothly:
Privacy Shield program application
Business loan requests
DMCA agent registration
83(b) election form submission
Employer Identification Number (EIN) application
Our faxing and mailing service may also come in handy when you do not want to waste time or money.
More Neat Solutions at Your Disposal
With DoNotPay—the world's first robot lawyer—you will be able to handle difficult clients and customers. If your company gets negative feedback that is either incorrect or fabricated, we can help. Use our Remove Negative Reviews product to keep your reputation intact.
Consumers can also fabricate issues with your product or service and initiate chargebacks. If there is no valid reason for a chargeback, DoNotPay can assist you in disputing it.
If worse comes to worst and a client is refusing to pay, you can rely on our Client Breach of Contract. Our app will generate and forward a professional demand letter and ensure you get what you are owed.