Is Your Apartment Neighbor's Dog Barking All the Time? Then It's Time To Take Action
You can't make a dog stop barking, nor should you. It's the owner's job to train their dog and keep them in line. DoNotPay is here to help you if an apartment neighbor's dog is barking non-stop or your neighbor is causing other problems. We can give you advice and help you draft a demand letter they won't be able to ignore.
Neighbor's Dog Won't Stop Barking in the Apartment Next To You—What To Do
If your neighbor's dog is barking incessantly in an apartment adjacent to yours, you shouldn't tolerate it. Every pet-friendly apartment building has different rules about pets and the noise they make, but excessive noise is always prohibited.
In case you live in a pet-friendly building, you can expect an occasional bark or growl, but when you notice that the noise is getting out of hand, you can take the following actions to put a stop to it:
Try to communicate with your neighbor
Get familiar with the dog
Use preventive measures, such as dog whistles
File a noise complaint with the landlord
Send the neighbor a demand letter
Address the Apartment Neighbor's Dog Barking Directly
You should try talking to your neighbor and telling them that the excessive barking is bothering you. Don't be aggressive, but remain calm and polite so the neighbor doesn't feel personally attacked.
If a pet is causing an issue, its owner should take responsibility. Owners sometimes forget their dog is barking a lot. After a while, they get used to it and don't register it as much as other people.
The dog may also be barking excessively because it is lonely, stressed out, or sick. You can suggest that your neighbors:
Hire a dog sitter
Take their dog to the vet
Walk the dog more often
Meet the Culprit
Dogs bark for a plethora of reasons, but one of the main ones is fear of the unknown. If you familiarize yourself with the neighbor's dog, it will start recognizing your scent, and it may stop barking when you are passing by.
Animals need patience and understanding, and maybe your neighbor is not that kind of a fellow. Give the dog some treats and pets when you see it. That might improve its mood around you.
Get a Dog Whistle
Dog whistles are particularly useful devices for dealing with a barking dog. They are high-pitched whistles used for training disobedient dogs. The whistle will divert the dog's attention, but it won't harm or irritate them like depicted in cartoons.
The best part about dog whistles is that your neighbor won't notice you're using them. Make sure to use the whistle any time the neighbor's dog starts barking loudly so that they develop a reflex to stop barking when they hear it.
You can get a sonic device instead of a whistle, but these are far more expensive. A dog whistle is only about $10, so we recommend you start with that.
Complain to the Landlord
If your neighbor is unreasonable and their dog won't stop barking no matter what you do, you can always complain to the landlord. Report your neighbor to the landlord or the homeowner's association. If the neighbor is renting the place, the landlord can give them a warning.
Maybe they can ignore you, but they won't be able to ignore the owner of the apartment. The landlord may even call animal services. The neighbor surely cares about remaining in their apartment and keeping their dog, so they'll likely get in line if you take this step.
Send a Demand Letter
Demand letters are used when amicable ways of reasoning with your neighbors fail. These letters contain a warning, i.e., a description of legal actions the sender will take if the receiver of the letter doesn't comply with the sender's demands.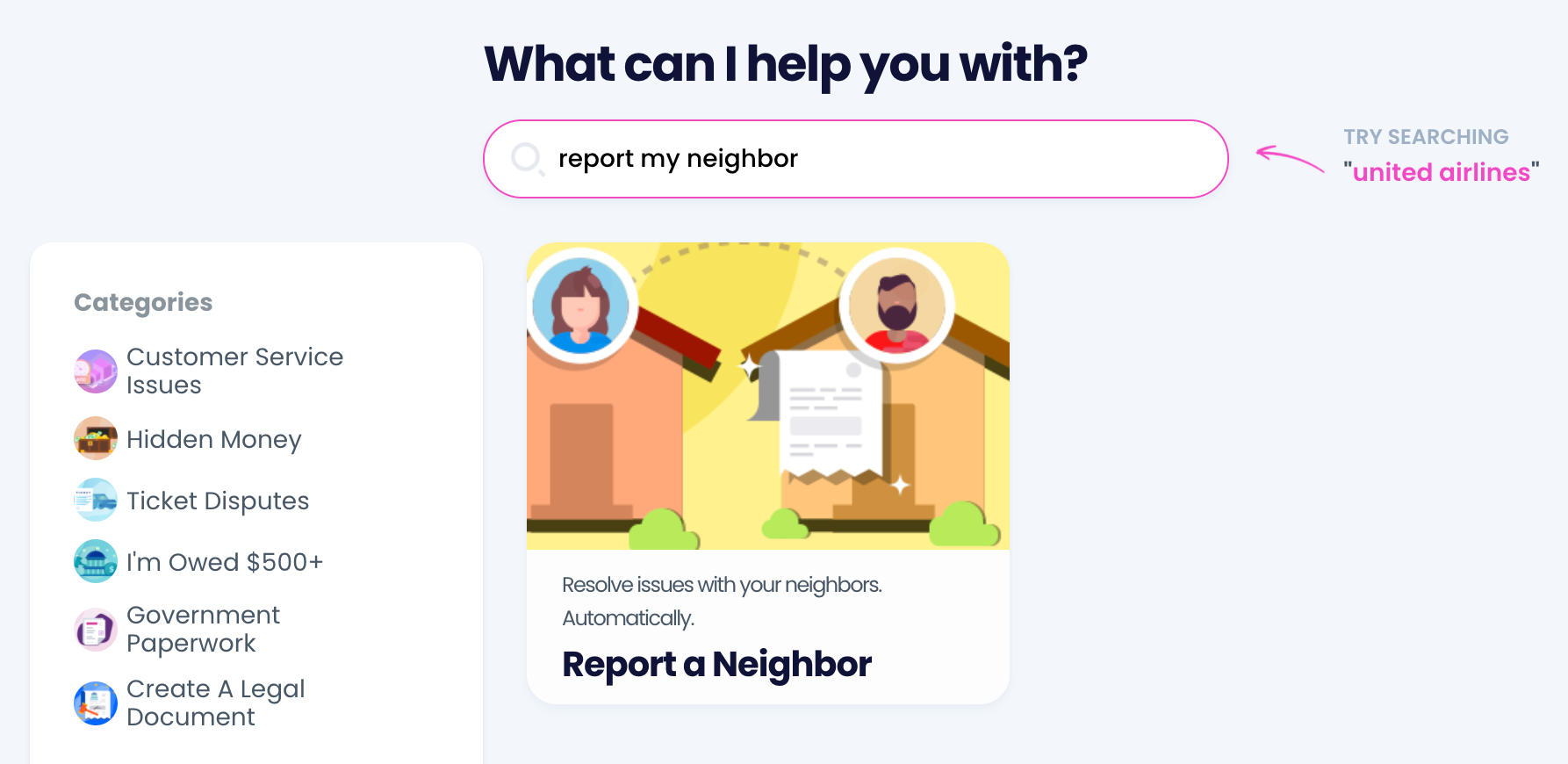 DoNotPay's Solution for Apartment Neighbor's Dog Barking
We know that neighbors can be tough, so we try to mediate your complaints to them. We can help you draft and send your neighbor a demand letter with an arbitration notice. The letter will warn your neighbor about the legal action you will take against them if they keep ignoring your complaints and requests for problem resolution.
Here is how to use DoNotPay after you sign up:
Open our website and look for Neighbor Complaints
Select the noise complaint issue
Type in the details of your problem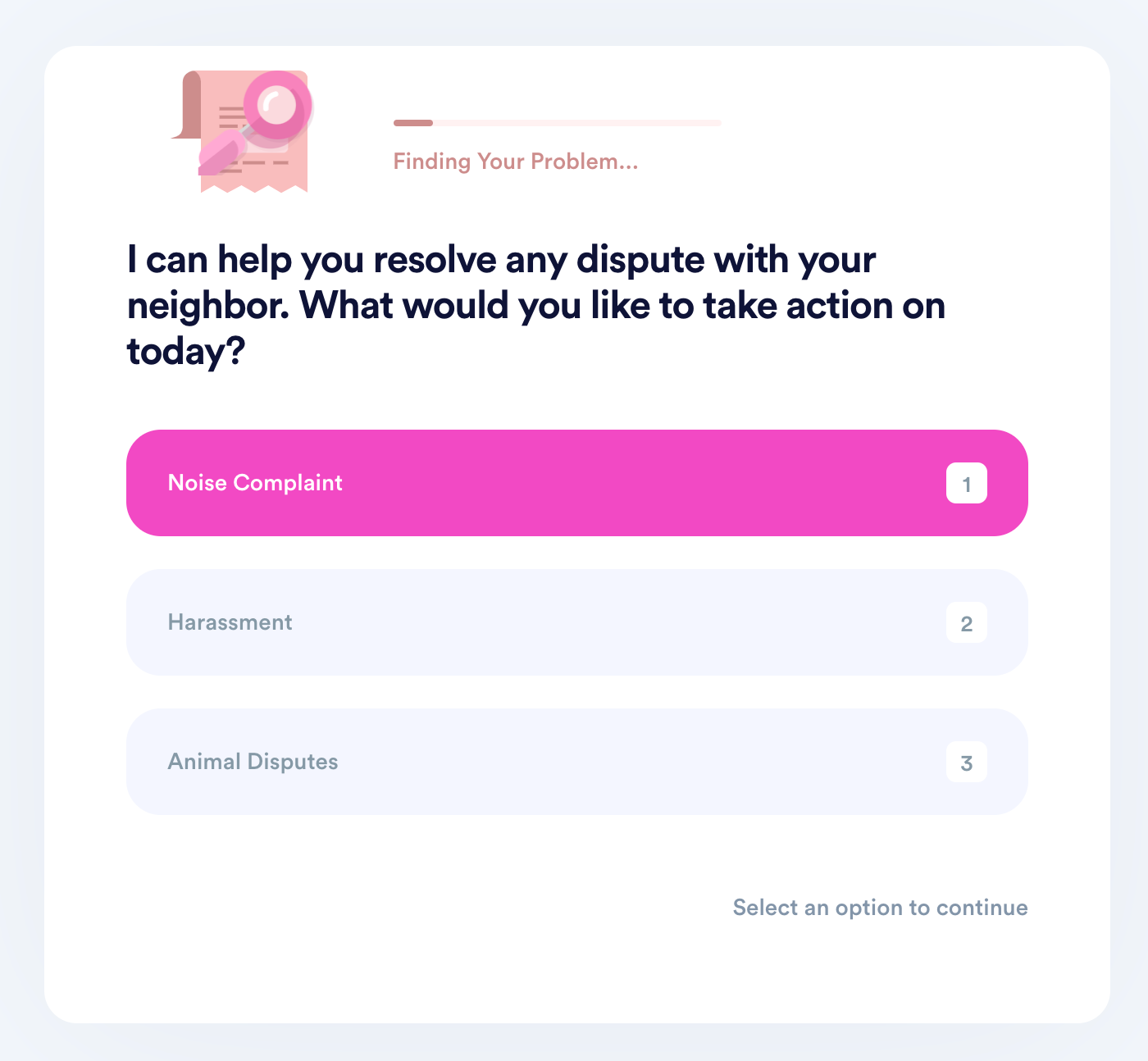 DoNotPay can do a lot more for you. Here are some examples of our neighbor complaint guides:
| | |
| --- | --- |
| Dog-Related Neighbor Complaints | Other Types of Complaints |
| | |
Save Some Coins With DoNotPay
Are various subscriptions and memberships burning a hole in your pocket? DoNotPay can help you cancel all of your memberships in a matter of minutes without having to contact customer service reps.
Next time you want to register for a free trial, prevent unexpected costs with our virtual credit card. Once the trial is over, you'll be unsubscribed right away because our virtual credit card doesn't contain any money. We will also generate a random email address you can use if you want to protect your privacy and avoid spam marketing emails.
Do you need help claiming warranties and insurance policies? DoNotPay can help with that too.
Should you need assistance returning an item or requesting refunds for purchased products, canceled flights, or late deliveries, we've got your back!
Avoid wasting money on lawyers—DoNotPay is here to help you sue anyone in small claims court and create numerous legal documents in the blink of an eye!
DoNotPay Can Help You Earn Money Too
DoNotPay users can save hundreds of dollars thanks to our app, but did you know that we can help you earn a few bucks as well? Our app enables you to claim missing money under your name or file your application for paid clinical trials in less than five minutes.
You can even get compensation for reporting robocalls or apply for a crime victims compensation program in your state by signing up for our app and following a few simple steps.