A Guide to Airport Lost and Found: Find Your Missing Items Hassle-Free
With so much to do and think about while traveling, losing valuables like your phone, key, or wallet at the airport can cause additional stress and ruin your trip. Knowing what to do and who to contact when this happens can make the situation easier. This article will explain how to report missing items to any airport's Lost and Found office and retrieve your precious belongings with little to no effort.
What To Do Once You Notice an Item Is Missing
Depending on the place where you last saw your items, you can report the incident to the appropriate Lost and Found office, namely:
Transportation Security Administration (TSA) Lost and Found
The airport's Lost and Found
The airline's Lost and Found
Items Misplaced at the Security Checkpoint
If you lost your item during a security screening, you can file a claim with the TSA Lost and Found office at the airport where the incident happened.
You can visit the Lost and Found section of the TSA website to find the contact information of the airport's TSA department that you need to speak to.
Once you get in touch with a TSA representative, you must be able to describe your missing valuables in great detail and provide info such as:
Appraisals
Receipts
Flight information
After submitting your claim, you will receive a control number that you can use to track your item's retrieval process.
Valuables Lost in Terminals and Parking Areas
Items you lost anywhere in the airport outside of the security checkpoint fall under the jurisdiction of the airport's Lost and Found department. You can visit the airport's official website to find the contact details of the Lost and Found office and the forms that you should fill out.
Items Lost on the Plane
If you've lost or left an item on an aircraft, you can contact the airline's Lost and Found or visit its central baggage service.
Missing Luggage
If your luggage is missing at the baggage claim area, you should get in touch with the airline's Lost Luggage office. You can file a claim at the airline's check-in counter, and the representatives will track the number of your lost luggage.
What Happens to Unclaimed Items?
Most Lost and Found offices keep lost items for 21–45 days.
To clear off inventory space, a Lost and Found department will dispose of unclaimed items that exceed the retention deadline in any of the following ways:
Item Description
Method of Disposal
Items that contain personal information

If electronic devices are found, the memory will be removed, wiped off, or destroyed and the hardware sold or destroyed as well
Personal identification documents (like passports and driver's licenses) will be destroyed

Guns and weapons
All weapons and firearms will be turned in to the law authorities
Other items
Other possessions that are found or left at an airport, airplane, or security checkpoint will be periodically auctioned or kept by the State as surplus inventory
Retrieve Misplaced Items Easily With DoNotPay!
According to the TSA, there are around 90,000 to 100,000 items that are misplaced at the security checkpoint monthly. In the Los Angeles Airport alone, only 10%–20% of these items find their way back to the owner.
Regardless of what valuables you lose, you can increase your chance of getting them back by filing a timely report with the relevant Lost and Found office. This process can take a long time, which is why DoNotPay is here to help, and here's how:
Locate the Find Lost Airport Items feature
Enter the airport name, description of the item, date of the incident, and other relevant information
Within minutes, DoNotPay will send an in-depth report to the airport, helping you find your missing belongings more efficiently.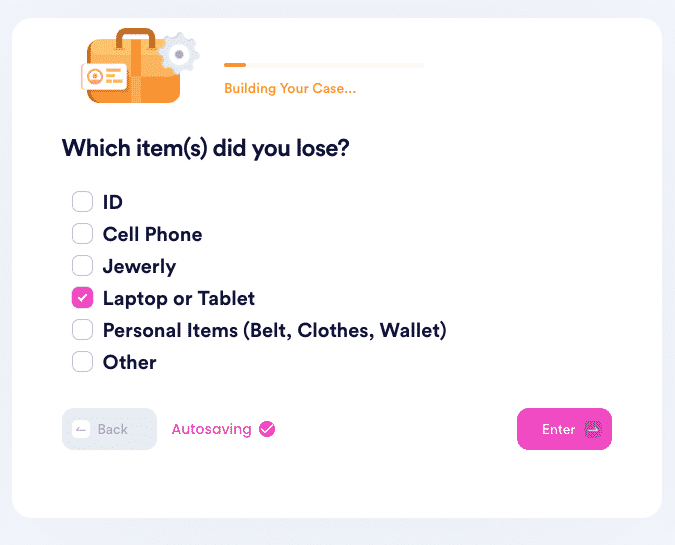 Need help filing a compensation claim for a delayed or cancelled flight? DoNotPay can help with that, too!
We Have Even More To Offer!
Find more information about the perks we offer in the table below:
Stay Safe by Relying on DoNotPay
One of the primary purposes of our app is to improve your safety. We help you stay secure and avoid incidents or privacy issues by:
Blocking:
Fighting against:
DoNotPay will also help you avoid unwanted personal info disclosure with single-use burner phone numbers. Our app can create a virtual credit card with a fake name and card details and prevent you from getting charged once your free trials expire.