Anticipatory Breach of Contract: All You Need to Know
A breach of contract occurs when a party to an agreement fails to carry out the obligations set out in a legally binding document. The type of breach will depend on its elements. If the other party unconditionally indicates that they will not complete what was outlined in your agreement, you have an anticipatory breach of contract on your hands.
In this article, DoNotPay will tell you everything about this type of breach, including how to seek remedies in a demand letter and file a lawsuit if the breaching party decides to ignore your claim.
What Is an Anticipatory Breach of Contract?
An anticipatory breach of contract happens when your client unconditionally refuses to honor their side of the agreement, either through words or actions. If this happens, you have the right to claim a breach of contract and collect damages immediately.
There are three common examples of anticipatory breach of contract—check them out in the table below:
| Example | Explanation |
| --- | --- |
| The client makes an unconditional refusal | If your client tells you clearly and unambiguously that they will not be performing their side of the deal, they made an anticipatory breach. The refusal to carry out the agreement must be explicit and unconditional |
| An action makes performance impossible | If your client shows you with their actions that they will not carry out the terms of the contract, they are in breach |
| The breaching party delivers goods or services to another party | This breach typically involves real property. A breach occurs when your client sells or makes a deal to sell the property to a third party |
Anticipatory Breach of Contract—Remedies
If you experience an anticipatory breach of contract, you have a few options:
Canceling the contract
Taking legal action
Doing nothing
Cancellation of the Contract
You can cancel the contract after the promisor explicitly states that they will fail to perform. Cancellation will formally stop all contractual duties and enable you to have any consideration refunded.
You should choose this option if you are able to hire another party, with no detriment to your business, to complete the job.
Legal Action
If you estimate that the promisor's failure to perform will affect your business significantly, you should take legal action against the breaching party. You can file a lawsuit even before the contract expires.
Keep in mind that you need to mitigate damages—take reasonable action to ensure that you will not suffer additional losses.
No Reaction
If you have a strong and long-lasting relationship with your client, you may choose not to do anything. You can opt for this option if you are not losing any money over the deal. For example, if you have a regular supplier of apples who tells you that, due to drought, they will not be able to deliver, you can choose to do nothing to maintain the relationship.
Can You Settle the Matter Out of Court?
Solving a dispute out of court could be the least tiring and expensive option. You have a few ways to resolve the issue without filing a lawsuit:
Providing a new deadline for the client—You can give the client a new due date by which they will deliver what they have promised in the contract
Sending a demand letter—Before filing a claim, you can send a demand letter that will inform your client of your intention to sue if they fail to deliver
You can find a plethora of demand letter templates online, but if you want the letter to be fully personalized and legally formatted, you should consider signing up for DoNotPay.
Is There an Easier Way to Settle a Breach of Contract Dispute?
DoNotPay has a comprehensive database of state laws, and we can draw up a professional demand letter tailored to your needs in a few simple steps. We will ask you to complete a brief questionnaire to collect information for your breach of contract demand letter.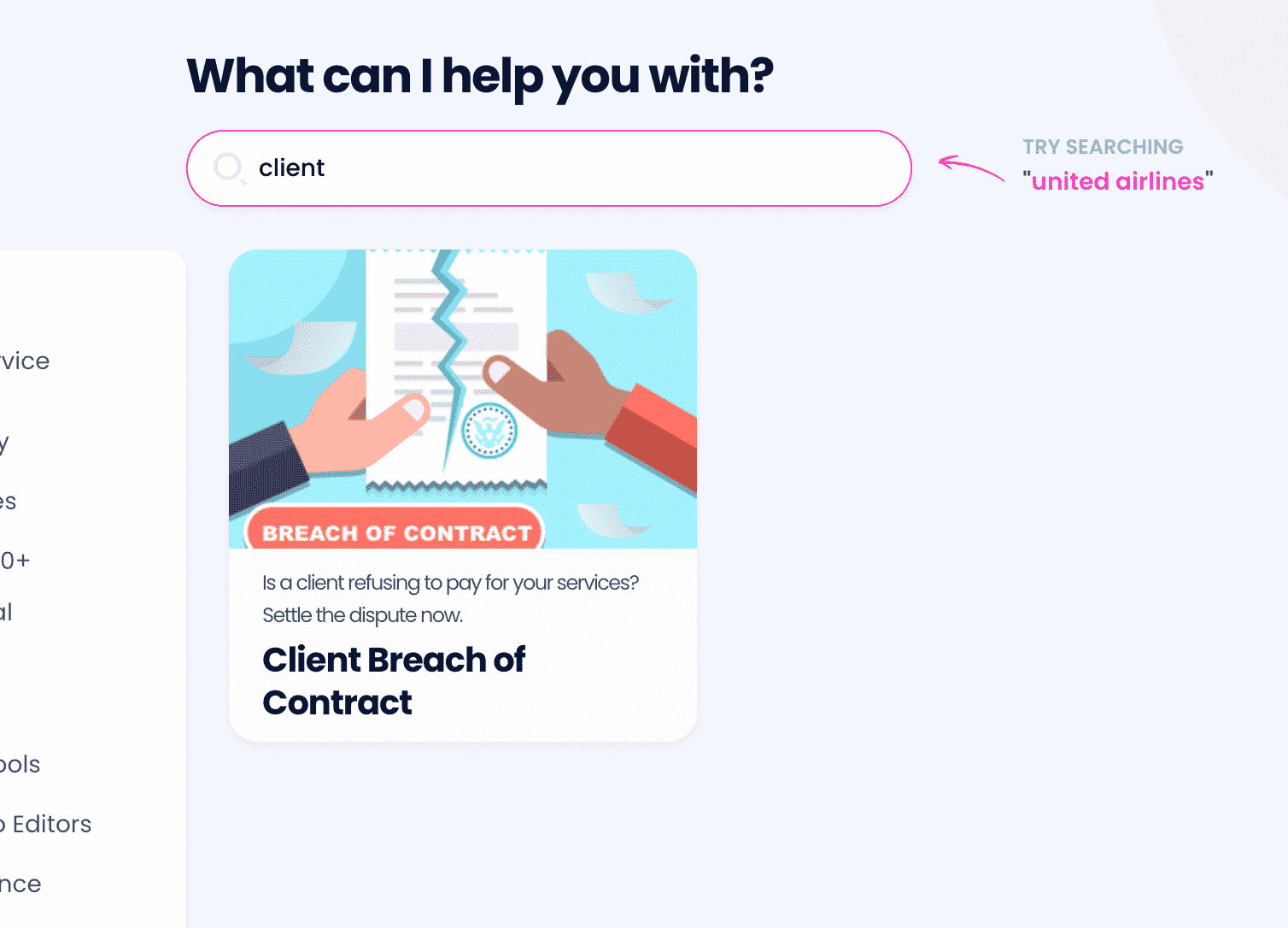 All you need to do is register for DoNotPay and follow the steps below:
Open our Client Breach of Contract product
Give us information about your case, such as:

Client's name
Client's address
The amount the client owes you
The date when the payment was due

Tell us which date should be the final due date (after which you'll pursue the matter in court)
Our app will use the data you provided to create your demand letter in minutes. Before you send it to your client, make copies for yourself.
If you want to learn more about the breach of contract regulations in your state, consult the table below: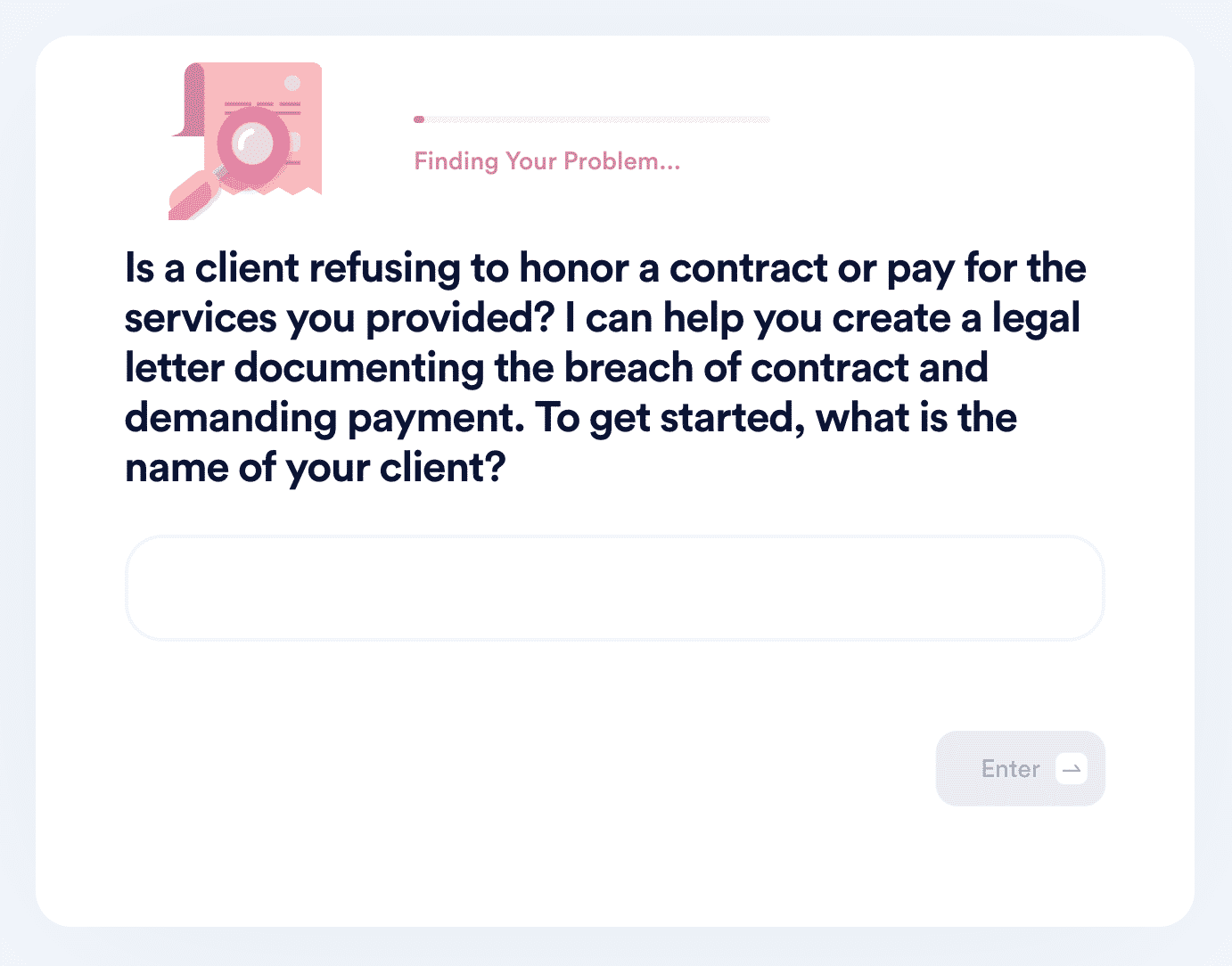 No Response to Your Letter? Sue the Breaching Party Instantly
Has your client ignored your letter? DoNotPay will help you sue them in small claims court. Here is what DoNotPay will do for you:
Fill out all the required court forms
Collect the necessary paperwork for the claim
File the complaint with the court
Create a script you can use at your court hearing
To start your claim, follow the instructions below:
Open the Sue Now product
Indicate the amount of money you're owed
Select the Court Filing Forms
Tell us the reason why you are filing the lawsuit
You can use this tool for any other type of breach of contract, such as fundamental, material, or minor. Keep in mind that the defendant might raise affirmative defenses by citing a reason why they failed to comply with the terms of the contract. If that happens, you can use the script provided by our app to make a convincing argument in front of the judge.
Running a small business is no small feat. When you're drowning in red tape, DoNotPay is here to lend a helping hand. Whether you need to register your trademark or protect it later on, we have got it covered. With our help, you will keep your logo, slogan, and business name safe.
Are you also yet to register for an Employer Identification Number (EIN)? Not to worry—our app can file the IRS SS-4 form in a few clicks. With the world's first robot lawyer at your fingertips, you will also be able to create your 83(b) election forms with ease—ready for your employees to sign them right away.
In case you are struggling financially, we can assist you with a business loan application.
We Have All the Resources You Need
Keeping up with clients can be challenging, especially if each has a preferred method of communication. Luckily, our multifunctional app makes it easy to both fax and mail contracts, letters, and documents.
You can also count on our assistance when you need to:
Fight fake negative reviews online
Deal with a client regarding a breach of contract
Dispute fraudulent chargebacks
Thanks to DoNotPay, there is no need for back-and-forth communication. We will handle the necessary demand letters and forward them on your behalf.
We can also help you manage your DMCA agent registration and Privacy Shield program self-certification.