Ensure a Safe Working Environment With DoNotPay's
Anti-Discrimination Policy
Checklist
The first step to fighting workplace discrimination is to recognize that it exists.
Anti-discrimination laws in the U.S. have been in place since the 1960s and hold employers accountable for any examples of workplace discrimination that may occur. Most companies are intent on making sure they don't fall foul of the law, so they create and implement policies that recognize discrimination as an issue and attempt to make sure it doesn't occur.
If you are experiencing discrimination at work, or if you're curious about your employer's attitude to discrimination, DoNotPay is here to show you what an anti-discrimination policy should look like.
What Should a
Non-Discrimination Policy in the Workplace
Achieve?
Your employer's anti-discrimination policy—like its other policy documents—should achieve several goals:
Define the company's standpoint

Set out expected behavioral standards

Clarify your employer's legal position
Define the Company's Standpoint
The anti-discrimination policy document should state that your employer will not tolerate discrimination in any form, whether perpetrated by managers, supervisors, or employees.
Set Out Expected Behavioral Standards
The document should clarify what the company sees as discriminatory behavior, including:
Once it defines the parameters for what constitutes discrimination, the policy document should clearly state that any discriminatory behavior in the workplace is forbidden.
Clarify Your Employer's Legal Position
Once your employer has an anti-discrimination policy in place, the company is legally bound to uphold the standards it sets out.
As a result of numerous recent court cases, an employer is also held liable for the actions of its staff and supervisors. As a result, if your supervisor treats you in a discriminatory way, the company is held responsible.
What Does This Mean for You?
Your employer should make the anti-discrimination policy available to all employees. It is your job to familiarize yourself with its contents—many companies ask you to sign a receipt for policy documents, and your signature confirms that you have:
Received the documents

Read them

Understood them
Once you have received the policy documents, your duty is to make sure you know and understand what they say.
How Can You Use an Anti-Discrimination Policy To Protect Yourself at Work?
If you know your employer's anti-discrimination policy well, you can be on the lookout for any discrimination that may take place.
The law prohibits discrimination based on:
Your company's policy should cover these areas by name. You need to act if you notice discrimination in any form by doing the following:
| | |
| --- | --- |
| Action | Explanation |
| Check the company policy | If you experience or witness discrimination, you should first make sure that what you saw is covered by the policy |
| Inform HR | You should lodge a formal report with HR and your supervisor. To avoid it being ignored or swept under the carpet, your report should be in writing, and you should keep a copy noting when it was filed |
| Keep a diary | Your record of what happened, who was involved, and who witnessed it may be invaluable in proving a case of discrimination. The more detail you can include, the better |
What Happens if Your Company Doesn't Act on Your Complaint?
If you have no success going through your company's internal processes, you need to escalate the matter and involve the Equal Employment Opportunities Commission (EEOC).
The EEOC enforces federal anti-discrimination laws and is mandated to:
Inform your employer that a complaint has been made

Investigate all complaints or workplace discrimination

Provide mitigation and conciliation services to resolve cases

Launch

legal action

against companies

Give you permission to contact a

lawyer

and file a private lawsuit
To start the process, you need to file a complaint—officially known as a charge of discrimination—with the EEOC. The charge should include all the details of what you have seen or experienced.
Filing your charge of discrimination on your own can be complicated and time-consuming, but DoNotPay has a way to get it done in a few clicks.
How Does DoNotPay's Service Work?
Once you have all the details of your charge, you are ready to file your complaint through DoNotPay. All you have to do is: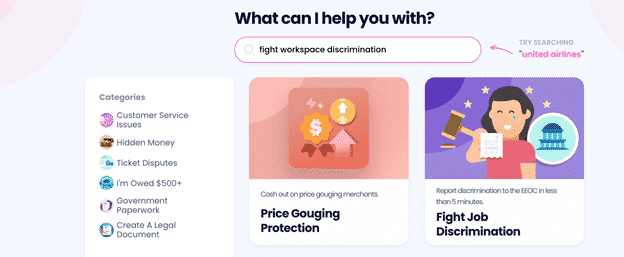 Navigate to DoNotPay in your web browser and

sign up

Go to our

Fight Workplace Discrimination

feature

Follow the instructions to give us the details of your charge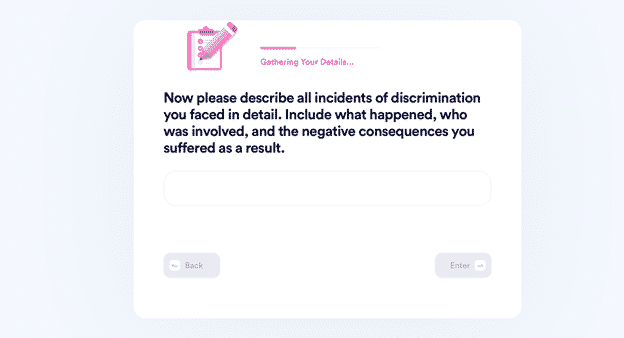 DoNotPay handles the rest! Once it has received your charge, the EEOC will contact you to talk through your next steps.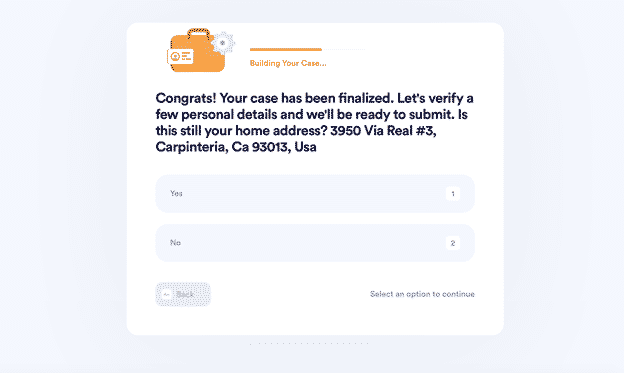 DoNotPay Is on Your Side
Is the discrimination you're facing at work turning into proper harassment or even stalking? Are you considering suing your manager or colleague in small claims court? These unpleasant situations usually require lawyers, but they come with hefty fees.
DoNotPay is a powerful AI-powered app that can lead you through a small claims court case against anyone or serve them with a cease-and-desist letter. If discrimination turns into a hate crime, we can help you file for crime victims compensation or make a claim on your insurance.
Whenever you need to draft, fax, or mail legal paperwork, you can open our platform and use our fast and reliable tools for that. With our help, you can even have your documents notarized by an online notary!
The Multi-Purpose Platform That Makes Your Life Easier
If you've had enough of that toxic atmosphere at work and want to escape somewhere for a week or two, DoNotPay might turn out to be the perfect travel buddy. Our app won't do much when you're drinking cocktails at a beach, but it will do wonders if you run into problems. 
We can help you generate a child travel consent form, get airline compensation for canceled or delayed flights, jump the queue when you must contact customer service as soon as possible, or get a refund for all kinds of unsatisfactory purchases. 
Do you prefer road trips? No problem! DoNotPay can help you prepare for your driving test or schedule a DMV appointment without sweat!
From fighting discrimination to solving travel woes—that's how diverse DoNotPay's portfolio is!