All the Federal Anti-Discrimination Laws at Your Fingertips
Laws against discrimination in the workplace have been around for more than 50 years, but you may still be unsure whether your experiences constitute illegal discrimination at work.
DoNotPay is here to help with a full rundown of the anti-discrimination laws in the U.S.
What Is Discrimination?
Discrimination refers to treating someone poorly because of their:
Despite the legislation in place, acts of discrimination in the workplace are still common and often manifest themselves as:
Pay differences

between employees

Hiring and firing disparities

Increased disciplinary measures against certain individuals or groups

Limited promotion opportunities for certain people

Differences in levels of authority and responsibility
More insidiously, discrimination can take the form of harassment of various types, including:
What
Federal Discrimination Laws
Protect You?
Several landmark laws were introduced from the '60s onwards to ensure that workplace discrimination can be addressed. These laws are:
The Pregnancy Discrimination Act
Title VII of the Civil Rights Act of 1964
This section of the 1964 Civil Rights Act makes it illegal to discriminate against employees based on the above-mentioned categories and is regarded as the cornerstone of U.S. workplace anti-discrimination legislation.
This law also protects employees against any form of retaliation if they complain about discrimination in their company.
Age Discrimination in Employment Act of 1967 (ADEA)
The ADEA protects employees and applicants aged 40 or over from discrimination when compared to younger co-workers or candidates.
The Pregnancy Discrimination Act
As an addendum to Title VII of the Civil Rights Act, the Pregnancy Discrimination Act bans discrimination against women based on pregnancy, childbirth, or any linked medical conditions.
The Equal Pay Act of 1963
This act ensures that men and women are paid equally for doing the same work in the same company.
Title I of the Americans with Disabilities Act of 1990 (ADA)
This title of the ADA means that employees with disabilities cannot be discriminated against if they are qualified to perform a job.
Are There Any
State
Discrimination Laws
?
Local laws are in force in most states to combat discrimination in the workplace. The National Conference of State Legislatures provides a list of the laws enacted by each state.
A gray area in anti-discrimination law has emerged in recent years, though. Federal law does not tackle the question of LGBTQ+ rights adequately, so 34 states have adopted their own legislation to ensure that LGBTQ+ employees are granted the same rights as everybody else. These states are:
States With LGBTQ+ Discrimination Laws

Alaska

Hawaii

Maine

Nevada

Pennsylvania

Arizona

Illinois

Maryland

New Hampshire

Rhode Island

California

Indiana

Massachusetts

New Jersey

Vermont

Colorado

Iowa

Michigan

New Mexico

Virginia

Connecticut

Kansas

Minnesota

New York

Washington

Delaware

Kentucky

Missouri

Ohio

Wisconsin

District of Columbia

Louisiana

Montana

Oregon
What Is the Procedure if You're Experiencing Discrimination?
If you feel you are experiencing discrimination at work, the law is on your side.
Before doing anything else, you should try resolving the matter internally by doing the following:
Keeping a diary of all incidents of discrimination

Addressing the matter with your supervisor and HR department

Insisting on the lodging of written complaints

Checking your company's anti-discrimination policy
If this yields no resolution, your next course of action is to escalate the matter by lodging a complaint against your company.
Who Enforces Anti-Discrimination Laws?
The Equal Employment Opportunities Commission (EEOC) is the federal agency mandated to enforce anti-discrimination laws. The EEOC investigates reports of discrimination in companies and has the power to launch legal action against organizations if the reports are backed up by evidence.
Before you can contact a lawyer to launch a case, you must file a complaint—known as a charge of discrimination—with the EEOC.
Don't panic, though—DoNotPay can .
How Can DoNotPay Help Fight Your Case?
We are here to lodge your complaint with a few clicks—here's what you have to do: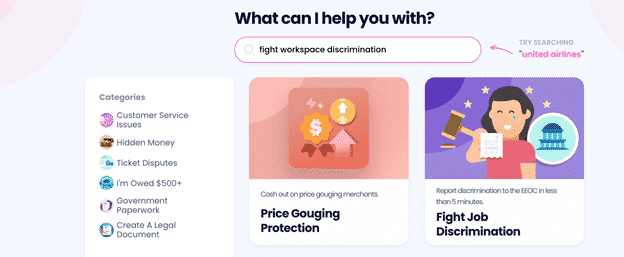 in your web browser

Look for our

Fight Workplace Discrimination

product

Answer a few questions about your complaint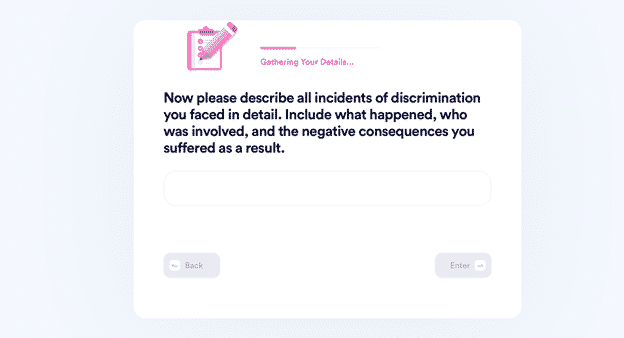 Let us handle the rest—we will forward your complaint to the nearest EEOC office and get it lodged for you.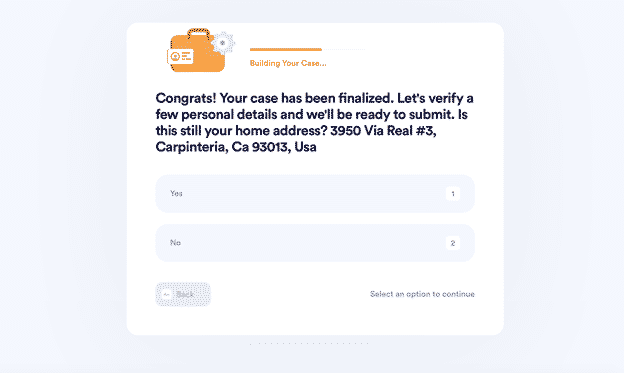 What Happens Next?
The EEOC will investigate your complaint. If they discover enough evidence to suggest that your company didn't do enough to deal with discrimination, the commission will launch legal proceedings.
If the case is proven in court, you could receive compensation in the form of:
Reimbursement of lost pay

Damages for emotional trauma

Punitive damages

Reinstatement of lost benefits

Reimbursement of your legal costs
DoNotPay—The Virtual Lawyer You Can Rely On
Discrimination at a workplace is a serious issue. Unfortunately, the problems sometimes escalate into full-blown hate crimes.
DoNotPay recognizes the importance of easy and affordable access to legal help, especially for population groups that are particularly vulnerable. For that reason, our platform keeps adding various useful tools and products that ease the burden of bureaucracy for the victims.
With your DoNotPay subscription, you can:
Our app can even help you draft various legal documents, have them notarized, and fax them to the right person—all from one place.
Concerned About Your Online Safety?
We teach our children to be careful about using the internet, but how much do we pay attention to our online safety? Scammers are getting more and more creative and flourish thanks to new technologies.
DoNotPay is a great resource for fighting irritating spam emails, dangerous texts, and annoying robocalls. If you use our virtual credit card, you won't have to worry about subscribing to free trials—even if they turn out to be a scam! Our AI bots will jump in to secure you a refund, whenever an online purchase goes wrong!