How to Pay Your Anthem Bill Online Easily
Anthem is one of the biggest health insurance providers in the country. The Anthem Online Pay service provides customers with benefit and plan information, access to claims, and bill pay resources. And while the system is efficient, it is sometimes difficult to navigate the extensive website.
After all, there are many different plans and processes. Making sure you enter the correct information is essential to paying your bill correctly and on time. DoNotPay takes the guesswork out of the Anthem Online Pay system.
You can set up a DoNotPay account that makes direct payments to the insurance company, bypassing voicemail systems, frustrating forms, and online chatbots. The DoNotPay service automatically makes one-time or recurring payments to Anthem Online Pay. It's quick and efficient, leaving you time to concentrate on what matters most - your health.
How Do I Use the Anthem Online Pay System?
Anthem processes monthly insurance policy payments and the portion of your medical bill not covered by your plan. There are four main ways to make a payment through Anthem.
1. Automatic Withdrawals
First, you must create an Application ID. After you sign up, Anthem will send an email or letter via mail with a personalized HCID for use on all payments. Once you have the proper credentials, you can set up an account to process automatic withdrawals through your bank account, credit card, or debit card.
Customers often have difficulty navigating the detailed website. If you need assistance, contact Member Service at (855) 330-1106. Customers that purchased an insurance policy through the Health Insurance Marketplace should contact Member Service at (855) 748-1808.
2. Pay by Mail
Anthem accepts payments by mail. After the first payment is processed, you will receive a monthly bill for all future amounts due. A check or money order can be sent to the address listed on the invoice.
3. Pay Online
Anthem accepts payments online via the company website. You must first set up an account and then log in to access your account. To make a payment, click on Bill Pay and follow the prompts.
Since Anthem handles so many different types of plans, it is important to confirm you are at the right portal so that payments are processed correctly and on time. For those unfamiliar with the website, this can be a frustrating and time-consuming process.
4. Pay by Phone
Anthem also accepts online payments. Contact the Member Service number listed on the back of your ID card.
What Happens When You Miss a Payment with Anthem Online Pay?
Insurance payments must be received every month on a predetermined due date for the policy to stay in effect. Customers having difficulty should contact Member Service immediately for assistance.
There is a short grace period available. However, the policy will be canceled if payment is still not received after the grace period expires.
The plan is considered closed as of the date from when you stopped paying your monthly insurance premiums. All claims received after that time will be denied. You cannot re-enroll in the plan until the next annual open enrollment.
Not having medical insurance can prove devastating for you and your family. DoNotPay ensures you never miss a payment, giving you the necessary peace of mind that your health plan coverage is intact.
DoNotPay Makes it Simple to Manage Anthem Online Pay
DoNotPay lets you set up payments for not only Anthem online pay, but also the rest of your household bills. With so many different due dates and payment methods, it can quickly become overwhelming. Our automated service streamlines the process, putting all your bills in one convenient place for easy processing. Never miss a payment again!
The DoNotPay Bill Pay service allows you to set up unlimited one-time or recurring monthly payments. The system can process any of the following payments:
Rent
HOA fees
Utility bills
Childcare payments
Subscriptions services
Retail purchases
Establishing an account is quick and easy. There is no need to navigate through complicated websites, leaving you frustrated, or worse yet, endlessly on hold with customer service looking for assistance.
Use DoNotPay to Pay All Your Bills
Paying bills has never been easier. In a few quick steps, the system will save information for all future payments. With just a click of a button, your bill payments are processed. It's as easy as 1-2-3:
Go to DoNotPay and click on Bill Pay
Enter banking information and schedule one-time or recurring payments (include payment amount, account number, mailing address, and name of the creditor)
Hit submit, and DoNotPay takes care of the rest.
How Can I Keep Track of My Automatic Payments?
DoNotPay sends out checks upon your request, no matter what time it is, day or night. Whether it's two in the morning or three in the afternoon, DoNotPay is available whenever you need us.
It is also simple to add or delete a scheduled payment without the stress of unanswered phone calls. A click of the button is all you need to manage your bills without the hassle associated with other providers.
Using DoNotPay for Anthem Online Pay is truly the perfect solution.
How to Set Up Recurring Check Payments Using DoNotPay
If you want to set up recurring check payments but don't know where to start, DoNotPay has you covered in 6 easy steps:
1. Go to the Bill Pay product on DoNotPay.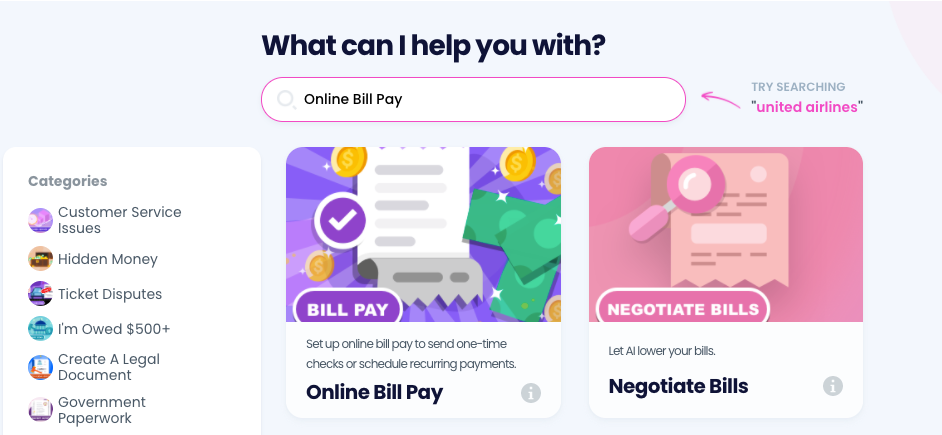 2. Connect a bank account if you haven't already.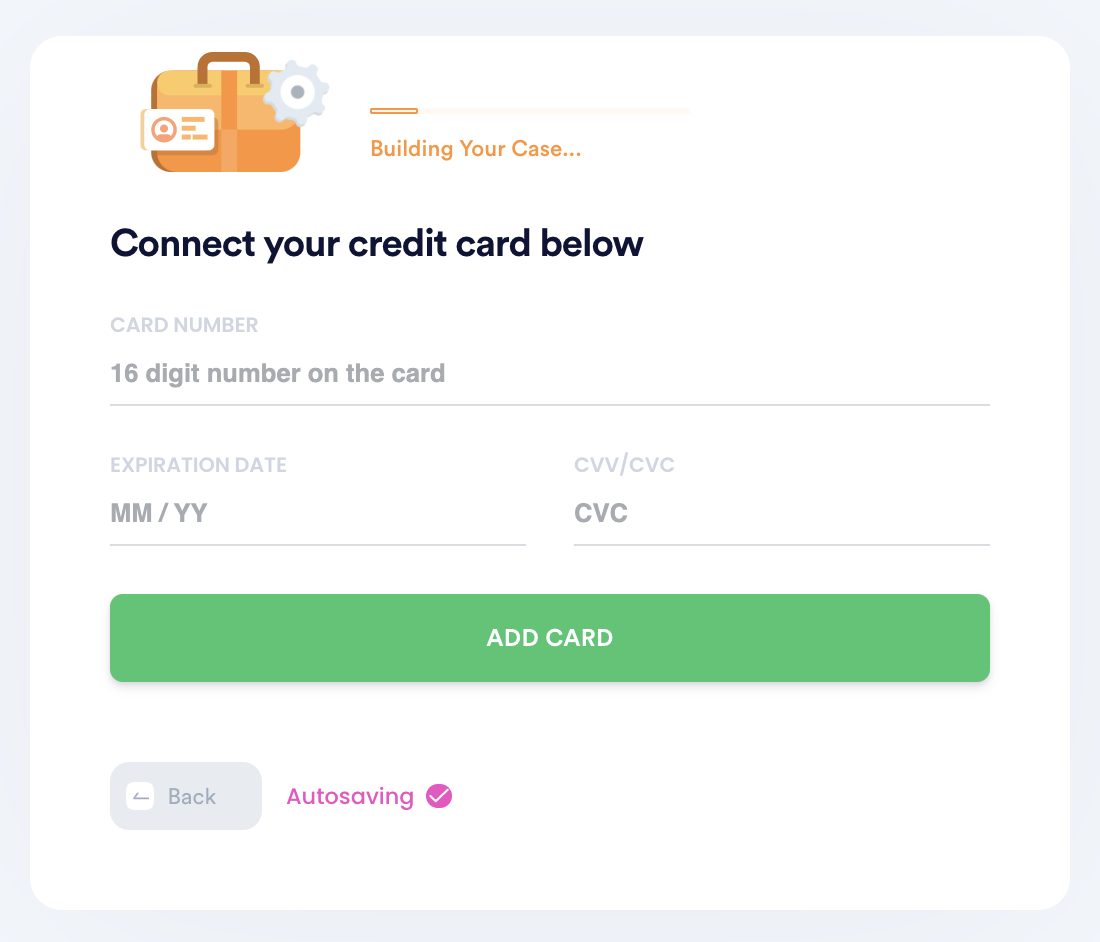 3. Schedule recurring or one-time payments by entering the person you want to address the check to, the payment amount, and their mailing address.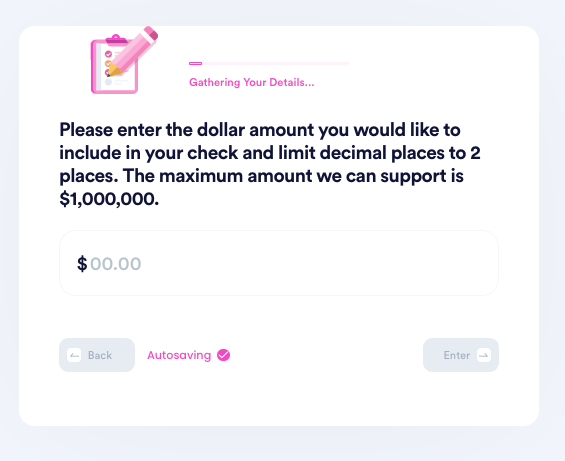 4. Customize the payment with a PDF attachment, image, and memo.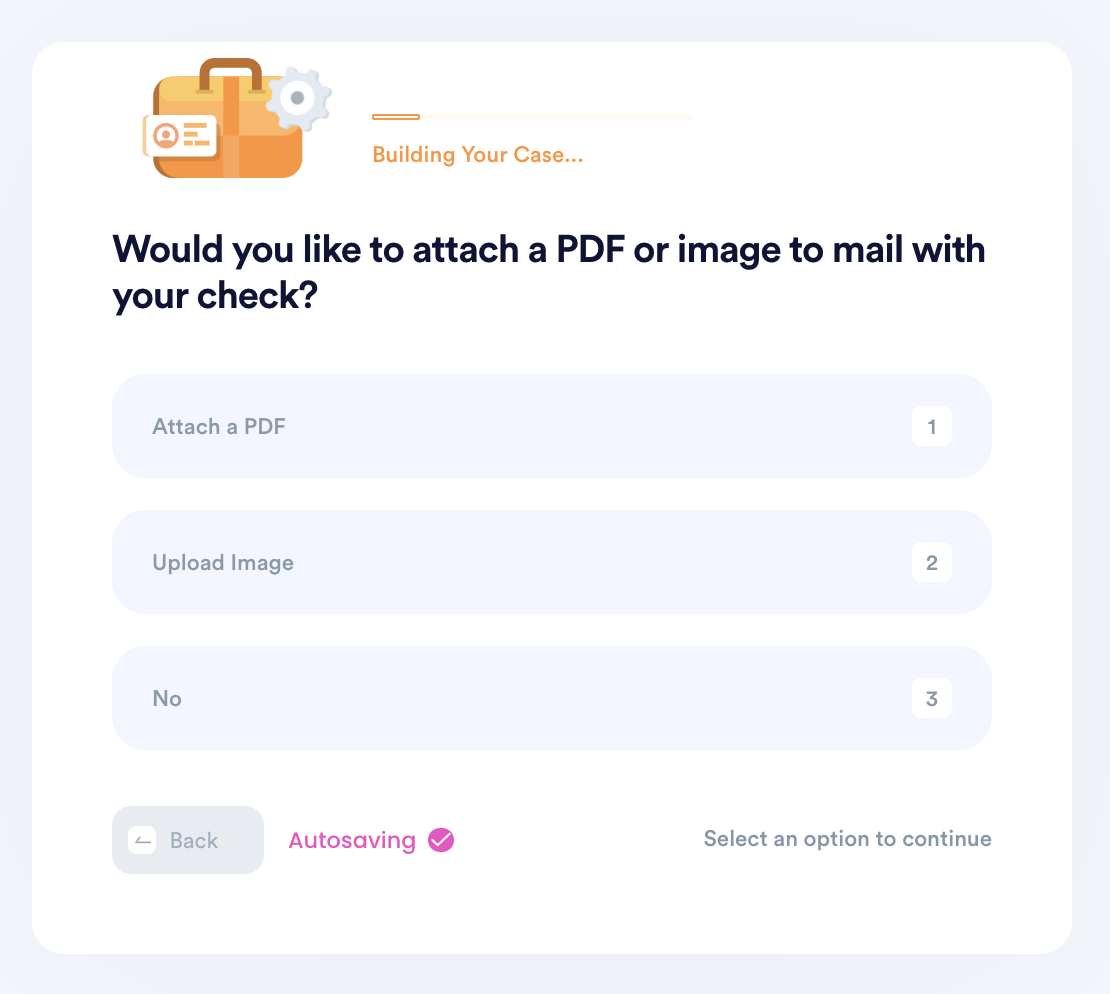 5. Enter your contact information, including email, address, and phone number.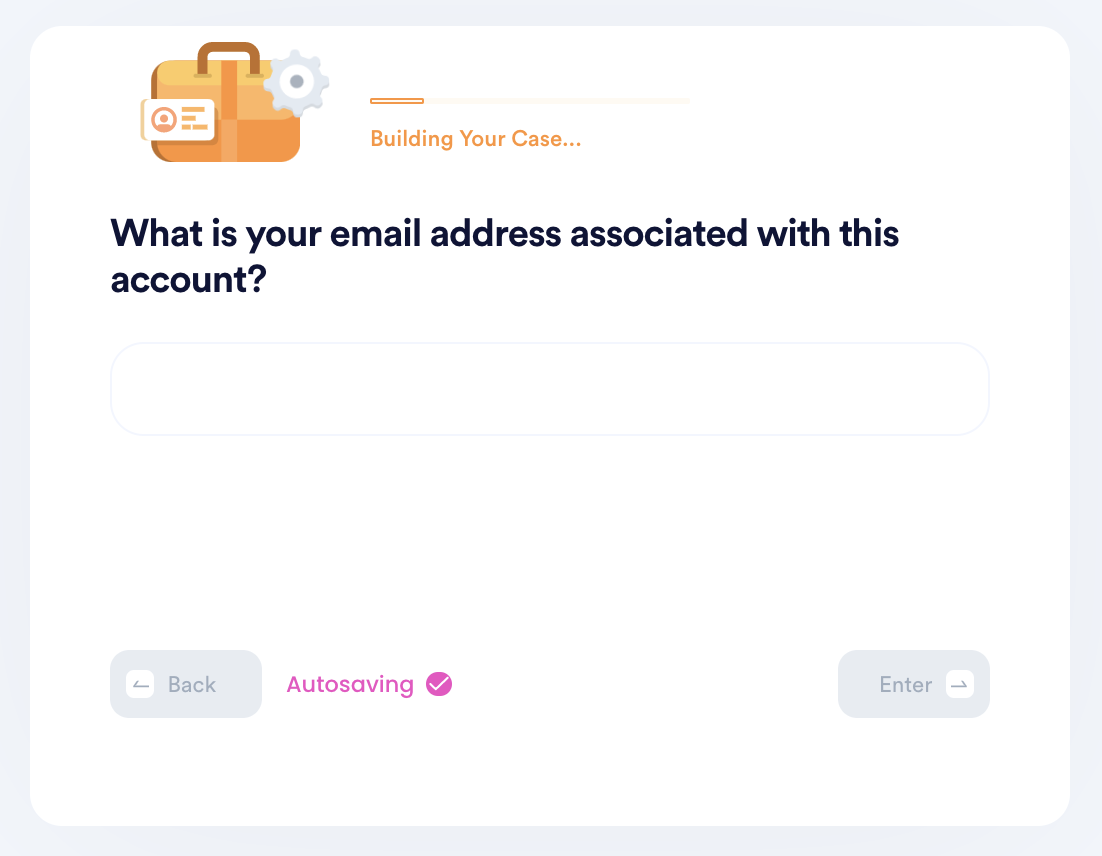 6. Submit your task! DoNotPay will mail the check on your behalf, and make sure it gets sent each recurring period if you set up recurring payments. You can always return to the product to delete or add new payments.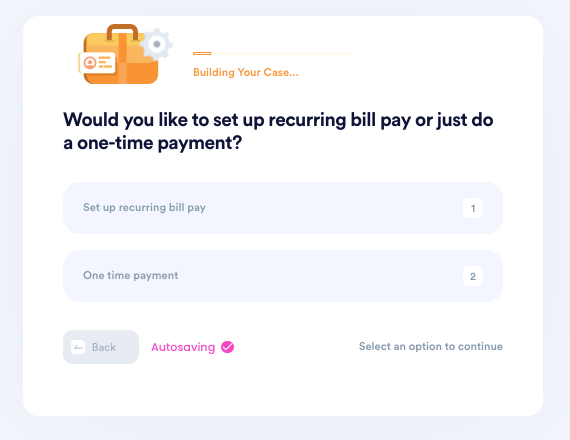 Why Use DoNotPay to Process Your Anthem Online Pay
Sure, there are plenty of ways to handle paying your Anthem bills on your own. But, DoNotPay eliminates the frustration that comes with dealing directly with the provider. The DoNotPay automated service is fast, easy, and successful.
| | |
| --- | --- |
| It's Fast. | No more spending hours trying to resolve an issue. DoNotPay takes only a few minutes to set up, making sure payments are processed correctly and on time. |
| It's Easy. | There is no need to struggle with burdensome forms or navigating hard to understand prompts in a complex website. DoNotPay asks all the right questions to make sure your payments are taken care of right from the start. |
| It's Successful. | Knowing your Anthem Online Pay is being managed by a professional company provides you with confidence in knowing that your medical plan remains in good standing throughout the year. |
What Else Can DoNotPay Do?
DoNotPay can help you with much more than just managing your Anthem Online Pay account. Our service can also help you with:
Anthem Online Pay is likely not the only bill payment system you're trying to manage and stay on top of. Don't worry, we have you covered! Below are some of the many providers DoNotPay can set up payment plans with:
DoNotPay can take the headache out of keeping track of monthly payments. The easy-to-use process can make managing your Anthem Online Pay account stress-free so that you never have to worry about the status of your insurance policy again.