Secure Future Planning With an
Antenuptial Agreement
You don't go into a marriage looking for a divorce, but sometimes things don't work out the way you would have liked.
Should the worst happen, you want to know that clarity exists between you and your partner. A divorce is traumatic enough without protracted legal wrangling over assets or outstanding debts.
You can avoid the arguments with an antenuptial agreement—not a particularly romantic thing, but a wise move in today's world of high divorce rates.
Not everybody knows how to write a contract, and lawyers are expensive, but you can create your legally-binding document with the help of DoNotPay. An antenuptial agreement that works is within your reach with our help.
What Is an Antenuptial Agreement For?
An antenuptial agreement—also known as a prenuptial agreement or prenup—is a legal document between partners just before marriage. Before you enter the marriage, it sets out:
What assets each partner has

Whether there are debts on either side

How you intend to support each other during the marriage

What should happen to your property if you die while married
The agreement separates the two parts of your life—before marriage and after marriage. What each of you had before marriage is listed in the agreement, and what you accumulate together is clearly identifiable. 
This means that you can speed up—or even avoid—litigation in the event you decide to end the union.
Do You Need an Antenuptial Agreement?
While it's not a legal requirement before marriage, an antenuptial agreement is highly recommended if you:
Own or part-own a business

Stand to receive a large inheritance

Expect a substantial rise in earnings

Are considerably wealthier than your partner

Have a large portfolio of property or stocks and shares

Want to look after aging parents financially
If any of these apply to you or your partner, an antenuptial agreement will stand you in good stead.
What Are the Rules for an Antenuptial Agreement?
There are a few ground rules that both of you should follow to make sure the antenuptial agreement you sign will stand up in court:
Full disclosure

No duress or coercion

Independent counsel for each party

All agreements legally permissible
Full Disclosure
Both parties must disclose everything to do with their finances, including debts, assets, and earnings. Failure to do so could result in accusations of facts having been withheld and be contested in court during divorce proceedings.
No Duress or Coercion
There must be no evidence that either party has signed the agreement under duress or by being coerced. It is a good idea to sign the antenuptial agreement at least 30 days before the wedding to avoid any suspicion.
Independent Counsel for Each Party
Each partner should retain their lawyer for signing and administering the antenuptial agreement. This avoids any hint of bias and makes sure that each partner receives independent advice.
All Agreements Legally Permissible
Anything stipulated in the antenuptial agreement should be legal and permissible under state and federal law.
What Should Be in an Antenuptial Agreement?
Here are the elements that need to be in your antenuptial agreement:
Element
Explanation

Basic info

Names of both parties and the date of the agreement being signed

All pre-marital assets

Both parties should fully disclose all:

Savings

Property

Gifts

Inheritances

Both parties must agree on what should happen to these assets in the event of a divorce

All pre-marital debts

Both parties must disclose all pre-existing debts and agree on who should be responsible for them in the event of a divorce

Marital assets

This can include:

Joint property

Income during the marriage

Both parties can stipulate exclusions to joint assets

Business ownership or part-ownership

Both partners need to agree whether any business ownerships should remain outside the marriage

Financial control of retirement plans or savings

In the event of the death of one partner while still married, the agreement should determine who controls the deceased partner's retirement plans or savings

Spousal support after divorce

Each partner should agree to the level of support they will give the other if they divorce. This will usually be a percentage of income and should include the length of time the support will be given

Property division in the event of death

The agreement should set out how joint property should be divided if one partner dies

Divorceable actions

You can list any actions—such as adultery or criminal conviction—that would trigger a divorce and incur a financial penalty
How Can DoNotPay Help You Draw Up an Antenuptial Agreement?
Lawyers are expensive, and drawing up an antenuptial agreement yourself, while possible, is risky. DoNotPay can help with legal documents and contract templates customized to your exact needs.
All you need to do to get access to the legal document you need is:
Log in to DoNotPay in your

web browser

Look for the document you need in the search bar

Give us the details you need included in the document

Wait for DoNotPay to create your customized solution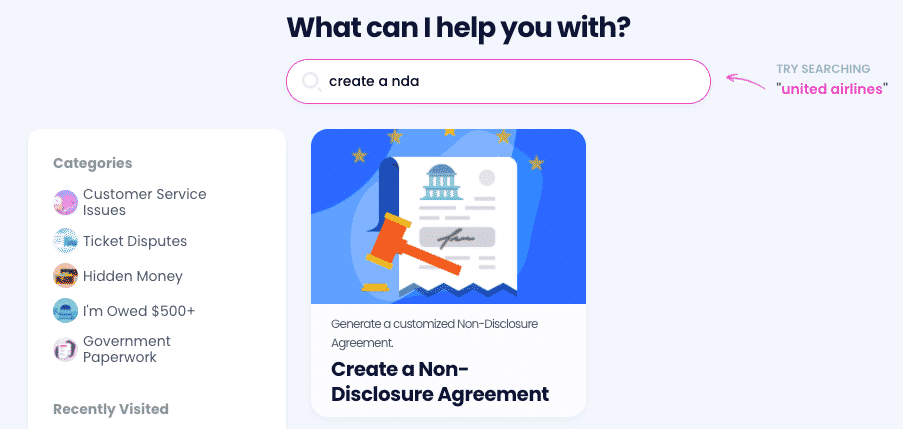 Remember that your antenuptial agreement will only be valid if both of you have signed it and it has been notarized.
What Else Can DoNotPay Help Me With?
DoNotPay has a wide range of documents and templates, and more are being added all the time.
We may be able to help you with the following:
Personal
Business
Real Estate

Estoppel Certificate

Intent To Purchase Real Estate

Quitclaim Deed
Explore the Full Range of DoNotPay's Services
Don't let annoying bureaucracy stop you from exercising your rights or finding new opportunities. DoNotPay—the world's first robot lawyer—comes with a diverse portfolio full of practical shortcuts for:
Struggling with finances? Our app will help you manage unpaid bills, find and claim lost money in any state, or get college application fee waivers. 
Minimize Paperwork With DoNotPay
Writing letters, filing claims, sending requests—these chores are nobody's idea of fun. Thanks to DoNotPay, you can bypass these menial tasks with a few clicks in your browser. 
Our platform is full of useful tips and features for filing insurance and warranty claims, dealing with parking tickets, getting refunds and chargebacks, or writing harassment cease-and-desist letters. 
DMV offices don't have to be the place where hope goes to die. With DoNotPay, you will be able to schedule any DMV appointment without the nightmare of waiting in lines. While you're at it, you can check out our guides and practice tests for the best driving exam preparation!