The Anoka County Divorce Process—Everything You Need To Know
Getting a divorce can be mentally, emotionally, and financially exhausting, especially if you're not acquainted with the legal system. Different counties have different divorce-related requirements, so it's crucial to be aware of them to go through the process smoothly.
In this article, DoNotPay will teach you everything you need to know about the Anoka County divorce process. Do you want an easier solution to get a divorce quickly? Sign up for our app and get a marital settlement agreement in under five minutes! We can also provide practical advice on how to get:
What Forms Are Required To File for Divorce in Anoka County?
If you are filing for divorce in Anoka County, MN, you need to gather and present the following divorce forms:
Restricted Identifiers and Cover Sheet for Non-Public
Joint Petition for Dissolution of Marriage With Children
Information Form (Form 11.1)
Affidavit of Service to Public Authority
Cover Sheet for Non-Public Documents (Form 11.2)
Completing Certificate of Dissolution Form
Summary Real Estate Disposition Judgment (SREDJ)
Certificate of Dissolution (for co-petitioners)
Joint Petition for Marriage Dissolution With Children
Notice to Public Authority
How To File for Divorce in Anoka County
To file for divorce in Anoka County, MN, you need to follow the steps mentioned below:
Check your eligibility—You and your spouse need to fulfill either of the following requirements to be eligible for a divorce in Minnesota:

One spouse must be living in Minnesota for at least 180 days
A spouse can be a member of the armed forces stationed in Minnesota for at least 180 days

Choose where to file for divorce—You can file for divorce in either of the following counties:

The county where you reside
The county where your spouse lives

Gather and fill out the forms—You can find the required divorce papers online, at your local courthouse, or a lawyer's office. Make sure to print two extra copies of each form for your personal records
Pay the divorce filing fee—To file your forms at the District Court, you will need to pay approximately $400
Serve your spouse—You are required by Minnesota law to serve your spouse with the divorce papers. Since you can't do it yourself, ask someone else to do it on your behalf
Wait for your spouse to respond—Your spouse has 30 days to respond after being served by filing an Answer to the Petition and Summons. If they don't, you can request a divorce by default
Visit the court for a final hearing—You and your spouse need to be present in front of the court to finalize the process
Obtain a Decree of Divorce—Once the judge has signed the Decree of Divorce, you and your spouse are officially divorced
How Much Does a Divorce Typically Cost in Anoka County?
For an uncontested divorce, the petitioner needs to pay $400 as the divorce filing fee. If the respondent files an Answer or Counterpetition, they will need to pay a separate filing fee of $400. Add an additional $50 to the bill if you hire a process server to serve your spouse.
In case you are unable to afford the fee, you can request a fee waiver from the court. You need to submit your financial information to confirm your inability to pay.
Uncontested Divorce in Anoka County
The most suitable option for ending a marriage in Anoka County is an uncontested or friendly divorce. This type of divorce is convenient for spouses who want to end their divorce amicably and without any complications. The divorcing couple needs to have a joint stance on key issues, such as:
Legal custody
Income tax exemptions
Attorney's fees
Physical custody
Parenting time
Medical support
Asset and debt allocation
For an uncontested divorce, you might not need to consult a lawyer or go to court—you can create the divorce settlement agreement yourself! But what if you don't have the required legal knowledge? Don't worry—we are here to help you out!
DoNotPay Can Draw Up a Divorce Settlement Agreement Within Minutes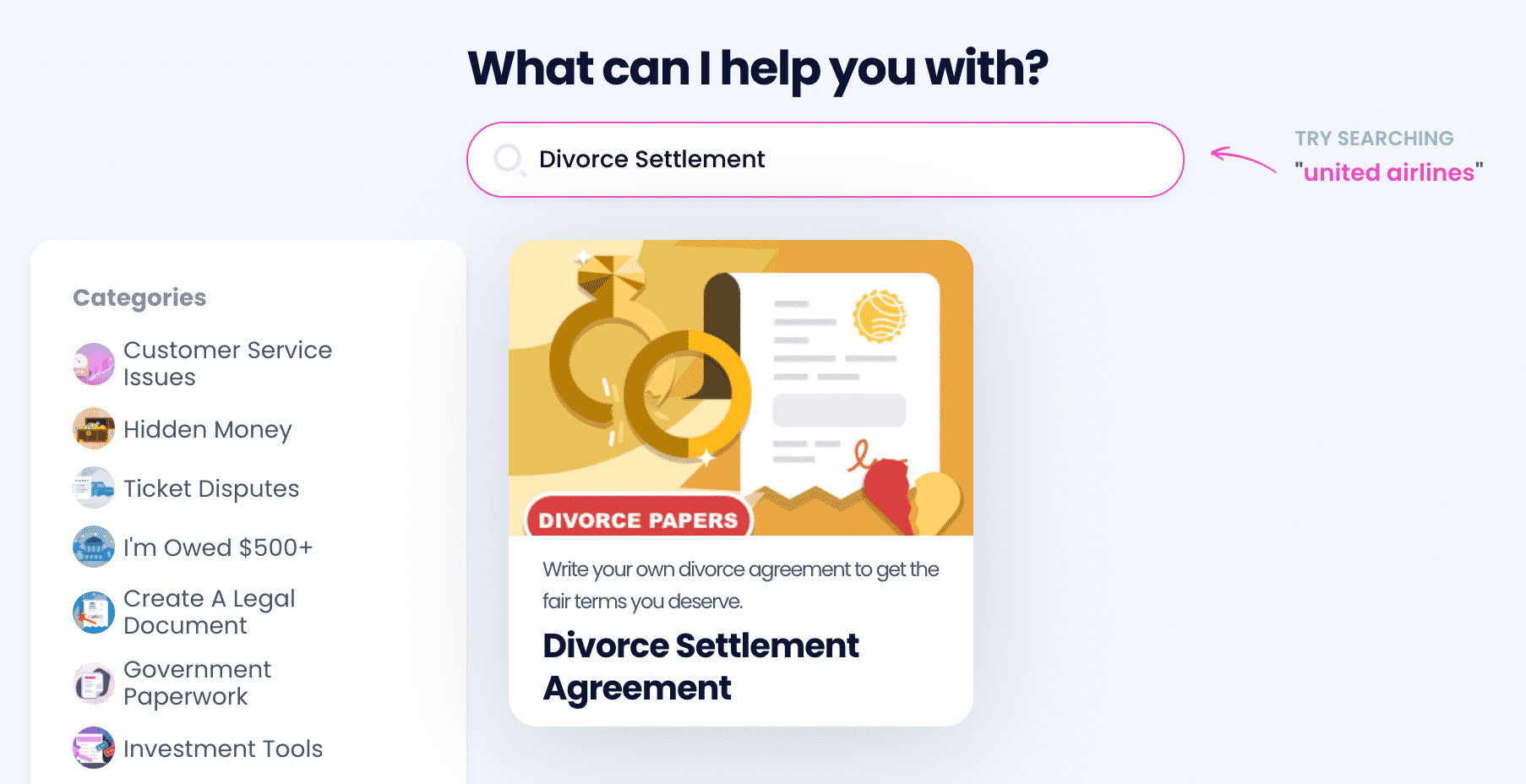 Want to create a killer divorce settlement agreement that meets all state law requirements? Look no further because we have got you covered! Our Divorce Settlement Agreement feature will create a legal document that will significantly ease the divorce procedure. Here's what you need to do:
Open DoNotPay in your web browser
Type Divorce Settlement Agreement in the search bar
Enter information about your spouse and children
Provide details about your income and financial assets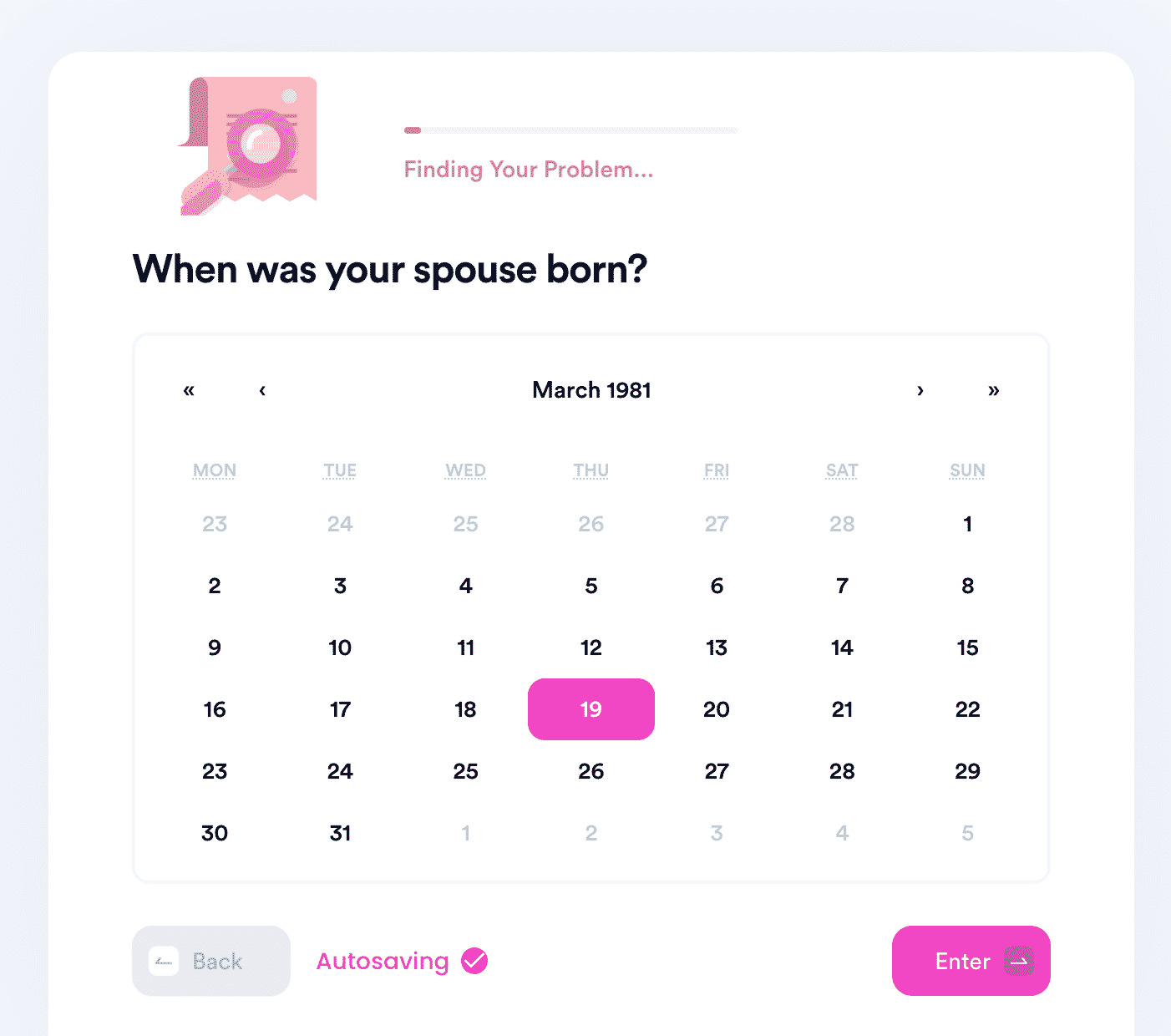 You and your spouse need to sign the document and get it notarized. If you can't figure out where to find a notary, DoNotPay can help you schedule an appointment with one online. All you need to do is pick the right option when filling out the questionnaire.
DoNotPay can provide guidance on more general and Minnesota-related questions:
| | |
| --- | --- |
| General | Minnesota-Specific |
| | |
Tackle Any Legal Task With Our Lawyer App Like a Pro!
Why bother with tedious legal tasks on your own when you can let DoNotPay cut your work in half? No more worrying about how to draft legal documents or sue a company in small claims court—we'll guide you through it effortlessly!
There is no shortage of tasks our Al-powered app can help you with. Once you sign up, you'll learn how to:
Fight Scammers in a Few Clicks!
Is your phone buzzing incessantly, and you can't take it any longer? Use DoNotPay to stop annoying robocalls and fight scammers with ease!
Having a company spam you with unwanted emails about their products isn't uncommon, but that doesn't mean you have to put up with it. DoNotPay helps you create a burner phone number, fight email spam, and stop spam text messages in a snap!
You can also find our features super useful when requesting a refund, filing insurance claims, and locating your missing USPS, UPS, or other parcels.