How to File Annulment Papers Without a Lawyer
Sometimes, when a marriage ends, there are times when you might opt for an annulment instead of a divorce. It might be that you find out your spouse is still married to someone else, or they lied to you about something significant before you got married. No matter the reason, before you can get an annulment, you must first find out if you're eligible in your state for an annulment and create the annulment papers. In order to get a secular annulment, you'll need to submit the correct paperwork and all the pertinent paperwork to the courts in your area. It can be a hassle and a waste of time trying to find this information on your own. DoNotPay is ready to help you with your annulment.
What Is an Annulment? 
An annulment is the dissolution of a marriage, and it can be either a secular or religious process. In some cases, you might prefer to get a secular divorce and a religious annulment so that you can remarry with the church's blessing or remain a member in good standing.
An annulment differs from a divorce because it ends the marriage at the point that it began. This means that for all intents and purposes that the marriage never occurred. But if you go this route, even if you file the annulment papers properly, you'll need to settle property and child custody separately.
What Information Do You Need to Add to Annulment Papers? 
When you're ready to file your annulment papers with the court, you'll need to make sure that you provide all the required information. This information can vary from one state to the next, so you'll need to verify it. Here are some common requirements:
Name of both spouses
Date of the marriage
Any children born during the marriage
Their names
Their date of birth
The reason that you're requesting an annulment
You might also be required to outline the evidence that you plan to present.
Grounds for Getting an Annulment 
The grounds for getting an annulment will depend on the laws in your state. Here's a look at five reasons that judges usually grant an annulment:
There was some sort of fraud or force involved. For example, one spouse never intended to have children, or the wife is pregnant with someone else's child at the time of the marriage.
One of the spouses suffered from mental incapacity.
One of the spouses was already married at the time of the marriage.
There is a close blood relationship between the spouses, usually first cousins or closer. In some states, this includes step-family members.
One of the spouses was a minor at the time of the marriage.
Statute of Limitations for Annulments
The statute of limitations for an annulment will depend on the state that you live in. However, you may find that if you continue with the marriage that you can't get divorced. For example, if one or both spouses were minors at the time of the marriage but continued living as a married couple after reaching the age of majority may find that they're no longer eligible for an annulment.
Solve the Challenge of Knowing if You're Eligible for an Annulment in Any State Instantly With the Help of DoNotPay
Of course, before you take the time to create annulment papers, you need to know if you can even get an annulment in the state that you live in. The grounds for an annulment and the statute of limitations for those grounds vary widely depending on your location and state law. You'll need to find out if you're eligible, and this can be challenging.
If you've already searched online or tried calling your local courthouse, you might be more confused than ever. You need quick and accurate answers to ensure that you're eligible. This is the way that the DoNotPay app can help you.
It only takes three steps:
1. Search for Annulment on the DoNotPay website.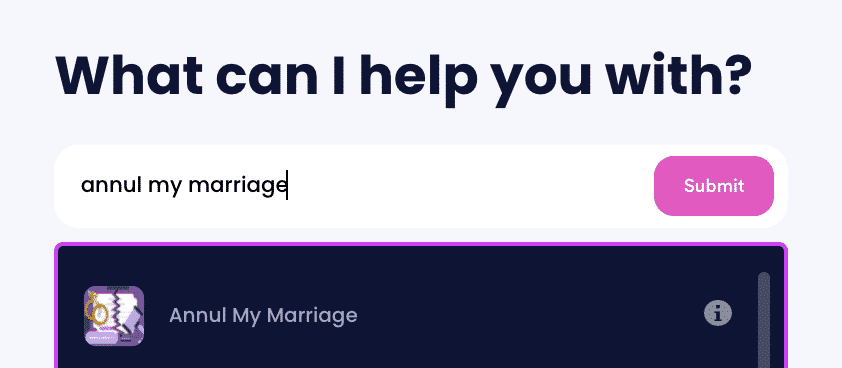 2. Kick off the process to see if your marriage is eligible for an annulment.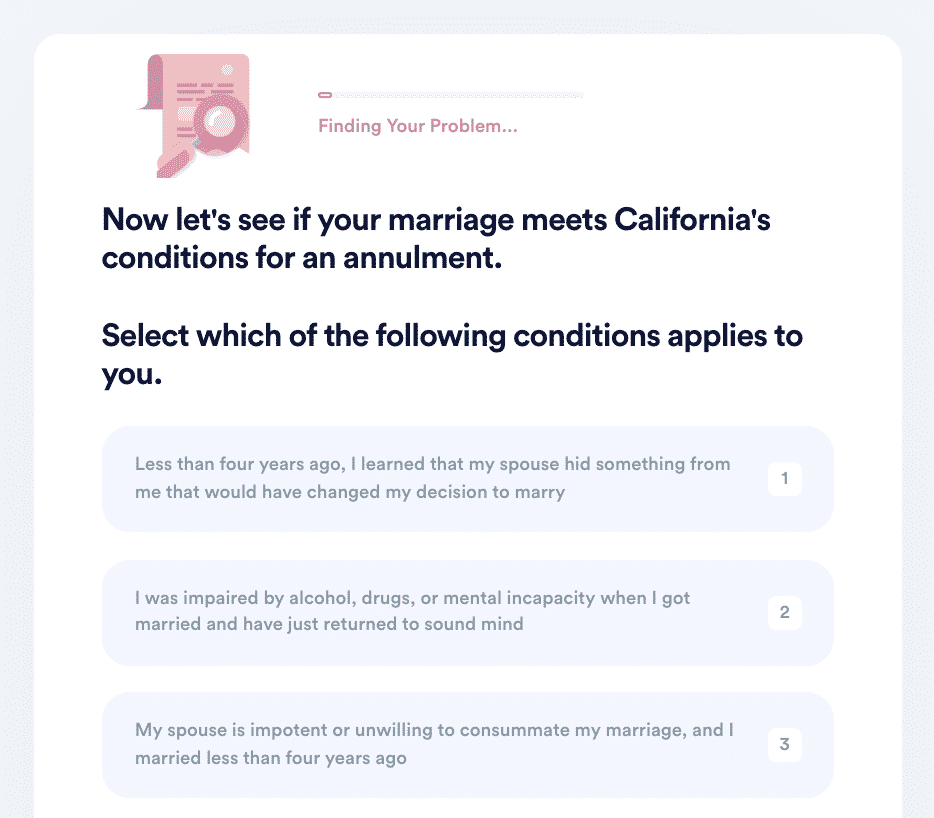 3. Answer some specific questions about your marriage and see if your state law allows for an annulment.
DoNotPay Also Works Across All States
With DoNotPay, you can find out if you're eligible to get an annulment in any state, so you can start preparing your annulment papers. Here are a few links to get you started:
In addition to your eligibility, you might have some other questions about annulments. Here are a few topics for you to explore on annulment:
What Else Can DoNotPay Do? 
With your newfound knowledge of annulment papers and your eligibility for an annulment in your state, you're ready to learn about all the great ways DoNotPay can make your life a breeze. Try these services:
Let DoNotPay tell you if you're eligible for an annulment where you live today!