Annulment Laws in Florida: What You Need to Know
Honesty and respect are requirements for many couples when entering a marriage, but there are those who would abandon those qualities to suit their needs. Finding out someone isn't who they say they are is always a shock, but even worse if you're legally bound to them. If you feel you have been taken advantage of and would like to exit your invalid Florida marriage, DoNotPay can help you petition for an annulment.
Annulment Under Florida Law
Florida marriage laws are very clear for those seeking a divorce but less so for anyone seeking an annulment in Florida. While your options for getting an annulment are limited, it is still possible to get one.
Due to the lack of specificity around annulments in the existing statutes, the courts use established precedent to determine how each case should be handled.
Before you petition to be granted an annulment, you must determine that your marriage is either:
Void, meaning it was never valid under the law, or
Voidable, where one or both parties entered into the marriage without being able to truly consent
Void and Voidable Unions
An annulment is different from a divorce. The table below explores both void and voidable unions in FL.
Void Marriages
Florida statutes explicitly invalidate three types of marriages:

Incestuous marriages: You cannot marry any of your direct ancestors or descendants. Women also cannot marry their brothers, uncles, or nephews, while men cannot marry their sisters, aunts, or nieces.
Common-law marriages: If you entered a common-law marriage after December 31, 1967, your marriage is invalid.
Same-sex marriages: Florida does now recognize same-sex marriages, but the law has not been updated to reflect this. If you entered a domestic partnership but have not had a marriage ceremony performed, your partnership is governed by different laws.

Marriages are also void in the following cases because one or both parties cannot legally consent to marriage:

Bigamy: One or both parties are already married to other individuals.
Marriage of minors: If both parties are under the age of 18 and do not have parental consent to marry, their marriage is void.

Voidable Marriages
Voidable marriages are not expressly prohibited by law, but in most cases are invalid because one party did not have enough information or agency to give their consent, such as:

Being underage: If both parties are under 18 and lack parental consent, the marriage is void. If only one party is underage and without parental consent, then the marriage is voidable.
Fraud: If your spouse misrepresents something that impacts your marriage, such as fertility issues if you agreed to have children, you can petition for an annulment due to fraud. Annulment of your marriage for fraud should be petitioned as soon as possible. If the marriage goes on too long after the fraud is discovered, you may have to petition for the dissolution of your marriage instead of annulment.
Duress: If one party enters the marriage under duress, it is voidable.
Being under the influence: If one or both parties enter the marriage under the influence, their marriage is voidable unless they consummate the marriage once they are sober.

The circumstances above involve one party having their agency removed. A marriage is also considered voidable if one or both parties entered the marriage with no intention of maintaining the relationship. Consider these pointers:

State code: 741.21, 741.211, 741.212, 61.052
Marriages that are never valid: Incest, bigamy, common-law marriages after 1967
Statute of limitations for annulments: None
How to Annul a Marriage in Florida
To annul a marriage in Florida, you must meet several conditions in addition to your marriage being void or voidable:
The petitioner must have lived in Florida for six months.
No children were born of the marriage.
Neither party is pregnant.
There are no marital assets to divide.
You must have the petition notarized and send a copy to your spouse, who will then have to return a notarized acknowledgment of receipt and agreement.
What Changes After You Petition to Annul Your Marriage
If your spouse does not agree to the annulment, they can file a counterpetition for dissolution of marriage. If they agree and you are granted your request for an annulment, your marriage is no longer recognized as a marriage, so children and property may be handled differently than if you were seeking a divorce. There is no concept of marital property, and any children conceived during the relationship may be considered illegitimate if your marriage was void. Alimony is also not a factor, except in cases where one party was made a victim of the other, like fraud or bigamy.
Petition for Annulment With DoNotPay
Your petition for annulment may vary based on your county of residence. Instead of spending hours hunting down the form only to find out it's for the wrong place or outdated, let DoNotPay handle it for you in just three steps:
1. Search for Annulment on the DoNotPay website.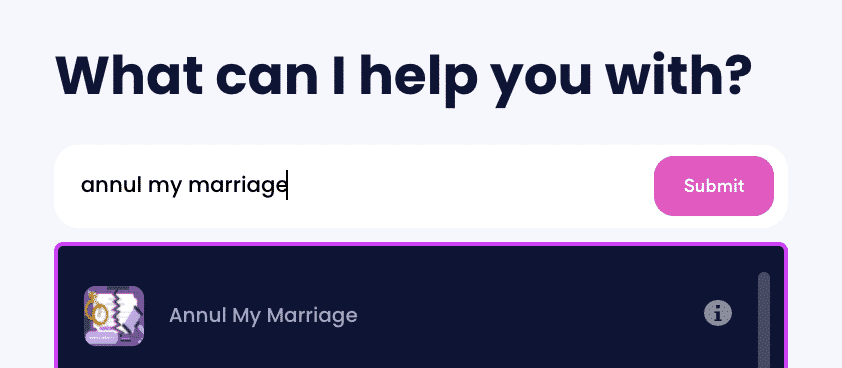 2. Kick off the process to see if your marriage is eligible for an annulment.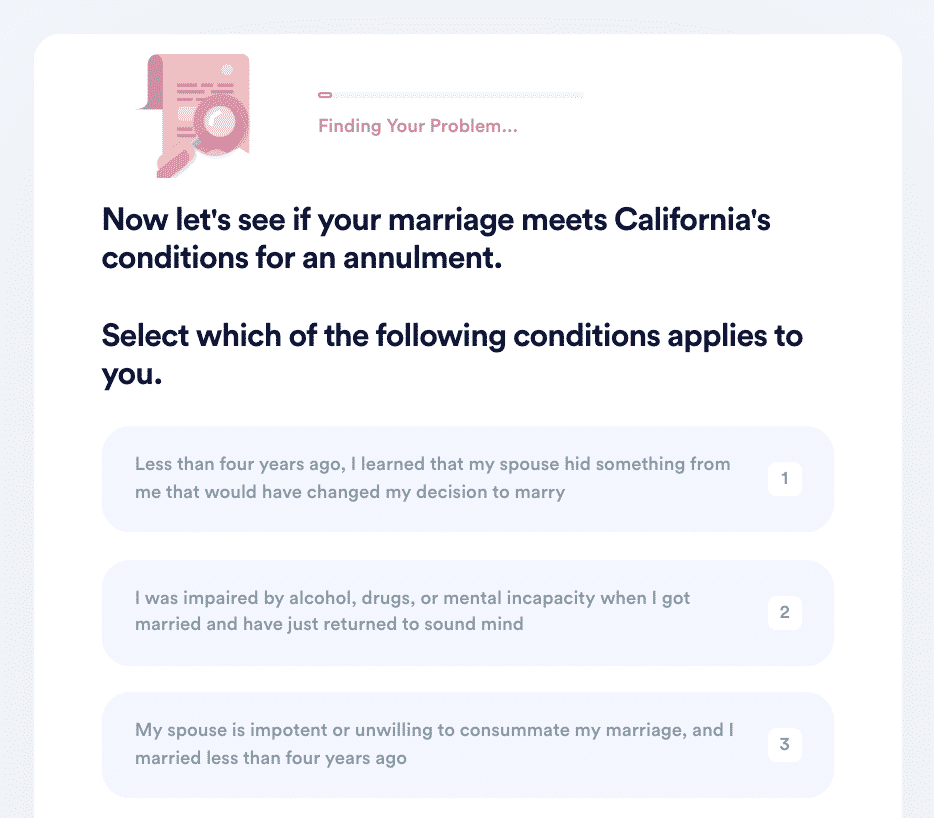 3. Answer some specific questions about your marriage and see if your state law allows for an annulment.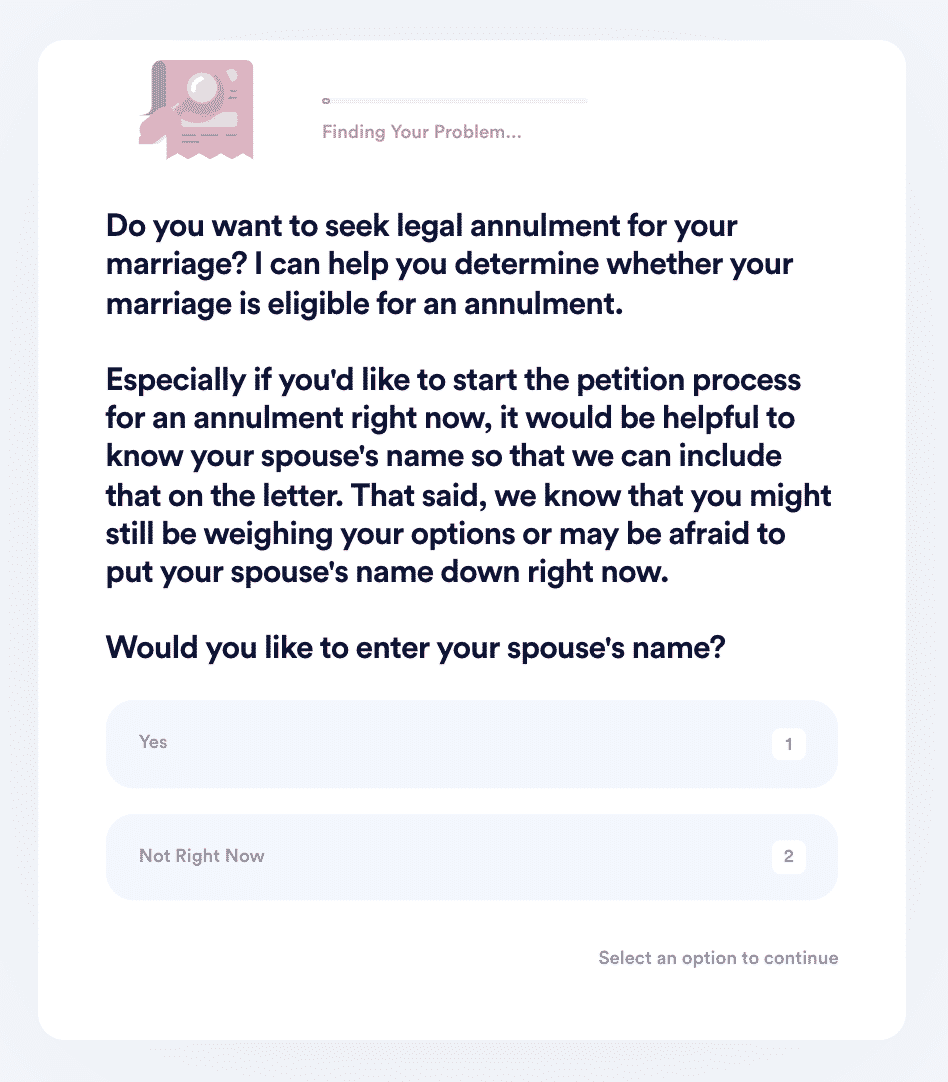 Sign up today to kick off your annulment process!