Anne Arundel County Property Tax Assessment—The Only Guide You Need
If you are about to have your property in Anne Arundel County assessed for its market value, this article will give you all the information you need.
Even though Maryland's tax rate is below the national average—making it a state with a low tax rate—the majority of homes in it have a high purchase price. This is why you may still need help paying your tax bills even if you buy property in Anne Arundel County, MD.
Below, you'll find all the info about Anne Arundel County property tax assessments, including how to prepare for them so that you can lower your tax bills in the long run.
What Are Property Taxes, and How Do They Work in Anne Arundel County?
Homeowner property taxes are the taxes everyone who owns property needs to pay. The money from property taxes is used to support local governments but also to benefit the entire communities. For example, a city or county uses the accumulated funds from property taxes to build and maintain:
Roads and public transportation

Schools and other educational institutions

Law enforcement units

Parks and recreation centers

Health care units
How much you'll pay in property taxes annually in Anne Arundel depends on your property's market value and the county's tax rate. The market value of your property is essentially the amount of money your home would be sold for.
If you plan to buy property in Anne Arundel County, you will be happy to know that the county's tax rate of 0.87% is below the state's average of (1.06%). What isn't great, though, is that property values in Anne Arundel are extremely high, which means that—on average—Anne Arundel homeowners pay higher tax bills than the majority of homeowners in America. 
Check out the table below for specific stats about property taxes in Anne Arundel County:
| | |
| --- | --- |
| Anne Arundel Property Taxes | Figures |
| Tax rate | 0.87% |
| Annual property tax payment | $3,078 |
| Average home value | $355,200 |
Anne Arundel County, MD—Property Tax Assessment
In Anne Arundel County, property tax assessment works similarly to any other county in Maryland. When you purchase property, a local tax officer will visit it to make a clear estimation of its market value. They will take the following factors into consideration:
The desirability of the area

Property values of neighboring homes

Square footage

Land acreage

Number of rooms and bathrooms in your home

Any installations on your property

Any visible defects
Tax assessors will multiply the value of your property by the Anne Arundel County tax rate to determine how much you'll pay in property taxes.
When you get your property's assessment review, go through it carefully to see whether you can spot any errors. If the assessment made on your property is incorrect, you can end up paying higher tax bills than is required. In that case, you can appeal your assessment. 
You should check how long you have to appeal your property tax assessment in Maryland. Many counties and states give citizens a 30-day deadline to file a claim, but this information varies from county to county. When you sign up for a DoNotPay account, you can get this and all other info about property taxes in Anne Arundel County in a few minutes!
What About the Baltimore County Property Tax Assessment?
Baltimore County is another area in Maryland you may consider buying property in. While the tax rate in Baltimore County is higher than Anne Arundel's, you may end up spending less money. Here's why:
| | |
| --- | --- |
| Baltimore County Property Taxes | Figures |
| Tax rate | 1.17% |
| Annual property tax payment | $2,977 |
| Average home value | $255,400 |
The process of tax assessment works the same in Baltimore County as in Anne Arundel.
How To Avoid High Property Tax Bills When Your Property Is Due for Assessment
Here's what to do to make sure a local tax assessor won't make errors when evaluating your home's purchase price:
Do your research

—Collect the information about your property's history and the purchase price of homes in your neighborhood. Your home's construction date and the desirability of your area are factors that determine your property's market value. Knowing this info will help you spot any errors in your assessment notice right away

Invite the tax assessor in your home

—While you don't have to, you should definitely invite the tax assessor inside your house or apartment. If your roof is leaky or the pains on your windows are ill-fitting, you can point out these defects to the assessor so they can count them against your property's market value

Avoid installing any fixtures before the assessment is over

—Any installations you have—from a storage shed to a swimming pool—result in a higher market value of your property. If you are looking to add any new construction on your property, do it after the assessment

Don't try to impress the tax official

—You may wish to polish up your property before the assessment, but it's better to leave an unfavorable impression in this instance
How Can DoNotPay Help You Reduce Your Property Tax Bills?
Making sure the tax assessor doesn't make an incorrect estimation of your property's market value isn't the only way to reduce your property tax bills. You can also apply for one of the many property tax exemptions Maryland offers to homeowners.
You may qualify for the senior citizen exemption or the Maryland property tax exemption for disabled veterans without even knowing it.
DoNotPay helps you learn what exemptions you are eligible for and how to apply for them by generating a personalized guide on reducing property taxes. You only need to:
Navigate to our

Property Tax

product

Provide key information about yourself and your property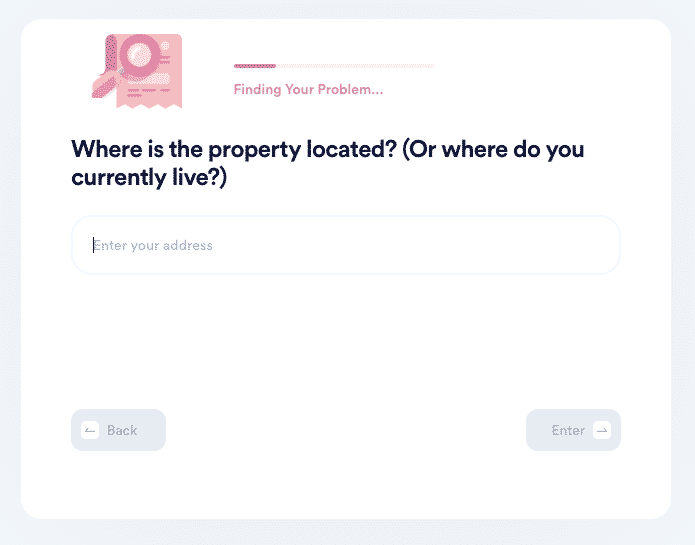 Do You Know What Else You Are Eligible For?
DoNotPay is a handy virtual assistant that can reveal a world of possibilities that you may not have even been aware of. We've perfected our algorithms to identify opportunities for you to save up and take charge of your rights. 
Here's a fraction of what we can do for you:
What Else Is New With DoNotPay?
DoNotPay boasts several new features that can help make your everyday life so much easier. 
Have you been wondering how to file an insurance claim but weren't sure where or who to turn to? We'll gladly do it for you. 
Are you tired of outdated faxing practices and manual documentation? Our app can provide you with an online fax solution and draft all your legal paperwork in no time at all.
Do you need a safe place to prepare for your upcoming government test? DoNotPay will give you all the prep tests you need.
We can help out with locating an imprisoned loved one and keeping correspondence with them via our virtual mailbox.
See what else DoNotPay has in store by accessing our web app in any browser.