All You Need to Know About Anne Arundel County Animal Control
The conversation about the connection between the community's safety and animal welfare is one worth having. While dogs are often viewed as a man's best friend, they are unpredictable as they can quickly get out of control. Dangerous dogs lead to unsafe and unstable neighborhoods, making residents live in fear.
Anne Arundel County Animal Care and Control protects residents from dangerous dogs and pets. If you need to report a dog bite in Anne Arundel County, DoNotPay can help you do this easily and fast. We can also help you sue for a dog bite and connect you with the best dog bite lawyer near you. Read along for more information on this.
How Does Animal Control Serve Your Community?
Anne Arundel County Animal Care and Control works tirelessly to promote the humane treatment of animals and foster safe human-animal interactions. The institution puts strategies in place to enhance the health and safety of the community by reducing the number of stray animals.
Other services provided by Anne Arundel County Animal Care and Control include, but are not limited to:
Responding to and carrying out investigations on emergency animal reports.
Investigating animal bites.
Dealing with stray dogs.
Working together with law enforcement and government agencies to structure the community's safety plan.
Attending to sick or injured animals.
Offering lost and found pet assistance.
Running rabies vaccination campaigns.
Anne Arundel County Animal Services: Contact Information and Hours of Operation
Depending on your needs, you have several options for contacting Anne Arundel County Animal Care and Control:
Address
411 Maxwell Frye Rd, Millersville, MD 21108
Phone Number
410-222-8900
After Hours Emergency Number
410-222-8610
Fax Number
410-222-8915
Lost and Found Pets
833-689-0855
Email
animalcontrol@aacounty.org
Website
http://www.aacounty.org/departments/animal-control/
Hours of Operation
Monday - Saturday: 8:00 AM – 10:30 PM

Sunday: Closed

Emergency services are available 24/7.

Eligibility
The facility is open to anyone worried about an animal in Anne Arundel County.
How to Report Animal Incidents to Anne Arundel Animal Care and Control
If you or someone around you has suffered an animal bite or scratch, follow these steps:
Seek medical assistance as soon as possible to rule out any fatal injuries and make sure you are out of danger.
Once you are stable and out of the hospital, call the non-emergency police line at (410) 222-8610. While reporting the incident, be very clear and provide as much information as possible.
If possible, have pictures of the bite or scratch.
If you know the dog owner, make sure to provide their information. If you do not know them, do not worry. The police will trace the owner during their investigation.
The police will forward this information to Anne Arundel Animal Care and Control's Bite Investigation Department and Anne Arundel's County Department of Health. Together with law enforcement, animal control services will open an investigation.
If you plan to file a lawsuit for financial compensation, you can hire the services of an attorney.
Remember that, as a responsible citizen, you should report any cases of animal bites or scratches so that the concerned bodies to map out possible rabies exposure. Keep in mind that rabies is a fatal disease that has no cure.
File Your Arundel County Animal Report With DoNotPay
If you want to file an animal-related report to Anne Arundel County but have no idea where to start, DoNotPay can help you with this in three easy steps:
1. Search "animal" on DoNotPay, find the Animal Control product, and select whether you've sustained a physical injury.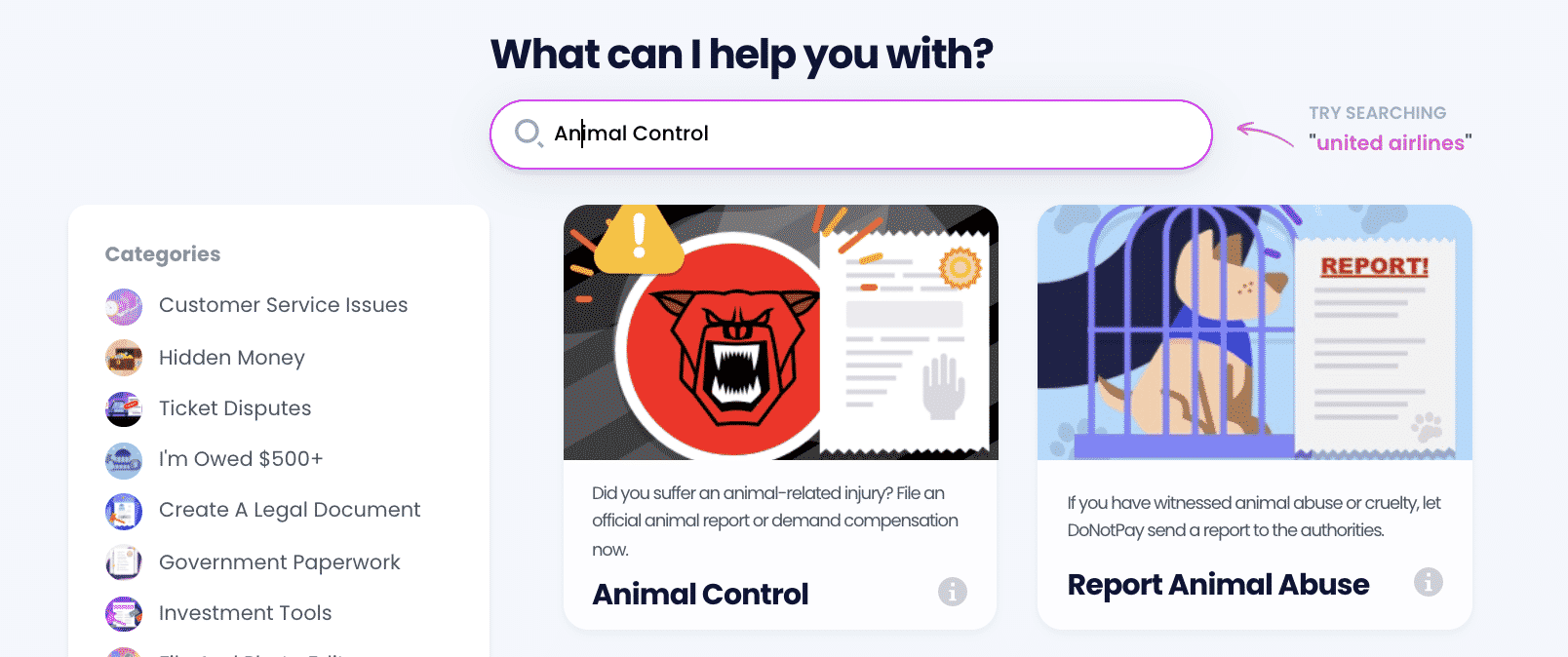 2. Select whether you would like to report this incident to your local government agency, or demand compensation from the pet owner.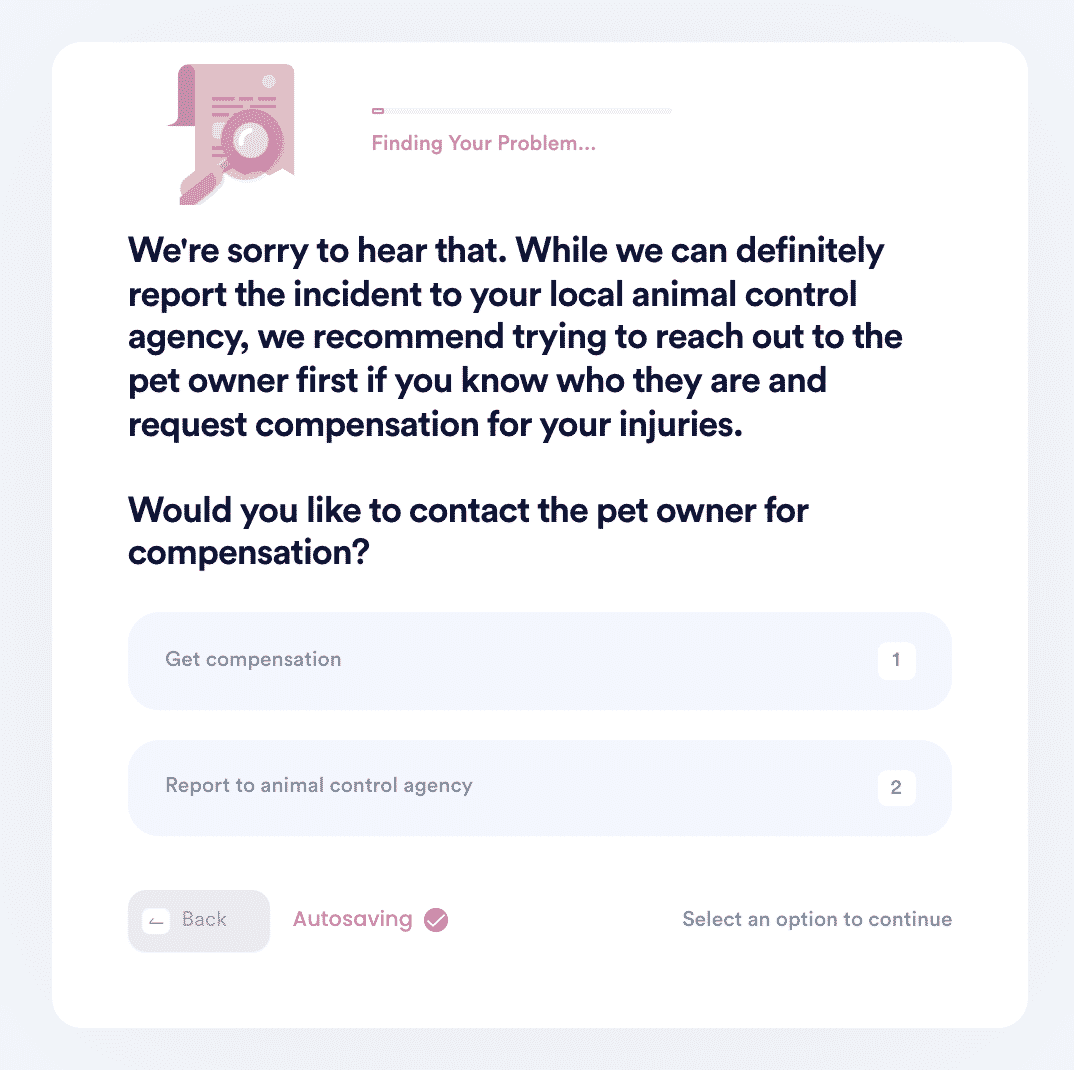 3. Tell us more about the incident, including when and where you were injured, a description of the animal that caused the injury, and the contact information for the pet owner (if known).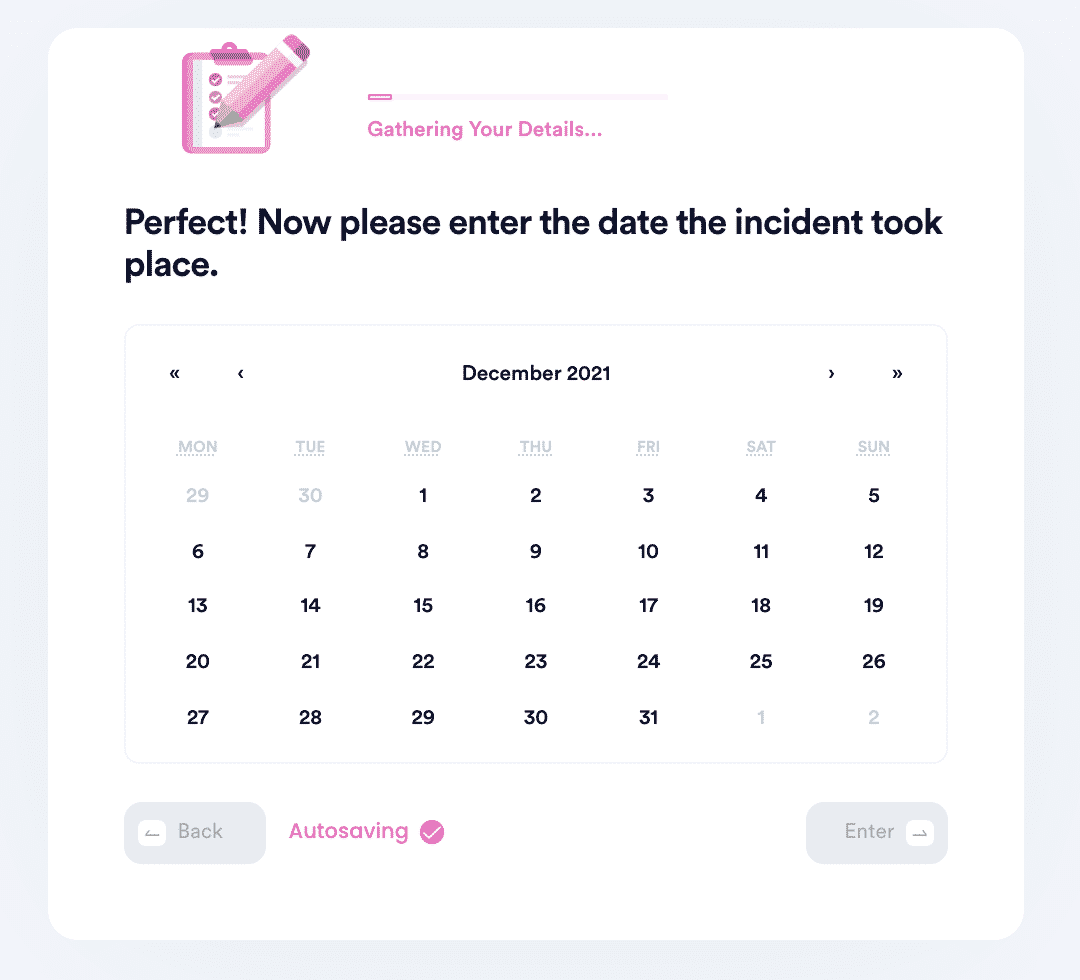 And that's it! DoNotPay will file the demand letter or government report on your behalf with your incident details. You should hear back from them directly with further questions or confirmation regarding your demands.
Why Use DoNotPay for Animal Control Reports?
The following are the top reasons why you should use DoNotPay to make animal-related reports:
DoNotPay is fast. All you have to do is provide us with the facts of your case, and we will handle the rest for you in minutes.
DoNotPay is easy to use. Our platform has a straightforward user interface. You do not need any specialized skills to navigate our website.
DoNotPay is successful. We have helped so many people in the past, and rest assured that we will do the same for you.
DoNotPay Works in All Cities and States
DoNotPay can also help you with:
What Other Services Can DoNotPay Offer?
DoNotPay can provide you with many other services, which include, but are not limited to:
And so much more! Sign up with DoNotPay today and become our next success story.