Let DoNotPay Connect You With an Animal Cruelty Investigator
An animal cruelty investigator earns a living helping out animals. Their job is to rescue abused animals, interview suspects in the case, and testify in court if necessary. They help get people who abuse and neglect animals away from the vulnerable pets in their "care."
It isn't always easy to connect with an investigator or make an abuse claim. Let DoNotPay do it for you so you can get the animal in question to safety. 
Are There Federal Laws Regarding Animal Abuse?
Most abuse laws are set at the state level. However, the Animal Cruelty Enforcement Act of 2021 was introduced because of the severe crimes against animals that are occurring. Some of the current federal laws include:
Dogfighting and cockfighting are prohibited if they cross state lines. The Animal Welfare act ensures anyone caught in these schemes will be punished.
The Endangered Species Act ensures no one can harm endangered animals without repercussions.
What Are Some of the State Laws?
Although each state varies in the precise laws they follow in regards to animal cruelty and abuse, many have similar statutes. A few include:
Knowingly causing harm to a dog or cat is a Class A misdemeanor in many states.
Harming a service animal is a felony.
People who have been charged with neglecting or abusing an animal in the past may not be allowed to own another pet for a designated amount of time, such as five years.
Cases of animal torture require the person to undergo psychiatric evaluation and treatment.
Examples of Animal Abuse
If you physically witness a person harming their pet intentionally, you should report it immediately. Some examples of animal abuse include:
An owner kicking or hitting their pet
A person torturing an animal, be it a pet or wildlife
An owner who forces his dog to fight others
A pet who is left outside for hours, especially in extremely hot or cold weather
What Does an Animal Cruelty Investigator Handle?
An animal cruelty investigator looks into perpetrators of animal abuse. They assess the home and surroundings to determine if neglect has also taken place. They follow up on reports made by concerned citizens, veterinarians, animal control departments, and others. 
They will also need to compile a list of evidence and maintain records. They may photograph an animal and its surroundings upon arrival.
What Skills Should an Investigator Have?
Investigators who handle cases of animal cruelty, neglect, and abuse need to be compassionate. If they are attempting to get an abused animal to come to them so they can be brought in for medical care, the animal needs to know this is a person they can trust.
They must also have good communication skills. They will often be communicating with other offices, interviewing suspects, and even speaking in court.
How Can I Tell if an Animal Is Being Abused?
Perhaps you haven't seen the abuse for yourself, but you suspect it. There are a few ways you might be able to tell if an animal is being abused or neglected:
They are left outside for hours at a time.
They look skinny and malnourished.
They appear matted and dirty.
They have visible wounds.
You frequently hear them yelping.
They seem skittish or nervous around their owners instead of excited to see them when they arrive home.
File an Abuse Claim With Local Authorities and Interest Groups
Your first step should always be to file an abuse claim with your local authorities. They can take possession of the animal and make a case against the abuser. You may also want to notify interest groups who take an interest in the proper care of all creatures.
Report Animal Abuse Through DoNotPay
If you prefer to make your report by answering a few questions quickly online, DoNotPay can help.
You won't have to spend time waiting on hold or going through various channels to make your report. DoNotPay does it for you and ensures the animal in question gets out of harm's way.
1. Search "Report Animal Abuse" on DoNotPay, and select the associated tool.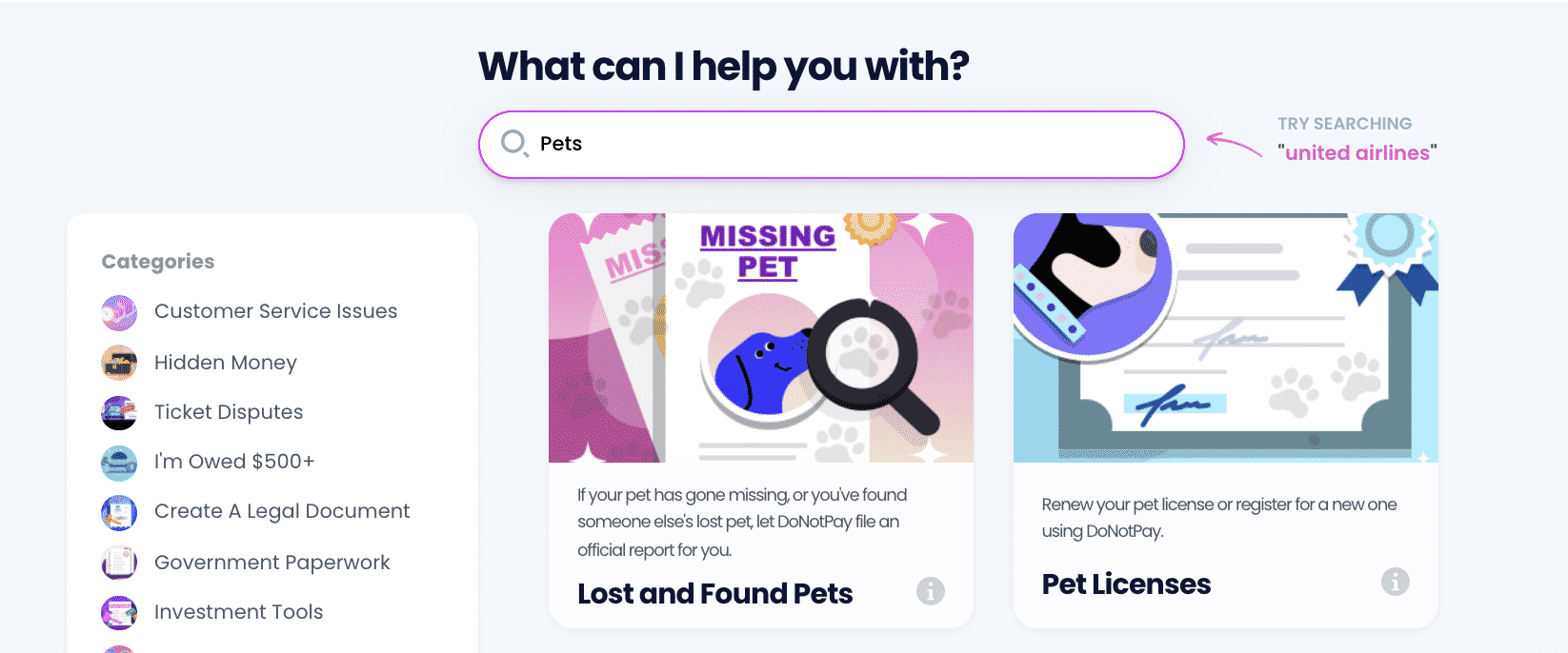 2. Then following the prompts, report the time, location, and exact detail to the best of your knowledge of the situation that has led you to believe there is animal cruelty afoot.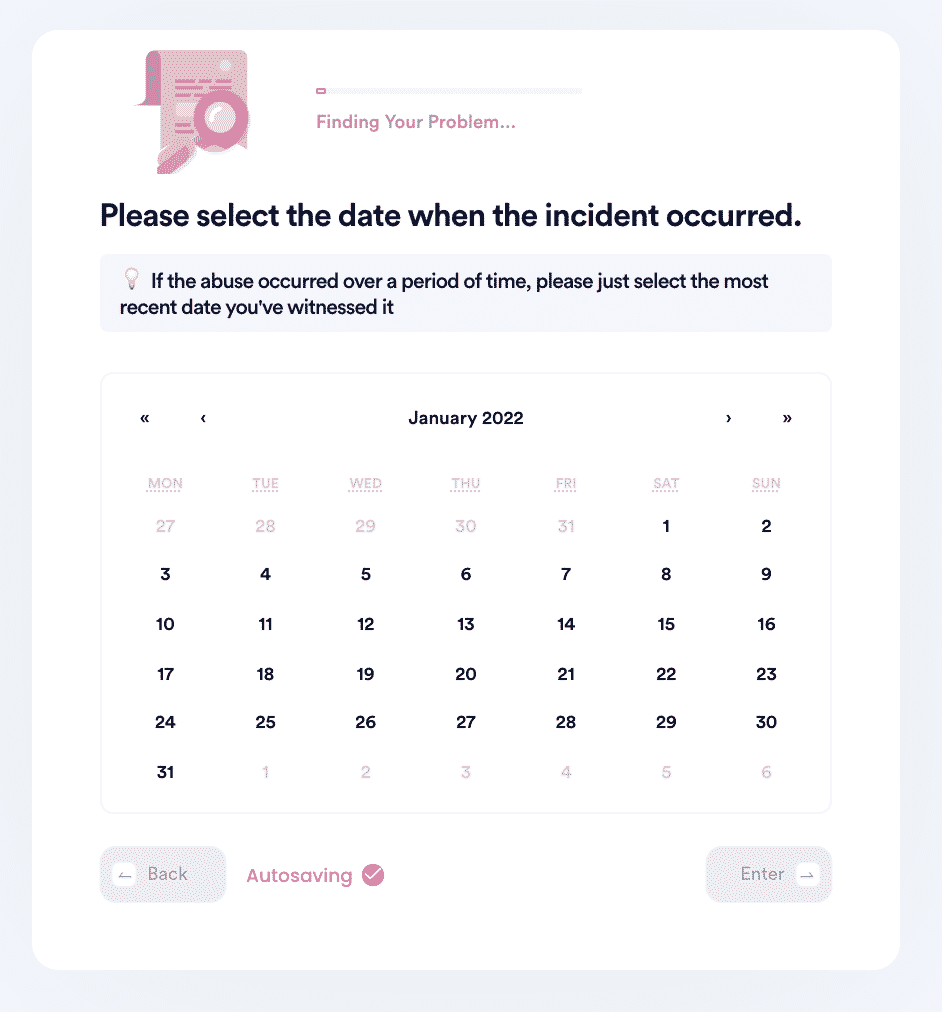 3. Upload an image to build your case and include your contact information for the authorities to get back to you about your report.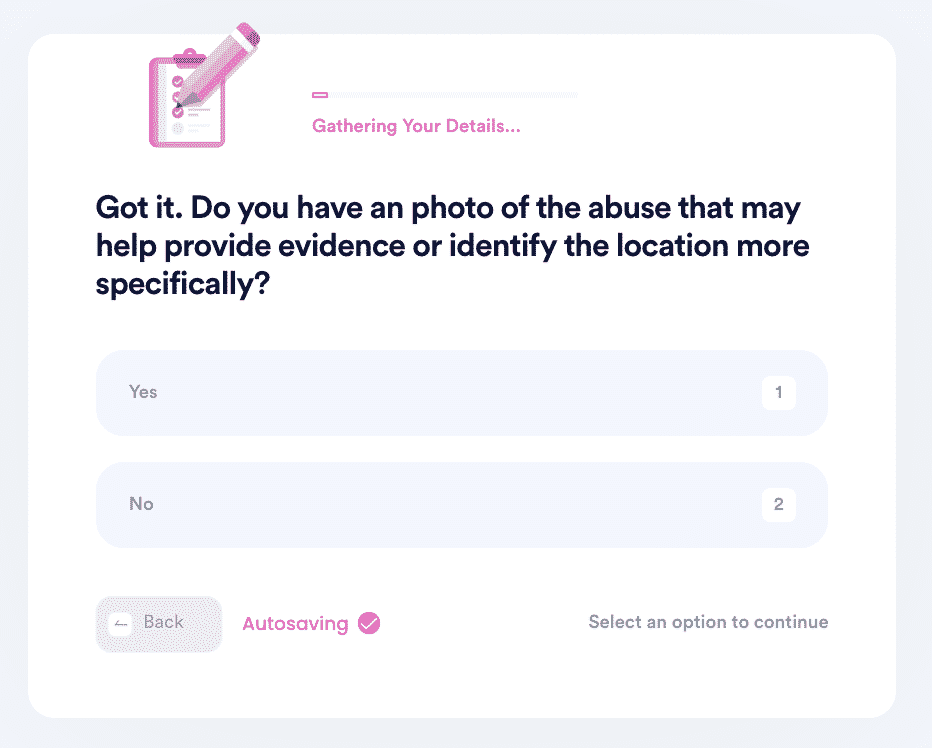 Does DoNotPay Help With Other Animal-Related Questions and Concerns?
Whether you need to reach out to an animal cruelty investigator or are trying to report your neighbor, DoNotPay helps in any circumstance. We'll help with questions regarding:
DoNotPay Handles Non-Animal-Related Cases as Well
While cases concerning animal abuse are important, we also tackle non-animal-related cases as well. Work with DoNotPay when you want to:
Or if you require assistance with any other service that can be handled online. DoNotPay does it all - and all for you.