Applying for the Anchorage Property Tax Exemption Has Never Been Easier!
Property taxes in Anchorage, Alaska are well above the state's average. Although property taxes have to be paid, you don't have to go out of your way to pay the absurd amount that the state sets for taxes. Applying for the Anchorage property tax exemption is one of the many ways you can use to reduce your property taxes!
If you are curious about other methods you can use to lower your taxes, DoNotPay can help you!
The Municipality of Anchorage—Property Tax Exemption
If you are an Anchorage resident, you should know that there are a number of property tax exemptions you may be qualified for. We will walk you through each so that you can choose which ones to apply for.
The property tax exemptions in Anchorage are:
Residential Exemption

Military Service Widow/Widower Exemption

Disaster Exemption
The Municipality of Anchorage—Senior Property Tax Exemption
The senior property tax exemption in Anchorage allows seniors to exempt up to $150,000 from the assessed value of their home or property if they:
Own the home or property

Are 65 years of age or older

Use their property as their primary residence

Are 60 years old widows or widowers of a senior qualified for the exemption
The application for the senior citizen exemption has to be sent by March 15 of the year when you apply.
Disabled Veteran Exemption
If you are a disabled veteran, you can apply for this exemption. It lets you exempt the same amount ($150,000), and the requirements that you have to meet are the same as the ones listed above for the senior citizen exemption.
Residential Exemption
For the owners occupying a residential property, a partial exemption can come in handy. This partial residential exemption allows you to exempt 20% or up to $50,000 of the assessed value. 
Military Service Widow/Widower Exemption
Widows and widowers of a resident who served military service can qualify for this exemption if they own and occupy the home or property as their main place of dwelling. If they get remarried, the exemption will expire on January 1 following the year of marriage.
Disaster Exemption
In case your home or property gets destroyed as a result of a fire, you can obtain a disaster tax relief. This exemption applies to all the owners occupying residential properties that were 50% destroyed by a fire. You have to file your application for the exemption in four months from the day of the fire.
Nonprofit Exemption
You are allowed to apply for the nonprofit exemption if you are the owner of a property used for purposes such as:
Nonprofit

Educational

Charitable

Religious

Hospital

Community
Make sure you send your application by March 15 of the year when you are applying.
Additional Ways To Lower Property Taxes
In case applying for property tax exemptions isn't enough and you want to find additional ways to reduce your property tax bill, try some of the methods provided below:
Method
What To Do

Skipping Home Improvement Projects

Make sure to avoid all home renovation projects to ensure that your property tax bill doesn't go any higher than it originally would

Participating During the Assessment

Be present while the assessor is evaluating your home or property. You can be certain that they are doing a good job and provide any useful info that may be of interest to them

Checking Your Property Tax Bill

Closely inspect your property tax bill once the assessment of your home or property is over to see if any errors occurred

Appealing the Property Tax Assessment

File a

property tax appeal

if you find any mistakes on your bill or you think that the assessment of your property was done inaccurately
Lowering Property Taxes or Appealing Tax Assessments—DoNotPay Does It All!
Dealing with your property taxes is annoying, but there are ways you can make the process easier! DoNotPay can provide you with all the assistance you can possibly need and cut the work in half by walking you through the process of lowering your property tax bill step by step. To start the process, open DoNotPay in your web browser and follow the next instructions:
Find and tap the

Property Tax

feature

Provide us with a few simple answers concerning you and your home/property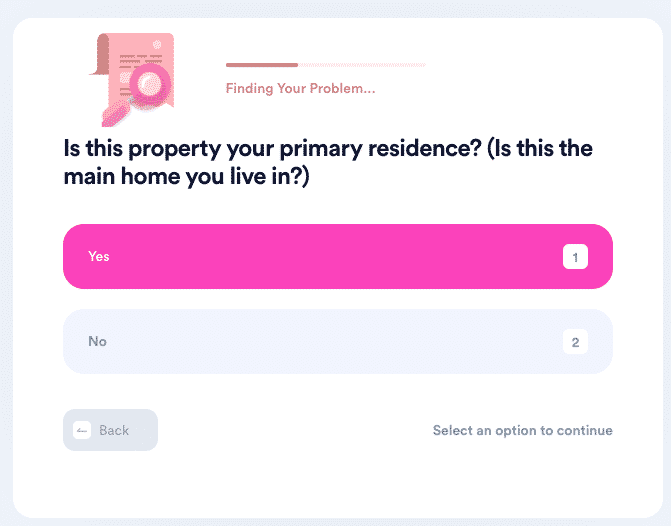 We gather all the info you provide us with and generate your guide for reducing property taxes.
Aside from helping you lower your property taxes, we can also offer you a personalized guide on how to appeal a property tax assessment in a few steps!
In case you need help dealing with property taxes in other states, we offer you assistance with:
Enjoy Services Worry-Free With DoNotPay
Do you want to try out a new service but are worried about being charged if you forget to cancel it before it ends?
With DoNotPay, you can sign up for free trials without worrying about auto-charges. Our virtual credit card makes sure you enjoy your trial run of the service and prevents any company from taking money out of your real account.
This free-trial card also protects you from email spam because it generates an alternate email address for the free trial sign up.
If you want to keep your phone number private and deter robocallers and text spammers, use DoNotPay's Burner Phone feature when subscribing to services.
In case the company does charge you, initiate a chargeback on your credit card transactions instantly with our app.
Discover DoNotPay's Amazing Features
DoNotPay is a virtual lawyer app that can take over annoying bureaucratic tasks from you. 
We can cover anything you may need help with—dealing with customer service reps, booking appointments with the DMV, securing refunds and compensation from airlines, disputing your parking tickets, or getting you an extension on bill payments. 
Our app can help you draft any legal document in minutes or access public records from state and federal databases.