Learn About the
Anchorage Property Tax Assessment
With DoNotPay
If you own property in Anchorage, Alaska, you should learn more about how property tax works and how to lower your tax bills. One of the important points to bear in mind is the Anchorage property tax assessment. Property tax can be confusing, but not if you have DoNotPay explain it step by step.
How Does Anchorage Property Tax Assessment Work?
Property tax assessment is the process that determines how much you are going to pay for property taxes. While the assessor determines the value of your residence, they look at its age, size, condition, and location. 
The Property Appraisal Division is in charge of evaluating all taxable real property in the Anchorage Municipality. The Property Appraisal Division covers around 100,000 parcels of real property and processes property tax exemptions and appeals in the Last Frontier. According to Alaska state law, an independent evaluation needs to happen each year.
Anchorage is the city with some of the highest property tax rates in this state (1.32%). While you can't do much about tax rates, you can appeal incorrect or unfair assessments with DoNotPay's help!
DoNotPay Can Assist You With the Anchorage Property Tax Appeal
If you notice an assessment mistake that increases your property tax amount, you should consider filing a property tax appeal. The reasons for this could involve seeing that your property was evaluated twice or that the assessment includes some of the property you no longer own. Sometimes you might notice that the assessed value is a lot higher than it was the year before. 
If any of those situations apply to your case, don't hesitate to let the tax authorities know. DoNotPay can guide you through the appeal process with ease. You only need to:
Sign up for DoNotPay

in a web browser

Locate and choose the

Property Tax

product

Provide some answers about the property you own
Your virtual assistant will make a guide on property tax appeals that has info on:
Procedures to file an appeal

Negotiations with the assessor

Evidence you need to collect to lower the assessed value
This info will be useful when you go to the property tax appeal hearing.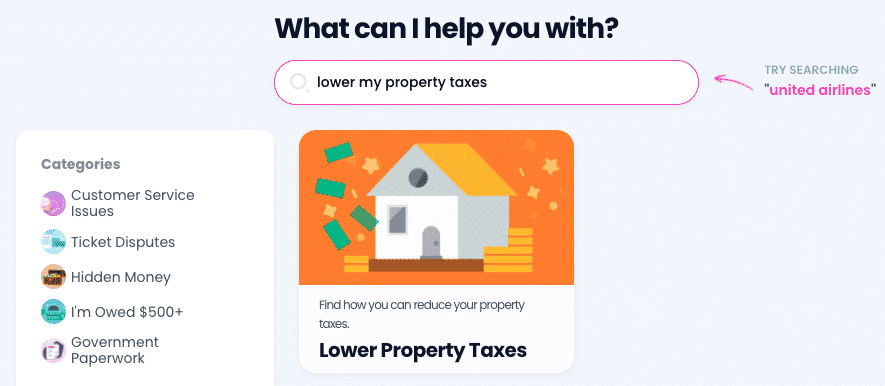 DoNotPay has another great feature that can help you with your property taxes in Anchorage—finding out if you qualify for property tax exemptions!
DoNotPay Can Tell You if You Can Apply for a Property Tax Exemption in Anchorage
If you are not sure whether you have the right to apply for a property tax exemption in Anchorage, you can use DoNotPay to find out! Our app will generate a guide that names all the exemptions you are eligible for and contains instructions on how to submit your application. 
To access this neat feature, you only need to follow a few easy steps:
Sign up for DoNotPay

in your favorite web browser

Open the

Property Tax

product

Enter some information about your property
Property Tax Exemptions in Anchorage, Alaska
Property tax exemptions are a secure way of lowering your property taxes—you only need to be eligible. Here are your options in Anchorage, Alaska:
Property Tax Exemption

Available For:

Senior Citizen Exemption

People who are 65 years of age or older and own and occupy their property as a primary residence

Widows or widowers of senior citizens who are at least 60 years old and own and reside in the property as their main residence

Disabled Veteran Exemption

Veterans with a disability who own and occupy their property as a principal residence

Widowers of disabled veterans who are 60 or older and own and occupy their property as a primary residence

Residential Exemption

Owners of residential property (partial exemption of 20% of assessed value)

Military Service Widow/Widower Exemption

Military Service widow or widower who own and reside in the property as the main residence

Disaster Exemption 

Owners of residential property that was destroyed by fire (at least 50%)
Other Efficient Ways of Lowering Your Property Taxes in Anchorage
Keeping in mind that Anchorage is a city with a tax rate above the national average, you should know all the tricks for lowering your property taxes. In addition to property tax appeals and exemptions, there are a few other methods for lowering your tax bill:
Checking your tax bill for discrepancies

—Noticing a mistake on your tax bill is a valid reason to alert the property tax authorities

Avoiding property renovations

—Skipping home improvements before the assessment is made will ensure your assessed value does not increase

Walking around the property alongside the property tax assessor

—Being present while the assessor is evaluating your home is a good way to notice any mistakes and react right away
If you are tired of the cold and high property taxes, you might consider moving to another part of the country. Homeowners willing to take this step should always inform themselves about the options before them. Some of the states with the lowest property tax rates in the country include Colorado (0.52%), Delaware (0.62%), and Tennessee (0.61%).
DoNotPay Is Your Pocket-Sized Treasurer 
To pay or to DoNotPay—that is the question! Our nifty app finds money where you didn't even know you had it.
With our app, you can avoid college application fees, cancel unused subscriptions, explore free trials, and get out of paying for unfair parking tickets. 
We can also help you with high bills by composing due date extension letters or reducing property taxes, just as we can locate missing money that you can reclaim in any state you've ever lived. 
To top it all, we'll even assist you in requesting compensation from any airline—whether it is for poor in-flight Wi-Fi, a delayed, or a canceled flight.
Can't Find Your Head in All the Paperwork? DoNotPay Sorts It Out for You!
You no longer have to cash out on pricy legal advisors to do simple paperwork for you—our app can draft legal documents for you in a matter of minutes! 
We can write small claims court scripts, dispute letters for chargebacks and refunds, personalized letters to connect with inmates, DMCA takedown notices for copyright protection, and cease and desist letters for stalking and harassment protection. 
If you need to get a DMV appointment before taking a driving exam or any other government test, we're there to schedule it in your stead!