Myth Busted—An Applicant Cannot Register a Trademark on the Basis of an Intention To Use the Mark in Commerce
Small businesses can receive some protection from unfair competition via common law. If you want to have greater legal protection for your brand, product, or service, you will need a trademark.
The question is—when do you apply for it? Many believe that an applicant cannot register a trademark on the basis of an intention to use the mark in commerce and needs to wait until the trademark is in use.
In this article, we will explain how this is not always the case and show the scenarios where you can obtain a trademark with an intent to use. We will also explain how you can file a trademark request with ease using DoNotPay.
How Trademarks Work
Common law supports your brand within your local area. If you want to protect your products or intellectual property, you will need to take out a trademark or copyright on a greater level.
The United States Patent and Trademark Office (USPTO) is responsible for registering trademarks on federal and international levels. If you want a state-level trademark, you can register with your state government or local county clerk's office.
A registered trademark that is still active will let you:
Sue any company that copies or imitates your trademarked products
Prove ownership and priority date in a federal court
Ban infringing goods from entering or leaving the United States
Trademarks do not work only for brands or whole products—you can trademark a specific element separately. For instance, you can obtain a trademark for:
Packaging
Labeling
Signature
Signature
Color scheme
Intent To Use—When Is It Applicable?
Most states, such as California, will require you to have your trademark already in commercial use.
When it comes to the USPTO, there are two available bases for filing for a trademark within the United States:
Use in commerce
Intent to use
If you register a trademark with an intent to use, you will have a limited amount of time to make your trademark commercially active and prove that to the Office. When you register a trademark with an intention to use, it will not become publicly registered until you provide proof of use.
Business owners use intent-to-use applications forms to establish an earlier application date and get a better priority standing.
If you want your application to go through, you will need to prove commercial use by specific dates, as shown in the table below:
| When To Submit Proof of Use | Description |
| --- | --- |
| Before the USPTO approves the application for publication | You need to file an Amendment to Allege Use before the USPTO attorney allows your trademark to be published in the Trademark Official Gazette |
| Within six months of the issuing of the Notice of Allowance (NOA) | When the USPTO allows your registration of the mark, you have six months to file a Statement of Use with proof |
| Within an extension of time after the NOA—if granted by the USPTO | This works only if you file a Request for Extension of Time to File a Statement of Use and the USPTO accepts it (the request comes with a fee) |
How To File a Trademark Request With Intention To Use
When you begin the application process, you will need to fulfill an extensive list of requirements. You need to conduct a clearance search and make sure there is not a trademark that is the same as or similar to yours.
You can go through state registers or search the USPTO database to find already registered trademarks. The USPTO takes into account trademarks that are similar based on:
Phonetic proximity
Relatedness
Commercial impression
Appearance
If the USPTO assumes your trademark can cause any confusion to a customer, it will deny your request.
After you complete the search and are sure you are not infringing on any trademark, you can press on with the application. A successful application consists of:
Declaration of accuracy
Information about the company
Information about the owner
Trademark type
Intent to use
Proof of use (later on)
Due to the complicated nature of the application process, many companies choose to hire a trademark attorney. They can help you search for availability and fill out your application forms.
Hiring an attorney is a costly affair, and you can bypass it by . Our app will provide you with professional lawyer help without you paying over the odds for it.
How To Register a Trademark Using DoNotPay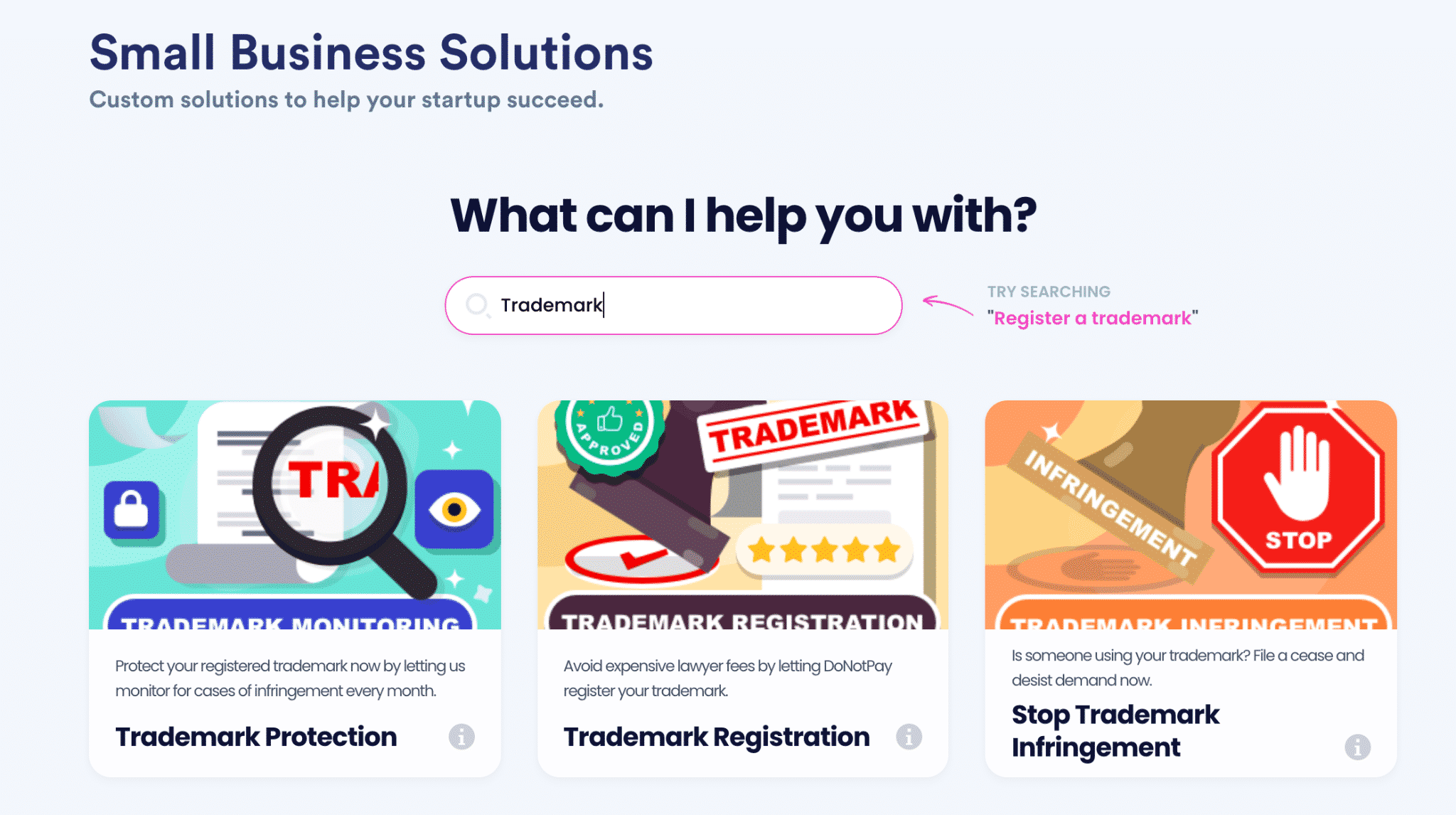 You may need help to file a successful trademark request, but that does not mean you have to pay hundreds or thousands of dollars to an attorney—you can use DoNotPay instead.
Our app will do the clearance search for you and will make sure you do not leave out any necessary details so that your application is error-free.
All you only need to do is:
Search for the Trademark Registration tool
Answer a few questions from our chatbot
Pay the USPTO application fees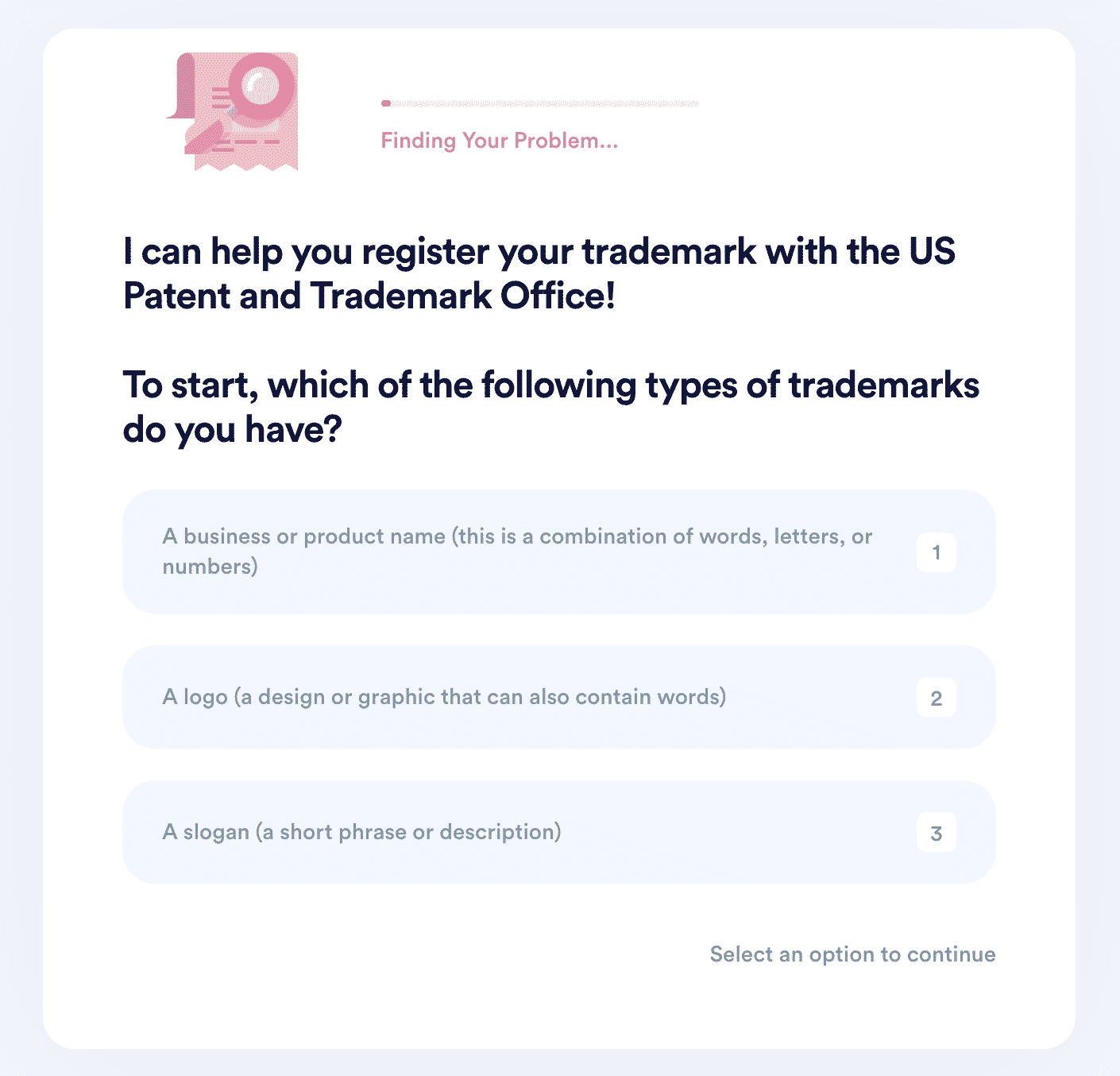 When you complete these steps, we will generate an application form based on your answers. Then, we will send you the form via email for you to review and e-sign before submitting it to the USPTO.
Take Care of Pesky Business-Related Procedures Effortlessly!
As a business owner, you are bound to deal with various complex processes. Luckily, DoNotPay can help you handle most of those procedures stress-free. Do you need to register your business name as a trademark, file the self-certification request with the Privacy Shield program, or report illegitimate and inappropriate negative reviews? Our app enables you to do it within minutes.
That is not all we can do for you! With our nifty products, you can make the filing of 83(b) election forms a breeze and take care of DMCA agent and Employer Identification Number (EIN) registration in no time.
Need a solution that will facilitate correspondence with your business associates or clients? DoNotPay has the right faxing and mailing product for you!
Don't Spend a Small Fortune on Lawyers—Draft Various Documents With DoNotPay's Help
Drafting legal documents does not have to be complicated or expensive. DoNotPay has a variety of tools that you can use to get a:
Letter requesting a loan for your small business
Cease and desist demand regarding your trademark (if someone tries to use your business name, logo, or slogan)
Formal demand letter requesting a client to pay for your services
Personalized chargeback rebuttal document based on the:

Chargeback reason
Chargeback code
Service you offer