An Advance Directive Is Best Defined As...? DoNotPay Breaks It Down
If you want to ensure your wishes are honored even when you cannot express them anymore, you should make a specific legal document. An advance directive is best defined as a set of instructions to use in case someone is physically or mentally incapacitated and cannot take care of themselves. DoNotPay can help you quickly and effortlessly.
What Is an Advance Health Care Directive?
An advance health care directive is a legal document stating your wishes on what treatments you want to receive if you become seriously ill but are unable to make decisions because of an illness or injury. It also appoints an agent to execute your demands.
The two documents contained within an advance medical directive are a:
Living will
Medical power of attorney (medical POA)
Check out the main characteristics of the two in the following table:
Living Will
Medical Power of Attorney

Contains your wishes about having certain types of care withheld or withdrawn in specific situations
Is used mostly for permanent comas or terminal illnesses
Doesn't require you to appoint an agent

Covers more conditions and treatments compared to a living will
Assigns an individual to make health care decisions in your stead
Can be created for children if you want to authorize someone to decide on their behalf when you are away or unable to do so for any other reason
Some states recognize the difference between a living will and a medical POA, but most propose a hybrid document called an advance directive. If viewed as separate agreements in your jurisdiction, you should read our helpful articles to decipher the nuances:
Numerous other names are used for an advance health care directive, including:
Medical directive
Health care directive
Durable power of attorney for health care
Health care power of attorney
Advance decision
Personal directive
Advance directive
Who Can You Appoint as Your Advance Directive Agent?
Your agent needs to be a trustworthy person over the age of 18. People usually appoint their spouses, close friends, or relatives, but you can also grant the powers to third parties if you believe they would perform the duties better.
Besides respecting your wishes, the agent must make independent decisions in unexpected circumstances, so the responsibilities are enormous. Keep that in mind when choosing your proxy.
How Can You Create an Advance Health Care Directive?
Several options are available for creating a health care directive, including:
Making one yourself
Hiring a lawyer to draft it
Using DoNotPay to generate the document
Avoid drawing up any legal document yourself if you lack the required knowledge, even with available online forms. Hiring a lawyer for the task is a safer bet, but it comes with a price. The best way to get a top-notch document without spending a fortune is leaving the task to DoNotPay.
How To Draw Up an Advance Health Care Directive With DoNotPay
DoNotPay is at your service for creating an advance health care directive fast and without trouble. We will make sure to include everything this document must contain. You only need to follow these simple steps:
Find the Advance Health Care Directive product
Choose your agent and type in your other medical information
Inform us about the powers you would like to appoint to your agent
Enter the names of the individuals who will witness the signing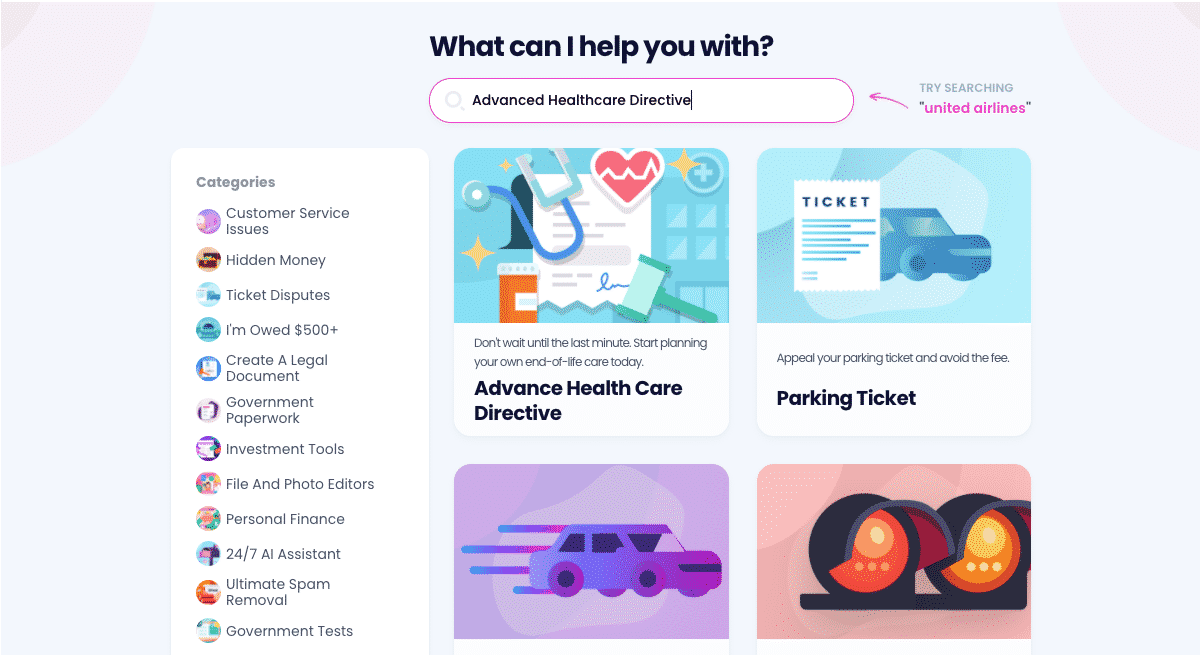 DoNotPay Has More Products in Store for You!
Our app is adept at solving numerous issues and completing various tasks in your stead.
You may want to use DoNotPay to protect your work from copyright infringement, reduce your property taxes, send defamation demand letters, or file FOIA requests.
Through the same app, you'll be able to skip many bureaucratic hurdles. Here are more tasks DoNotPay can help you with:
Use DoNotPay To Keep in Touch
If your friend or family member is in jail, we can help you locate them and send and receive letters with ease. Do you need to send other letters but hate going to the post office? You can use our Mailing Service product and save time.
We can also help you send online faxes, reach customer service, and contact embassies or government representatives.
In case you're drowning in email and text spam, our app can end it for good. Even if robocalls are bothering you, we have a solution!