DoNotPay Is Your Friend When Filing Amica Insurance Claims
Amica Mutual Insurance is an insurance company that provides life, auto, and home insurance. Filing insurance claims is always a hassle, so many people avoid doing it.
If you've been in an accident, or your property was damaged by a natural disaster, such as a flood, wildfire, hurricane, hail storm, or similar, DoNotPay can help you through the tedious bureaucratic process of claiming your insurance money.
What Does Amica Insurance Cover?
Amica has different insurance plans for life, auto, and home insurance. You can find out more in the table below:
Type of Insurance
Insurance Plans

Home

Dwelling

Personal property

Loss of use

Other structures

Personal liability

Extended home insurance

Home business

Auto

Collision

Comprehensive

Rental reimbursement

Roadside assistance

Full glass coverage

Accident forgiveness or good driving rewards

Life
Even though Amica focuses on these three major points, they offer a wide range of other products. You can purchase the following insurance policies from Amica:
Pet

Flood

Marine

Condo

Renters

Umbrella

Motorcycle

Small business

Retirement

Wedding and event
How To File Amica Insurance Claims on Your Own
Amica offers two ways of filing insurance claims. You can file Amica Insurance Claim:
Filing an Insurance Claim Online
To file a claim with Amica Insurance, follow the steps listed below:
Go to Amica's

Claims Center

Select the type of claim you want to file

Indicate whether it's your first time contacting Amica regarding your claim or if you're updating an existing claim

Tap on

Continue

Enter your policy number and the rest of the required information

Type in your phone number and the time when the company may contact you

Click on

Continue
You also have the option to file a claim via your Amica user account. Access your profile from the Login page.
How To File Amica Insurance Claims Over the Phone
If you want to report a claim via phone, you can reach Amica's call center at the following two numbers:
Auto, home, marine, and umbrella insurance number:

800-242-6422

Life insurance number:

800-234-5433
When you get a claims representative on the line, do the following to report a claim:
Provide your personal information and a policy number

Describe the incident in detail

Await the representative's further instructions
What Happens After You File an Insurance Claim?
Once you file an insurance claim, the company will review your case and contact you to discuss it with you. If the damage is major, the company will send an independent adjuster to assess the situation and give an estimate of how much money you'll get.
The process is slightly different for each type of insurance, and you can find additional information listed below:
Home insurance claims process

—If your property was stolen from your home, you'll need to contact the police to file a report. After you lose your property, you have to report it to the company immediately. To start the repairs in the event of major damage, you must acquire an estimate from a contractor and have an adjuster inspect the damage

Car insurance claims process

—In case the damage is minor, you need to get an appraisal and send it to the company. If the damage is major, the company will send someone to inspect it. You will get the appraisal from the company and choose a repair shop. In the event of your car being assessed a total loss, the company will determine your car's Actual Cash Value (ACV) and pay you the full amount, minus the deductible

Life insurance claims process

—You'll need to provide information about the manner and cause of death and a copy of the death certificate. The claims representative will explain the whole process once you submit your claim
How To Use DoNotPay To File Insurance Claims
designed the feature for filing insurance claims because the regular process is so complicated and time-consuming that people hesitate to ask for what's rightfully theirs. Companies do everything they can to avoid covering for damage that requires insurance payout. In most cases, they focus on the little mistakes you might have made while filling out your insurance claim, and they reject your request.
DoNotPay will ensure that you make no errors and spend as little time as possible on filing claims. With our feature, you'll be able to file an insurance claim in a few minutes. We can help you file the following claims:
Auto insurance

Home insurance
DoNotPay's feature works for any insurance company in the U.S. We can also help you submit an unemployment insurance claim if you've recently lost your job.
Follow DoNotPay's Step-By-Step Guide To File Amica Insurance Claim
You can follow DoNotPay's simple four-step process to file your Amica insurance claim fast. After opening DoNotPay in your , do the following:
Sign in to DoNotPay

Type in

Amica Insurance Claim

in the search box

Enter your basic information like your policy number, contact information, full name, and the rest of the required data

Explain what happened and why you're filing the insurance claim
When you finish all the steps, submit your claim. DoNotPay will create a claim letter and send it to Amica. The company will get in touch with you directly to reach a settlement.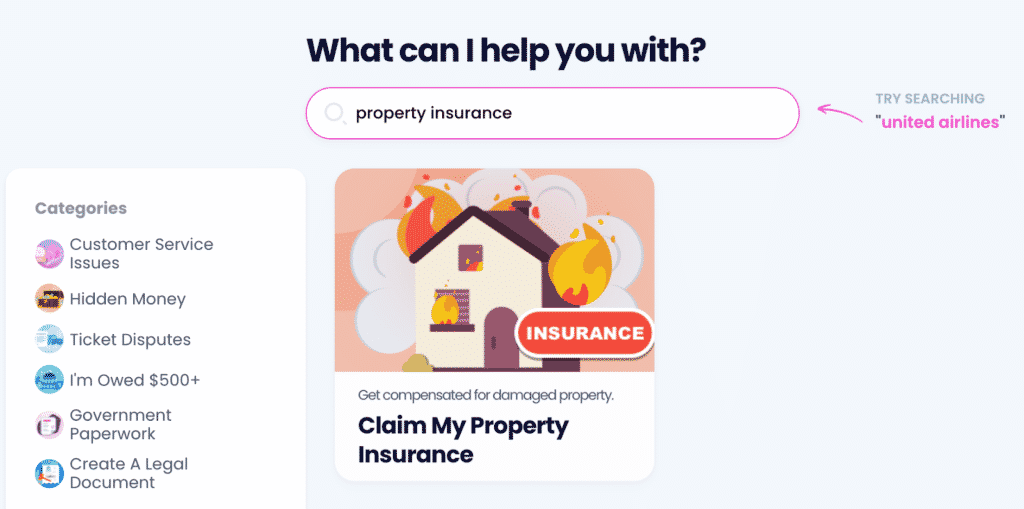 What To Do if Your Insurance Claim Is Rejected?
Companies will reject your insurance claim if they find any mistakes or inaccurate information in it. They will try hard to find anything that might compromise your claim.
DoNotPay has a solution to this issue—our Appeal a Denied Insurance Claim feature. We can help you file the perfect insurance appeal letter and increase your chances of getting paid.
DoNotPay Helps You Fight for Your Right
Do you feel like a company has wronged you? Don't let them win—sue them in small claims court with our assistance! Our app will prepare all of the necessary documentation and help you win the case stress-free!
Apart from helping you sue any firm or individual, DoNotPay also makes it easy for you to set up a DMV appointment, deal with any credit card issue, start a free trial without your credit card info, protect your work from copycats, and much more!
Sign up for our app to take advantage of all its features!
Tired of Bureaucratic Hurdles? Our App Will Step In
As soon as you sign up for the world's first robot lawyer, you won't have to worry about any administrative mess you find yourself in. We can help you resolve anything from reporting stalkers, robocalls, spam emails, and spam text messages to applying for clinical trials in any U.S. city.
With our AI-powered app's assistance, you can even get a refund from any merchant or airline you can think of. We can also help you save money by resolving your problems with high bills, canceling any subscription you no longer need, or assisting you with parking ticket appeals.